MusicView Pro is an interactive Home Screen widget app for iOS 17 that works with Apple Music Spotify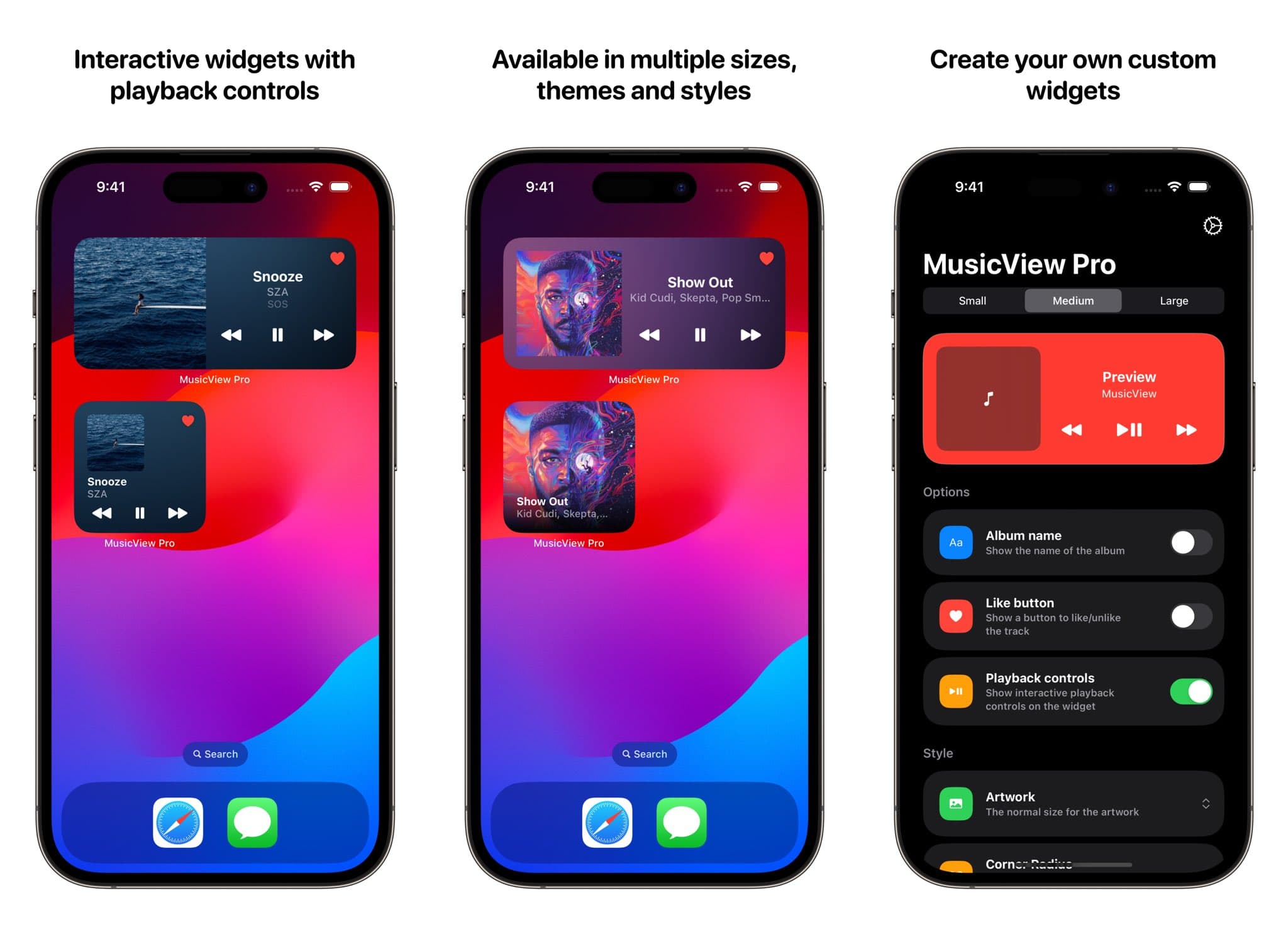 One of the major new features to ship with Apple's iOS & iPadOS 17 mobile operating systems this year was the addition of interactive Home Screen widgets, which now offer more usability directly from the Home Screen so that you aren't forced to launch an app and then close it once finished with your activity.
iOS developer @Taher_Dev is out with a new app called MusicView Pro that gives you an interactive widget that works with both Apple Music and Spotify. In essence, it lets you control your media playback right from the convenience of your Home Screen or Today view.
As noted in the apps' depiction page in the App Store, MusicView Pro lets you skip, play, pause, and like a song right from your Home Screen. All of this is possible without launching the Music app or Spotify app to accomplish the same task.
MusicView Pro is highly customizable, offering themes and options to change up the background, album artwork, and even the text of the widget. Among the different things you can configure are:
Choosing between a large, medium, or small widget size
Hiding or showing the album name
Hide or show the Like button to enable this feature
Hide or show interactive playback controls on the widget
Adjust the normal size of the album artwork
Adjust the corner radius of the album artwork
Adjust the blur style based on the album artwork
Tap on the album artwork or widget to refresh the song
And more…
A live preview is provided for you inside of the app so you can effectively see how your changes look. This helps you decide whether you want to keep them or change back to something else.
It is worth noting that some of the features provided by the MusicView Pro widget will require you to have an Apple Music or Spotify Premium subscription, so if you're not already subscribed to one of these services, then this might be a good reason to start.
If you're interested in giving MusicView Pro a try for yourself, then you can purchase the app for $1.99 from the App Store. Alternatively, if you're feeling lucky, then you can follow @iDownloadBlog on X for a chance to win a free copy. The developer has been gracious enough to gift 10 iDB readers with a free copy, and we'll be sharing those codes at random times of the day via X.
Are you excited to be giving the new MusicView Pro app a try? Let us know why or why not in the comments section down below.
Source link: https://www.idownloadblog.com/2023/10/02/musicview-pro/