Get HotMacNews- iOS App and Homepage
To access HotMacNews on your computer Click Here (It makes a great Home Page)
To download iPhone or iPad app (HotMacNews2) click here HotMacNews2
**Once in HotMacNews Home Page click on Preferences to customize to your needs.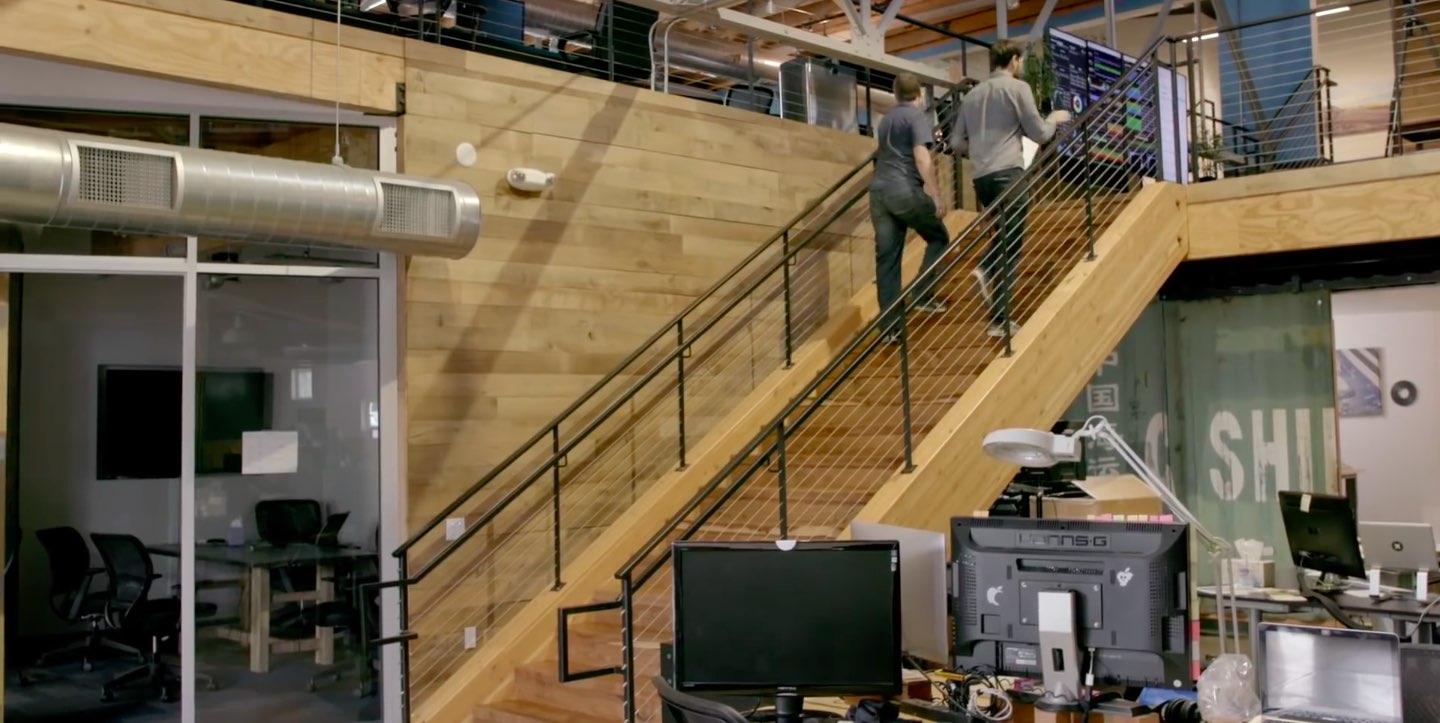 When a new iPhone launches, iFixit goes to work performing its ritual teardown dance so all of us can marvel at Apple's latest technology and peek at it from the inside.
For those not in the know, iFixit is a California-based company whose primary mission is to make it easier for the average person to disassemble and repair their electronics.
Every year there's a race to become the first to tear apart a brand spanking new iPhone and every year gadget enthusiasts around the world can trust these repair wizards to publish their teardown of Apple's latest thing by the time stores open on launch day.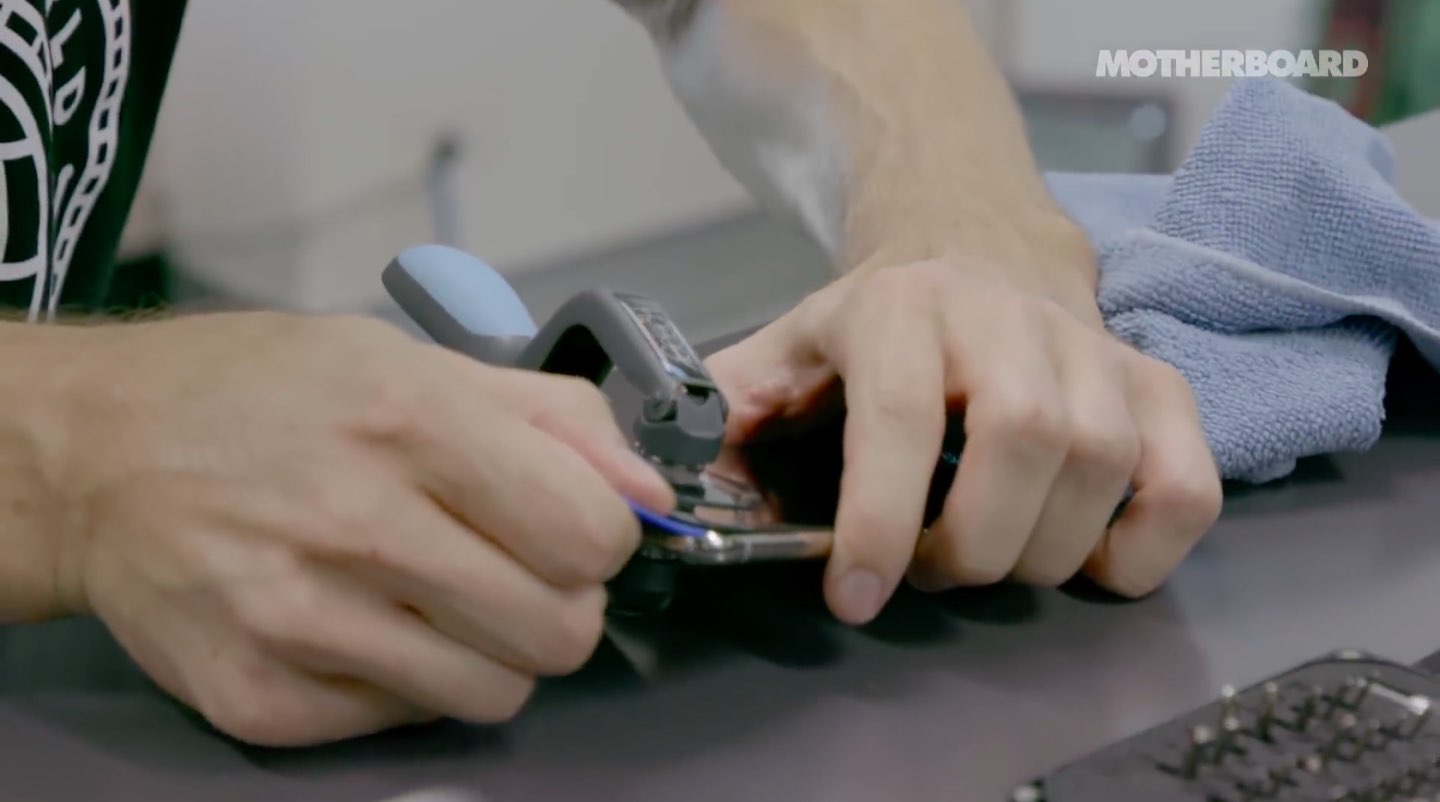 Teardowns provide a roadmap for the life of your Apple gear.
The great effort that goes into beating competition to put out a teardown analysis of a coveted new phone before any other repair shop requires laser-sharp focus, strong commitment to excellence, ample resources and the willingness to hop on a plane to Australia where the new handset is first released first due to the time zone difference.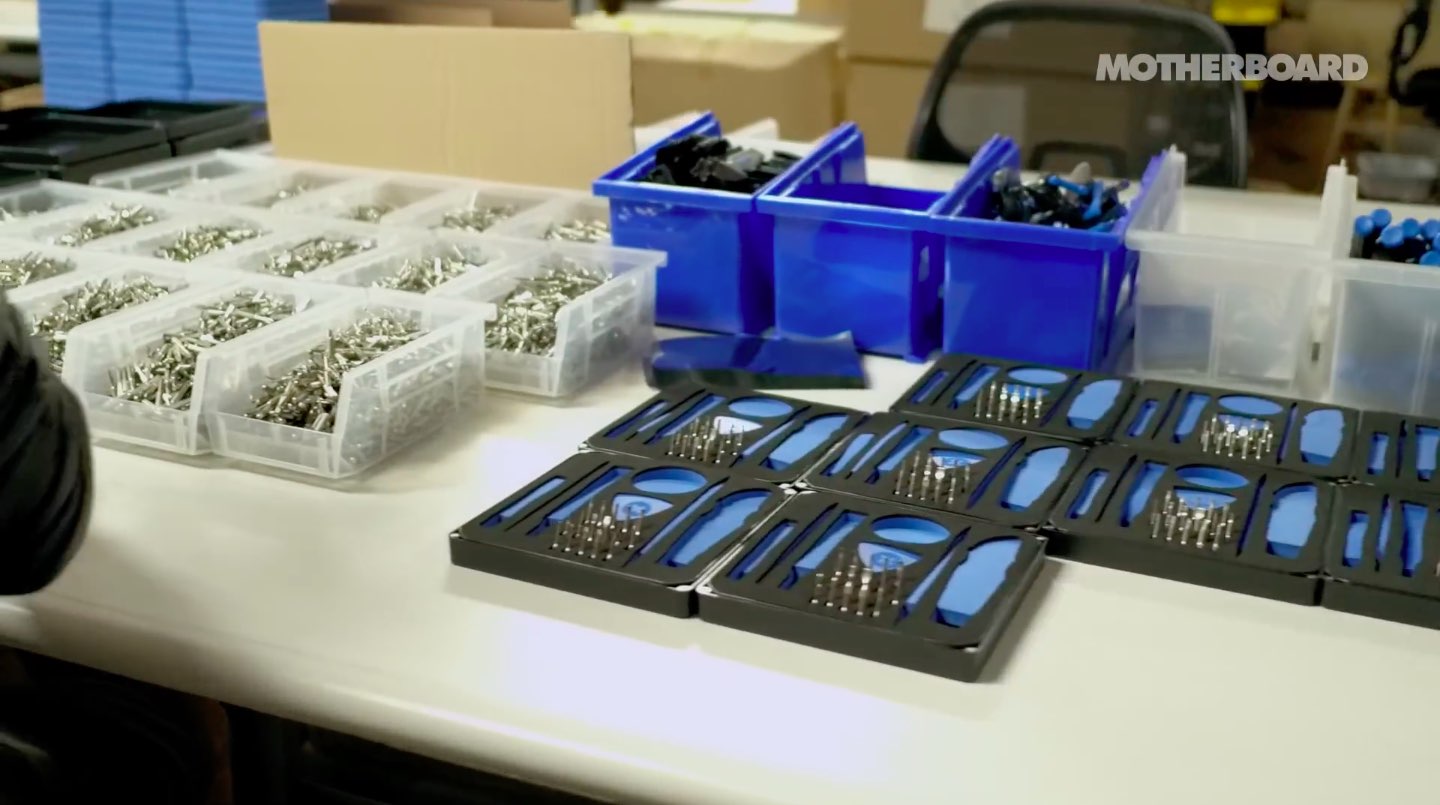 Jason Koebler of the Motherboard spent some quality time with iFixit CEO Kyle Wiens, witnessing an iPhone X teardown in Sydney, Australia with his own eyes.
After buying a brand new iPhone X like any regular consumer, the two men took it to a local gadget analysis facility where they pried the phone open, disassembled it to pieces, photographed everything and uploaded assets to the iFixit website in time for the phone's US launch.
Koebler also went inside iFixit's office—they're calling it the "headquarters of the global repair movement"—which features a tool laboratory and a parts library with thousands of electronics parts and disassembly tools.
iFixit is all about open-source manuals and repair guides that are teaching the world how to repair their expensive electronics. They make money by selling specialized repair tools, with Wiens telling Koebler that the idea for iFixit was born out of frustration that manufacturers like Apple went to great lengths to hide crucial repair information from average users.
It kind of unexpectedly snowballed from there and the rest, as they say, is history.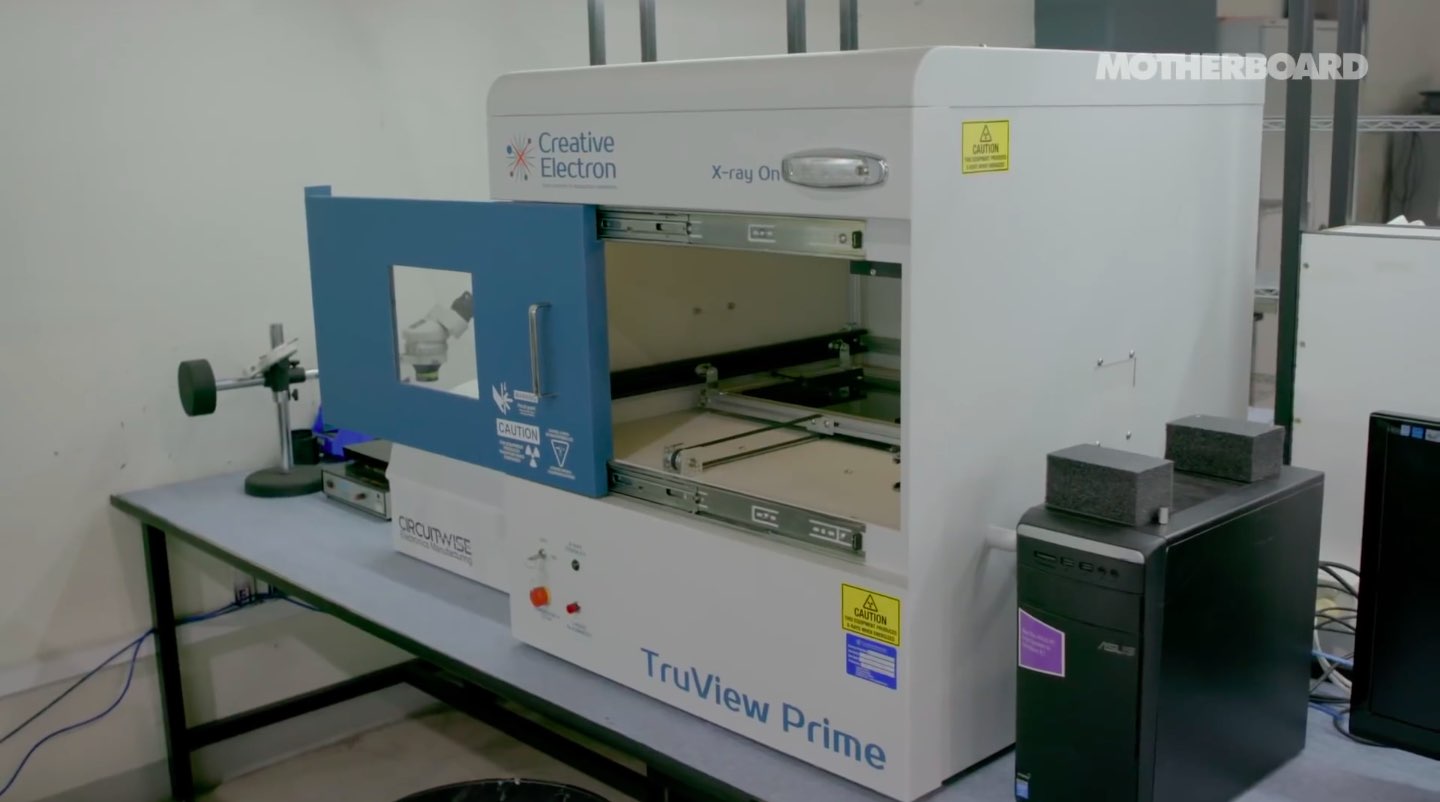 Creative Electron's machine for X-ray analysis.
I was surprised to learn that Apple's component suppliers are in regular contact with the iFixit team.
Because suppliers are under NDAs prohibiting them from mentioning to prospective clients their business with Apple, having a third-party like iFixit publish detailed component is a way for these companies to tell clients, "We're in the new iPhone."
In fact, the sheer act of identifying the components that make up a new iPhone model, and who made them, can shift stock markets, electronics design and consumer experience.
Oh, and don't forget to check out iFixit's teardown analysis of iPhone X!
Source link: http://www.idownloadblog.com/2018/02/19/video-behind-scenes-ifixit-iphone-x-teardown/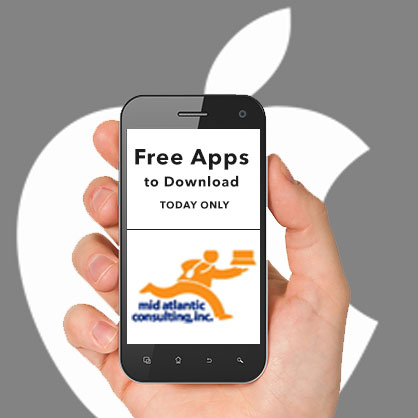 Visual MATH 4D , Flow – tames your mobile inbox , Little Nugget: Baby Milestones and more
iPhone:
Flow – tames your mobile inbox ( $2.99 → Free ) Mera Inc. It happens to all of us. Over time our inboxes become a cluttered mess of terrifying text that, at some point, you know you're going to need to handle. Flow will help you get the job done. Flow supports Gmail, iCloud, Outlook, Yahoo, 163 mail, QQ mail, and all other IMAP services. When adding multiple accounts, you're able to determine which is your primary one. Then Flow will pipe in all of your emails as one big stream. As you scroll through them, you'll be able to see snippets of text that can be expanded. Swipe right to left over an email to reveal additional options like forward, star, snooze, and delete.
Little Nugget: Baby Milestones ( $2.99 → Free ) CHG Developments, LLC
With Little Nugget, you'll be able to capture and curate little moments and major milestones. Powerful editing tools help bring out the best in your photos. Then get your creative juices flowing with 15 filters, 90 fonts, and more than 450 pieces of artwork. Your final creations can be shared privately or publicly, or you can order entire baby books and prints.
Universal:
Visual MATH 4D ( $1.99 → Free ) Ronny Weidemann
VisualMath 4D is a professional graphical calculator. It allows you to browse through a collection of built-in functions like trigonometrical, rounding, and sum and product or you can compute your own. Functions can be drawn in 2-D, 3-D, and 4-D all with a time variable. You're also able to save your functions, rotate and zoom in on the graph in three dimensions, and display multiple graphs at once.
Aurum – Hexa Puzzle ( $1.99 → Free ) Andrew Meyer Aurum is an addictive pick-up-and-play game that will help wash your worries away. The hex pieces are generated three at a time and in different formations. You're required to place them on the board in ways that form lines edge-to-edge in any direction. Run out of moves and the game is over. Power-ups can be used to keep the fun going.
Source link: http://appadvice.com/apps-gone-free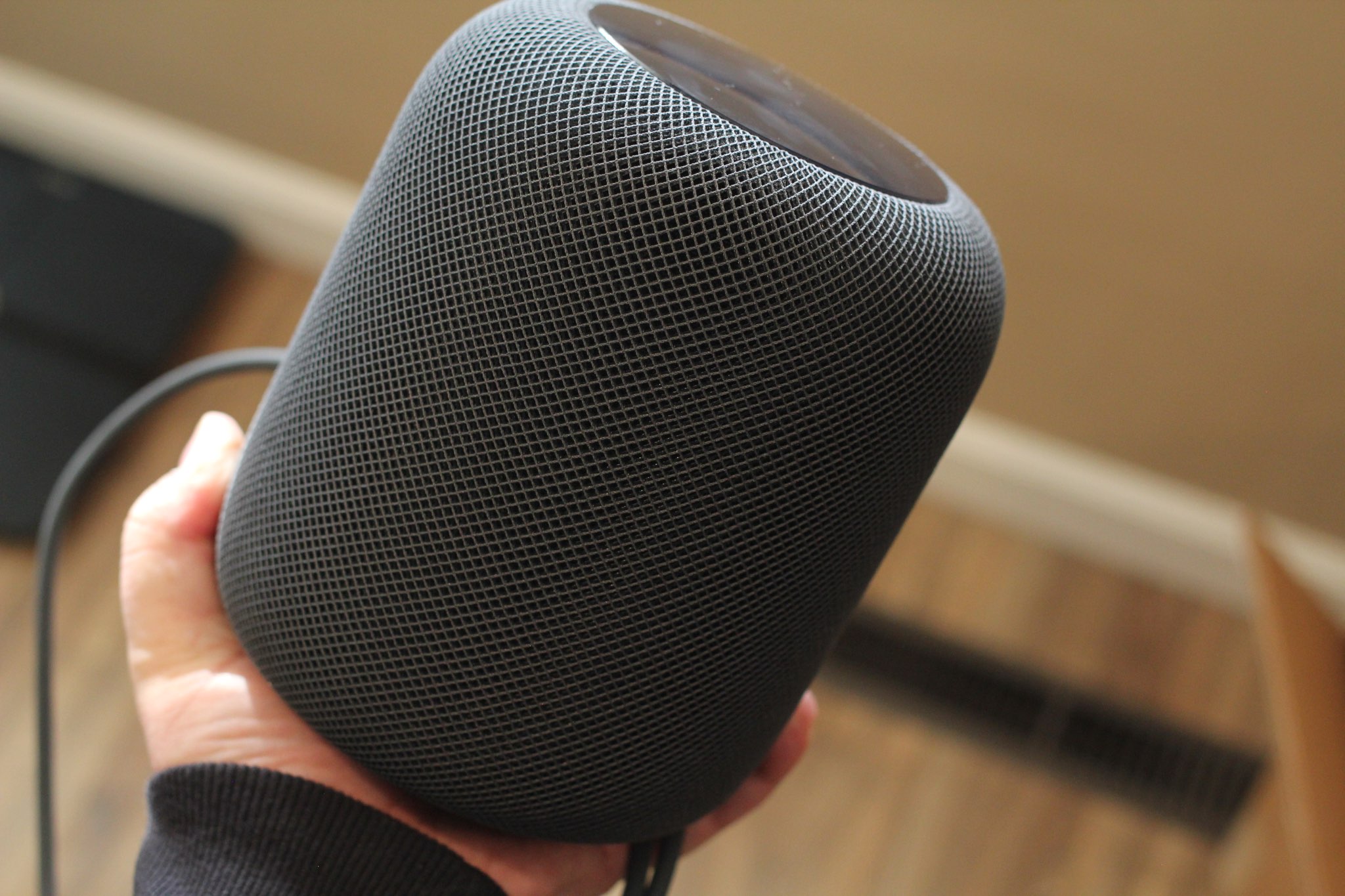 With Personal Requests, you can ask Siri on your HomePod to send a message to a friend, set a reminder so you don't forget to run errands or make a note to capture a quick thought.
When setting up your new HomePod for the first time, you'll be asked if you'd like to turn the Personal Requests feature on or off. You'll also need to choose an iOS device to use for location sharing, which Siri on HomePod will use to create location-based reminders, provide information about current traffic conditions, weather and so forth.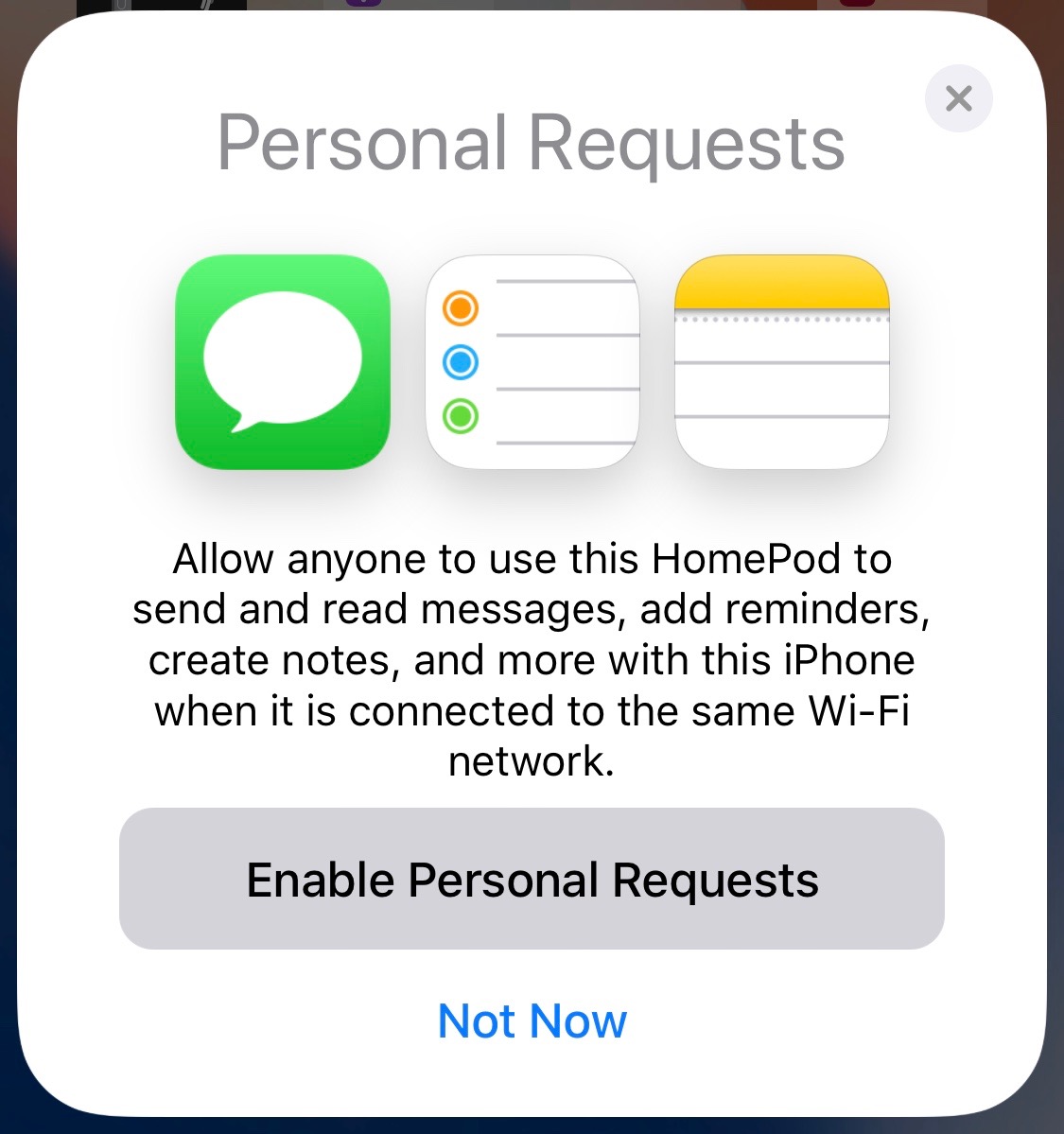 Any request of personal nature that requires access to Contacts, Messages, Reminders and Notes is handed off to your iOS device for processing, regardless of who's speaking.
TUTORIAL: How to set up your new HomePod
Even though this feature is off by default, HomePod owners who have nothing to hide from their families may want to turn it on in order to make the most from their purchase.
Personal Requests and your privacy
HomePod's Siri can access Contacts, Messages, iCloud Notes and Reminders if:
Your HomePod and iOS device are on the same local network
Your iOS device is turned on
Siri is turned on for both your iOS device and HomePod
Your iOS device is the one you share your location from using Find My Friends
HomePod won't accept personal requests when:
You're away from home
Your iOS device is turned off
Your iOS device is not on the same Wi-Fi network as HomePod
Siri doesn't recognize multiple voices so anyone in your household—guest or resident—can ask HomePod to read your unread texts or send messages when this feature is on.
For example, your mischievous son could easily read your incoming messages while you're in the other room or even ask Siri on HomePod to text, say, your boss with a message saying, "I quit" or some such. Likewise, one of your guests may be able to add random stuff to your shopping list or create unwanted reminders using your unattended HomePod.
TUTORIAL: How to update the software on your HomePod
If you live with roommates or simply value your privacy, chances are you'll be eager to limit HomePod sharing with other members of your household or friends when they come over, sometimes with acquaintances. You can easily stop all users, yourself included, from making personal requests using your HomePod with just a few taps.
Here's how…
How to stop Personal Requests on HomePod
You can turn the Personal Requests feature on or off at any time in the Home app:
1) Open the Home app on your iOS device with iOS 11.2.5 or later.
2) Tap the icon in the upper-left corner that resembles a location symbol.
3) Tap your name under People.
TIP: If you have multiple HomeKit-compliant homes set up in the Home app, choose the option Home Settings after tapping the arrow icon.
3) Slide the toggle Personal Requests under the heading Siri on HomePod to the OFF position.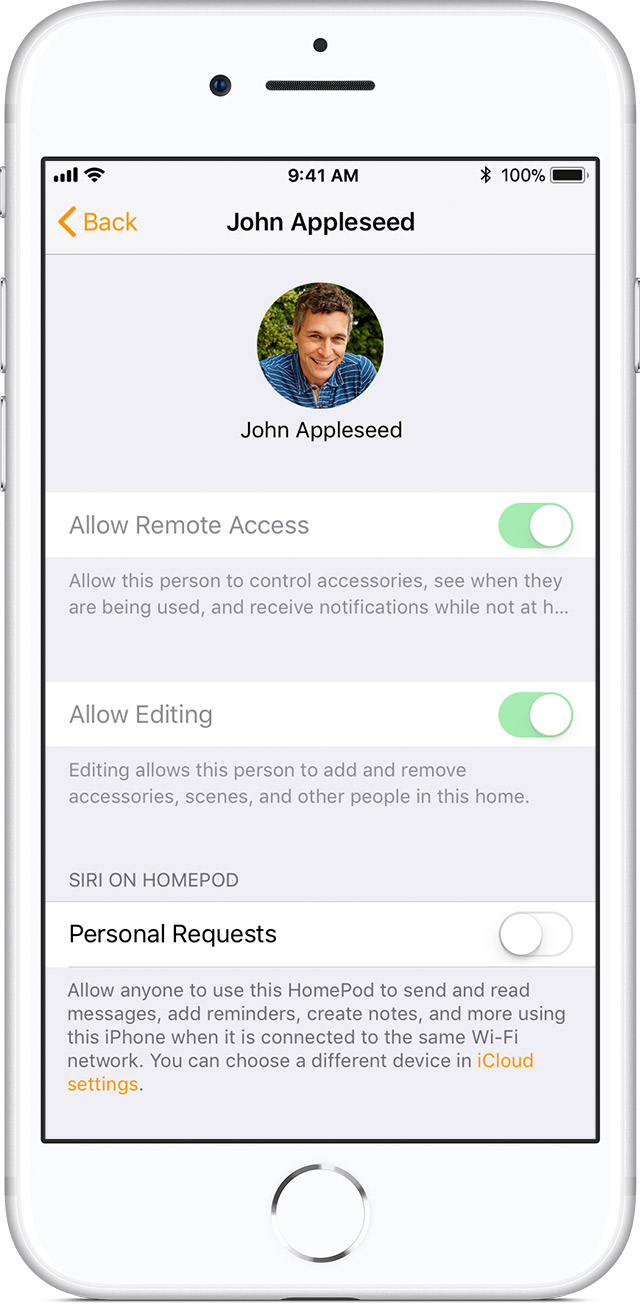 To re-enable Personal Requests, repeat the steps above but with flipping that switch to the ON position. You must also set up your iOS device for Personal Requests by enabling Siri in Settings and location sharing (tap your registered Apple ID name at the top of Settings, then tap iCloud → Share My Location → From and choose the option labeled This Device).
Subscribe to iDownloadBlog on YouTube
Lastly, press and hold (or tap and hold) your HomePod in the Home app, tap Details and make sure that the options labeled Listen for Hey Siri and Touch and Hold for Siri are turned on.
TUTORIAL: How to use your HomePod with your Apple TV
How do you like this handy HomePod tip?
Share your favorite HomePod how-tos with fellow readers in the comments down below.
Need help? Ask iDB!
If you like this how-to, pass it along to your support folks and leave a comment below.
Got stuck? Not sure how to do certain things on your Apple device? Let us know via help@iDownloadBlog.com and a future tutorial might provide a solution.
Submit your how-to suggestions via tips@iDownloadBlog.com.
Source link: http://www.idownloadblog.com/2018/02/19/homepod-how-to-disable-personal-requests/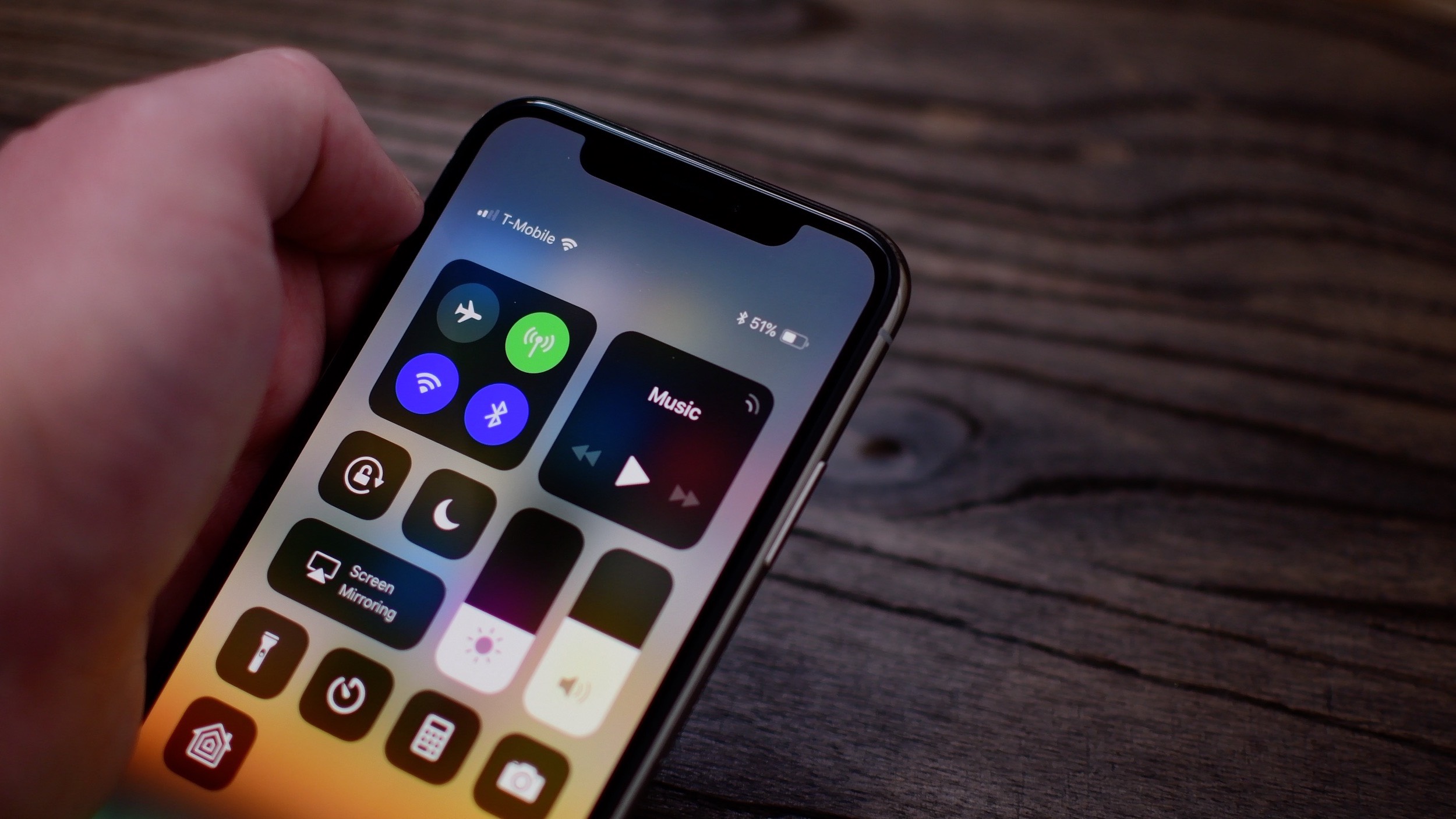 iOS 11 brought a customizable Control Center and also moved AirPlay options around.
While the new Control Center is a lot better and more customizable than in previous iOS versions, the AirPlay experience took a step back. That's because it's now less obvious how you can send audio or video content to an AirPlay-compatible device, like your Apple TV set-top box or a Sonos wireless speaker.
Most people access the list of AirPlay output options by bringing up Control Center.
TUTORIAL: How to use Control Center on iPhone X
From there, they would firmly press the Now Playing card with 3D Touch (or tap and hold on devices without 3D Touch) to expand it and reveal playback controls, including the AirPlay output button in the top-right corner.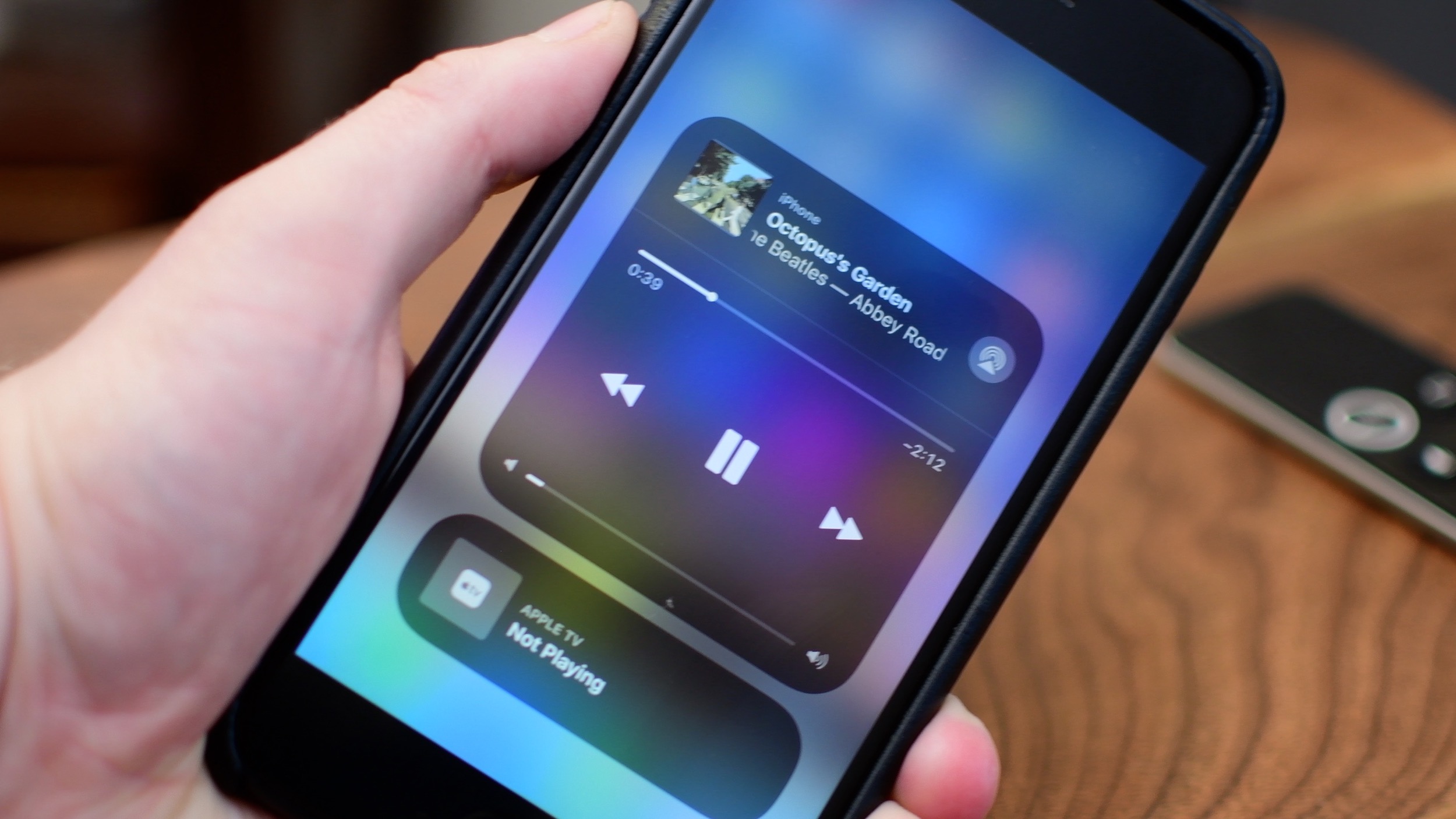 Tapping that button reveals the list of AirPlay destinations, with one final tap to select a desired AirPlay device to use as an output. It's a multi-step affair—four steps, to be precise—for such a seemingly simple task as changing your AirPlay device.
How to quickly toggle AirPlay output on iOS 11
Thankfully, there's a hidden shortcut in Control Center that saves you from having to fumble with 3D Touch, expanded playback controls and all that jazz.
1) Bring up iOS 11's Control Center on your iOS 11 device:
iPhone X—Swipe down from the top-right edge of the screen.
iPhone and iPod touch—Swipe up from the bottom edge of any screen.
iPad—Swipe up from the bottom edge of the display or double-click the Home button.
2) Tap the icon in the upper-right corner of the Now Playing card.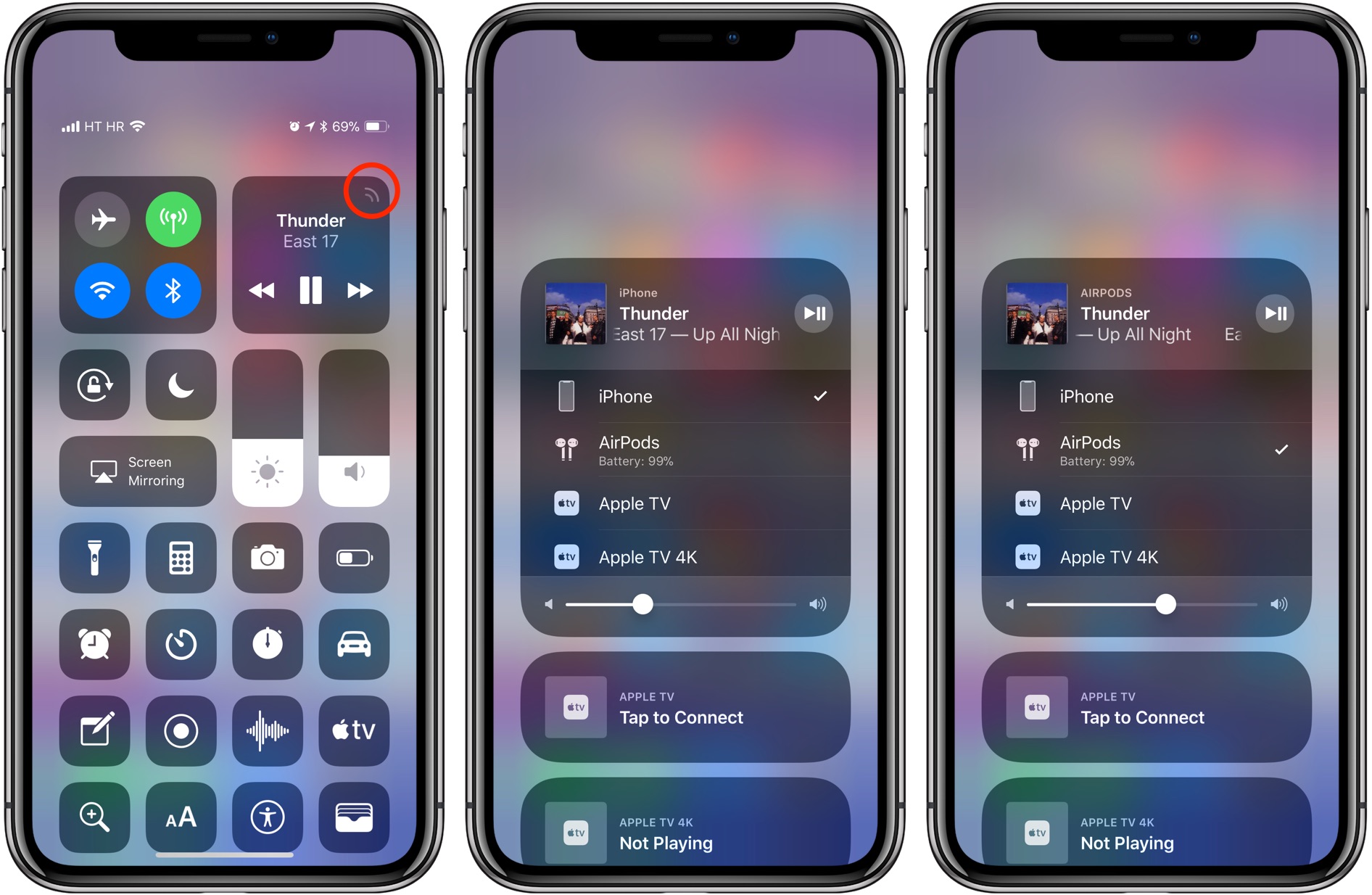 To go straight to AirPlay from Control Center, hit the icon that looks like half a Wi-Fi logo.
Your AirPlay audio menu immediately pops up into view, allowing you to change the AirPlay playback device with a single tap. This useful tip means you no longer have to expand the Now Playing controls if all you want is go straight to AirPlay from Control Center.
If you're in an app that provides its own AirPlay menu, like the Music app, use that to change your AirPlay destination even faster than going with Control Center's Now Playing card.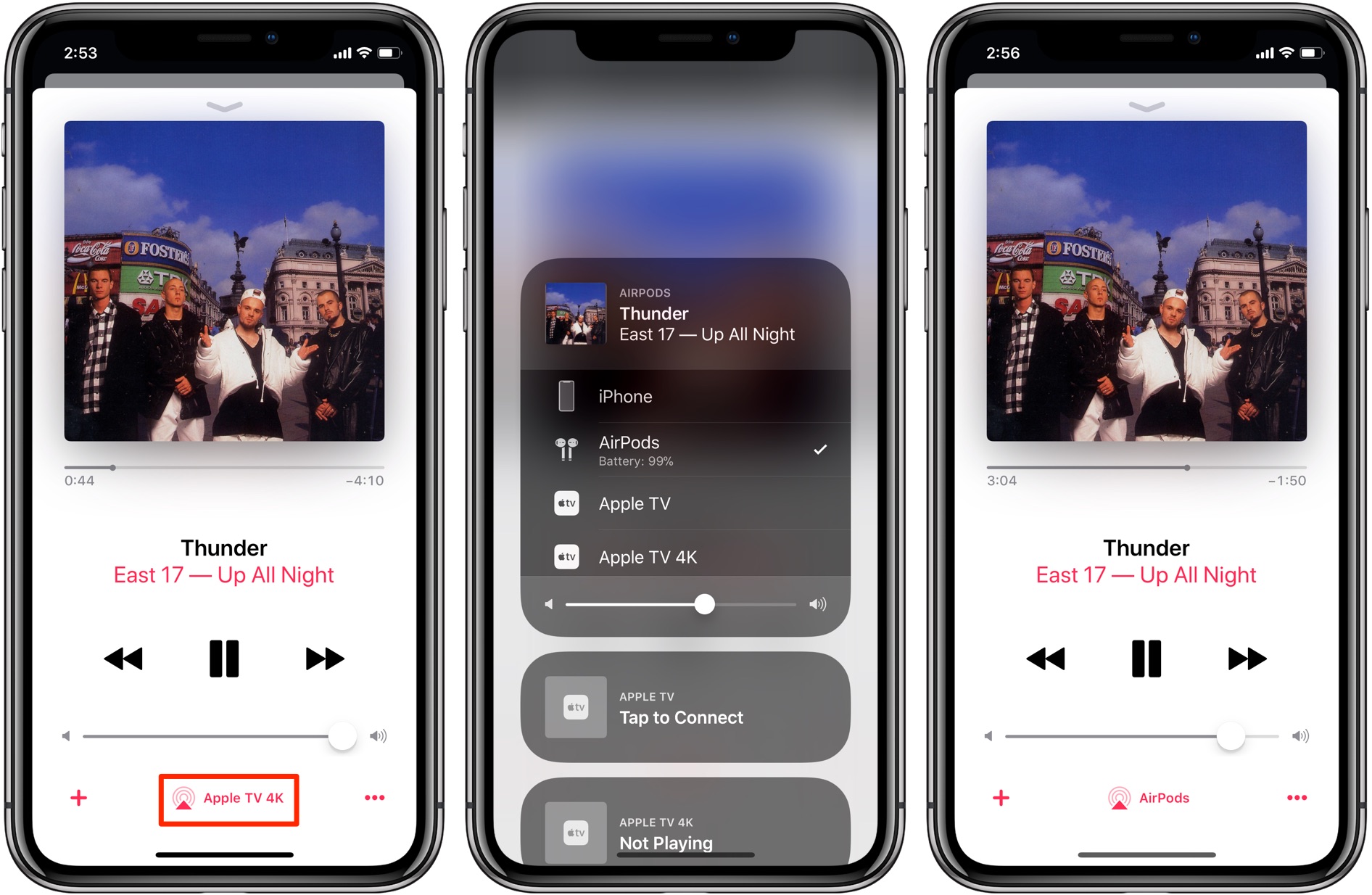 The Music app provides its own shortcut to the AirPlay menu.
I love my AirPods and typically switch them between my iPhone, iPad, Mac and Apple TV multiple times per day. Anything that helps me enable my AirPods from the AirPlay menu with as few taps as possible gets a thumbs-up in my book.
This also works with video. If you start playing a video embedded on a webpage via your iPhone and want to continue watching on your television, hit that icon on Control Center's Now Playing card and select your Apple TV from the list.
Subscribe to iDownloadBlog on YouTube
Do yourself a favor and memorize this handy shortcut to jump straight to AirPlay from your Control Center without having to manually expand the Now Playing card.
How do you like this cool trick?
Let us know in the comments!
Need help? Ask iDB!
If you like this how-to, pass it along to your support folks and leave a comment below.
Got stuck? Not sure how to do certain things on your Apple device? Let us know via help@iDownloadBlog.com and a future tutorial might provide a solution.
Submit your how-to suggestions via tips@iDownloadBlog.com.
Source link: http://www.idownloadblog.com/2018/02/19/ios-11-how-to-quickly-toggle-airplay-output-iphone-ipad/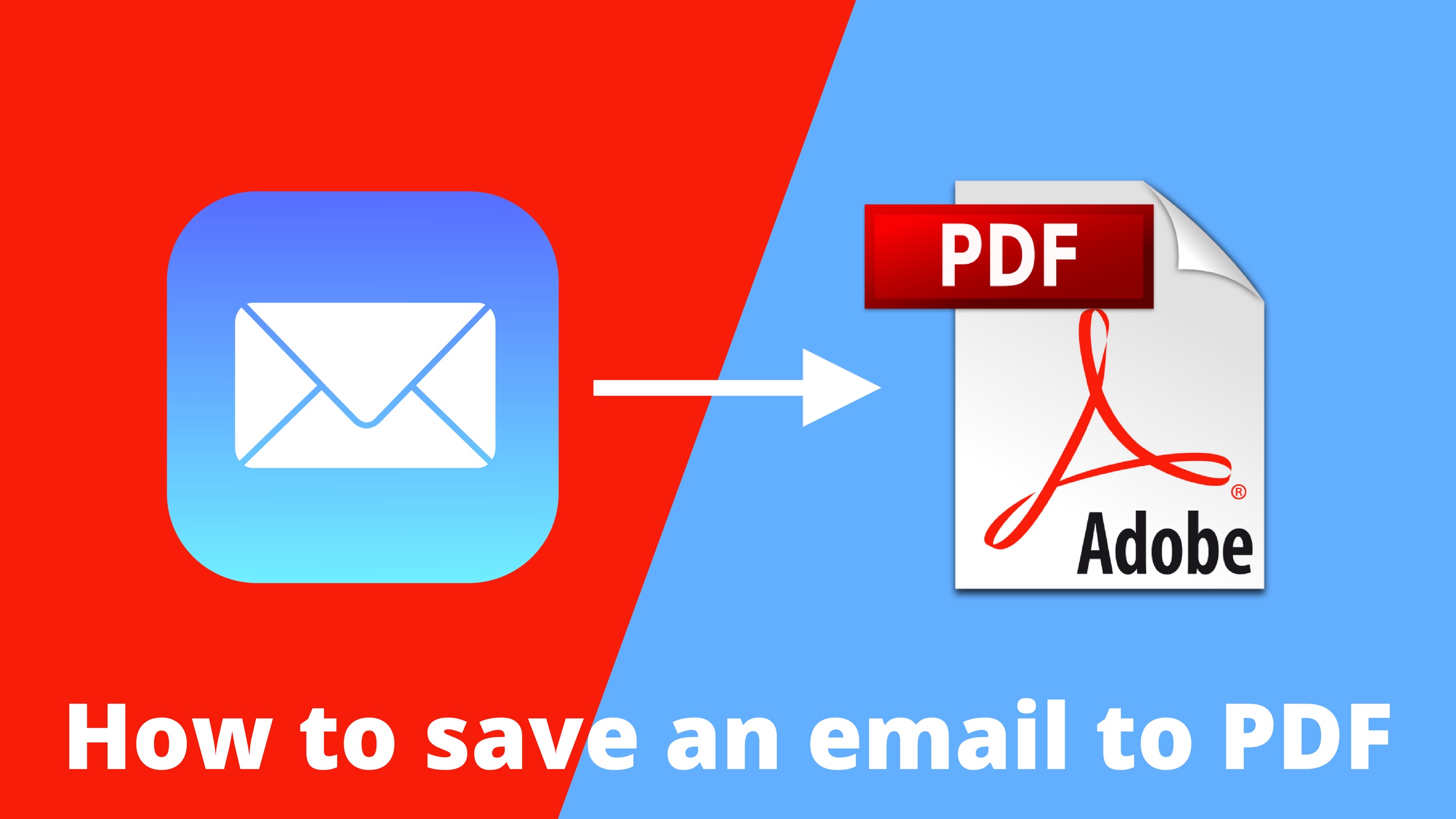 If you want to save the content of an email outside of your inbox, the best file format to choose is probably PDF as it is widely used and it can be shared and viewed across all platforms, including Windows PCs, Macs, iOS, and Android devices.
In this post, I will show you how to save an email as PDF from your iPhone, iPad, or Mac, without having to use a third-party application. You will then be able to either share this PDF with someone, or save it locally on your device or your computer.
For this tutorial, we will assume that you are using the default Mail application on your iPhone, iPad, or Mac. Most third-party email clients have their own feature to print an email to PDF, so the method depends greatly on the app you use. But if you use the stock Mail app, these instructions will work perfectly for you.
How to convert an email to PDF on iPhone and iPad
The screenshots in this part of the guide were taken on an iPhone, but the steps are identical on iPad.
1) On your iPhone or iPad, select the email you want to save as a PDF document.
2) Tap on the forward button, and select Print.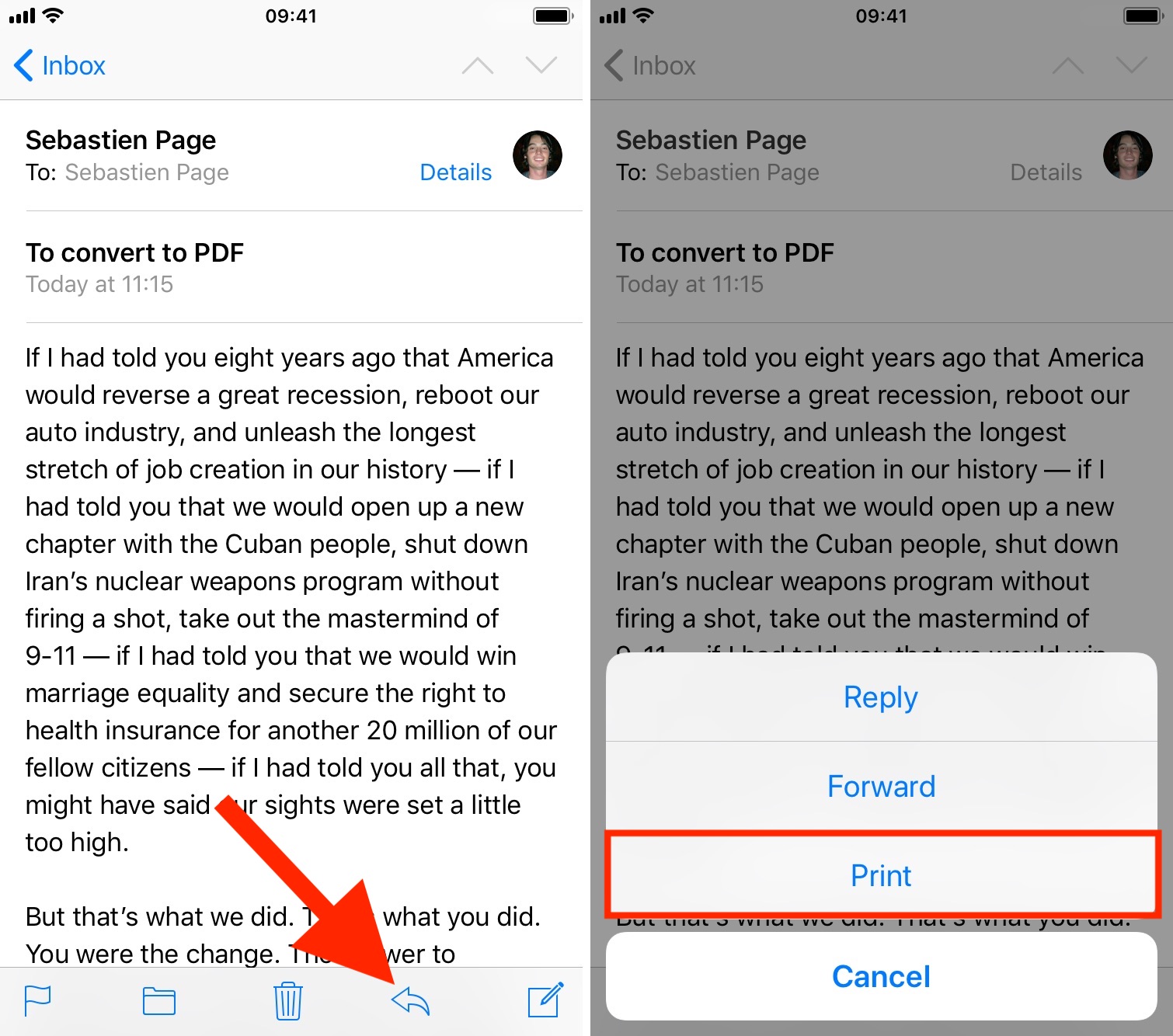 3) You will now be presented with a preview of what your email would look like if you were to print it. Do a pinch-to-zoom gesture on the image preview of the email. Alternatively, you can press firmly on the preview if you're using an iPhone.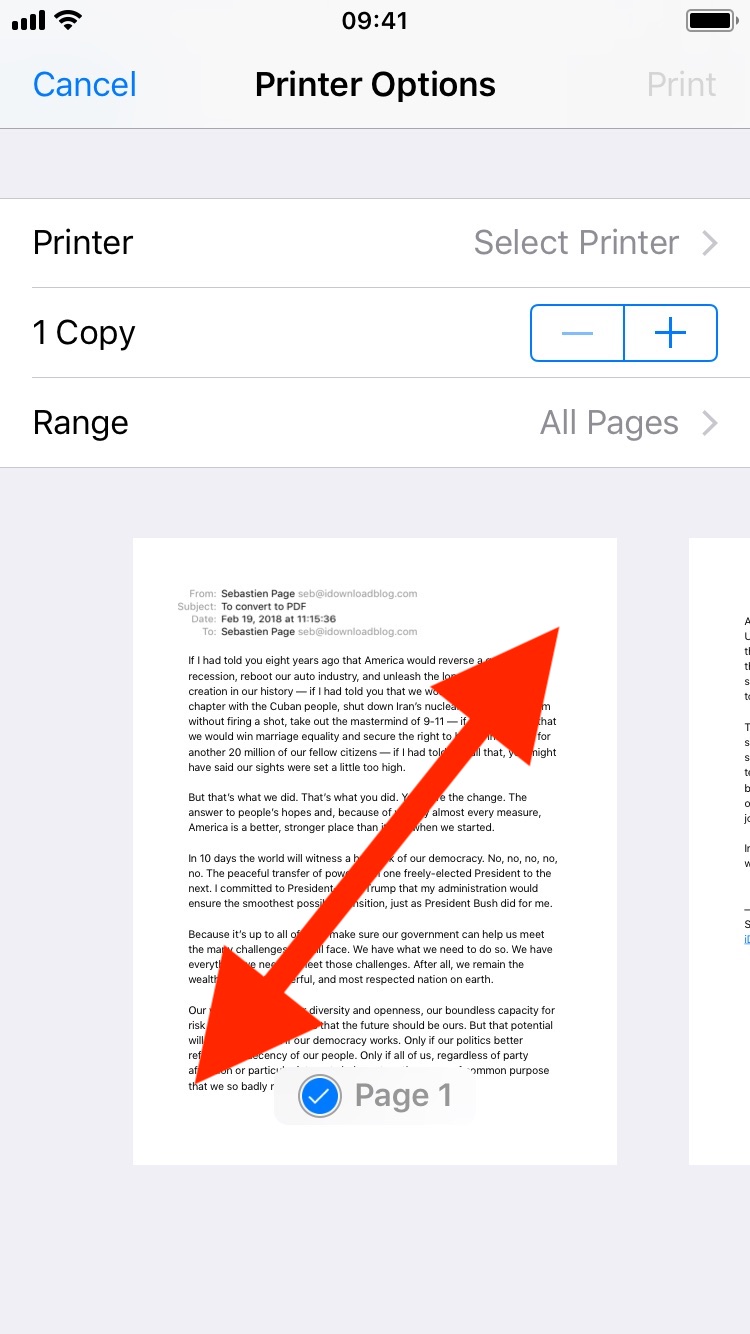 4) The preview will now take the entire screen. What you are seeing is now a PDF. Tap the Share icon in the upper right corner of the screen. You can now share the PDF file generated by SMS, email, and more, or save it to iCloud Files, Dropbox, and more, depending on the apps you have installed on your device.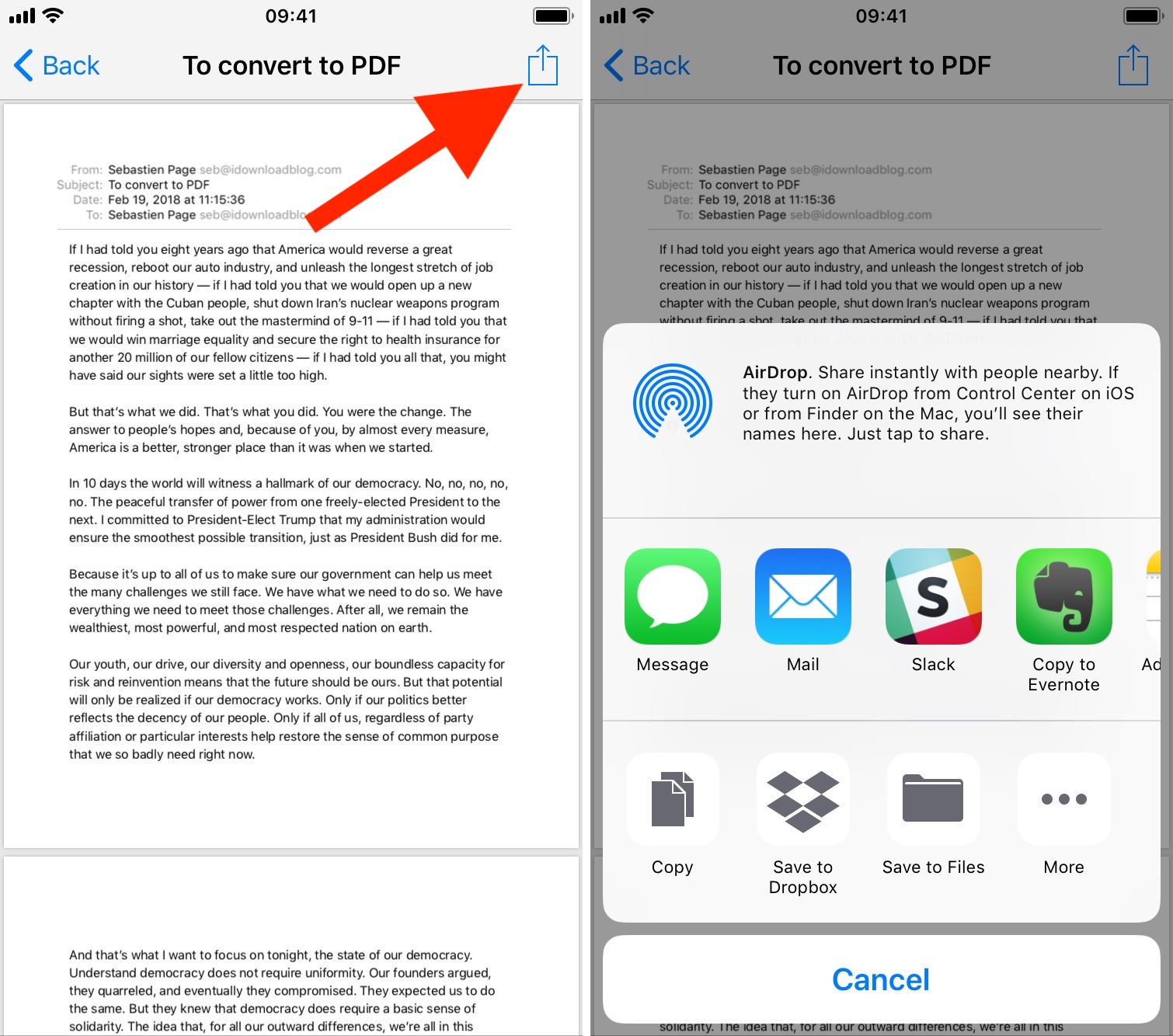 How to convert an email to PDF on Mac
1) On your Mac, select the email you want to print to PDF.
2) In the menu bar, select File > Export as PDF…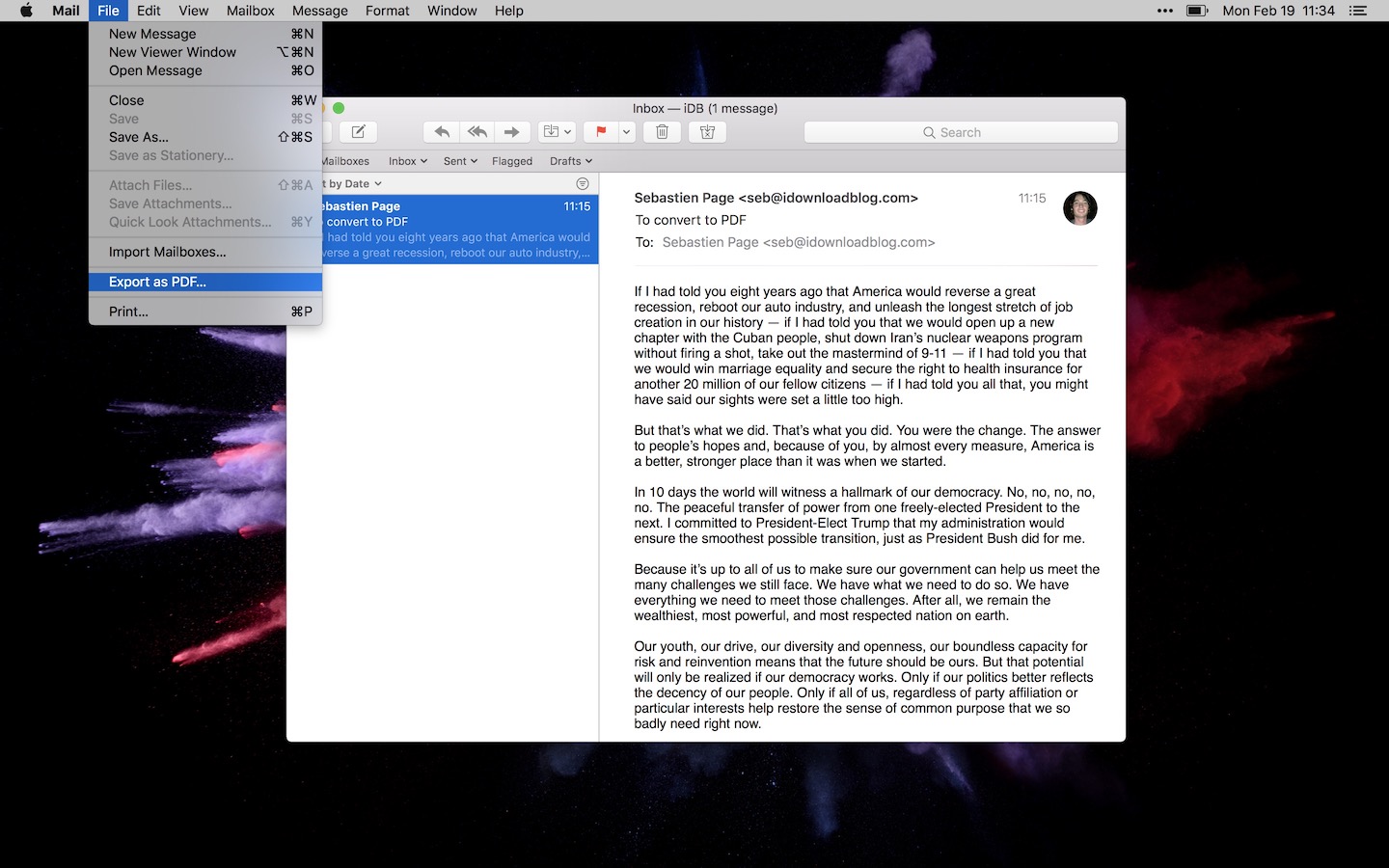 3) Select the location where you want the PDF file to be saved. In our case, we choose to save it to the Desktop. Click Save.
4) Once on your Desktop, you can obviously share it with someone via email, or leave it in a folder on your computer as some sort of backup.
We've written a few guides about PDF management over the years. If you're interested in knowing more power user tips on this topic, check out our guide to reduce the file size of a PDF on Mac, or how to save photos as PDF on iPhone and iPad, and other PDF-related tutorials we have published.
Source link: http://www.idownloadblog.com/2018/02/19/how-to-save-email-as-pdf/