Get HotMacNews- iOS App and Homepage
To access HotMacNews on your computer Click Here (It makes a great Home Page)
To download iPhone or iPad app (HotMacNews2) click here HotMacNews2
**Once in HotMacNews Home Page click on Preferences to customize to your needs.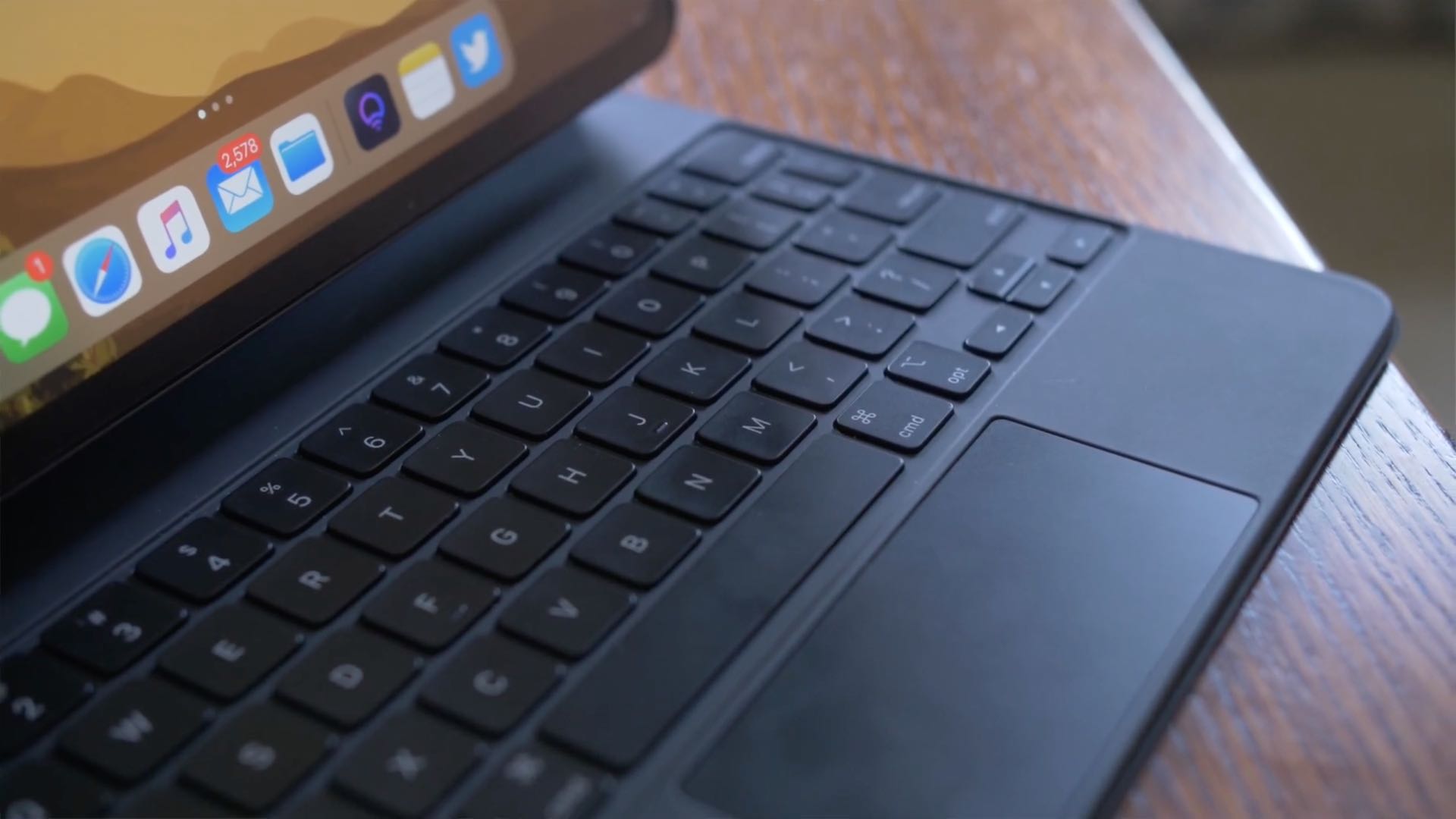 Bad news for anyone hoping to use their old Magic Keyboard with the new 12.9-inch iPad Pro sporting a mini-LED screen: you'll need to buy a new Magic Keyboard or find an alternative.
---
STORY HIGHLIGHTS:
The old Magic Keyboard doesn't work with the mini-LED iPad Pro.
There's no conspiracy to make you buy a new keyboard.
The new tablet is thicker to accommodate its mini-LED screen.
As a result, the Magic Keyboard has had to be updated.
---
Your old Magic Keyboard doesn't work with the new iPad Pro
Despite broad similarities between the 2018 and 2021 iPad Pros, the new 12.9-inch model with the mini-LED display is 0.5mm thicker. That's the engineering cost of adding 10,000 tiny LED lights behind the display, each controller individually, versus a handful of LEDs in the old model.
→ Cool Magic Keyboard trackpad gestures everyone should know
As a result of the increased thickness, the company has had to adjust the dimensions of the iPad Pro's dedicated trackpad keyboard, as first discovered by the French blog iGeneration.fr.
"According to the Apple Store documentation we've been able to consult, the old Magic Keyboard is not compatible with the large iPad Pros of 2021," the site confirmed. Basically, the old Magic Keyboard grips the tablet too tightly when closed. "Apple has not left a millimeter of leeway, because the accessory must hold the iPad tightly in place," iGeneration.fr added.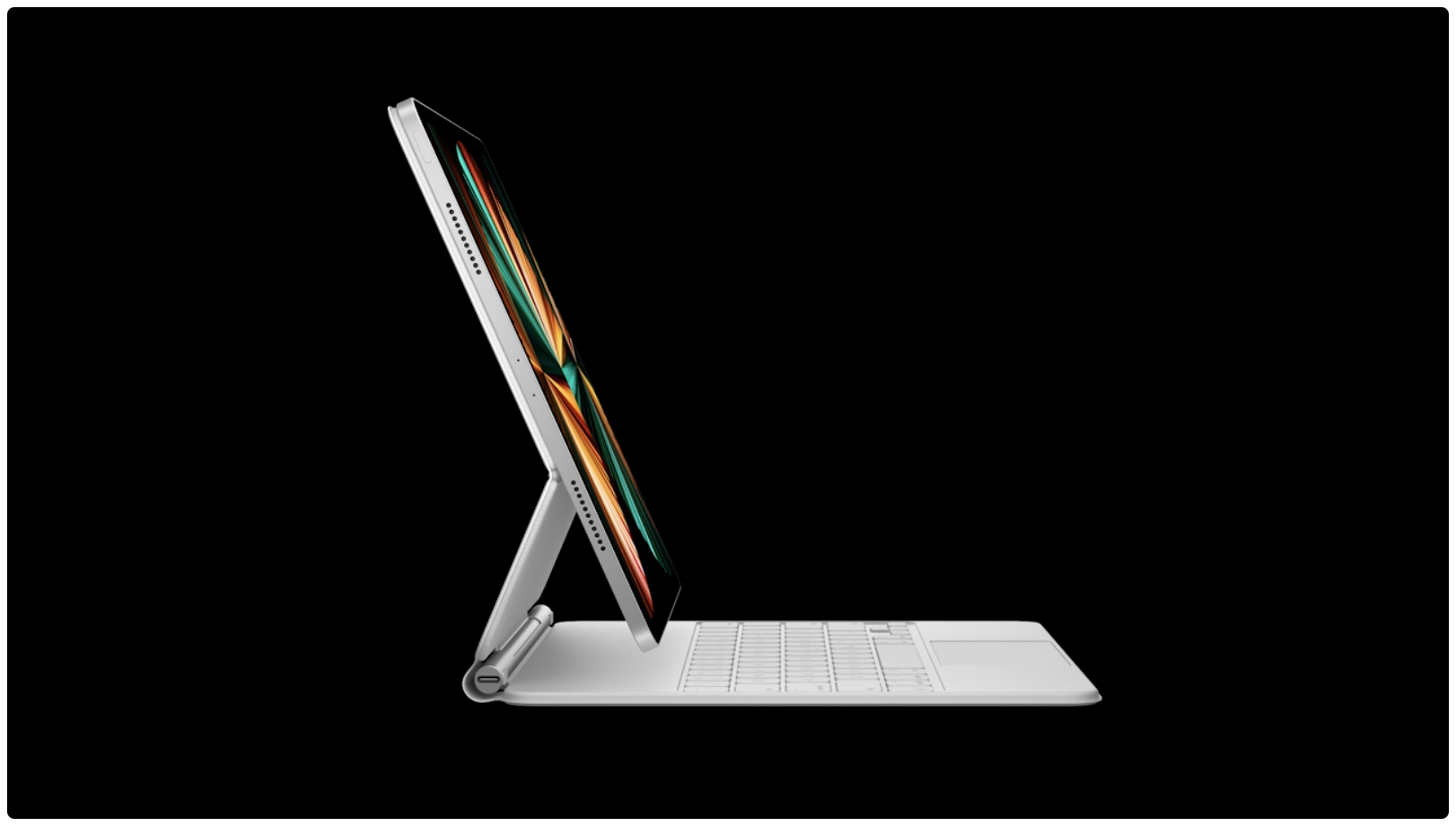 This isn't going to please anyone planning on getting the new mini-LED iPad Pro and hoping to use their existing Magic Keyboard, even more so considering Apple's premium pricing—the 11-inch version of the Magic Keyboard is a $299 value, while the 12.9-inch is a whopping $349.
The new Magic Keyboard features the same floating design, smooth angle adjustment, mechanical keys with 1mm travel and backlighting as the previous model, but now comes in a new white color. For those wondering, the new Magic Keyboard has been confirmed to work on both the new and previous-generation 12.9-inch iPad Pro.

Source link: https://www.idownloadblog.com/2021/04/23/why-your-previous-magic-keyboard-doesnt-work-with-the-new-mini-led-ipad-pro/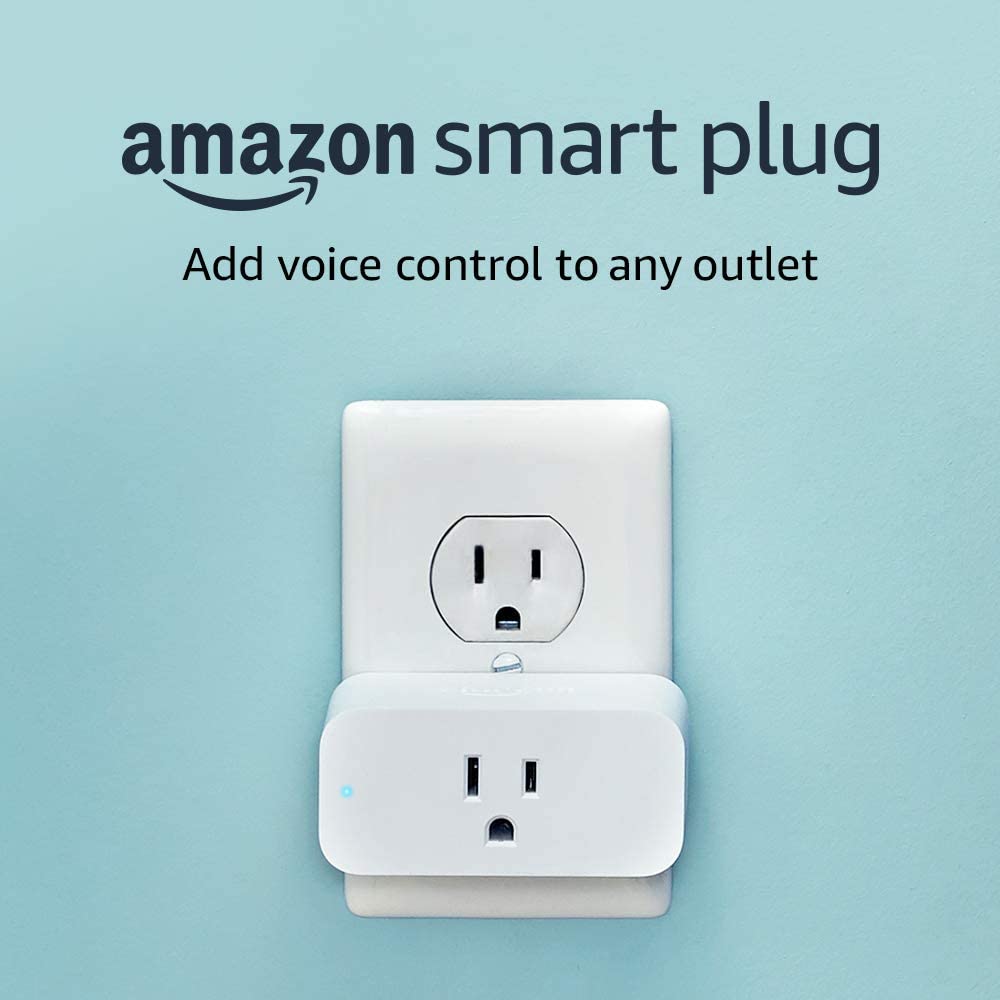 If you're an Alexa user, or are considering becoming one, you're going to want to hear about today's deal. It's the Amazon Smart Plug, which works with Alexa (or the mobile app) to form a simple smart solution for your home, and right now it's just $15.
What you need to know:
Works with Alexa to add voice control to any outlet
Certified for Humans – struggle-free, tinker-free, stress-free
Schedule lights, fans and appliances to turn on and off automatically, or control them remotely while away
No smart home hub required-set up routines and schedules through the Alexa app
Compact design keeps second plug free
Offers tips on saving energy and estimate your light's consumption with the Alexa app
Typical price runs between $21-$25, this price matches its lowest ever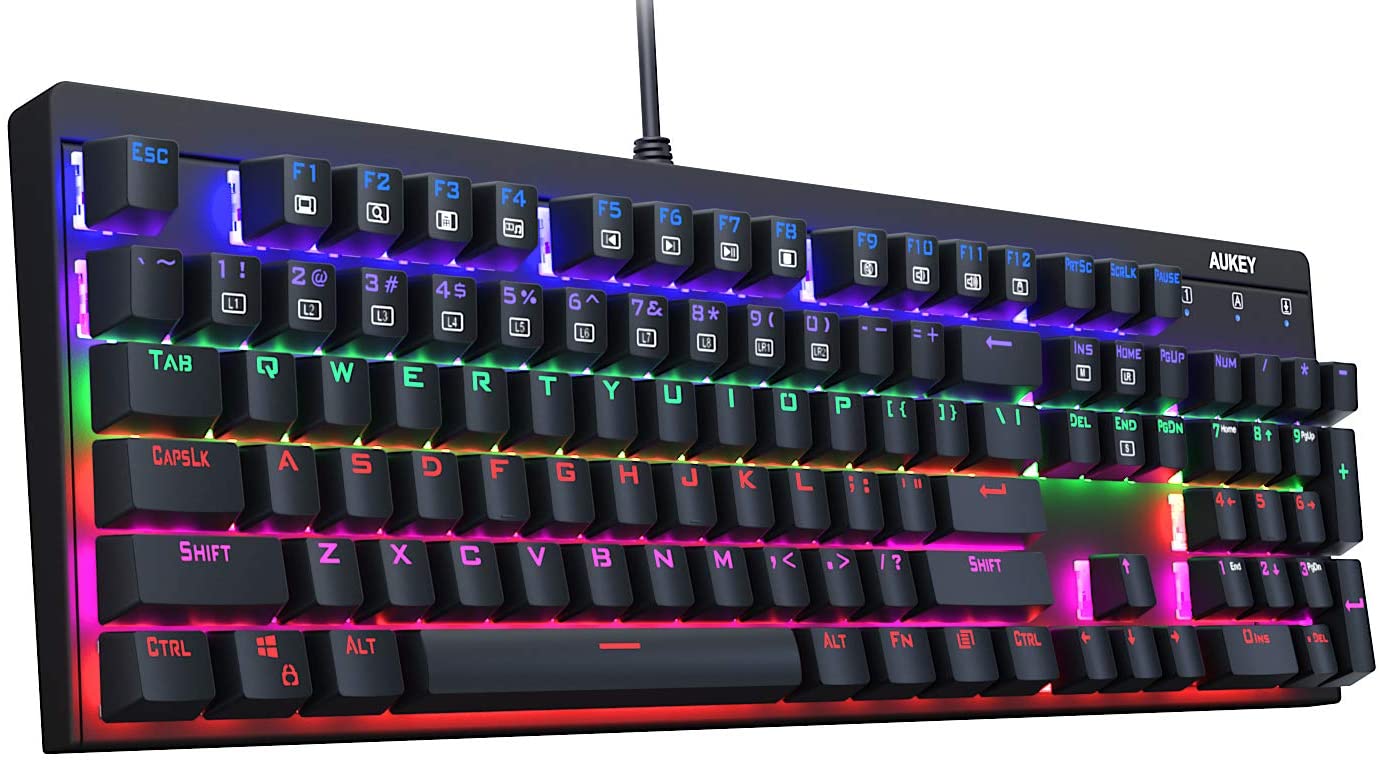 Buy this highly-rated mechanical gaming keyboard for just $28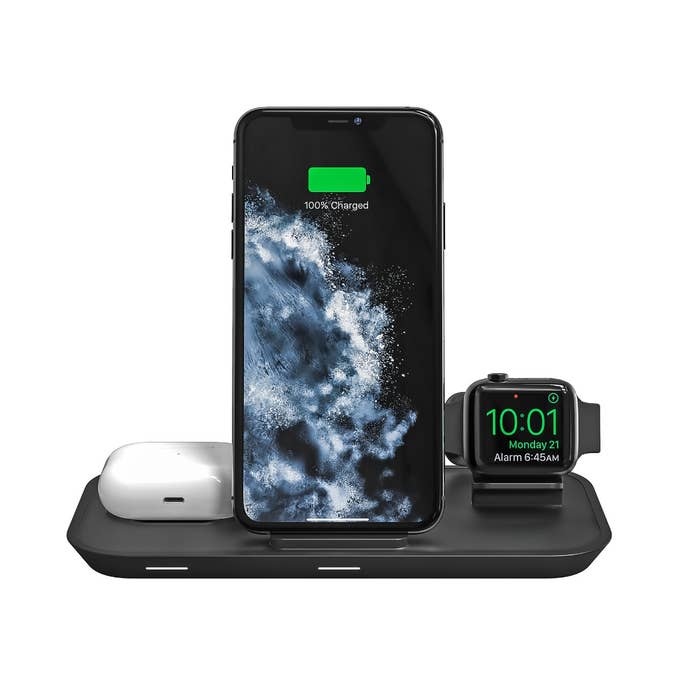 Save $40 on this mophie 3-in-1 charging stand
Discounted Apple products:
A

pple Mac

mini M1 – this the base model with 8GB

RAM

and 256GB

SSD

. $30 off. Buy for $670
Other notable tech discounts:
1-year Playstation Plus membership – get

access

to

multiplayer online games

,

free

games,

discount

games, and much more. Normally $60. Buy for $29

Source link: https://www.idownloadblog.com/2021/04/22/smart-plug-amazon-deal/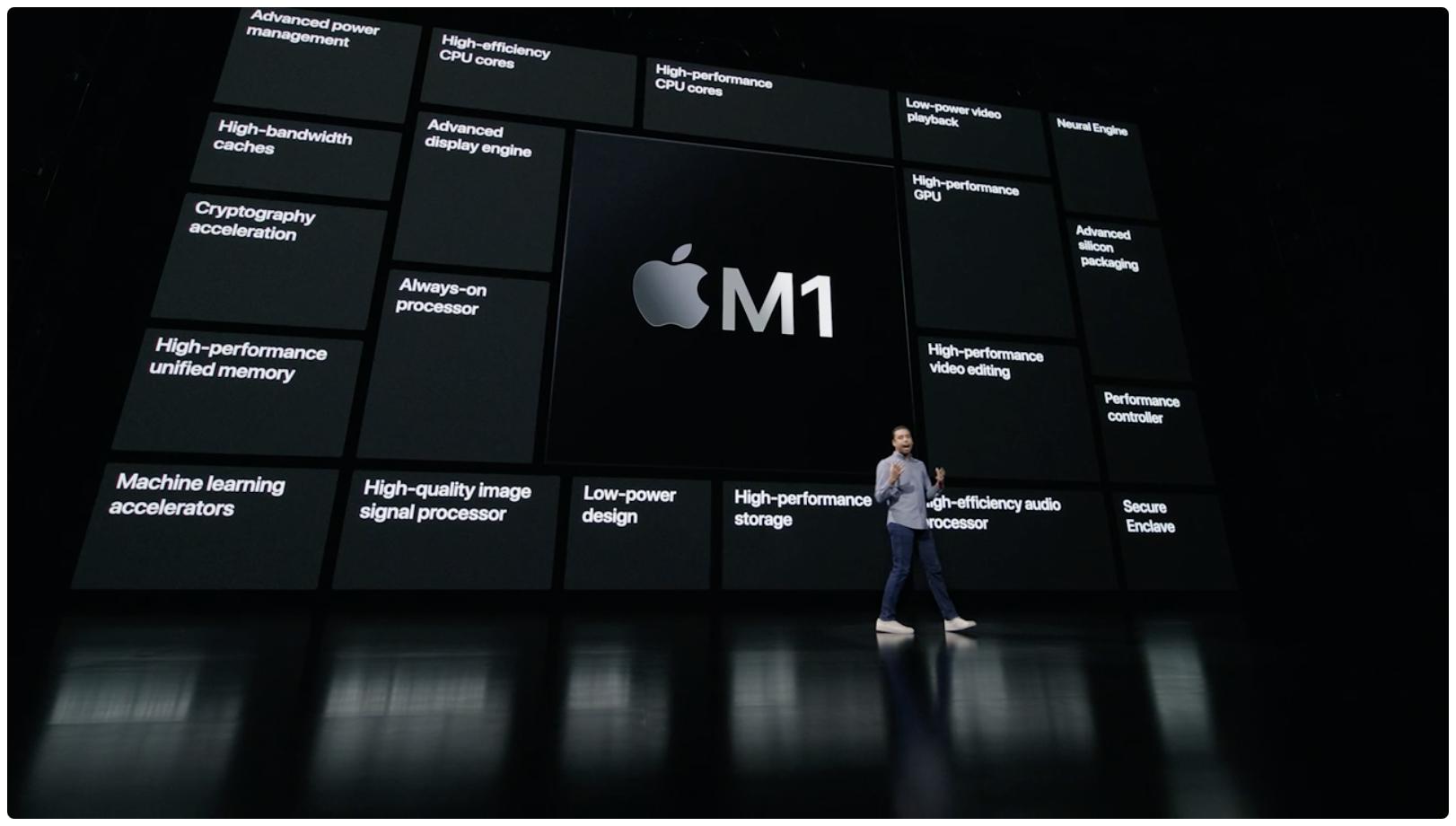 It has been speculated for quite some time that Apple will maybe, one day, merge the iPad and Mac lineup in some way or another. That may mean the removal of the MacBook Air in favor of the iPad Pro, or something else entirely. Like just putting macOS on an iPad, for instance. But so far, Apple hasn't gone through with it.
For what it's worth, Apple probably rekindled those speculations all on its own this week when it debuted the new iPad Pro with an M1 processor under the hood. That chip, first introduced in the MacBook Air, MacBook Pro, and Mac mini in late 2020, was generally considered to be Apple's processor for Macs. Hence the M-series branding.
But then Apple went ahead and put the chip inside the new iPad Pro lineup and all bets were off. Especially when it comes to speculation regarding a future where the iPad and Mac lines merge.
But, according to Apple's marketing chief Greg Joswiak, Apple still doesn't plan to merge the two into one device. Joswiak and hardware chief John Ternus spoke with The Independent recently, focusing mostly on the new iPad Pro models. And, of course, merging the products definitely came up.
Joswiak says putting the M1 processor in the new iPad Pro is all about putting the best possible elements together to make something great. Not some big sign that they're working towards something else.
There's two conflicting stories people like to tell about the ‌iPad‌ and Mac,' says Joz, as he starts on a clarification that will lead him at one point to apologise for his passion. 'On the one hand, people say that they are in conflict with each other. That somebody has to decide whether they want a Mac, or they want an ‌iPad‌.

'Or people say that we're merging them into one: that there's really this grand conspiracy we have, to eliminate the two categories and make them one. And the reality is neither is true. We're quite proud of the fact that we work really, really hard to create the best products in their respective category.
Ternus added to that, saying that Apple is just trying to make the best possible Mac and the best possible iPad in any given instance. The company will continue to focus on that moving forward, and any ideas of merging anything are not on their radar.
Interestingly, the interview moves to the power of the M1 processor, and the fact that it's probably too much power for a tablet that can't run full, professional software like a Mac can. Think Final Cut Pro, for instance. But Joswiak says that extra headroom is great, and that it gives customers a potential indicator that their tablet isn't going to be obsolete in a year or two. And, for developers, it gives them the opportunity to expand their apps and really show off a bit.
The interview goes over plenty of other topics regarding the new iPad Pro, including the new mini-LED design. Go check it out, it's certainly worth a read.

Source link: https://www.idownloadblog.com/2021/04/22/apple-ipad-mac-no-merge/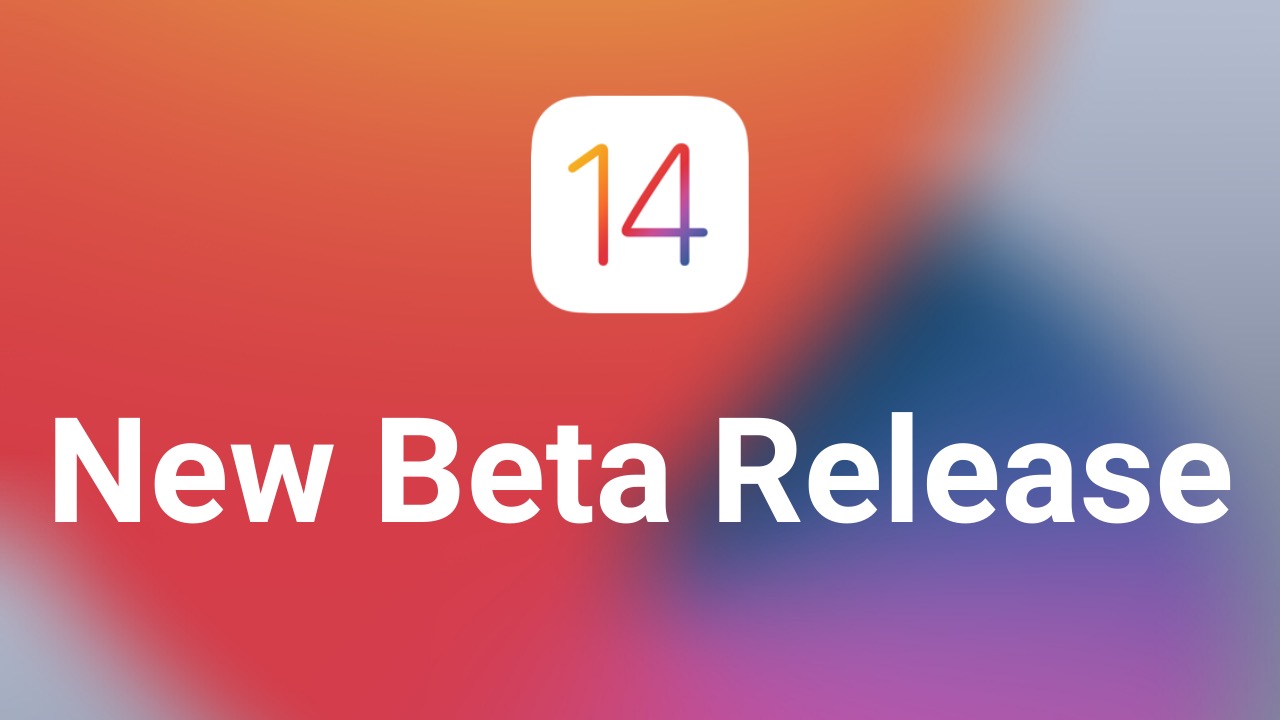 Apple has been working on updating its popular operating systems over the last few months, with iOS 14.5 set to launch next week. Before that happens, though, Apple's ready with another beta.
Apple seeded the Golden Master of its next big updates earlier this week, which means developers are ready for what's coming next. As such, Apple is ready to help out. The company on Thursday seeded the first betas of iOS 14.6, iPadOS 14.6, tvOS 14.6, and watchOS 7.5 to developers.
This prerelease software is meant specifically for developers. The software is more than likely still rough around the edges, and could lead to some issues with daily use. As such, it shouldn't be installed on a daily driver. Apple will likely seed a corresponding public beta at some point down the road.
To update, developers simply need to have the proper configuration profile installed on their testing device(s). For the Apple Watch, the smartwatch must have at least 50% battery life, be connected to its charger, and also be paired with the iPhone.
As far as what's new, that remains to be seen. We already know that iOS 14.5 is welcoming a variety of new features to the mix, so iOS 14.6 –and the other software updates heading down the pipe– might be a minor update with no major new additions.
However, if there are any major new discoveries made, we will update this post accordingly.

Source link: https://www.idownloadblog.com/2021/04/22/ios-14-6-dev-beta-1/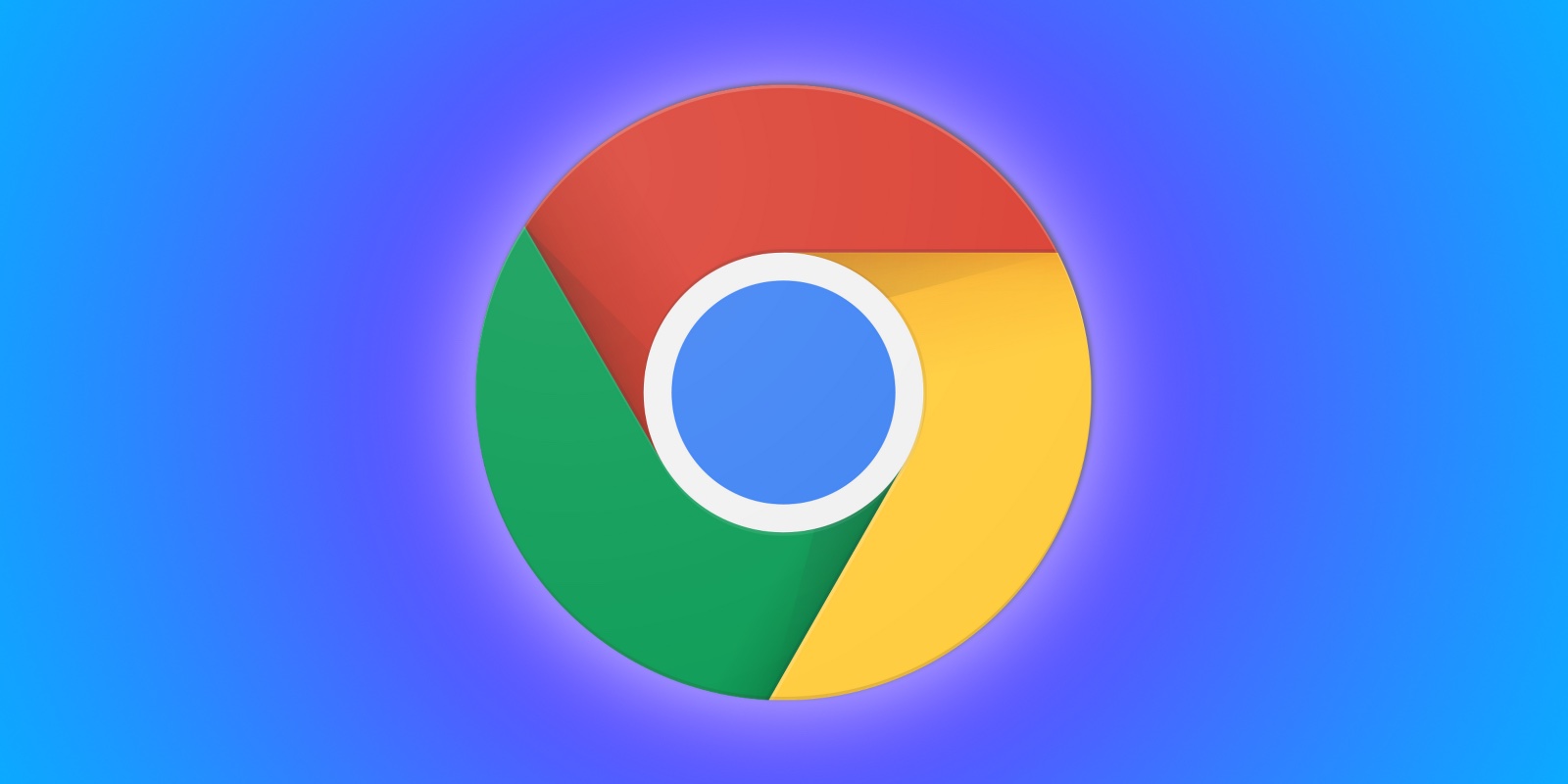 Google Chrome's Live Caption feature on desktop lets you configure the browser to automatically transcribe any audio or video without having anything sent to the cloud.
Similar to YouTube's auto-transcription capabilities and real-time captions on some Android phones, the live captions feature in Chrome uses on-device processing to provide real-time audio and video transcription without having to upload anything to the Google cloud.
Be advised that live captions don't work without hiccups in all situations.
That said, however, the feature appears to be reliable enough to be used on an everyday basis. Anyone can use live captions although Google has designed this as an accessibility feature for those with hearing impairments.
Chrome may even invite you to "Get captions for your audio and video" via a banner.
Introducing Live Caption in Chrome
This feature was introduced in March 2021 with Chrome 89 for Mac, Windows and Linux.
To view the version of Chrome that's currently installed on your computer, click the Chrome menu on your Mac and choose the option labeled "About Google Chrome". On Windows, hit the menu near the upper-right corner of the window, then choose Help → About Google Chrome.
If there's an update available, click to install it.
How to enable Chrome's Live Caption feature
Before you can use this feature, you must manually turn it on in the advanced accessibility settings section found within the Chrome preferences on your computer.
Open Chrome 89 or later on your computer.
Hit the three dots in the top-right corner of the screen, then choose "Settings."
On the Settings page, click "Advanced" on the lefthand side to reveal more settings.
Now select "Accessibility" under the heading labeled "Advanced."
On the righthand pane, toggle the "Live Caption" switch to turn the feature on.
This setting is off by default.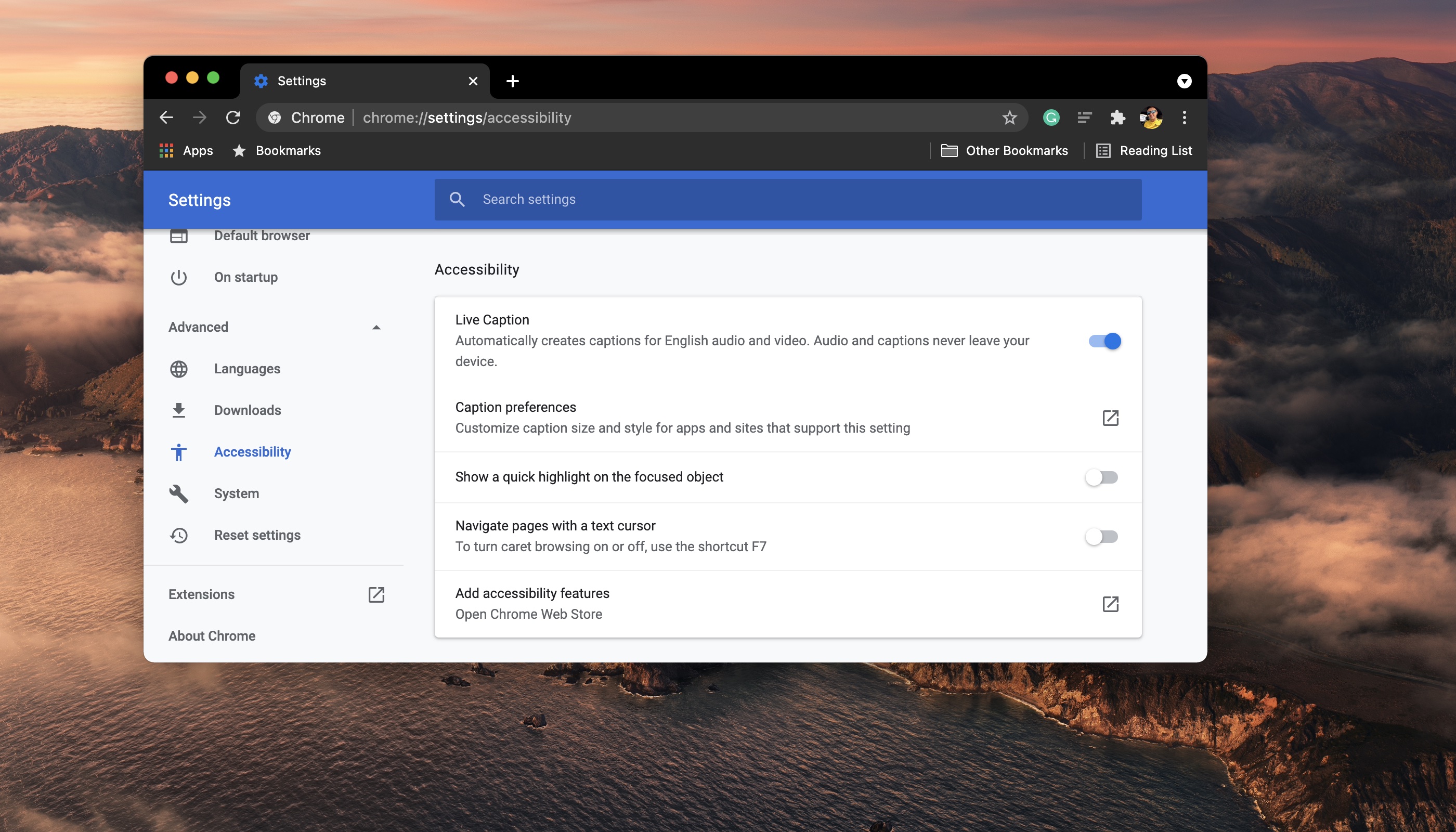 You can start using live captions right after Chrome has finished downloading the speech recognition files which are necessary for real-time transcription. As a matter of fact, there's nothing to "use" because this utterly awesome Chrome feature "just works."
To turn live captions off for all media, go to Chrome Settings → Advanced → Accessibility → Live Caption. Because this toggle is buried deep inside Chrome's accessibility settings, you may want to bookmark chrome://settings/accessibility to get there quicker.
How to use Live Captions in Chrome
With the speech recognition files downloaded (You'll see "Speech files downloaded" under "Live Caption" when the feature is ready), Chrome will automatically create captions for any English audio or video playing through the browser until you turn the feature back off. To be sure, this works for any audio played through Chrome, including videos, podcasts, voice calls and more.
Live captions appear in a box that pops up at the bottom of the window.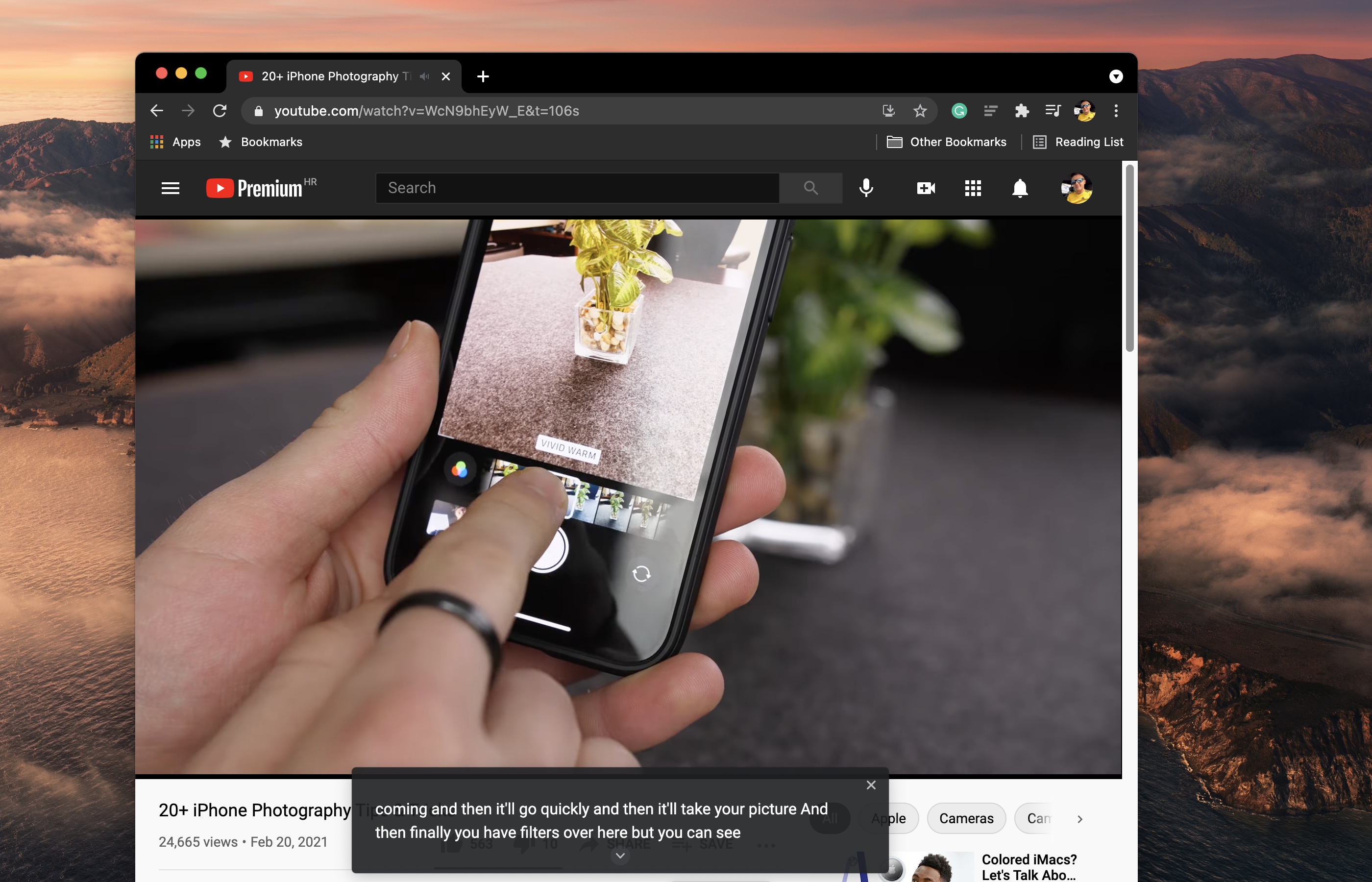 You can collapse and expand captions by clicking the arrow on the caption box. Likewise, it's possible to select the captions to move them to your preferred place in Chrome.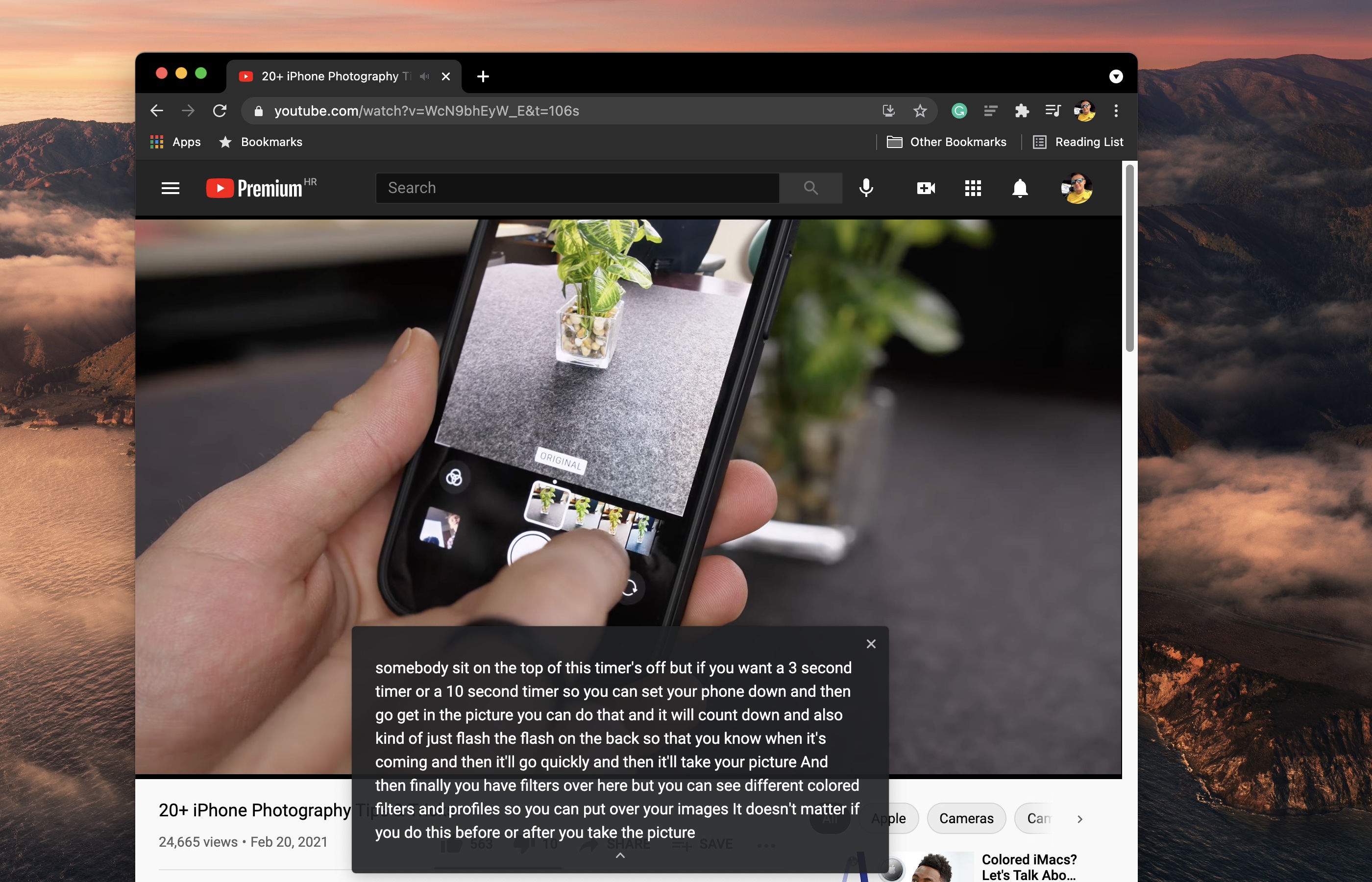 How to toggle Live Captions in Chrome
Once the Live Caption feature has been enabled and speech recognition data has finished downloading, you can toggle live captions on or off right from Chrome's toolbar. Simply click the playback controls icon found in the upper-right corner of the window, nested between Chrome's browser extensions toolbar and your Google Account profile icon.
This button only appears when some media is playing in Chrome.
Doing so will produce a popup with a big thumbnail of the media you're playing along with its title and other information. At the bottom of this mini-window, you should see the Live Caption button. Click it to toggle live captions on or off on the fly.
You can customize live captions in Chrome to make them easier to read by customizing the typeface and font size used for the feature.
Launch Chrome on your computer.
Hit the three dots in the top-right corner of the screen, then choose "Settings."
At the bottom, select "Advanced."
Under the section "Accessibility," choose the option labeled "Caption preferences."
Doing so will launch your computer's built-in settings for configuring subtitle options. Any changes to subtitles made here will be applied system-wide on your Mac.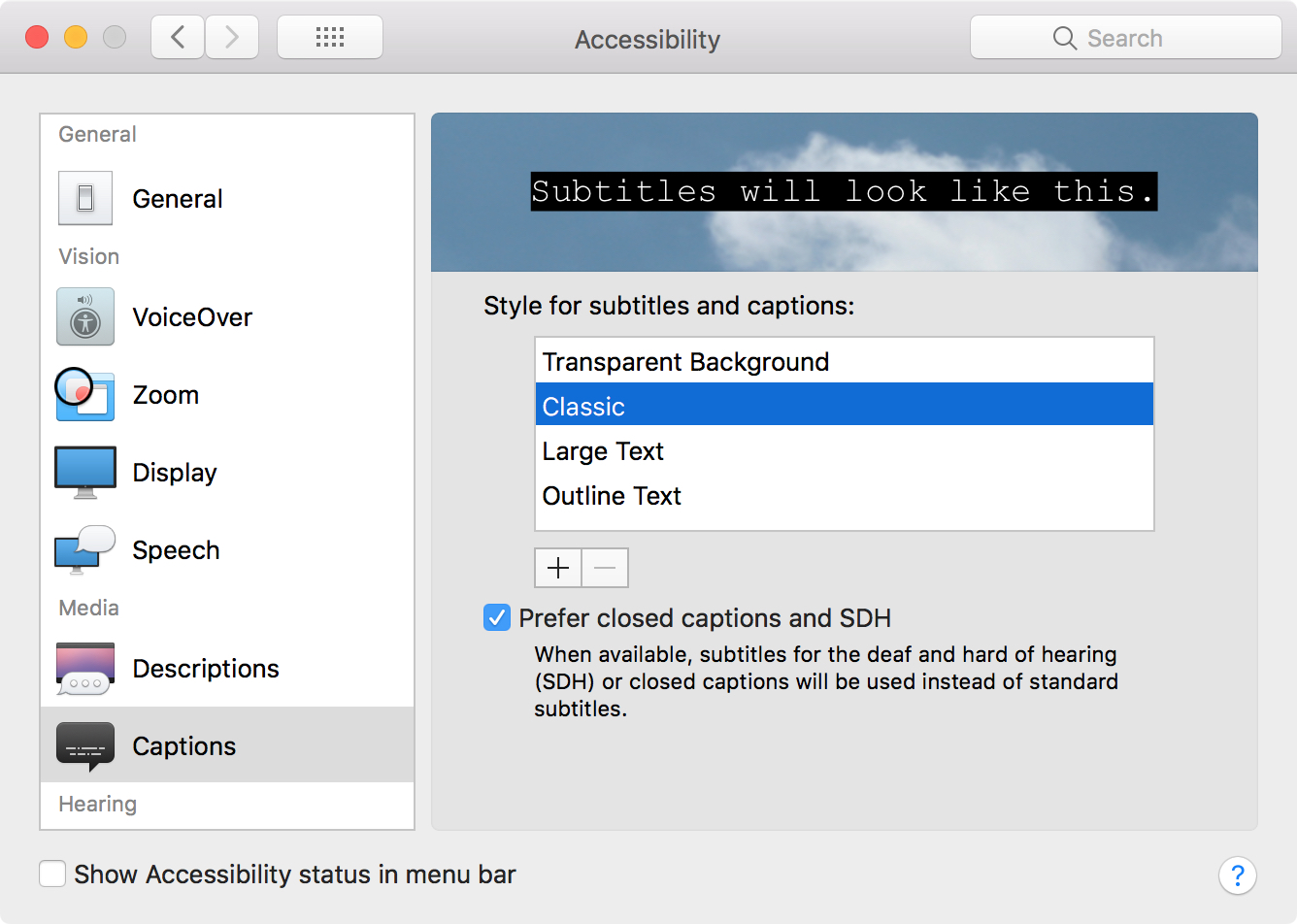 In macOS, you'll be taken to System Preferences → Accessibility → Captions to customize the caption font size for apps like Chrome. Simply choose one of the four captioning options on the right-hand side or create a new style that best suits your needs.
Things to know about Live Caption in Chrome
There are some pros and cons to using this feature, so here's what you need to know.
Live captions aren't just for people with hearing problems—use this feature to follow along to any spoken media without disturbing others by turning up the audio.
Speech recognition data lets Chrome transcribe any audio or video in real-time, right on your computer, without sending anything to the cloud. "Audio and captions never leave your device," according to a support document on the Google website.
You may encounter issues when using the auto-transcription feature in a noisy room. The same goes when using the feature when the audio quality is poor. On top of that, live captions may have trouble recognizing speakers with heavy accents.
Live captions were limited to English at the time of writing.
Live captions also work with Progressive Web Apps.
You can download the latest stable version of Chrome at google.com/chrome.

Source link: https://www.idownloadblog.com/2021/04/22/chrome-live-captions-tutorial/