Get HotMacNews- iOS App and Homepage
To access HotMacNews on your computer Click Here (It makes a great Home Page)
To download iPhone or iPad app (HotMacNews2) click here HotMacNews2
**Once in HotMacNews Home Page click on Preferences to customize to your needs.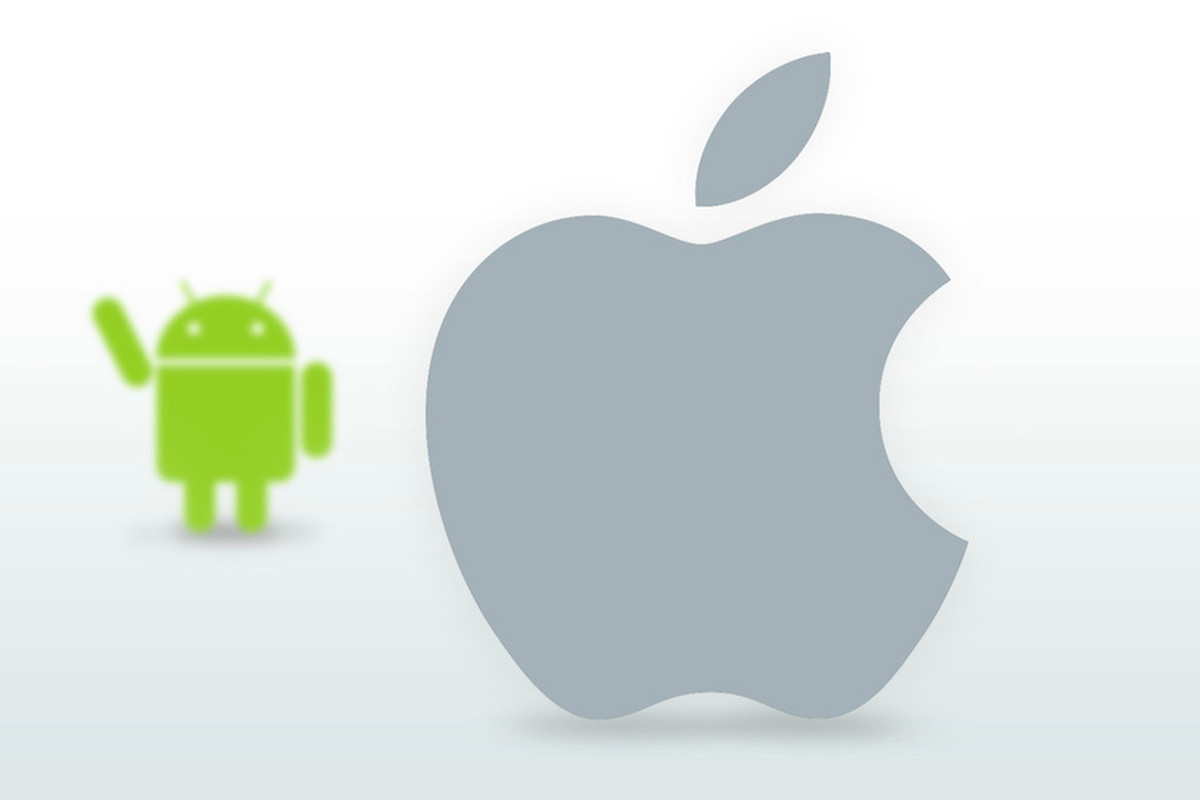 The European Commission on Wednesday slapped Google with a record $5 billion fine claiming that the internet giant is anticompetitive and abuses its power when it comes to Android. As it readies an appeal, the company is now wondering why Apple's closed iOS system isn't being more scrutinized.
As The Wall Street Journal notes, at issue in Europe is Google's decision made a decade ago to provide Android to smartphone makers for free, in exchange for requiring them to offer devices preloaded with Google services such as search, YouTube, Gmail and Google Maps. That has allowed the firm to gather vast amounts of smartphone data from those apps and then devise and target ads to users.
In its ruling, the EU found that bundling the software "reduced the incentives of manufacturers to pre-install competing search and browser apps, as well as the incentives of users to download such apps." As a result, the EU found, this "reduced the ability of rivals to compete effectively with Google."
Fine of €4,34 bn to @Google for 3 types of illegal restrictions on the use of Android. In this way it has cemented the dominance of its search engine. Denying rivals a chance to innovate and compete on the merits. It's illegal under EU antitrust rules. @Google now has to stop it

— Margrethe Vestager (@vestager) July 18, 2018
To resolve this issue, Google has been told to bring its ""illegal conduct to an end in an effective manner within 90 days of the decision." In doing so, Google must stop forcing manufacturers to preinstall Chrome and Google search, and stop preventing phone makers from using forked versions of Android. The commission said the Alphabet company "did not provide any credible evidence that Android forks would be affected by technical failures or fail to support apps."
Forking would allow manufacturers to alter the Android source code and package it in such a way that's unique to the company and its products.
Following the decision, Sundar Pichai, Google's chief executive said in a blog post, "Today's decision rejects the business model that supports Android, which has created more choice for everyone, not less." Pichai added that the ruling "ignores . . . clear evidence about how people use their phones today."
The Financial Times explains, Google "also questioned why the commission refuses to consider Apple's closed iOS system for the iPhone as a rival." Pichai further notes"The decision ignores the fact that Android phones compete with iOS phones, something that 89 percent of respondents to the Commission's own market survey confirmed."
Google concludes:
A healthy, thriving Android ecosystem is in everyone's interest, and we've shown we're willing to make changes. But we are concerned that today's decision will upset the careful balance that we have struck with Android, and that it sends a troubling signal in favor of proprietary systems over open platforms.
I have no doubt this isn't the end of the story. Surely, Google will fight this through the entire European Commission's appeal process. As it does, it will be interesting to see just how hard the company will push a narrative that Apple is being treated differently when it comes to iOS.
What do you think? Is Google being treated unfairly? Will it best the EU at the end of the process?
Source link: http://www.idownloadblog.com/2018/07/18/google-european-commission-fine/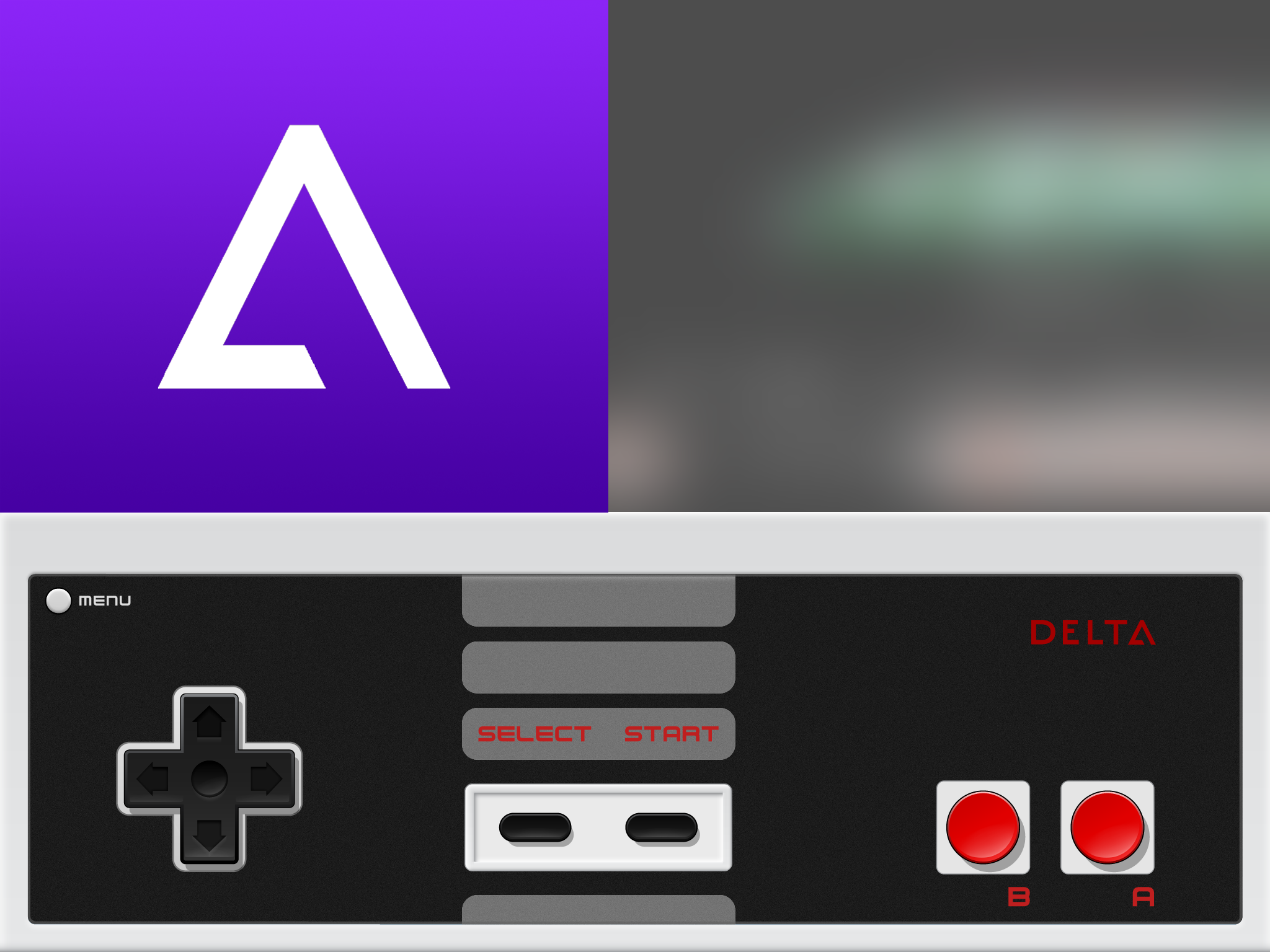 Riley Testut, developer of popular console emulator Delta for iOS (formerly GBA4iOS), has cooked up a little side project which will keep his fans occupied while we wait for Delta's full release.
Dubbed Delta Lite, the project is a working Nintendo Entertainment System (NES) emulator which runs inside Swift Playgrounds, Apple's own Swift development app for iOS.
Delta Lite is not intended to replace the full version of Delta, and in fact will be incorporated into its final iteration, contributing its NES capabilities to the other emulators inside the increasingly multi-faceted app. The list of systems which Delta will boast now stands at:
Nintendo Entertainment System
Super Nintendo Entertainment System
Game Boy
Game Boy Color
Game Boy Advance
If you haven't been able to try a version of the closed Delta beta yet, don't let it get you down. The NES emulator is available for all to try, and in this article we'll give you a quick demo, and show you how to give it a go yourself.
To read the full release post from Riley Testut, check out his blog.
How to install Delta Lite on your iPad
You will need an iPad Air (1st generation) or newer, running iOS 11 or later, to use Swift Playgrounds. Newer iPad minis are also compatible.
1) First up, download Swift Playgrounds from the App Store.
2) Next, navigate to this page on your iPad, and click this link to add Delta Lite to the Swift Playgrounds app subscriptions.
3) Click Subscribe on the pop-up which appears.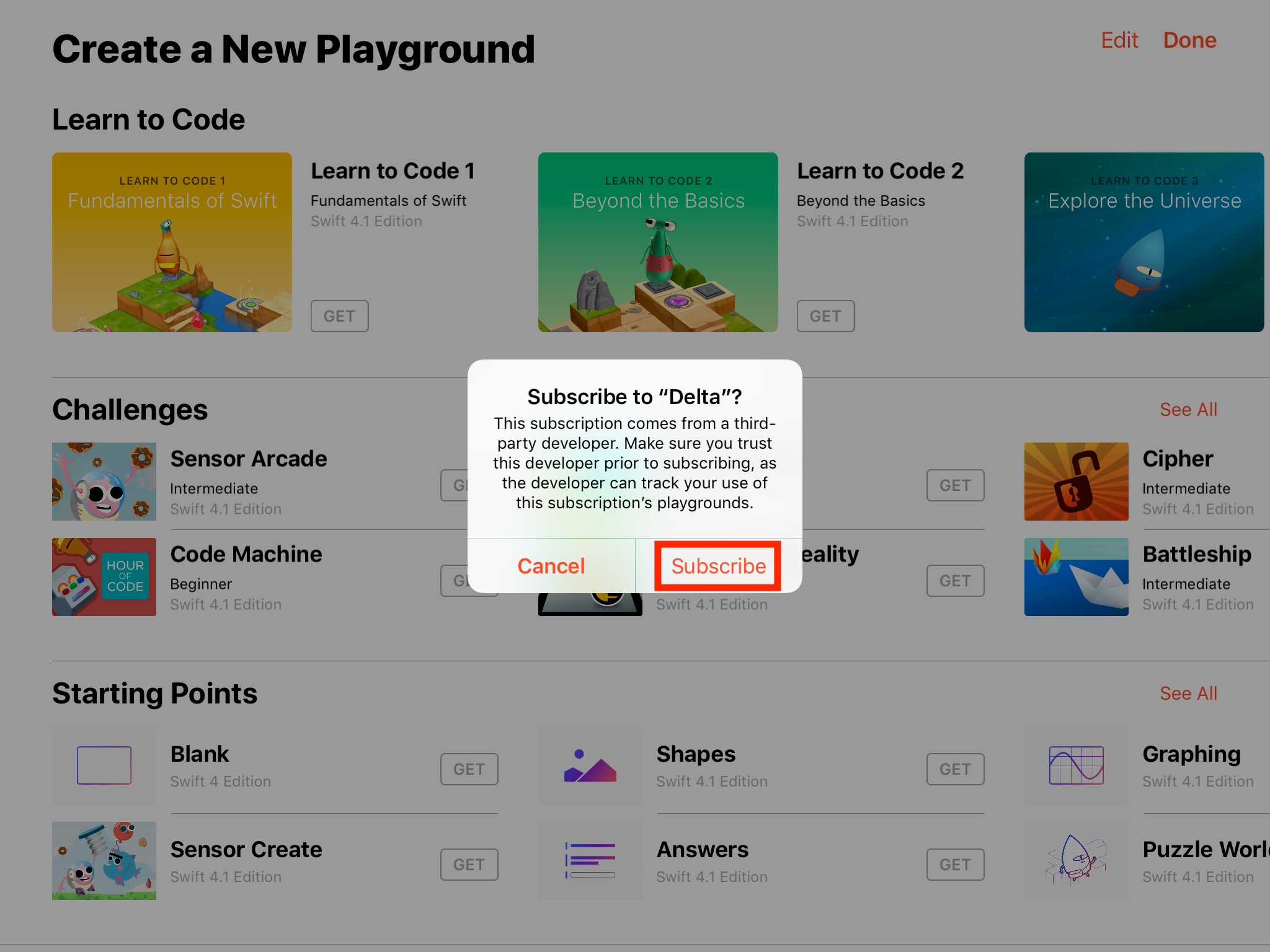 4) You'll now be taken to the Delta Lite product page. Tap Get to download it.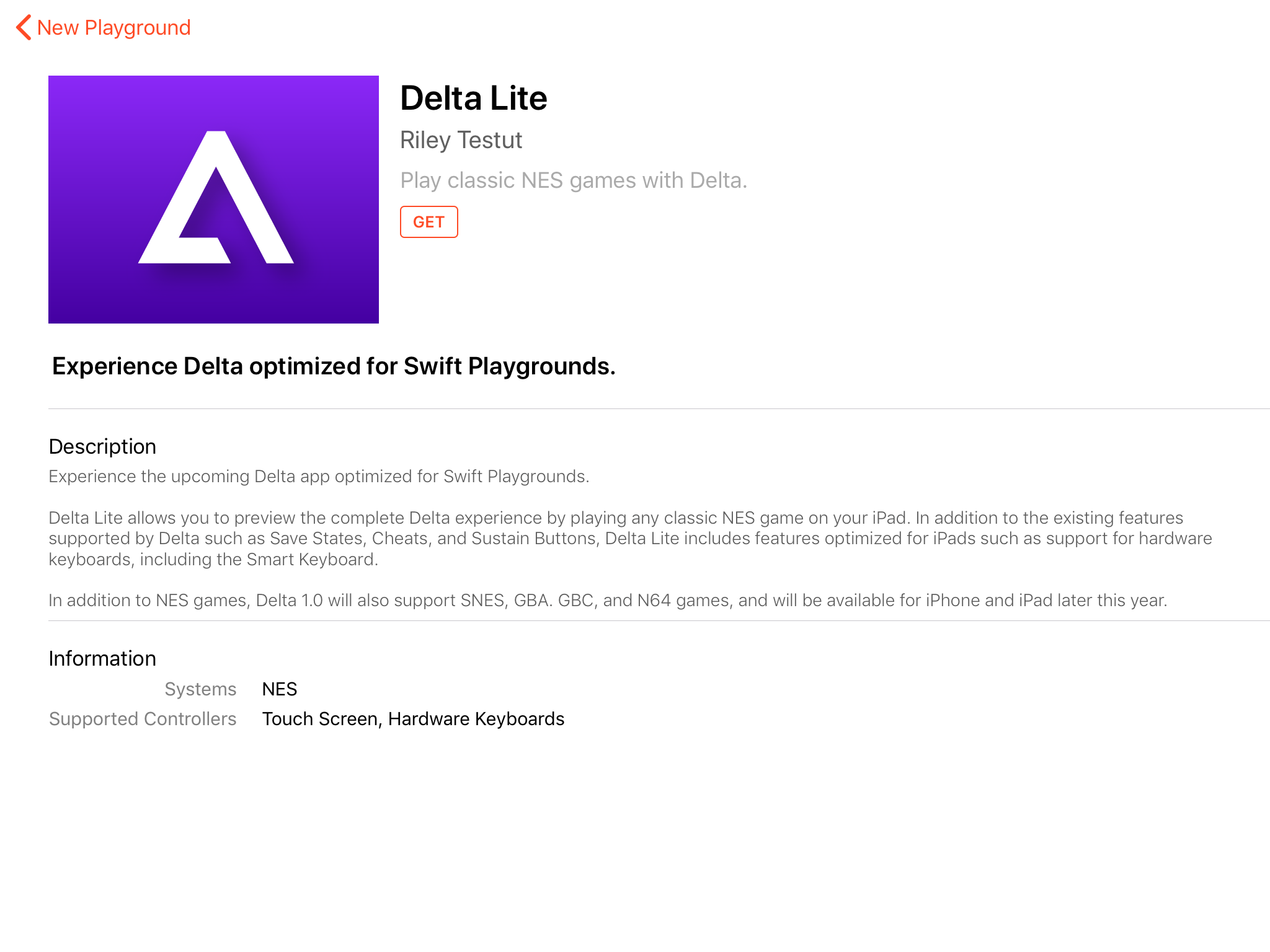 5) Once it's downloaded, tap on its thumbnail in the My Playgrounds section, and then tap Open to launch it.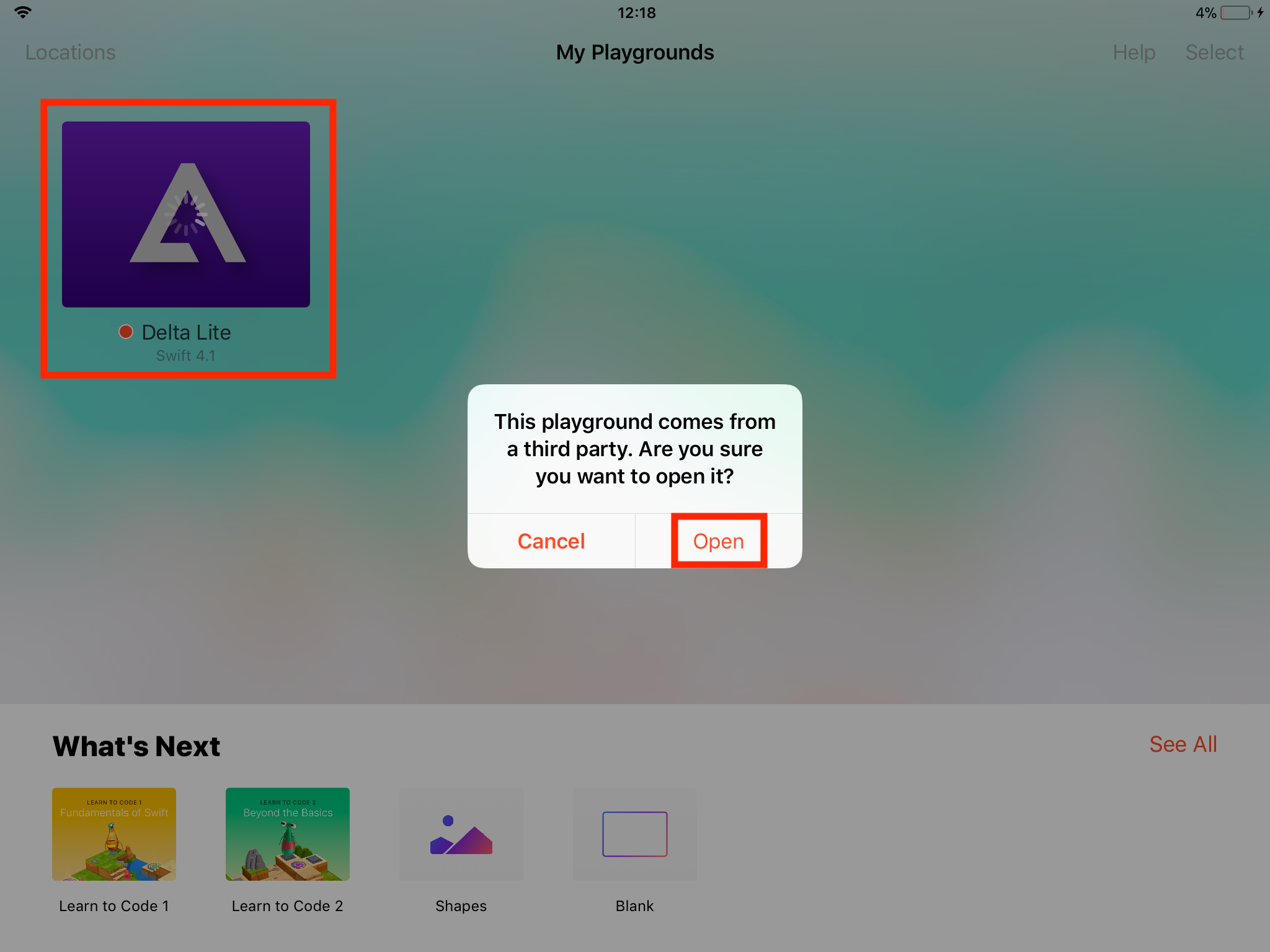 6) Make sure you have the Files app installed on your device, and add your NES games to your iCloud Drive. They must be stored there to import them into Delta Lite.
7) Inside Delta Lite, locate the text reading:
let game =
And press the landscape button to the right of it to import your game from iCloud Drive: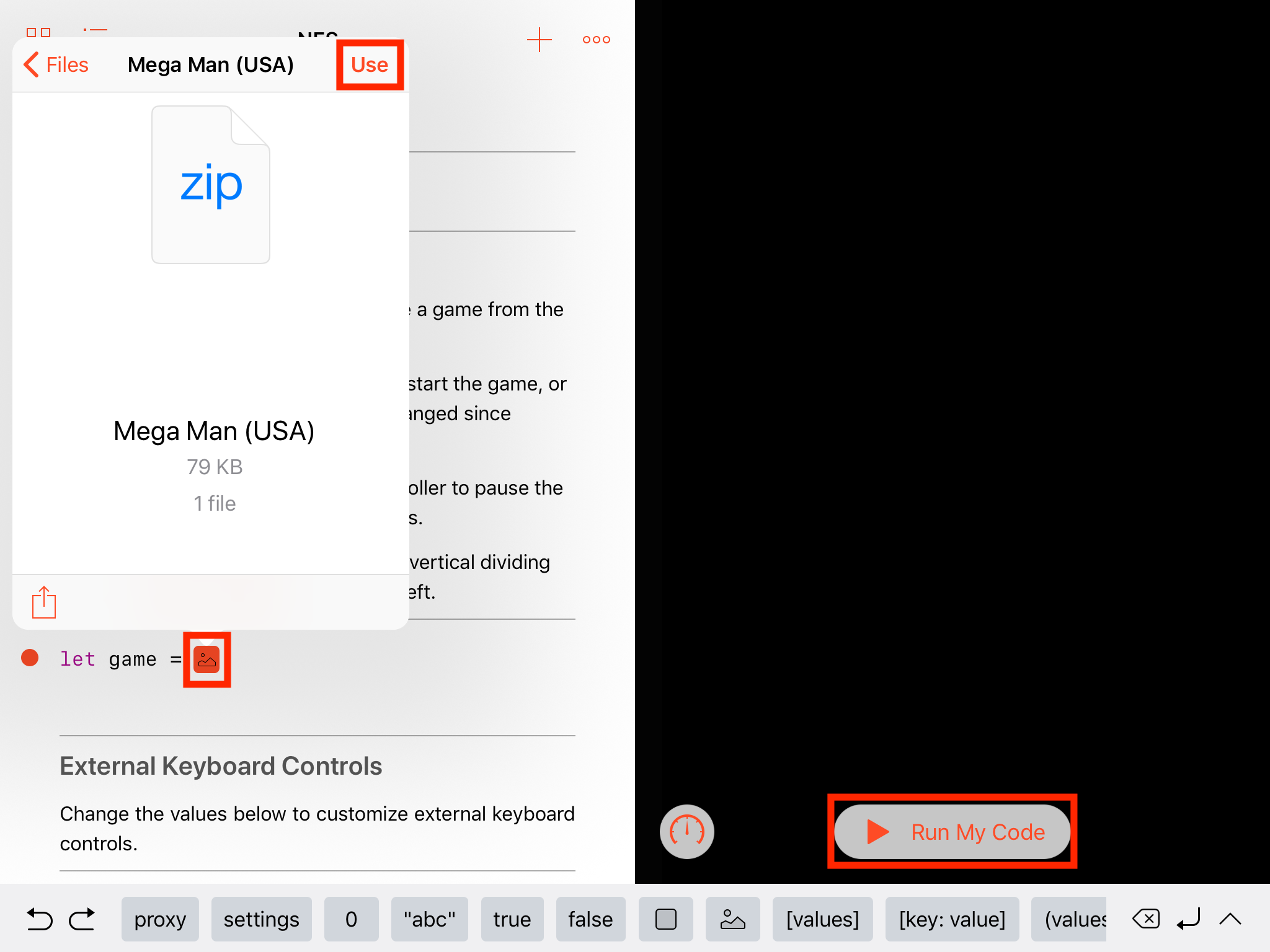 Select a game, and hit Use. Then press the Run My Code button to begin playing.
8) And there you have it! Mega Man in all his megalomaniac glory: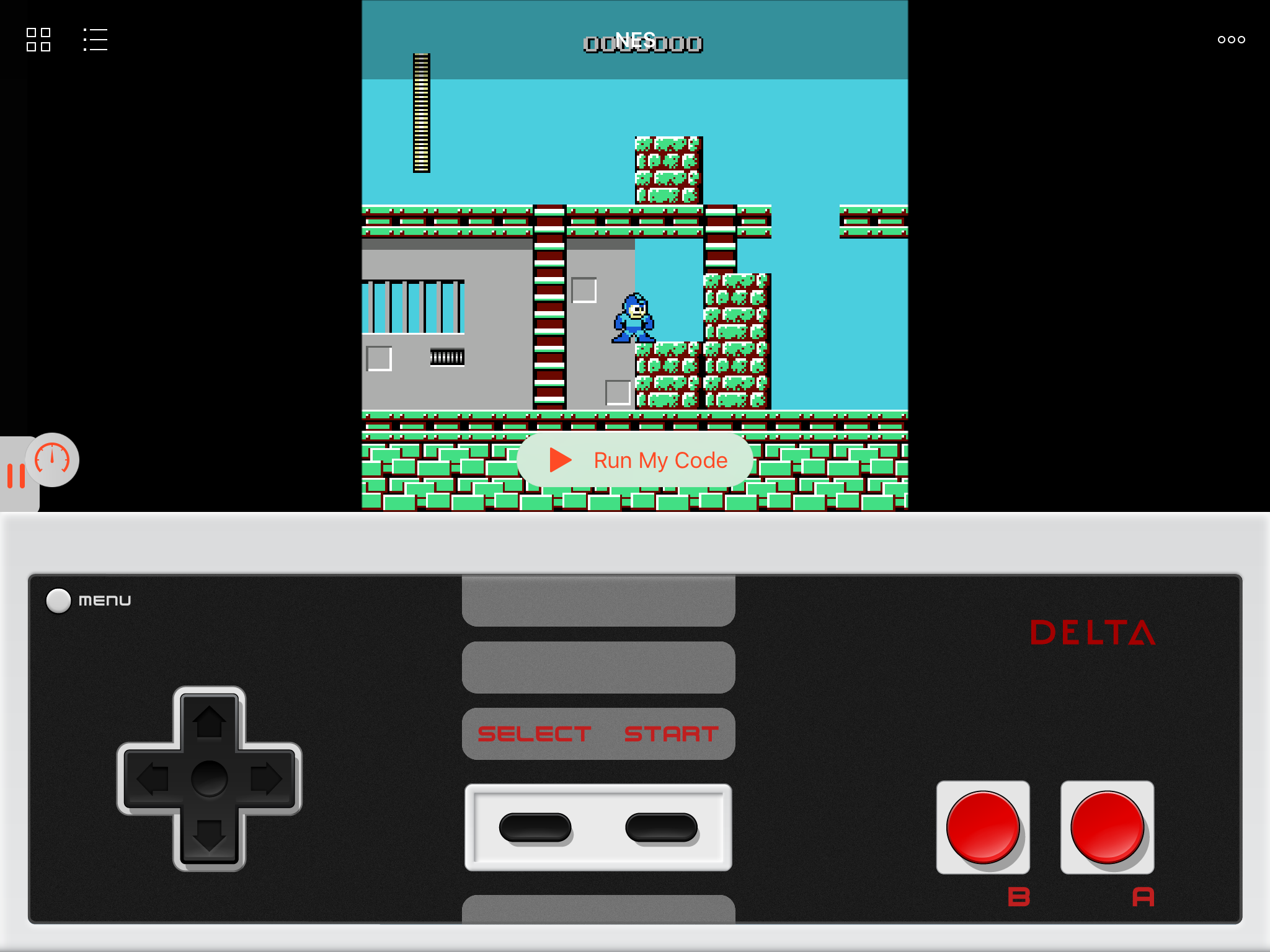 You may have to use the central slider to resize the playing window full-screen, as the basic interface looks like this: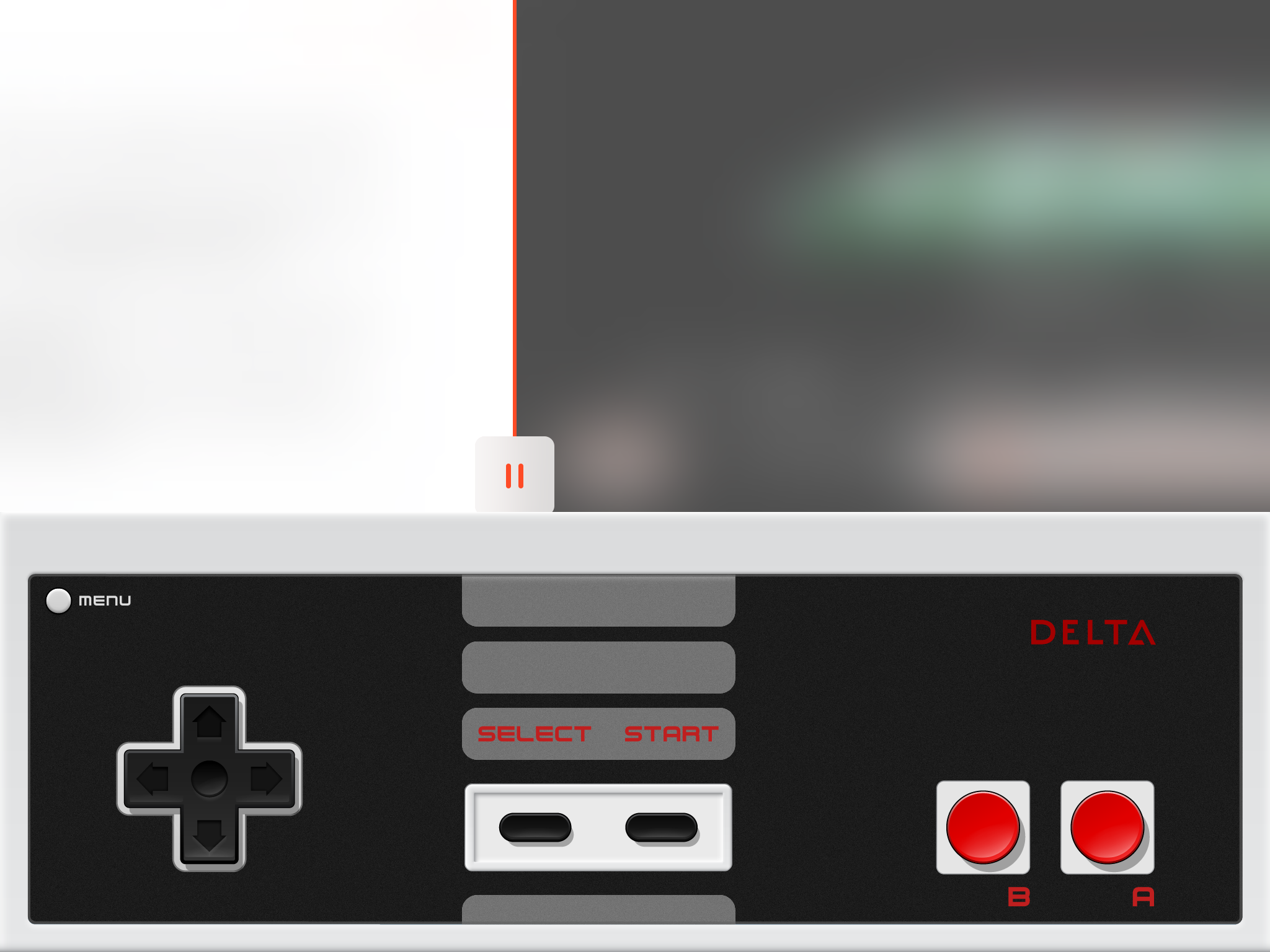 In my limited time with it, it seemed to play without bugs, though occasionally struggled a little for speed. I'd imagine the gameplay to improve a little with some more polish, and once removed from the Swift Playgrounds app and placed in its rightful home in the Delta app.
It's nice to see that the work on Delta is continuing despite the long wait, and even though people are eager to get their hands on the full range of systems, this intriguing offering will hopefully tide people over for the time being.
Source link: http://www.idownloadblog.com/2018/07/18/try-delta-lite-nes-emulator/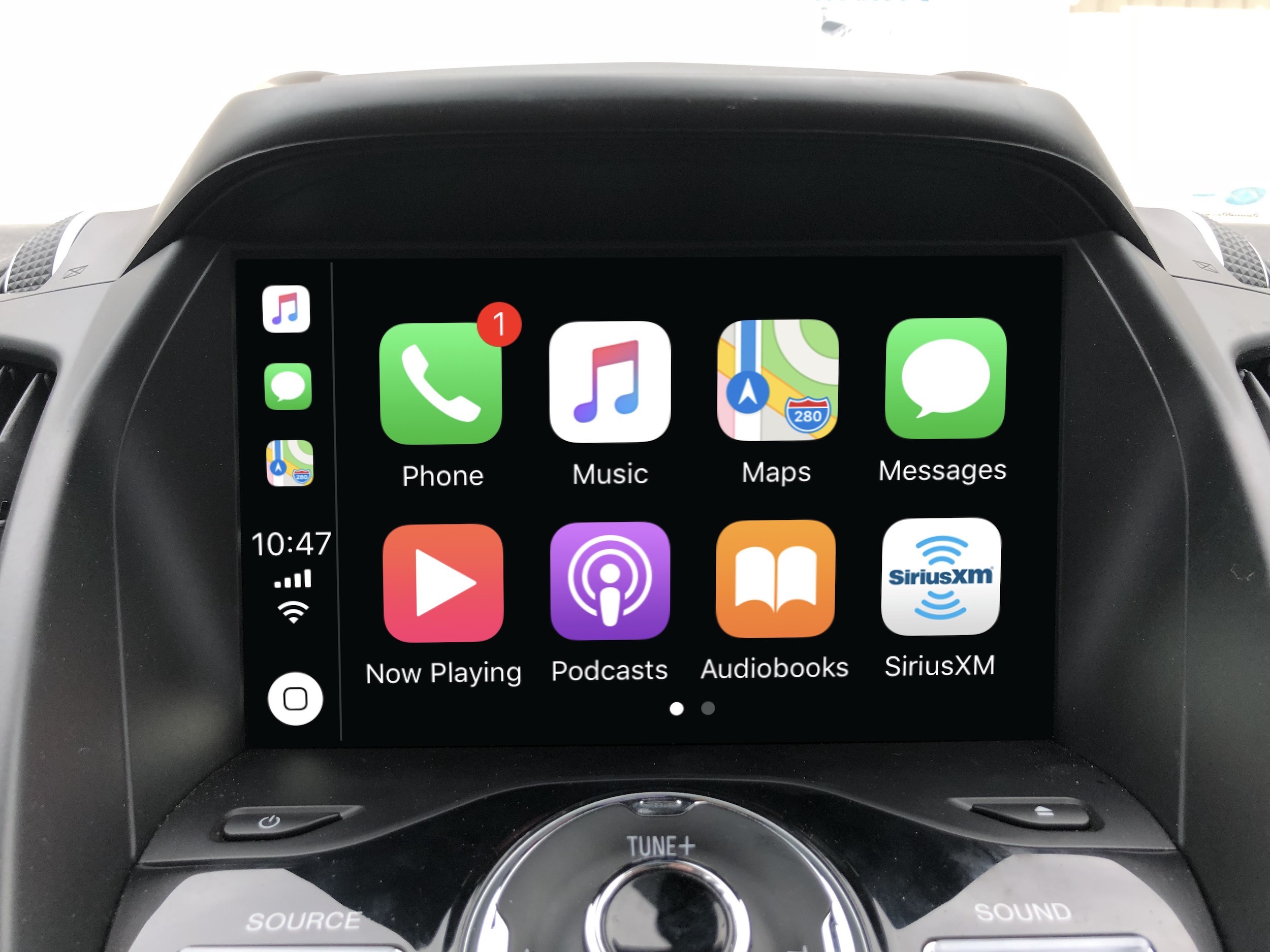 Apple has expanded its fleet of vehicles available for self-driving testing in recent months. In California, it now has the third largest fleet. What Apple plans on doing after this testing remains to be seen.
As first noted by macReports, Apple's fleet of self-driving vehicles now totals 66, up from 50 in May. The added cars have been registered with California's Department of Motor Vehicles. Interestingly, the company has not yet requested a driverless car permit. This omission means there is still someone behind the wheel during testing.
To date, Apple has 111 registered drivers.
Despite the uptick, Apple continues to lack behind two other companies when it comes to the number of drivers and vehicles available for self-driving testing in California. General Motors currently has 117 vehicles and 333 drivers there, while Waymo has 72 cars and 411 drivers. After Apple is Tesla with just 39 cars and 92 drivers.
Earlier this year, the company announced a new partnership deal with Germany Volkswagen's that will allow it to turn T6 Transport vans into self-driving shuttles for its employees. Beyond this, little is known about Apple's long-term plans for self-driving.
At one point, it looked like the iPhone maker had plans to release a so-called "iCar." Most assume those plans are no longer on Apple's radar.
What do you want to see Apple do with self-driving technology? Let us know below.
Source link: http://www.idownloadblog.com/2018/07/18/apples-testing-self-driving-technology/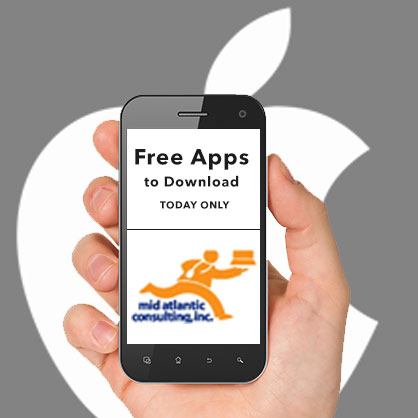 SpriteBox Coding , YoWindow Weather , Sweet Factory Prime and more
iPhone:
Sweet Factory Prime ( $1.99 → Free ) Galta
The Sweet Factory is open for business! As a worker on the sweet treat line, you'll have to move quickly and stay focused in order to keep the factory humming along. Ingredients are piped down through three tubes. You'll have to tap on the left and right sides of the screen in order to match two ingredients with each other. One wrong move and it's game over. The game includes 14 types of unlockable treats.
Universal:
SpriteBox Coding ( $4.99 → Free ) LightBot Inc.
SpriteBox Coding is a platform game that will help anyone learn to code from scratch. In the game you're tasked with repairing your broken rocket. Along the way you'll come across problems that can only be solved using basic coding concepts. You'll be introduced to everything from sequencing and parameters to loops and basic Swift syntax. The game includes a total of 70 puzzling platform levels.
YoWindow Weather ( $2.99 → Free ) Pavel Repkin
YoWindow is all about watching the weather. You're presented with a quick look at the current time, temperature, and conditions. Slide your finger from left to right across the screen to scroll time forward and watch as the scene changes to reflect what it'll be like later on in the day. YoWindow also includes a seven-day forecast and six scenes to choose from.
Source link: http://appadvice.com/apps-gone-free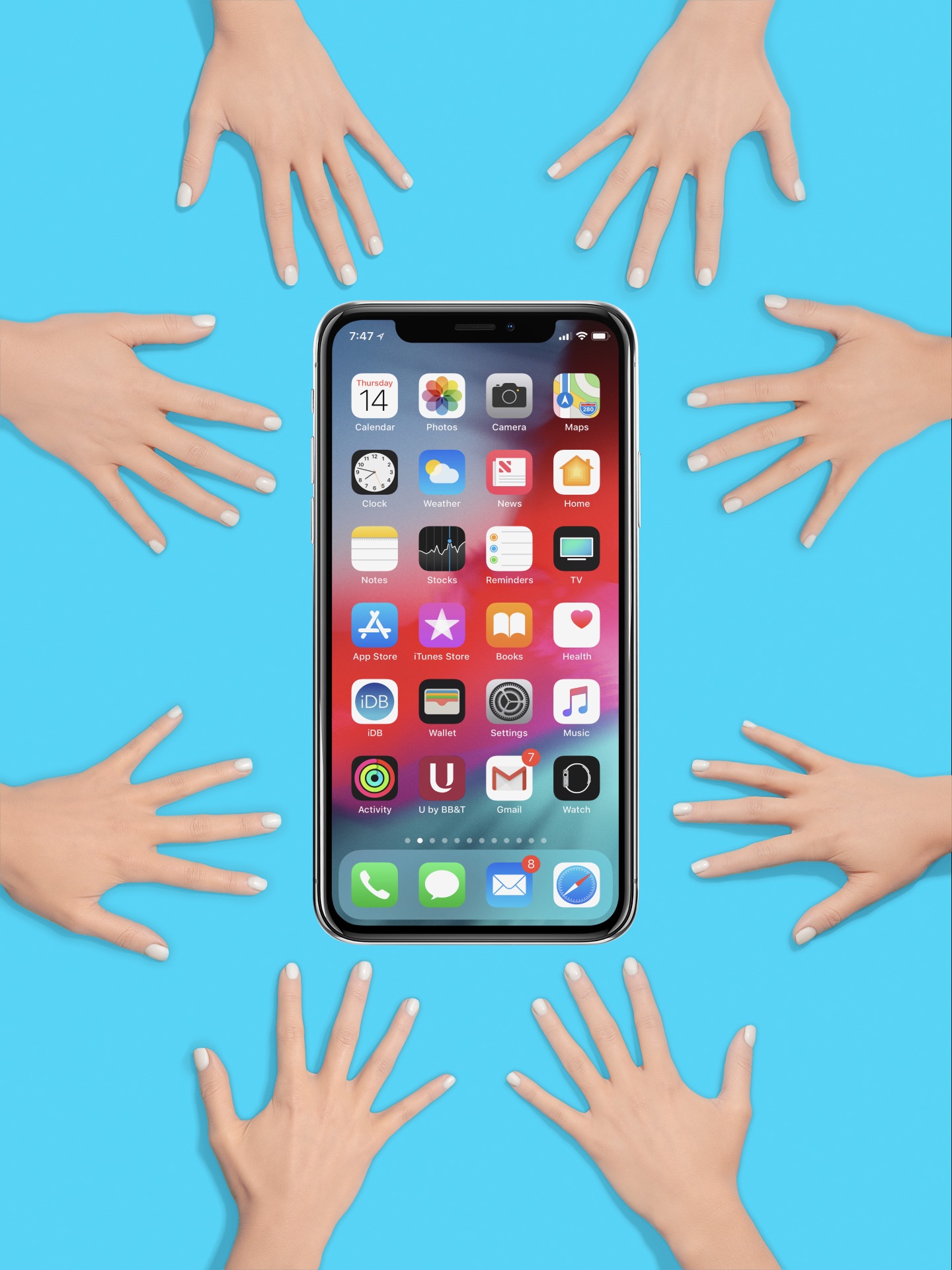 Apple has introduced all-new public betas for iOS 12 and tvOS 12. You must be a member of the Apple Beta Software program to receive the updates.
The new 3 and tvOS 12 public beta 3 arrive nearly two weeks after the previous version and just days after similar developer betas were released.
Both iOS 12 and tvOS 12 should arrive for the general public this fall along with next-generation versions of macOS and watchOS.
Source link: http://www.idownloadblog.com/2018/07/18/public-betas-ios-12-tvos-12/