Get HotMacNews- iOS App and Homepage
To access HotMacNews on your computer Click Here (It makes a great Home Page)
To download iPhone or iPad app (HotMacNews2) click here HotMacNews2
**Once in HotMacNews Home Page click on Preferences to customize to your needs.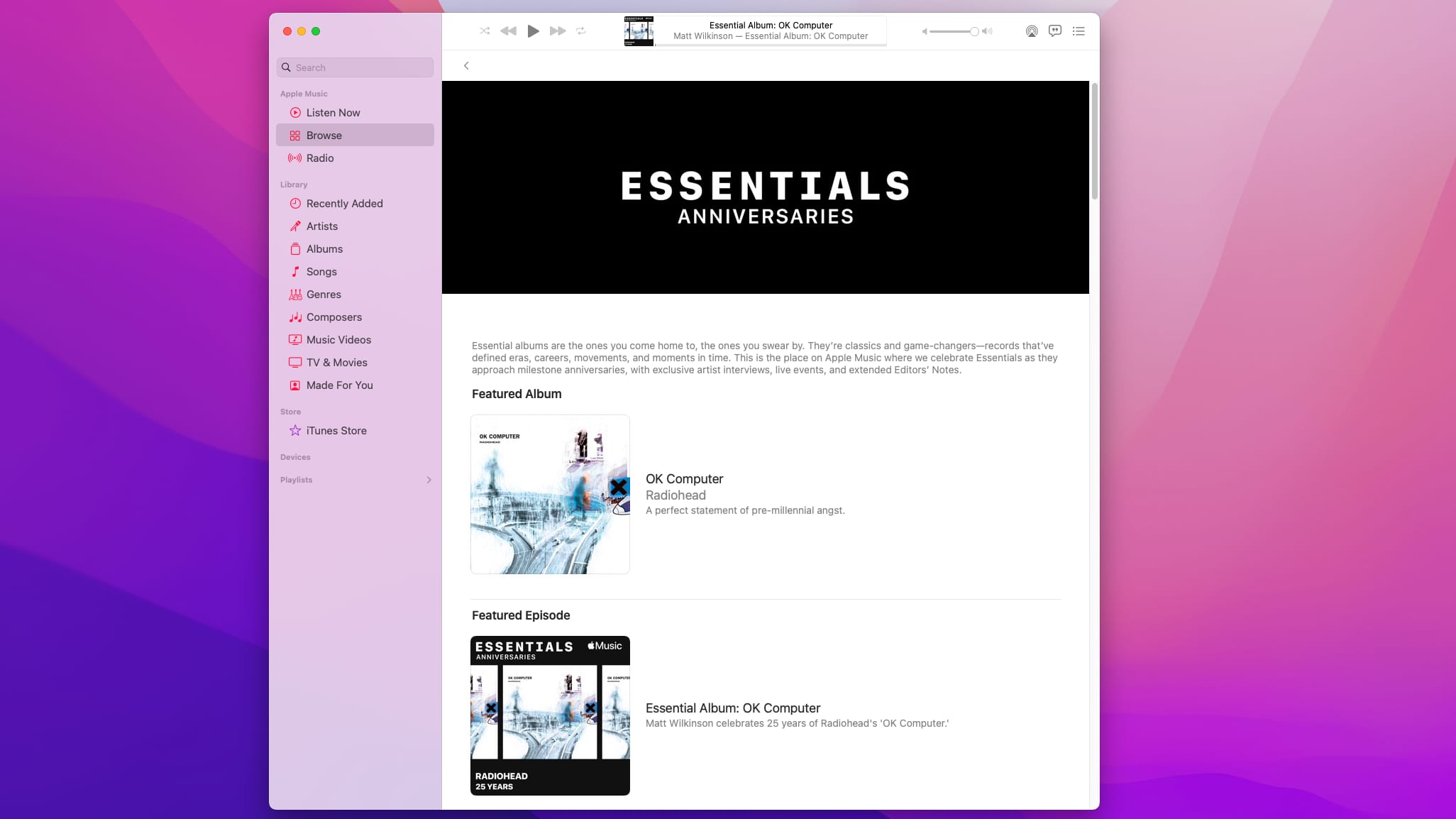 The Essential Anniversaries list on Apple Music, curated by human experts, celebrates classic albums and the very best of an artist.
Apple Music has always provided Essentials, a human-curated selection of artists and their top songs as viewed by a typical fan.
And now, there's a new list on Apple Music, called Essentials Anniversaries, populated with a list of classic albums cherry-picked by human editors.
Radiohead's classic "OK Computer" is showcased along with an audio show titled "Essential Album: OK Computer" about the story of the album's making.
---
Apple Music highlights essential album anniversaries
"It's been 25 years since Radiohead released 'OK Computer,' and now that album is showcased along with many other classics in a special Apple Music collection called 'Essential Anniversaries'," notes AppleInsider. That album is accompanied by an audio show featuring selections from the album and the story of its making. Read: How to transfer your liked songs and playlists from Spotify to Apple Music
The publication notes that the show sounds "as if it's been culled from an Apple One radio streaming session." and that's exactly right given the show's high production value. "It's also seemingly only available for the currently promoted album, not the whole range of Essentials," reads the article. Wait, would anyone be so kind as to explain the difference between Essentials and Essential Anniversaries?
Essentials vs. Essential Anniversaries: What's the difference?
Apple Music has a little-known list, titled Essentials, which you may have seen recommended in the For You section. The idea is to provide a list of essential music from an artist that someone new to them should be familiar with.
According to Apple itself:
Essential albums are the ones you come home to, the ones you swear by. They're classics and game-changers—records that've defined eras, careers, movements and moments in tie. This is the place on Apple Music where we celebrate Essentials as they approach milestone anniversaries, with exclusive artist interviews, live events and extended Editors' Notes.
Rather than being based on an artist's sales or greatest hits, the Essential lists are manually compiled by human experts from a fan's perspective. You can use Siri to play an artist's essentials (i.e. "Hey, Siri, play Aerosmith essentials"). If there's a collection for that artist in the Essentials section, Siri will start playing music from it. Contrast the Essentials collections with the new Essential Anniversaries list, which highlights cherry-picked classic albums nearing their anniversaries. So that's the key difference between the Essentials and Essential Anniversaries collections on Apple Music. Read: How to display song lyrics in the Music app
Source link: https://www.idownloadblog.com/2022/05/20/apple-music-essential-anniversaries-explainer/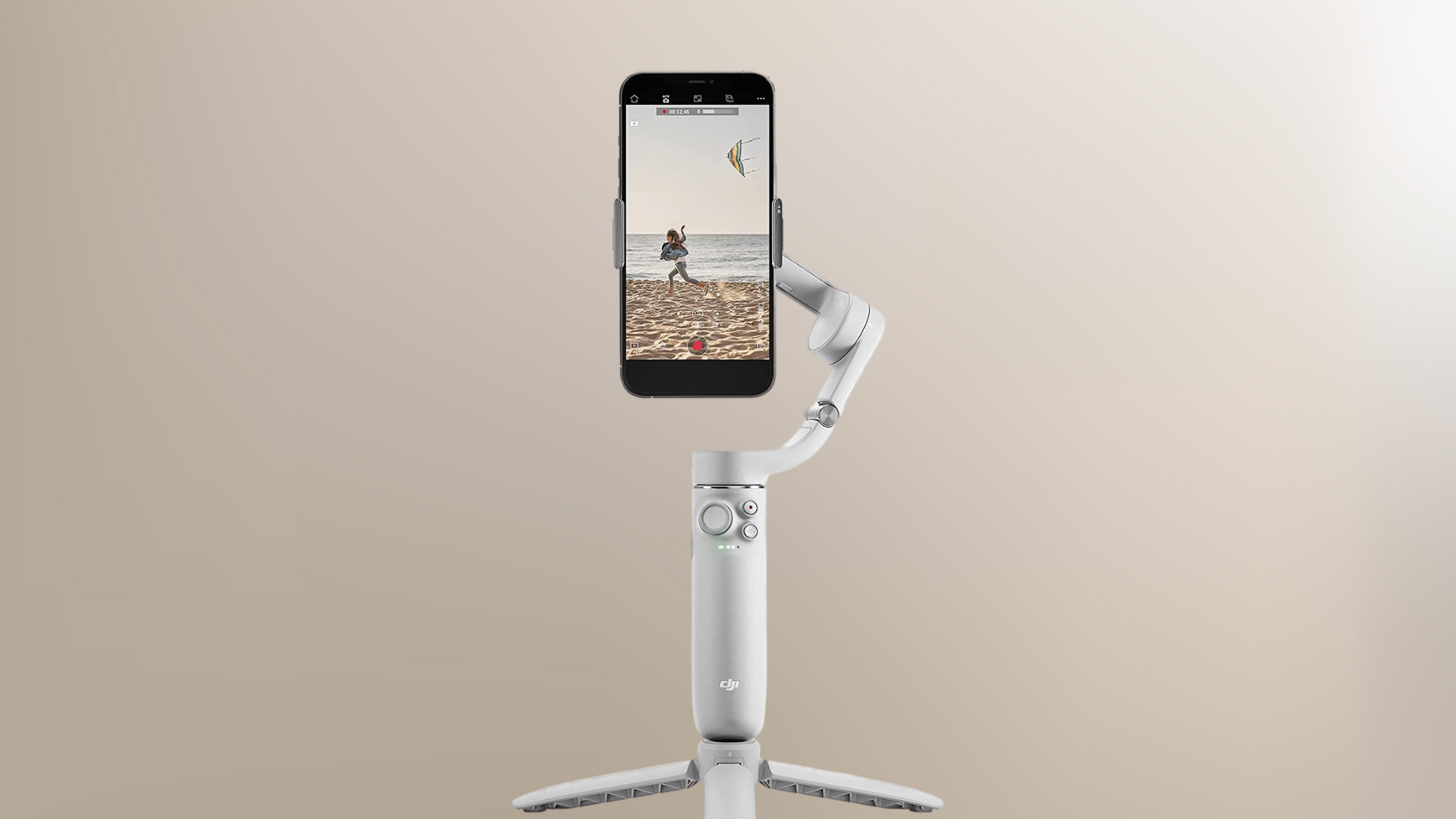 The iPhone is pretty great at shooting high-quality videos. But you can take things to the next level by ensuring that the camera is held completely steady. That's where a gimbal can help you out.
Even when your camera has in-built stabilization, there is always some shake in the footage when you shoot hand-held. A gimbal gets rid of this to give you professional quality results, even if you're moving around when filming. It's a game-changer for anyone who wants to produce top-notch mobile videos.
If that sounds appealing, invest in one of the best iPhone gimbals listed below.
Difference between a gimbal and a tripod
But wait, you're probably wondering, what's the difference between a gimbal and a tripod? Don't they both essentially hold your phone steady for taking photos and videos?
Also see: list of best tripods for iPhone
The answer is yes, but a gimbal has much more advanced features. It uses motors and Artificial Intelligence sensors to make footage smooth and stable, even while the camera is moving. It's a battery-powered rechargeable device, unlike a tripod that has no digital components.
Further, gimbals have sophisticated motion sensors to differentiate between involuntary shaking and intentional movement. So, it opens up a lot of creative possibilities for your videos. For instance, it can be great to shoot an action or dance video or a vlog where you are walking around and talking to the camera.
On the other hand, tripods are just stationary stands for your iPhone, with three legs that hold your iPhone at a set angle. If you want to change the angle, you need to do it manually. So, they're more suitable for still photography or sit-down style videos where you're staying in one place and talking to the camera.
What to look for in a gimbal for your iPhone
We've already picked out the best gimbals for your iPhone from the most trusted brands in the market. But it's always good to know what to look for when picking one. Here are some things to consider:
The stabilization axis: 2-axis gimbals stabilize your phone camera's tilting and rolling motions, while 3-axis gimbals also stabilize the turning or panning motion. A two-axis is sufficient for shooting inanimate objects and a three-axis gimbal allows for more dynamic video such as shooting while you're running or riding a bike.
The battery life: Ensure your gimbal has enough power to last through your shoot, especially if you're traveling. Or you can carry additional batteries or a portable power source compatible with your gimbal.
Compatibility: Some gimbals may not be compatible with larger iPhones such as the iPhone 13 Pro Max or 12 Pro Max. So, before buying, make sure the gimbal's mount is designed to fit your phone's size and weight.
Other features: Different gimbals boast sophisticated shooting modes and features like object tracking or gesture control. Read through these to make sure they match your video production needs.
The best iPhone gimbals for every budget
Best for pros: Zhiyun Smooth 5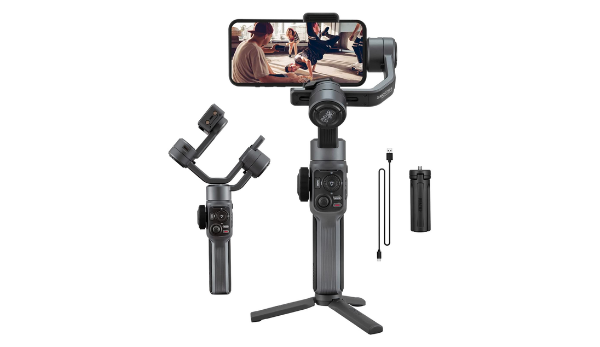 This 3-axis iPhone gimbal is the priciest on our list but is also packed with features that make it worth it. It's specifically designed to use with iPhones and comfortably fits the latest models. At the same time, it's still small enough to easily carry around.
I love the intuitive controls, particularly the wheel that can be used to focus or zoom in and out. This makes transitions and effects much smoother for professional quality results. Further, it comes with an app that enables you to use features such as time-lapse and vertigo.
It's powered by a 2,600 mAh battery and two hours of charging via USB C will give you up to 4.5 hours of continuous filming time. It also comes with an optional magnetic light that offers a decent way to enhance your frame without any additional setup.
Price: $169.00
Has a built-in extension rod: DJI OM 5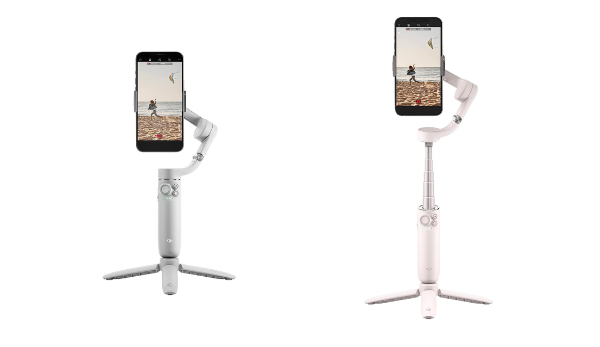 DJI is perhaps the most popular gimbal brand and the OM 5 is its most recent product. Most gimbals for your smartphone or camera have a fixed length but the DJI OM 5 comes with an extension rod similar to a selfie stick. This makes it pretty versatile for all your filming needs.
I especially love how you can use gesture controls such as displaying a "V" sign with your fingers to start recording. Moreover, the latest ActiveTrack 4.0 technology helps you track objects with greater stability and responsiveness, even when you're moving really fast.
Further, if you're new to shooting, you can download the DJI Mimo app to access the ShotGuides feature that has handy tutorials for whatever you're trying to achieve.
The magnetic ring holder in place of a phone clamp makes it easy to attach your iPhone without needing any balancing or calibration. The 1000mAh battery lasts almost a day and you can easily charge it on the go via USB C.
Price: $159.00
Best for beginners: DJI OM 4 SE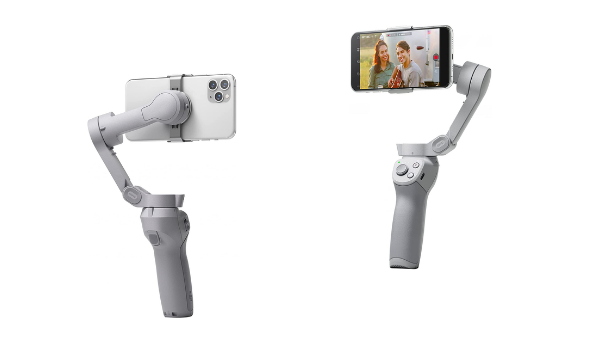 At just under $100, the DJI OM 4 SE is a steal because it's a great iPhone gimbal for most users, particularly beginners. It's exactly like its predecessor the DJI OM 4 but comes at a cheaper price and without the magnetic ring holder attachment. However, you can buy the attachment separately if you like.
In some ways, it is even better than the more sophisticated OM 5 above. For instance, it has a larger 2,450 mAh battery that offers 15 hours of battery life. It also doubles up as a power bank for your phone which is pretty nifty!
As for features, it uses Active Track 3.0 and a similar gesture control system as the pricier OM 5 and OM 4. Given how it has everything you need in a gimbal at an unbeatable price point, I think it's the best DJI gimbal you can buy at the moment.
Price: $99.00
Best value: Hohem iSteady X2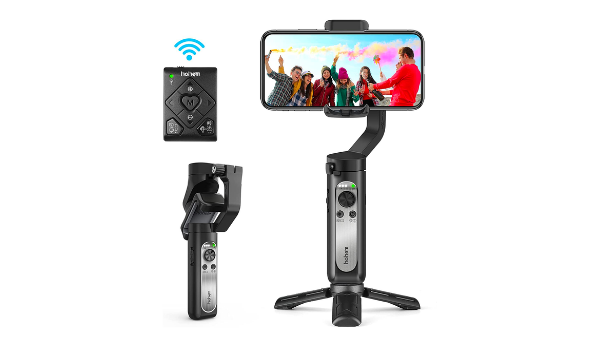 If you want to save a few more dollars yet enjoy similar functionality to DJI gimbals, the Hohem iSteady X2 is worth checking out. This 3-axis gimbal can hold all sizes of iPhones and comes packed with all the features you need. For instance, using the Hohem app, you can select from a variety of shooting modes like inception, dolly zoom, timelapse, and panoramas.
Moreover, it comes with a wireless remote function, which enables you to control the gimbal from up to a distance of 32.8 ft. Pretty convenient! It also boasts face tracking technology and gesture control to give you all the flexibility you need to shoot creative videos. The 2,800 mAh battery promises a life of about 10 hours per charge.
Price: $75.64
Best budget gimbal: MOZA Mini-MX

Looking for the cheapest iPhone gimbal that still offers great performance? Check out the MOZA Mini MX which is super pocket-friendly in terms of both size and affordability. It boasts an ergonomic design and a simplistic button panel that's intuitive to use in all situations.
You can control the shutter button using hand gestures and take advantage of the MOZA Genie app to shoot and edit your videos in different styles. The 2,000 mAh battery offers between 12-20 hours of battery life depending on what shooting mode you use.
The only downside is it's too small to fit larger phones such as the iPhone 13 Pro Max or 12 Pro Max, but it's perfect if you prefer something compact.
Price: $59.00
Best travel gimbal: Feiyutech Vlog Pocket 2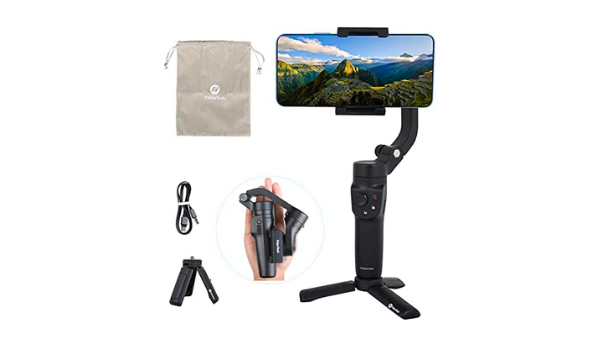 Here's another affordable iPhone gimbal that's easy to set up and use. It's capable of holding phones weighing up to 250g, which makes it suitable for the largest iPhones too. It's comfortable to hold and offers smooth 3-axis stabilization for great results. The 1,300 mAh battery takes 1.5 hours to fully charge and offers 9 hours of usage.
You can connect to the Feiyu ON app for plenty of extra features including Object Tracking and Gesture Control. I especially appreciate how it folds into a compact size but can also be extended up to 1 foot high. Further, the position lock and auto balance mean that you don't need to manually balance your smartphone each time you use it.
Price: $89.00
Still got questions about which gimbal you should buy? Ask away in the comments below and I'll be happy to help.
Don't miss these other photography articles:
Source link: https://www.idownloadblog.com/2022/05/20/best-iphone-gimbals/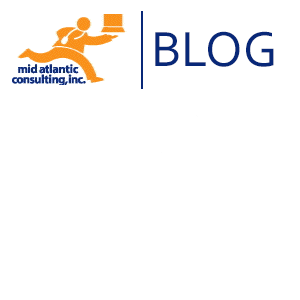 We were experiencing an issue connecting with Apple to send push notifications.  This issue has been resolved and we apologize for the downtime.
thank you for your understanding!!!
The Team at Mid Atlantic Consulting, Inc. and HotMacNews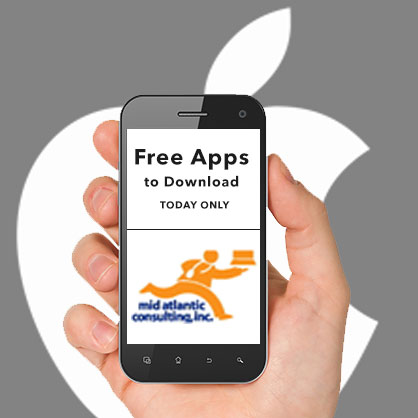 Fext – Schedule Text Messages! , Pro Wrestling Simulator 2022 , The Great Tea App and more
iPhone:
VideoToLive – Make wallpaper ( $2.99 → Free ) ?? ? VideoToLive turns videos or images into Live Photos. Simply import a video, choose the desired length, and the app takes care of the rest. Live Photos can be shared with family or friends.
S-Remote ( $4.99 → Free ) Tugce Ayaz S-Remote lets you toss that remote and control your Samsung TV right from your iPhone. It is compatible with Samsung Smart TVs after the year 2012. You are able to change channels, adjust the volume, use Smart Hub applications, and basically do everything you normally would with a physical remote.
Fext – Schedule Text Messages! ( $19.99 → Free ) Pericarp Inc. Fext lets you separate and protect your personal number from your business number. You can send delayed text messages, send repeated texts, and send promotions with text blasts. Fext helps you organize your time, promote your business, and simplifies group text messaging.
Pro Wrestling Simulator 2022 ( $1.99 → Free ) Eledev Digital Take control and manage your very own roster of wrestlers. The app lets you decide your entire roster, create your own storylines, and set the matches. The roster packs spans across multiple generations of wrestling so there are plenty of fun matchups waiting to happen. Let your imagination run wild in this wrestling simulator.
The Great Tea App ( $1.99 → Free ) Baglan Dosmagambetov The Great Tea App is like having your very own tea specialist at your side. It gives you a step-by-step guide to brewing new teas. There are 11 tea types and 11 brewing methods from different countries. The app includes useful tips, a little history behind each brewing method, and detailed explantations of tea-related terminology.
Digital Barometer S10 ( $0.99 → Free ) Studio Nano Ship, Inc.
Digital Barometer S10 provides as much information as you'll ever need regarding barometric pressure. It displays the barometric pressure in real-time along with the associated conditions. You're able to chart the pressure up to 30 days out as well. The app includes nine barometer units to choose from, and 20 background colors.
The Chronos Principle ( $1.99 → Free ) Logisk Studio Inc.
Immerse yourself in a serene atmosphere filled with 77 handcrafted puzzles. The Chronos Principle contains time manipulation and other mind-bending concepts. It has a minimalist design and unique gameplay. The app supports both light and dark mode.
Discard – A Memory Game ( $1.99 → Free ) Rihab Mehboob
Discard provides a mental workout whenever you need it. In each round you're shown a collection of cards and given three seconds to memorize them. The cards are then mixed in with other random cards and you must identify the ones you were just shown. One incorrect guess and it's game over. Discard includes two card designs to choose from, dark mode support, voiceover support, four icons to choose from, and Siri Shortcuts support.
Source link: http://appadvice.com/apps-gone-free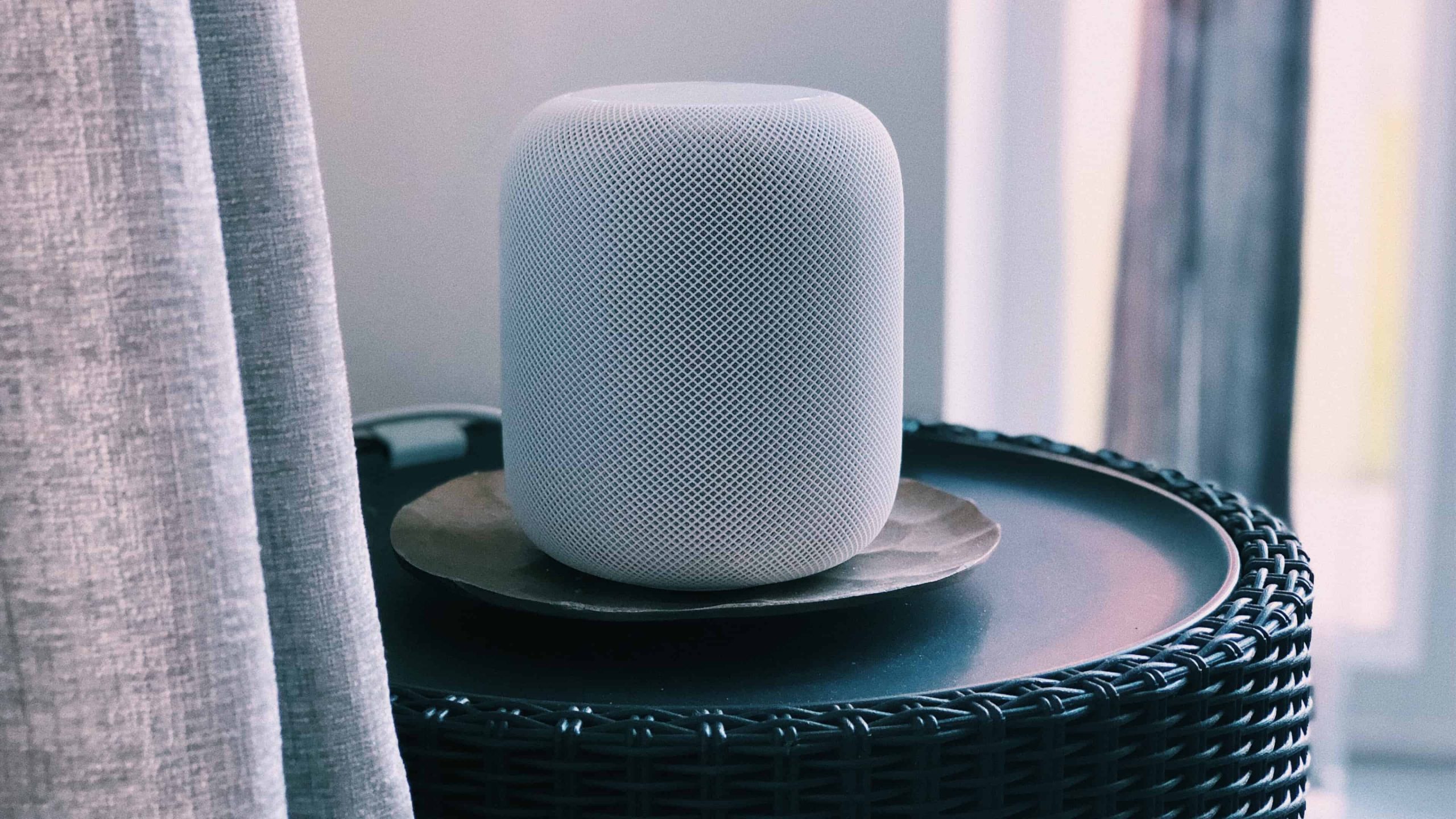 Apple is rumored to release an updated HomePod model in 2022 or 2023, but there may not be much innovation in hardware design for the Siri wireless speaker.
Apple analyst Ming-Chi Kuo is convinced that an updated HomePod version is arriving later in 2022 (read: Fall 2022) or in early 2023 (read: Spring 2023), but cautioned against expecting major hardware improvements.
The analyst didn't say whether to expect a new version of the full-size HomePod which is no longer in the lineup or the smaller, more affordable HomePod mini.
The full-size HomePod launched in February 2018 but was discontinued in March 2021 because Apple priced itself out of the high-end wireless speaker market. The more affordable $99 HomePod mini dropped in November 2020.
---
A new HomePod or an updated HomePod?
Kuo's Twitter can be pretty cryptic so we're not surprised he wouldn't specify whether he was expecting an updated version of the existing HomePod mini or a new model to add to the HomePod brand. Whatever it turns out to be, this rumored HomePod could arrive around the end of 2022 or in early 2023. He is not expecting any major improvements for the speaker because "there may not be much innovation in hardware design." Kuo's wording is a tad puzzling because what's the point of releasing an updated device that brings very little innovation? Is he saying an updated HomePod that might offer new features without a radical redesign?
Who needs an updated HomePod with no new features?
One possible answer could be margins. It isn't a stretch to imagine an updated HomePod with fewer chips and an optimized design that perhaps used less expensive components. Apple did a similar thing with the third-generation Apple TV, launching an updated model that was visually identical to its predecessor but came with a variant of Apple's A5 chip that was cheaper to manufacture than the one in the prior model. On top of that, the updated third-generation Apple TV drew less power than the original third-generation model and introduced support for peer-to-peer AirPlay thanks to a newer Bluetooth chip. Read: How to set up a primary user on your HomePod
Apple would release a new version of HomePod in 4Q22-1Q23, and there may not be much innovation in hardware design. Smart speakers are undoubtedly one of the essential elements of the home ecosystem, but I think Apple is still figuring out how to succeed in this market.

— 郭明錤 (Ming-Chi Kuo) (@mingchikuo) May 20, 2022
Kuo generally thinks that Apple hasn't cracked the wireless speaker market yet. The company, he suggested, continues to experiment in this space. "Smart speakers are undoubtedly one of the essential elements of the home ecosystem, but I think Apple is still figuring out how to succeed in this market," reads his tweet.
HomePod is work-in-progress
Kuo is right about that: Apple saw very little success with its original full-size Siri speaker. Despite it having superior sound to rivals speakers from Amazon and Google, there weren't enough people ready to pay $349 for a smart speaker with great sound. Apple later permanently discounted the device to $249, but it was still too pricey. Poor sales prompted Apple to discontinue the full-size HomePod and offer in its place a smaller variant with less sophisticated sound which strikes the magic point of just ninety-nine bucks. Read: How to AirPlay audio to HomePod without Wi-Fi
Source link: https://www.idownloadblog.com/2022/05/20/new-homepod-analyst-prediction/