iOS 17.1 enables cellular AirDrop when Wi-Fi is unavailable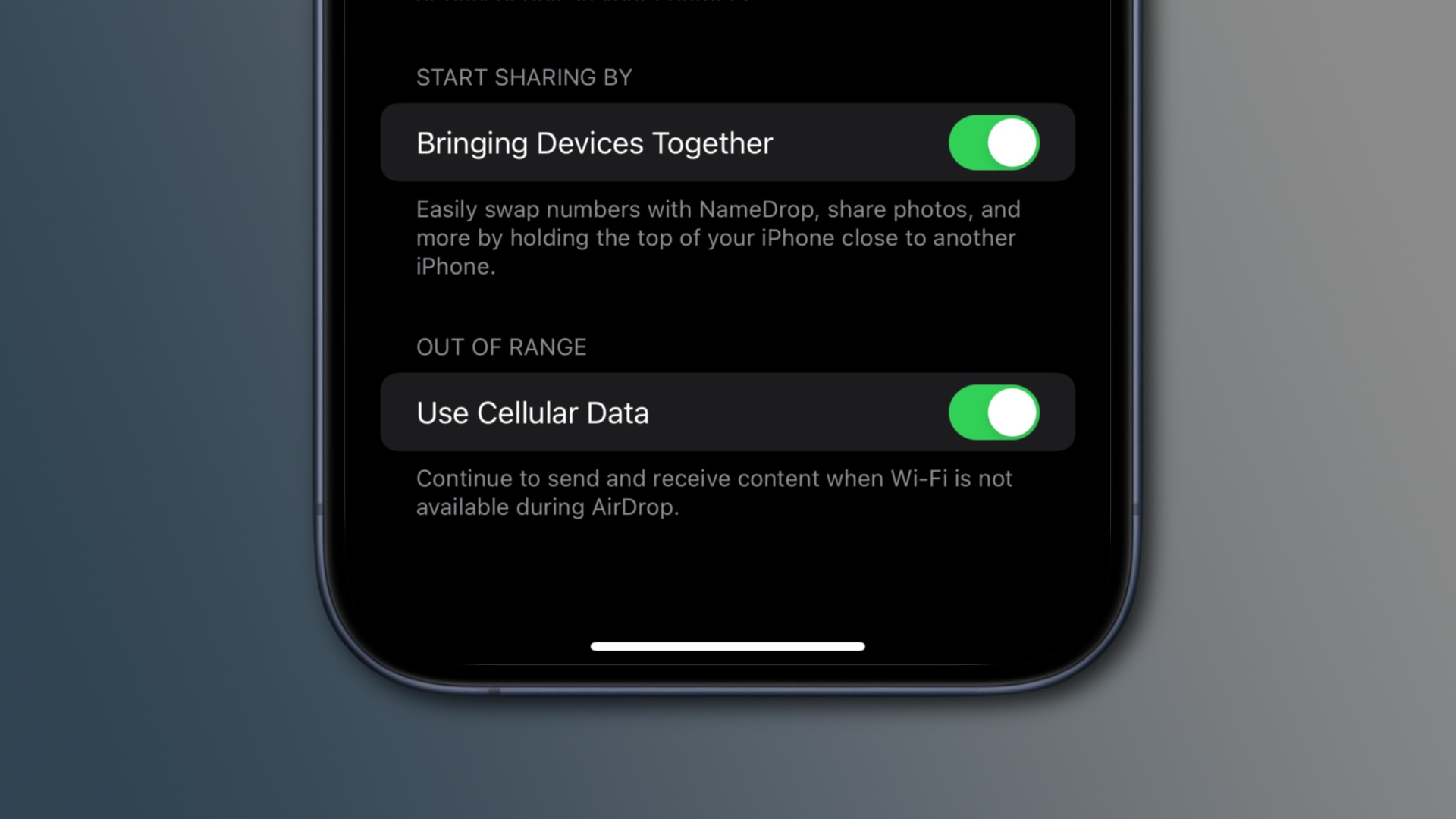 iOS 17.1 enables a new AirDrop feature to finish an in-progress file transfer via the internet, using your iPhone's cellular data, if Wi-Fi becomes unavailable.
Apple originally announced this feature at the WWDC23, saying it would come later this year. iOS 17.1 and iPadOS 17.1 are currently in the testing stage.
When the updates launch in a few weeks and you install them on your devices, you'll flip a new toggle in Settings to let AirDrop fall back to cellular when needed.
iOS 17.1 lets AirDrop use cellular if Wi-Fi is unavailable
AirDrop, one of Apple's best features, is designed to allow nearby devices to send and receive content like photos, web pages, documents and more wirelessly.
While AirDrop uses the Wi-Fi radios in the devices to establish a direct connection between them, it relies on Bluetooth for proximity information. It is, therefore, limited to the Bluetooth range, typically less than ten meters (33 feet).
With iOS 17.1 and iPadOS 17.1, iPhone and iPad owners can enable a new Use Cellular Data option in Settings > General > Airdrop. Doing so prompts AirDrop to automatically use your iPhone's cellular data in case Wi-Fi is unavailable. This feature is unavailable on the Mac.
How cellular AirDrop works
We haven't yet tested cellular AirDrop on our devices. Apple explains you must first initiate an AirDrop transfer via Wi-Fi before AirDrop can fall back to cellular in case the Wi-Fi connection is lost during the transfer—you can't actually start an AirDrop session over the internet without ever using Wi-Fi.
In other words, this feature was designed to finish sending in-progress transfers over the internet. "Continue to send and receive content when Wi-Fi is not available during AirDrop," reads the feature's description.
So if you start a transfer via AirDrop and Wi-Fi becomes unavailable during the session (or, for example, you walk away), the feature will fall fall back on your iPhone's cellular data without interrupting the transfer.
Is cellular AirDrop secure. Does it reduce quality?
Whether using Wi-Fi or cellular data, AirDrop uses end-to-end encryption so no one, not even Apple, can decipher what's being transferred. Apple says that AirDrop will continue to send content like images in full quality over the internet.
To be clear, this feature requires that both your and the recipient's device be signed in to iCloud. This option defaults to turned off to protect inexperienced users from excessive cellular data charges.
NameDrop is now available
iOS and iPadOS 17 bring other AirDrop improvements, such as NameDrop, which triggers contact sharing when two devices are brought close together.
As you start bringing devices together, NameDrop shows a nice animated effect, with fullscreen contact posters appearing on both devices (set up your own contact poster if you haven't already to boost the calling and messaging experience).
You can also turn off this automatic nearby AirDrop transfer by disabling the Bringing Devices Together option in the AirDrop settings.
Source link: https://www.idownloadblog.com/2023/09/30/apple-ios-17-1-airdrop-cellular-data/