How to download custom regions on Apple Maps to navigate offline on your iPhone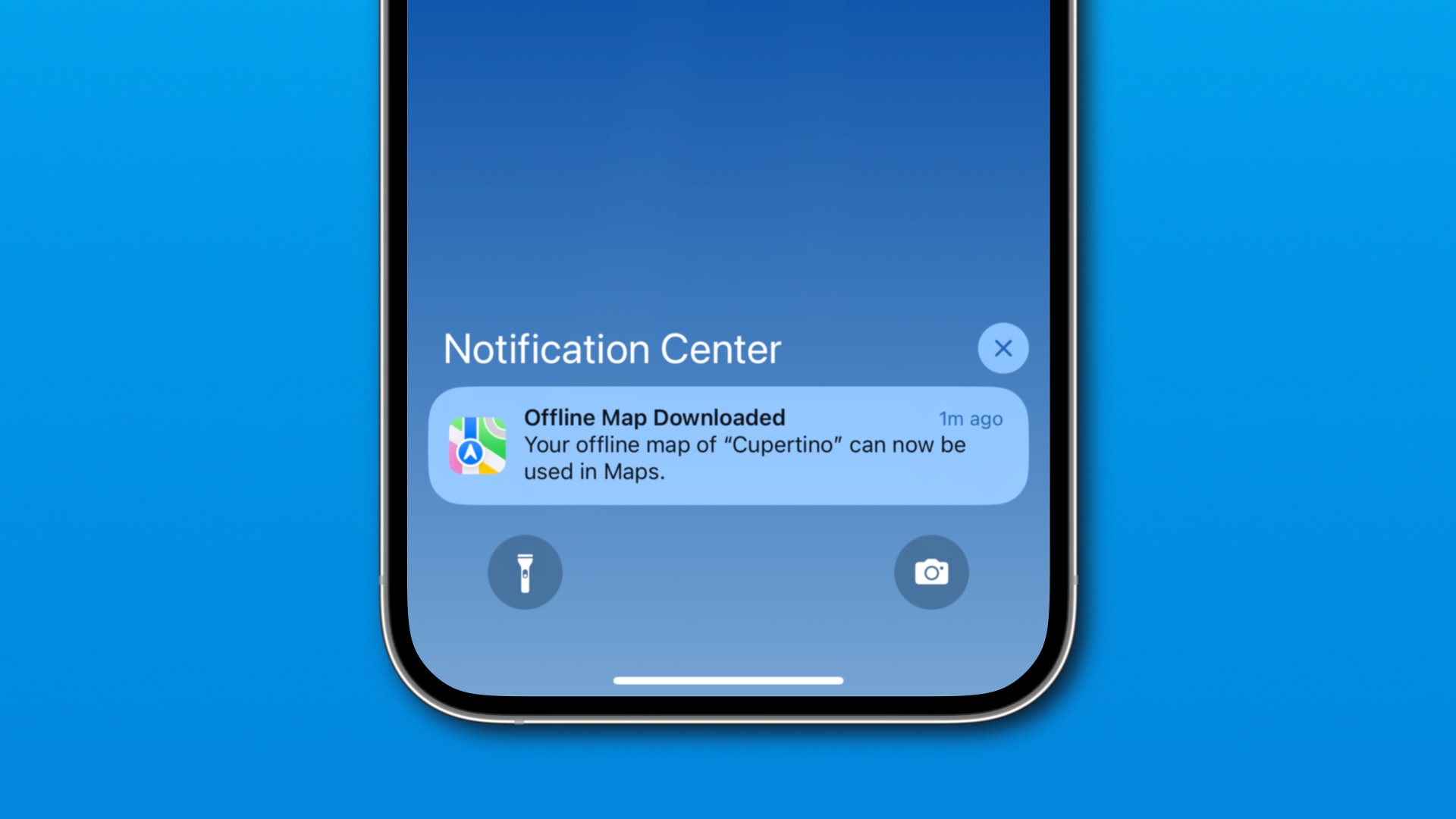 Download a custom region in iOS 17's Apple Maps to navigate offline on your iPhone, iPad or Apple Watch, search for nearby places, and more.
Apple has finally implemented the ability to download a custom area in the Maps app to use for offline navigation, getting information about places and more.
Maps will automatically update downloaded maps with new content. You can download multiple maps for offline use, rename and delete them, etc.
This functionality requires iOS 17, iPadOS 17 and watchOS 10 or later.
---
Offline navigation comes to Apple Maps
Apple has been steadily improving its mapping service ever since ditching Google Maps as a stock app with the release of the iOS 7 update back in 2014.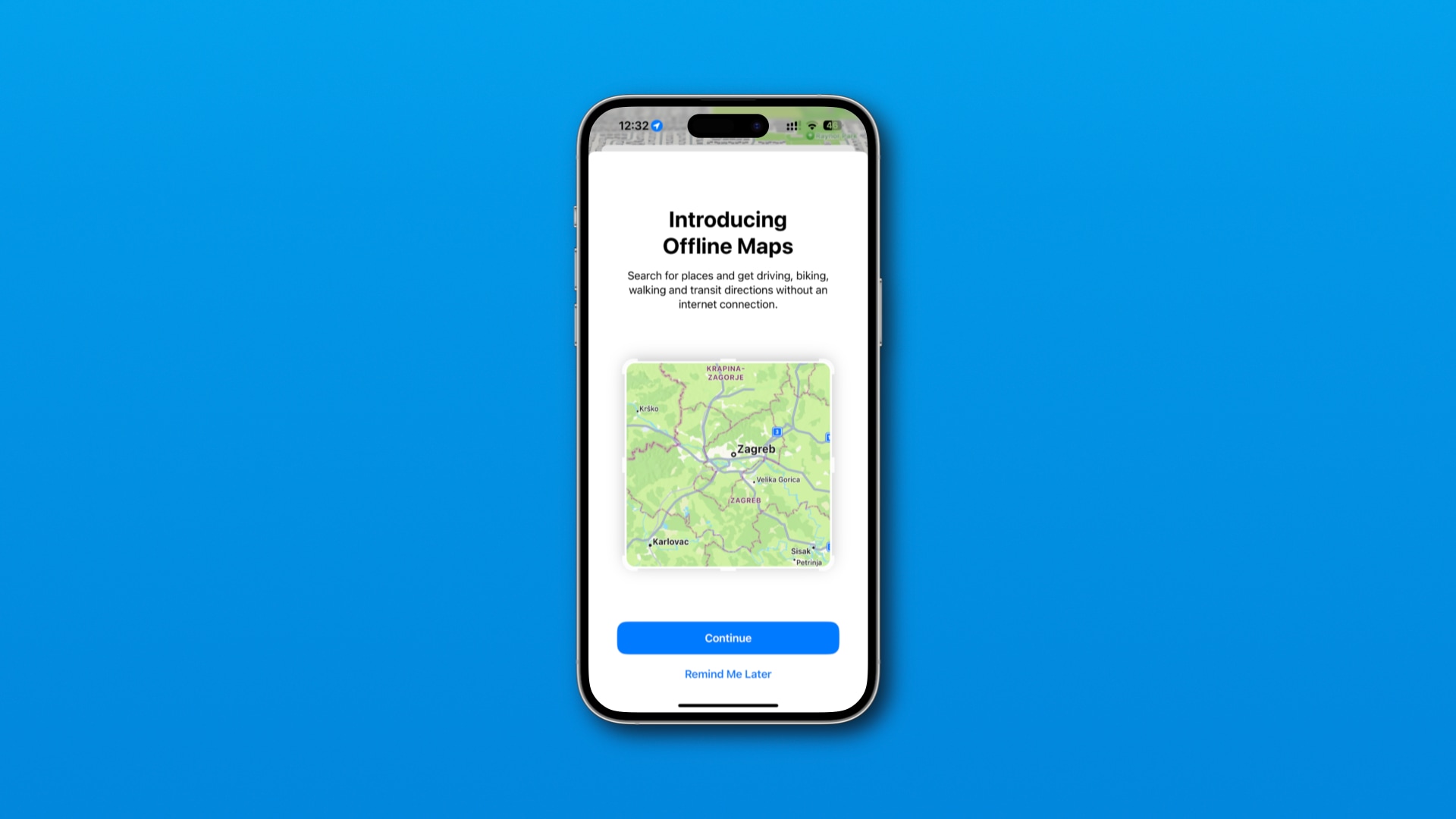 At its WWDC event in June, the company announced a slew of new features across its platforms, with offline maps being a notable addition. Before, Apple Maps cached some data, but this is the first time the app has supported truly offline maps.
All modes of mobility support offline navigation, including driving, walking, transit and cycling. So if you're a cyclist who likes to explore new areas with spotty cellular coverage, you can now navigate with turn-by-turn directions while offline.
The estimated time of arrival in offline mode may be less precise if there are new road incidents or fresh traffic jams that the offline map is unaware of.
Offline maps aren't limited to turn-by-turn navigation—you can use other features away from Wi-Fi or cellular networks, like searching for and exploring nearby places, viewing place information like business hours and ratings, etc.
Apple Maps: Offline maps requirements
The ability to download maps for offline use requires the following:
iPhone with at least iOS 17.0
iPad with at least iPadOS 17.0
Apple Watch powered by watchOS 10.0 or later
Offline maps are unsupported on macOS Sonoma at this time.
The Apple Watch leverages offline maps downloaded on your paired iPhone. If there are no maps downloaded for offline use on your iPhone or the phone is outside Bluetooth range, you won't be able to use offline maps on the watch.
Apple Maps: How to download maps for offline use
To download portions of a map for offline access, hit your profile picture in Maps on an iPhone or iPad and choose Offline Maps > Download New Map.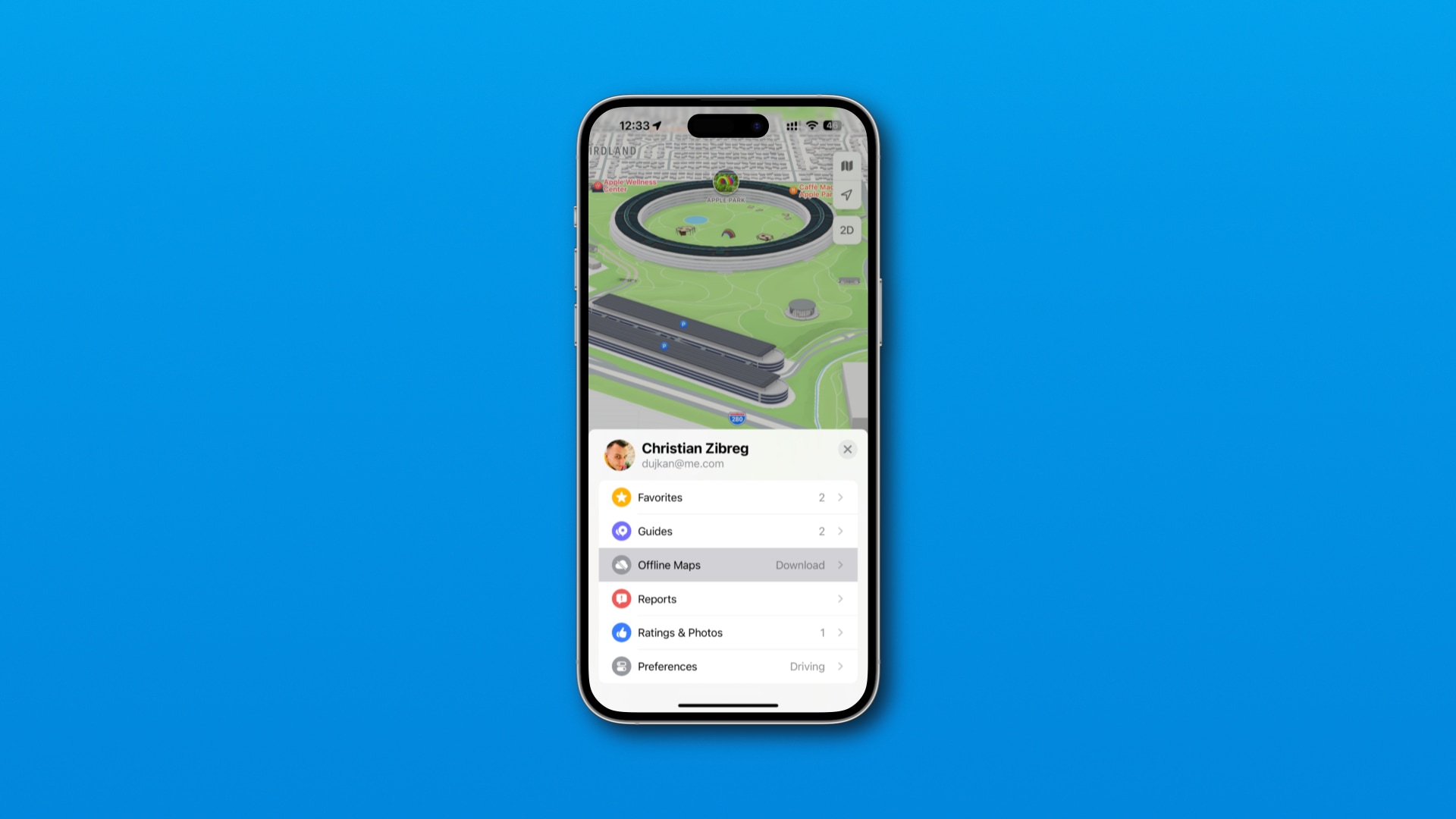 You can drag the handles on a mini-map to define a custom area to download. Use pinching to zoom in and out. You can't download the entire map of planet Earth though I was able to zoom out far enough to download a map of my home country.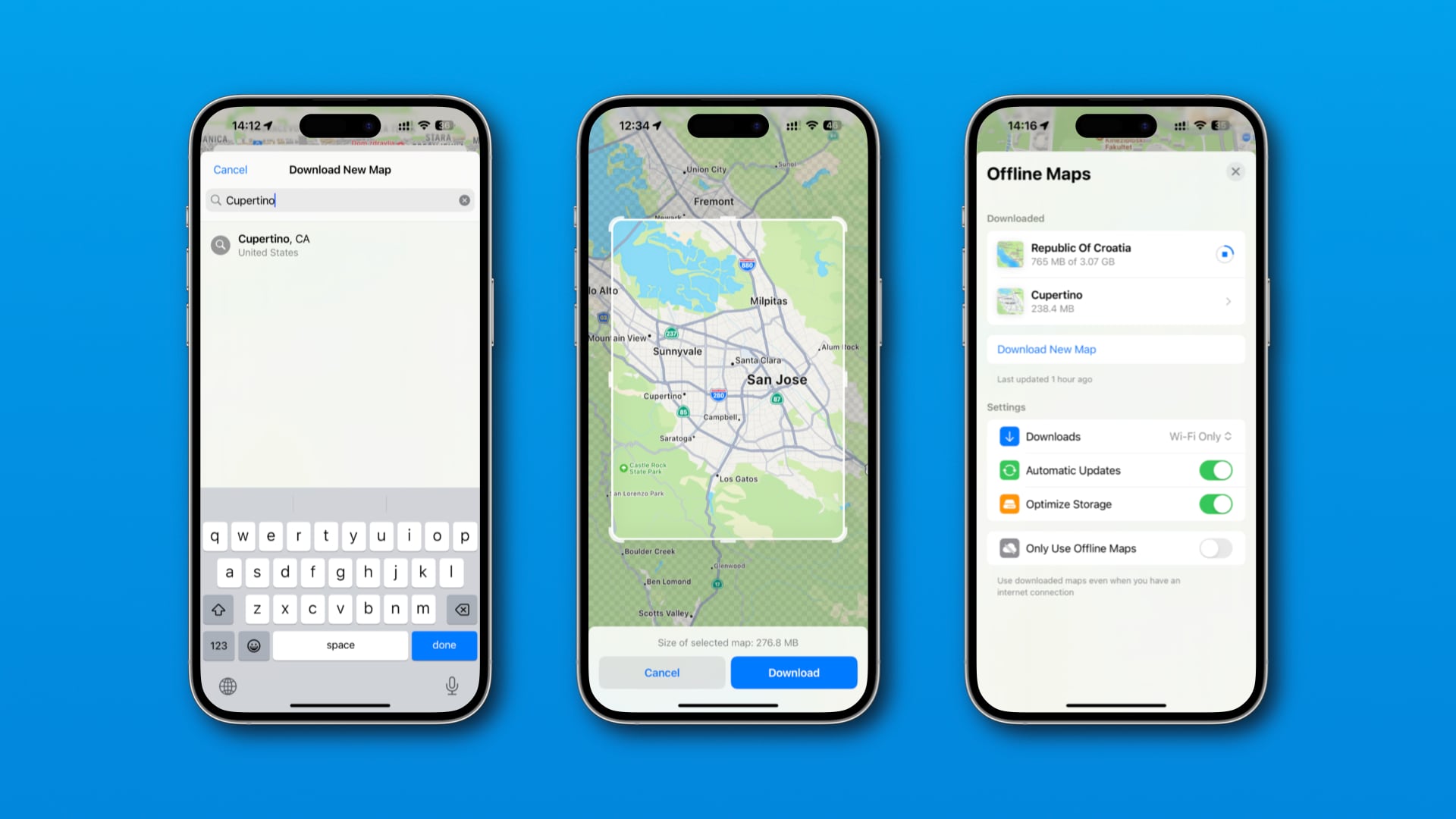 As you resize your map, your estimated download size updates accordingly. When done, hit Download. Use the Downloads menu in the offline maps settings to restrict offline downloads to Wi-Fi only and minimize cellular data usage.
You can download as many areas for offline use as you like.
Managing downloaded maps: Rename, delete and more
Turning on Automatic Updates on the offline maps screen prompts the app to fetch updates to your offline maps, if any. Enable Optimize Storage to have Maps automatically delete offline maps not used in a while when low on storage space.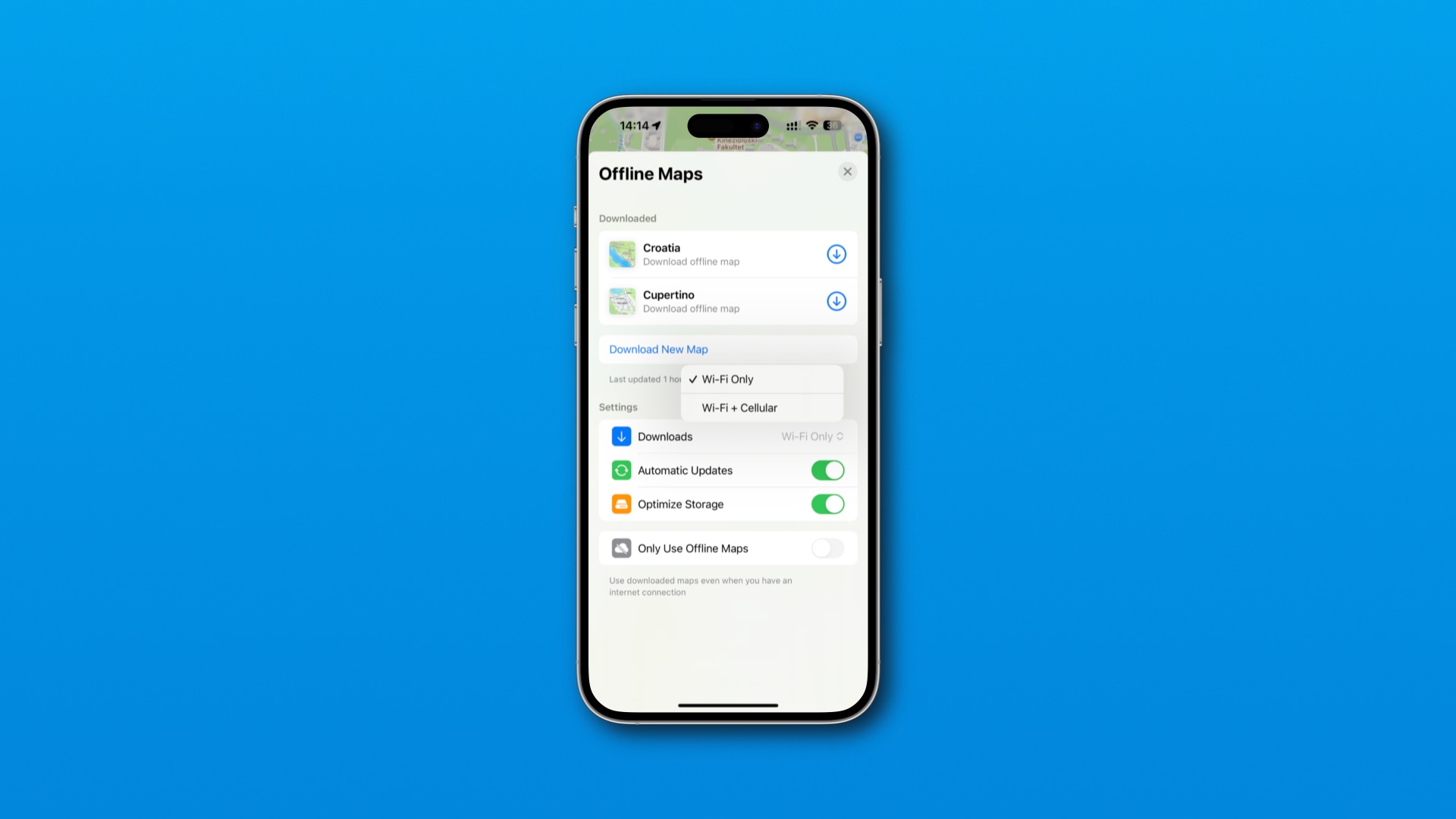 To manually delete a map, swipe left over it on the offline maps screen and choose Delete. To give your map a custom name, choose Rename instead.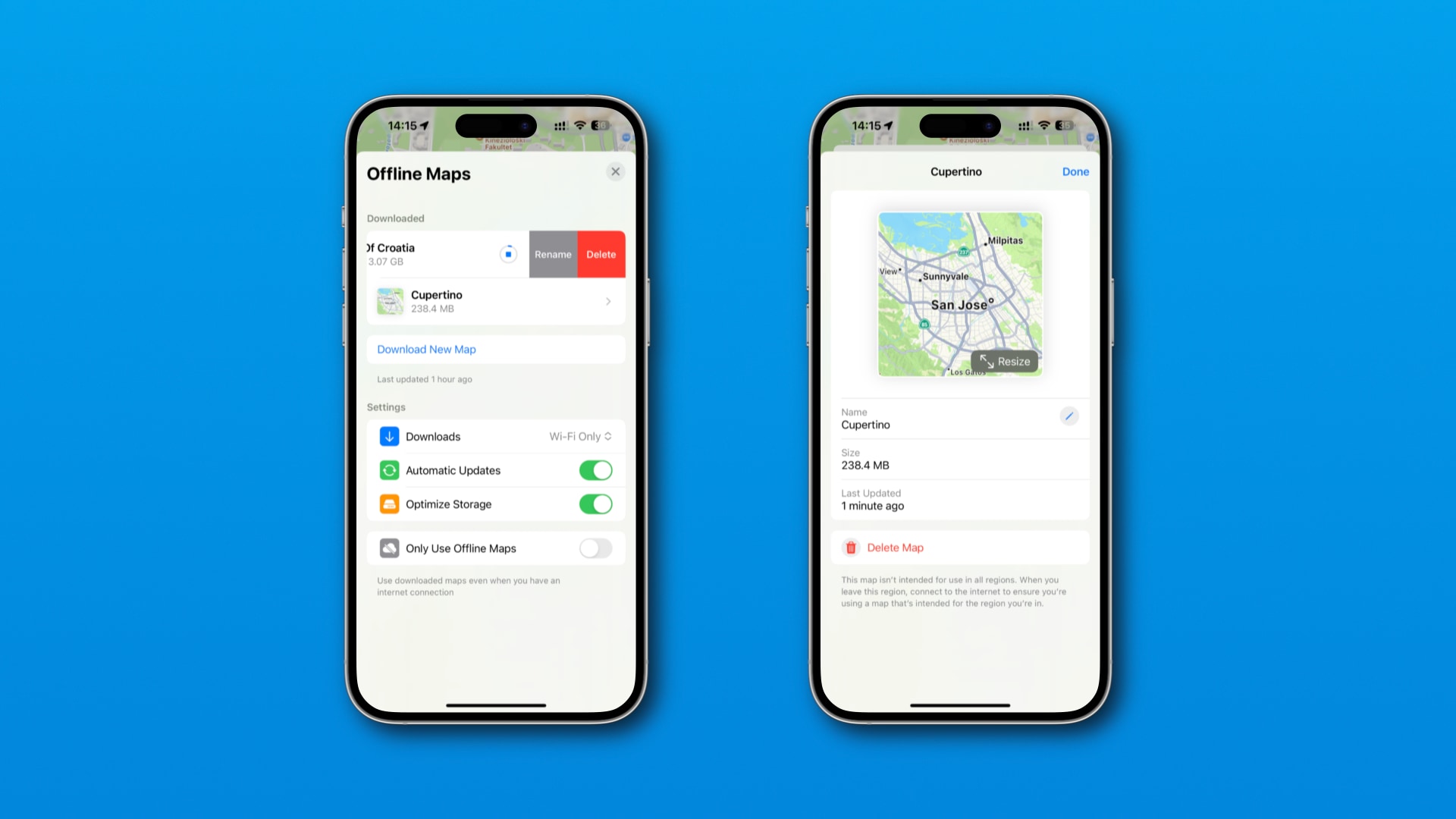 You can also hit any downloaded map to access the rename (the pencil icon) and delete (Delete Map) options, as well as resize the offline map, see when it was last updated and check how much storage space the download takes up.
Lastly, the Only Use Offline Maps toggle tells the app to use offline maps even when you have a network connection. A "Using Offline Maps" label is shown at the top of the map if this option is turned on.
Keep this setting switched off. Otherwise, Maps might stop providing step-by-step directions if you detour from your route into an area outside the offline map.
Apple Maps tutorials to check out
Source link: https://www.idownloadblog.com/2023/06/08/apple-maps-offline-navigation-announcement/