Get HotMacNews- iOS App and Homepage
To access HotMacNews on your computer Click Here (It makes a great Home Page)
To download iPhone or iPad app (HotMacNews2) click here HotMacNews2
**Once in HotMacNews Home Page click on Preferences to customize to your needs.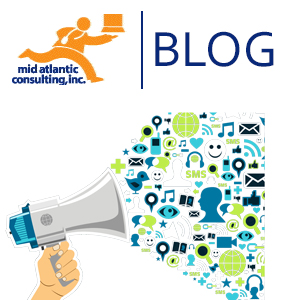 Your iPhone and iPad can help prevent hearing loss with an optional tool for measuring headphone audio levels in real-time, and our step-by-step tutorial shows you how to use it.
How Apple helps protect your hearing loss
Apple's created features for the iPhone and Apple Watch to alert you if the sound levels in your environment are above the safe threshold to help prevent permanent hearing damage.
With the release of iOS 13 and watchOS 6 in 2018, Apple added a pair of features that help protect your hearing. The first feature lets iPhone owners see if they're being exposed to high volume levels through their headphones for extended periods of time (search for "Headphone Audio Levels" in the Health app). The other one uses sensors in the Apple Watch to detect if you're being exposed to loud environments.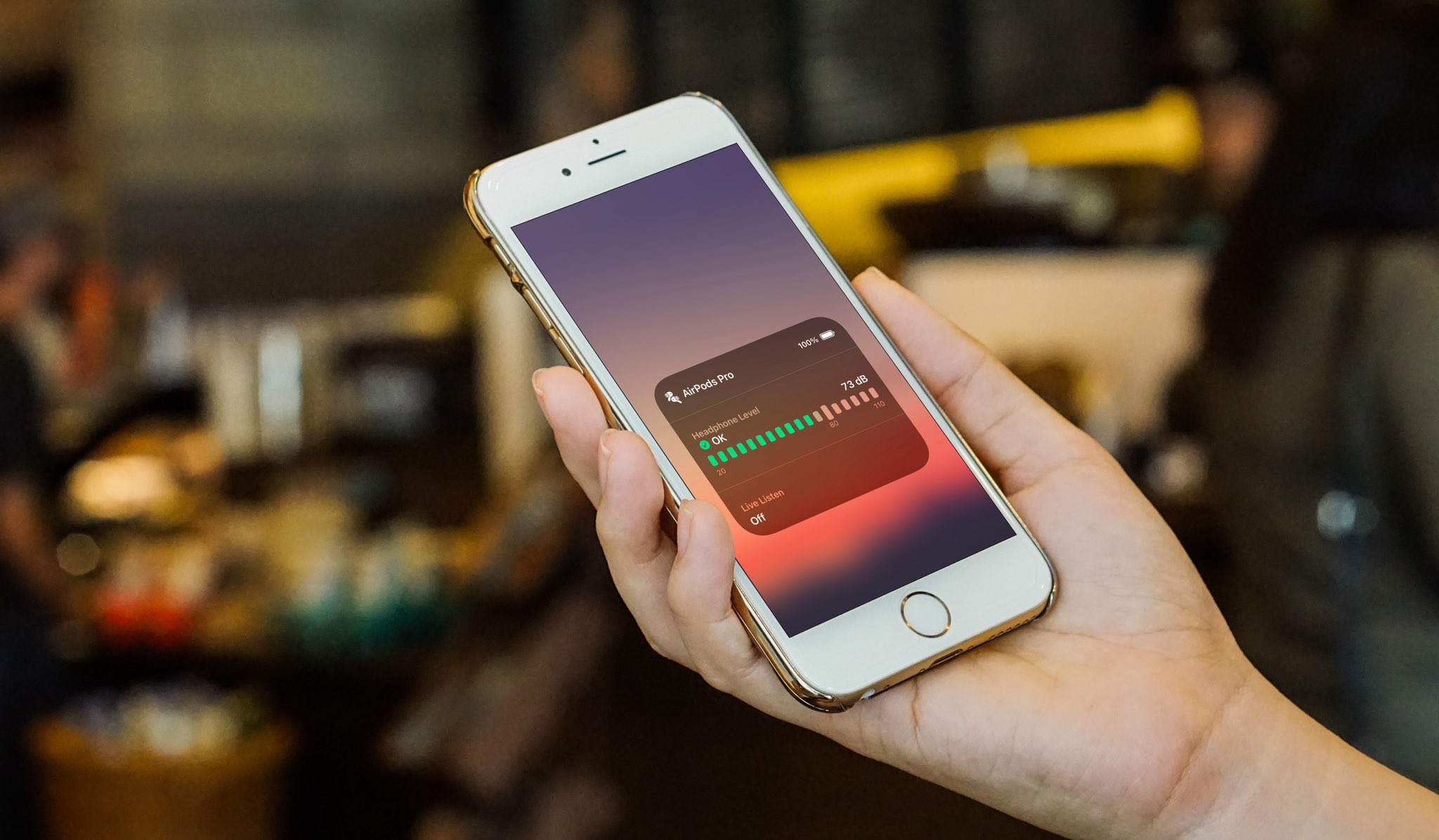 Beginning with the iOS and iPadOS 14.2, additional hearing options are available. You can now see a notification when high audio levels could impact your hearing. Also, you can measure headphone audio levels in real-time with a new Control Center option.
Things you should know about hearing
Sound levels are measured in A-weighted decibels. Long-term exposure to volume levels below 80 decibels is considered "OK" and should not affect your hearing.
→ How to use the Noise app on Apple Watch
In that case, the measurement icon will be green. However, long-term exposure to sounds above 80 decibels can lead to permanent damage. Sounds measured at this level are labeled as "Loud" by Apple, with the measurement icon turning yellow instead of green.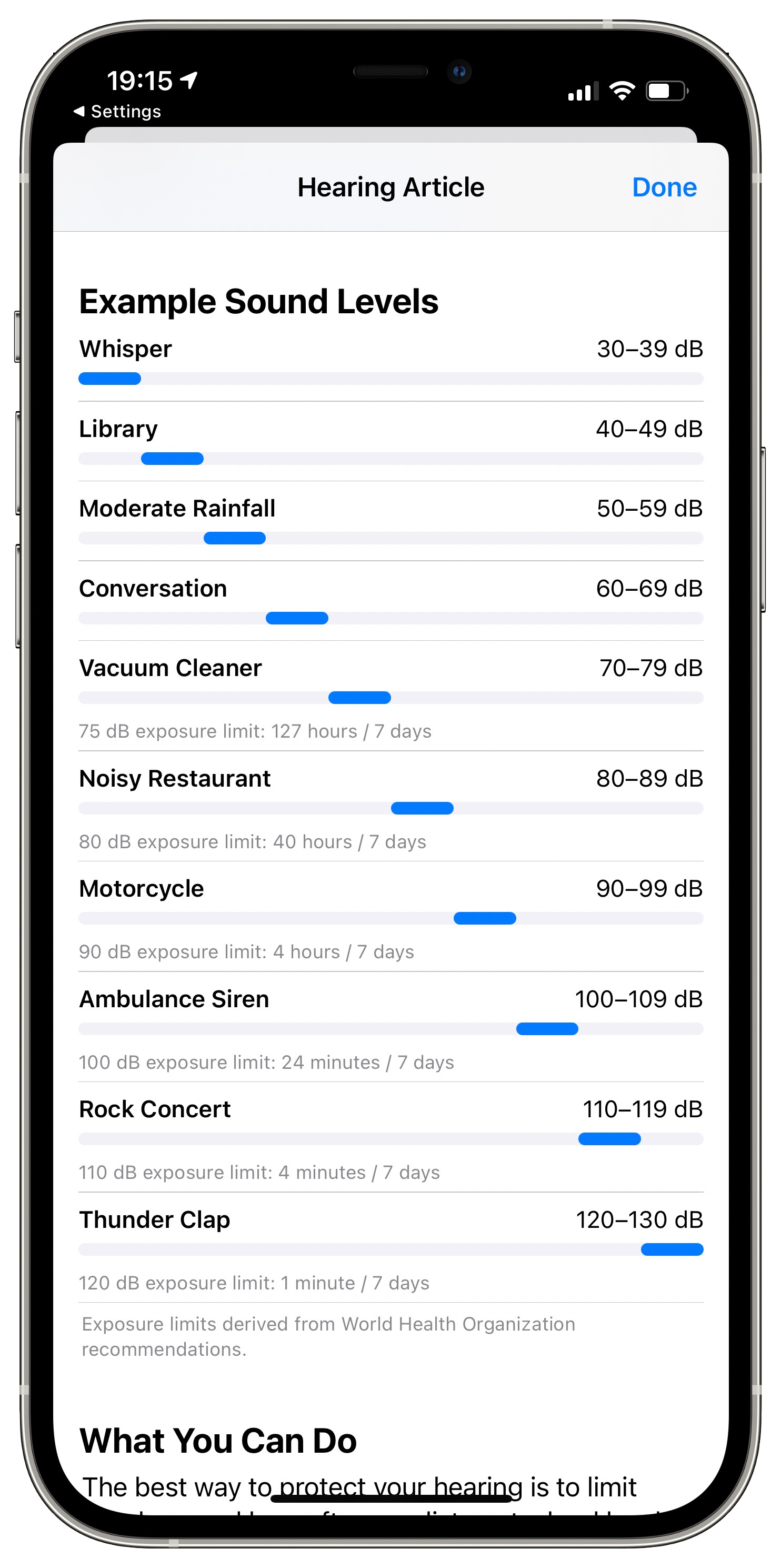 75 decibels: As loud as a vacuum cleaner.
80 decibels: As loud as a noisy restaurant. Around 5 hours and 30 minutes a day at this level can cause temporary hearing loss. The weekly limit at this level is 40 hours.85 decibels: Around 1 hour and 45 minutes a day at this level can cause temporary hearing loss. The weekly limit at this level is around 12 hours and 30 minutes.
85 decibels: As loud as heavy city traffic.
90 decibels: As loud as a motorcycle. Around 30 minutes a day at this level can cause temporary hearing loss. The weekly limit at this level is 4 hours.
95 decibels: As loud as a car horn. Just 10 minutes a day at this level can cause temporary hearing loss. The weekly limit at this level is around 1 hour and 15 minutes.
100 decibels: As loud as an ambulance siren. Even a few minutes a day at this level can cause temporary hearing loss. The weekly limit at this level is around 20 minutes.
Follow along with our step-by-step tutorial right ahead as we show you how to measure the headphone audio levels on your iPhone in real-time.
How to measure headphone audio levels
By enabling the new Control Center option in iOS and iPadOS 14.2 or later, you'll have an easy way to quickly glance at your current headphone audio levels, measured in real-time, to ensure that you're not listening at a volume that could affect your hearing over time.
Open the Settings app on your iPhone or iPad.
Touch "Control Center" in the root list.
Tap the green "+" button next to "Hearing" to add the option to Control Center.
That's it, you can now get real-time headphone audio measurement via the Control Center.
You can now bring up the Control Center overlay the next time you're listening to something on your headphones and you'll see the audio measurement icon along with your current decibel levels. The interface for this resembles the interface in the Noise app on the Apple Watch.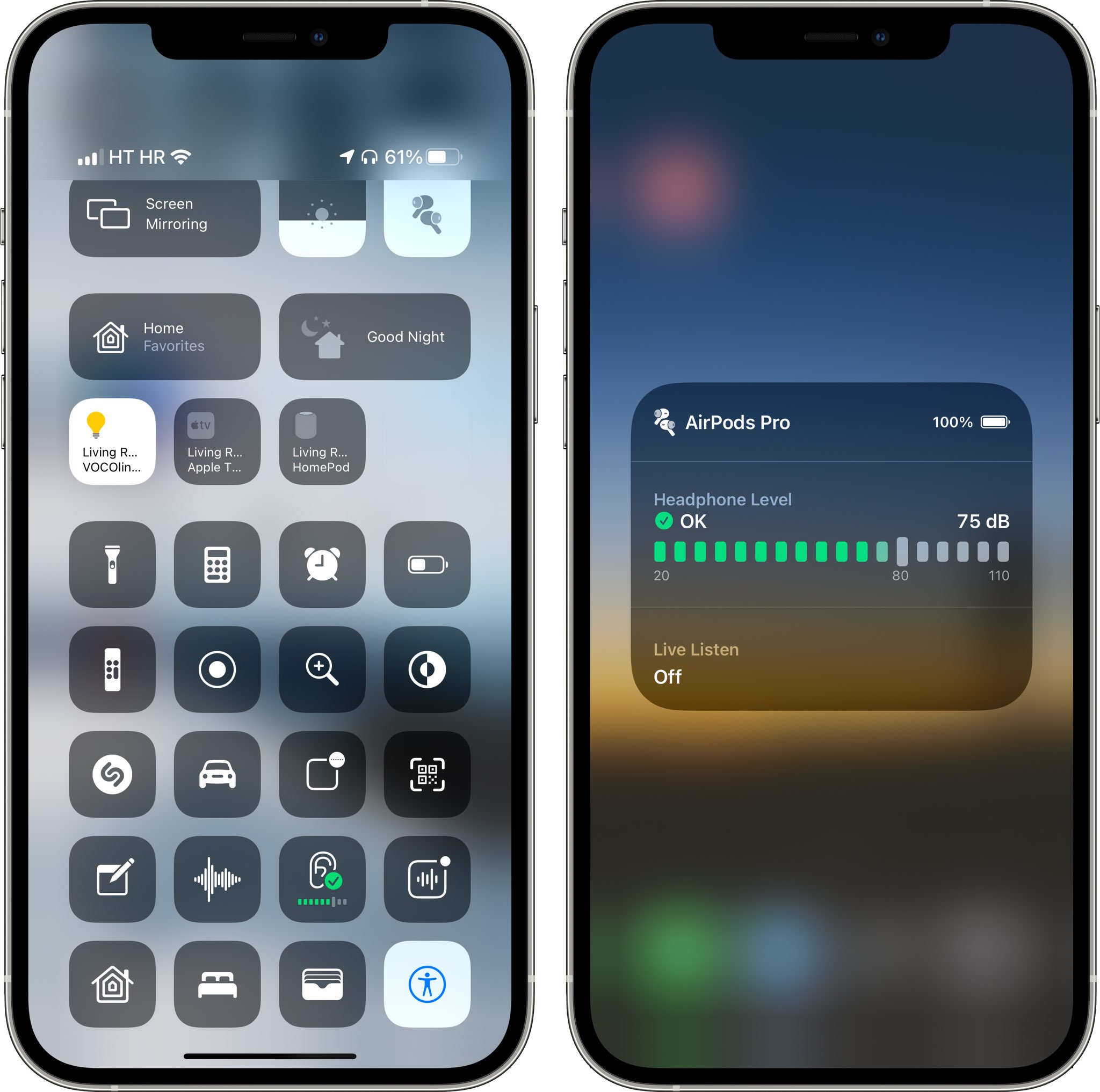 These measurements are more accurate from compatible headsets with built-in microphones that measure the volume levels in your ear, like the AirPods models. Measurements from wired headphones like the EarPods are estimated based on the volume of your iPhone.
Browsing records of saved headphone volume levels in Health
With enough data available, you can browse your headphone audio levels capture in the past hour, day, week, month, and year in the Health app on your iPhone: hit the "Home" tab, then touch the "Hearing" option and look for "Headphone Audio Levels."
→ How to turn iPhone into a remote mic with AirPods and Live Listen
You'll want to especially pay attention to those "Loud" records and be aware that long-term exposures to volumes above 80 decibels can permanently damage your hearing.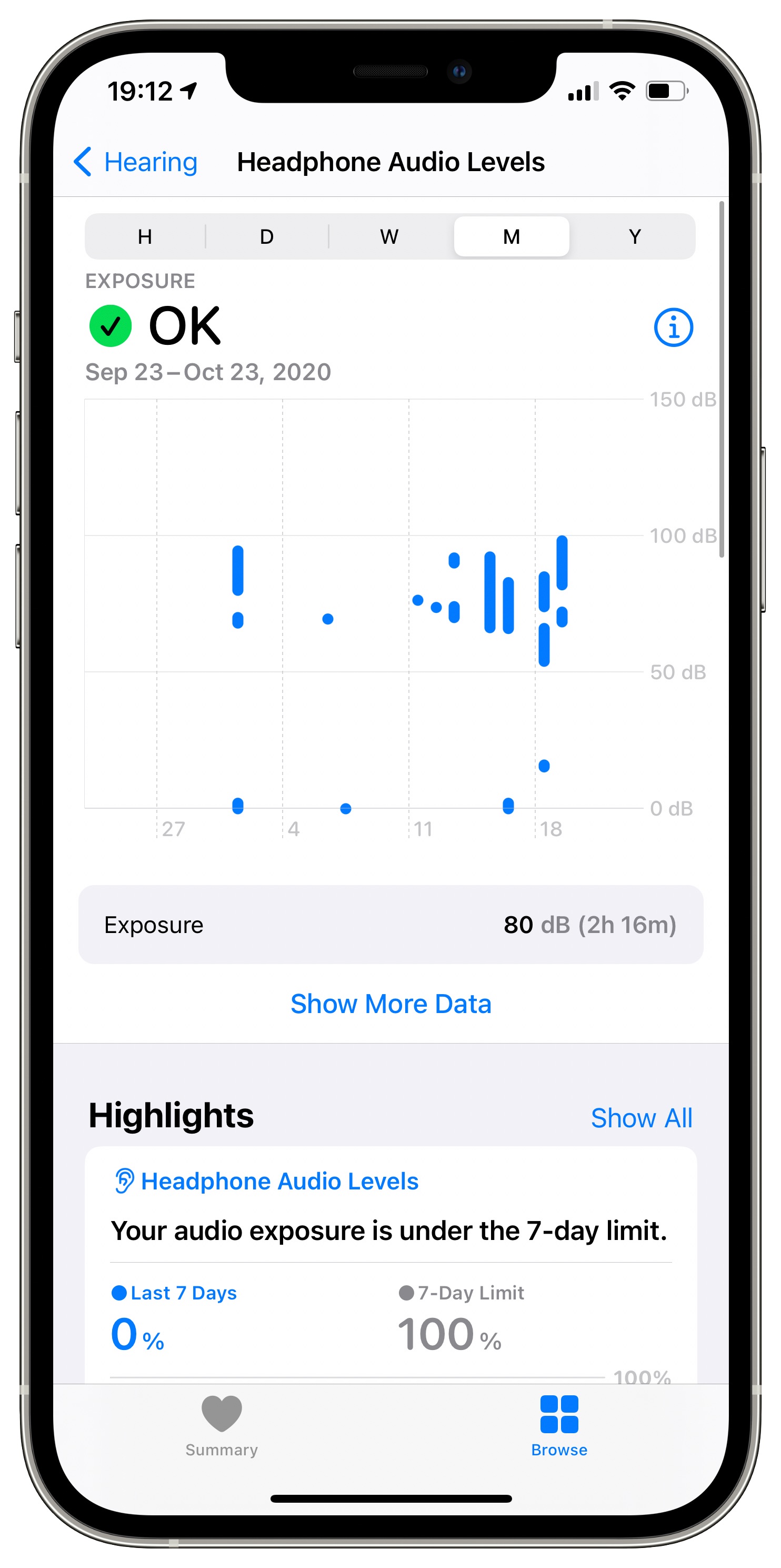 To access additional details like your volume range, daily average, audio levels by headphone type, and more hit the button "Show All Filters". As mentioned, you can optionally elect to receive a notification when loud headphone volume could affect your hearing.
How to get a loud headphone audio notification
You must enable a dedicated option in Settings on iOS and iPadOS 14.2 if you'd like to get notified and have the headphone volume automatically reduced to help protect your hearing when you reach the World Health Organization's recommended safe weekly listening dose.
Open the Settings app on your iPhone or iPad.
Touch "Sounds & Haptics" in the root list.
Hit "Headphone Safety".
Turn on the option "Reduce Loud Sounds" and set the desired threshold.
Here's what that looks like.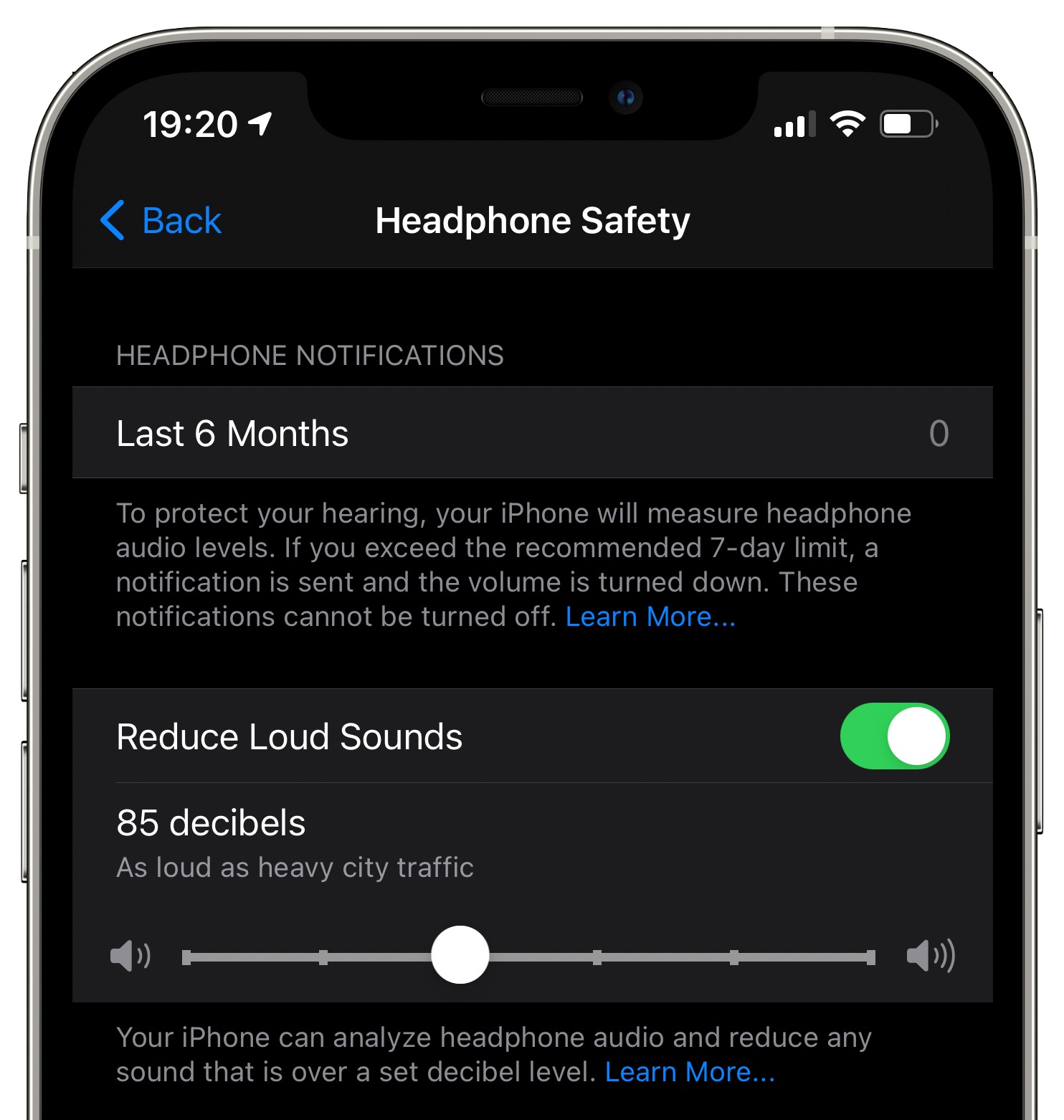 Now when listening to headphone audio for long enough at an unsafe volume, a notification will appear on the display of your iOS device. "If you exceed the recommended 7-day limit, a notification is sent and the volume turned down," Apple says.
Apple notes that the headphone safety notification cannot be turned off.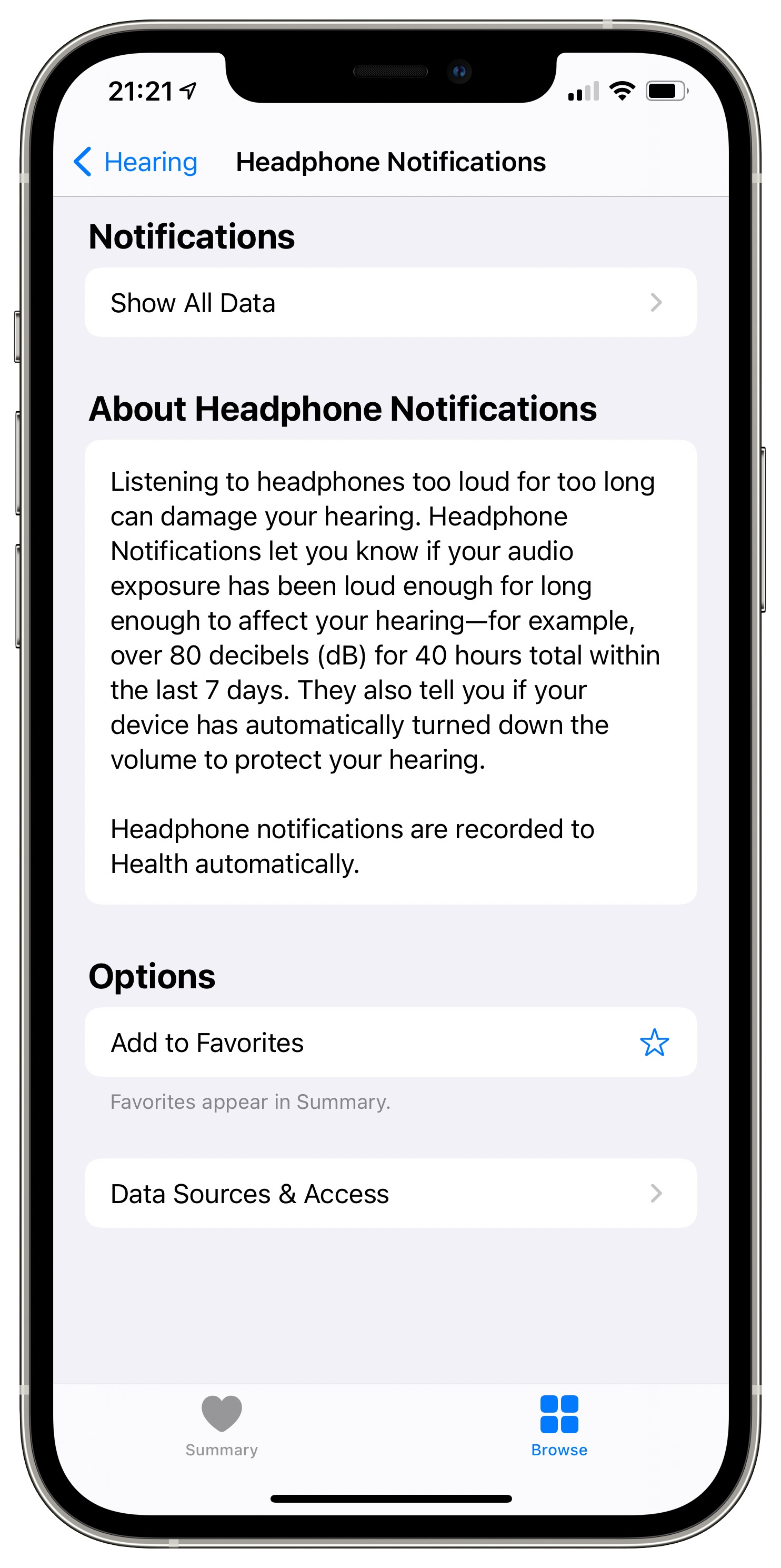 You can view the details for a notification in the Health app: tap the Browse tab and then choose Hearing → Headphone Notifications, then tap the notification. Apple notes that in some countries the notification may be turned on by default. "In some countries or regions, you may not be able to turn off Headphone Notifications," cautions the company.

Source link: https://www.idownloadblog.com/2021/01/18/headphone-audio-levels-tutorial/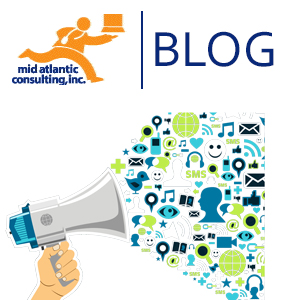 Turning your home into a smart home doesn't have to be expensive. Right now Amazon has the Kasa Smart Plug, which allows you to operate a light or appliance using your phone or voice, for just ten bucks.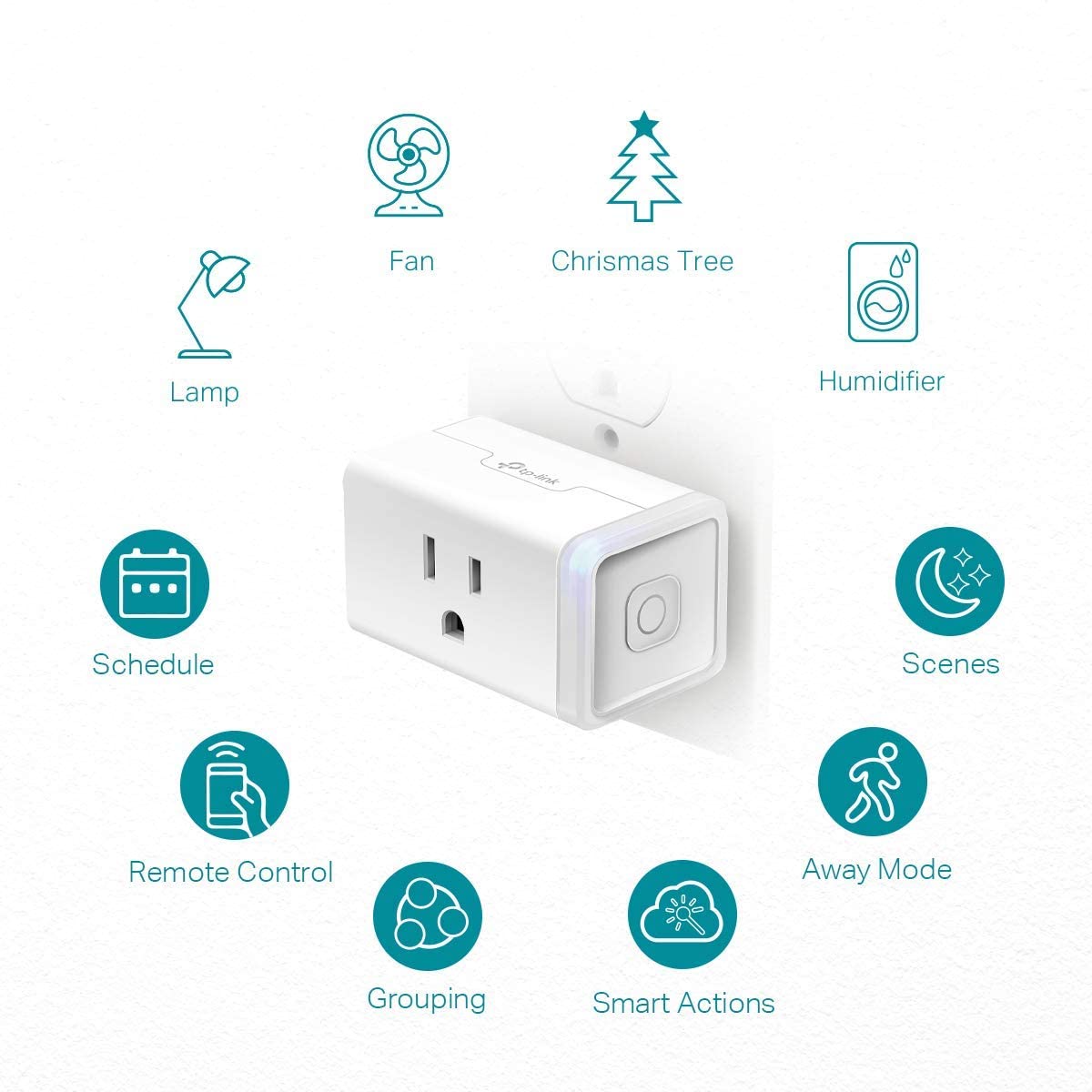 What you need to know:
Does not require a separate hub, just connect the plug to your WiFi network and go
Compatible with Amazon Alexa, Google Home and IFTTT (for HomeKit workarounds)
You can operate the smart plug from anywhere in the world using the Kasa app
Comes with a 2-year warranty
4.6 star customer rating on Amazon, on over 6K reviews
Typically priced around $15
Other notable tech deals:
Beats Solo Pro wireless headphones – have the AirPods Max blues? Get the Solo Pros in blue, for super cheap. Buy for $180
IQ Shield Glass Screen Protectors – 3-pack for the iPhone 12 min. For $1. That's it, that's the pitch. Buy for $1
TP-Link Deco Mesh

WiFi

System

– this JD Power award-winning system blanks 4,500 sqft in hi-speed

WiFi

. Buy for $99
Apple Mac mini with new M1

chip

– yep, it's the new M1 Mac mini and it's already $30 off. Buy for $670

Beats

Powerbeats Pro wireless headphones – these headphones also have Apple's H1 chip, they're sweat resistant, and look and sound great. Lowest price we've seen. Buy for $160
Sony PS Plus 1- year membership – get instant

access

not only to

online

multiplayer gaming, but

free

games as well. These

retail

for $60, and average

discount price

is typically around $40-$45. Buy for $32
iTunes movie deals – massive $5 movie sale includes Source Code, Blow, Happy Gilmore and more. Shop the sale

Source link: https://www.idownloadblog.com/2021/01/18/kasa-smart-plug-just-10-bucks/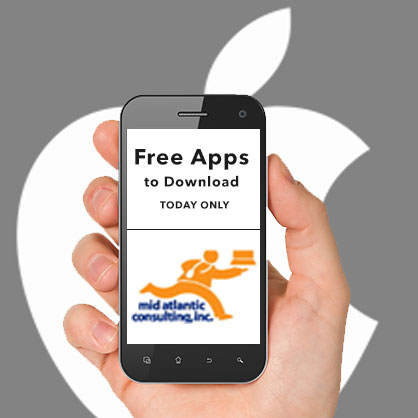 Widget Calendar , Planetical , Hour Blocks: Day Planner and more
Universal:
Widget Calendar ( $1.99 → Free ) yoon sik kang
Widget Calendar does one thing and it does it very well. It's able to grab all of the events from your calendar and neatly display them on your home or lock screen. The app includes 10 widget types, three themes, and nine colors to choose from.
Planetical ( $1.99 → Free ) Ilya Kirichek Planetical is one of the easiest to use apps of its kind. You're able to import content from your library or capture a new photo within the app. Ideally you'll want to use landscape shots. Planetical will then automatically transform the photo into a tiny circular planet. Adjustments like the level of zoom and blur can be made via sliders. Your final creations can be saved or shared via Instagram, Facebook, Twitter, or email.
Hour Blocks: Day Planner ( $3.99 → Free ) Eledev Digital The app breaks your day up into one hour blocks, allowing you to truly focus on what's next. Just tap on an hour block and type in what you need to accomplish. Hour Blocks also provides suggestions based on previous activity, making it even easier to plan your days. An optional widget allows you to track what's next from your home screen. A dark mode is available as well.
Source link: http://appadvice.com/apps-gone-free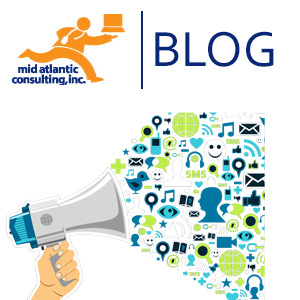 Apple continues to file a bunch of patents that are related to a foldable iPhone, with the most recent one indicating that the company continues research on how to make hinges stronger.
In a new patent application for "Electronic Devices With Fiber Composite Friction Hinges", Apple proposes building stronger hinges featuring "elongated fingers" that could be used not only for foldable devices but "finger devices" (yup, Apple's been researching smart rings).
The patent abstract notes that such devices may have portions that are joined with hinges.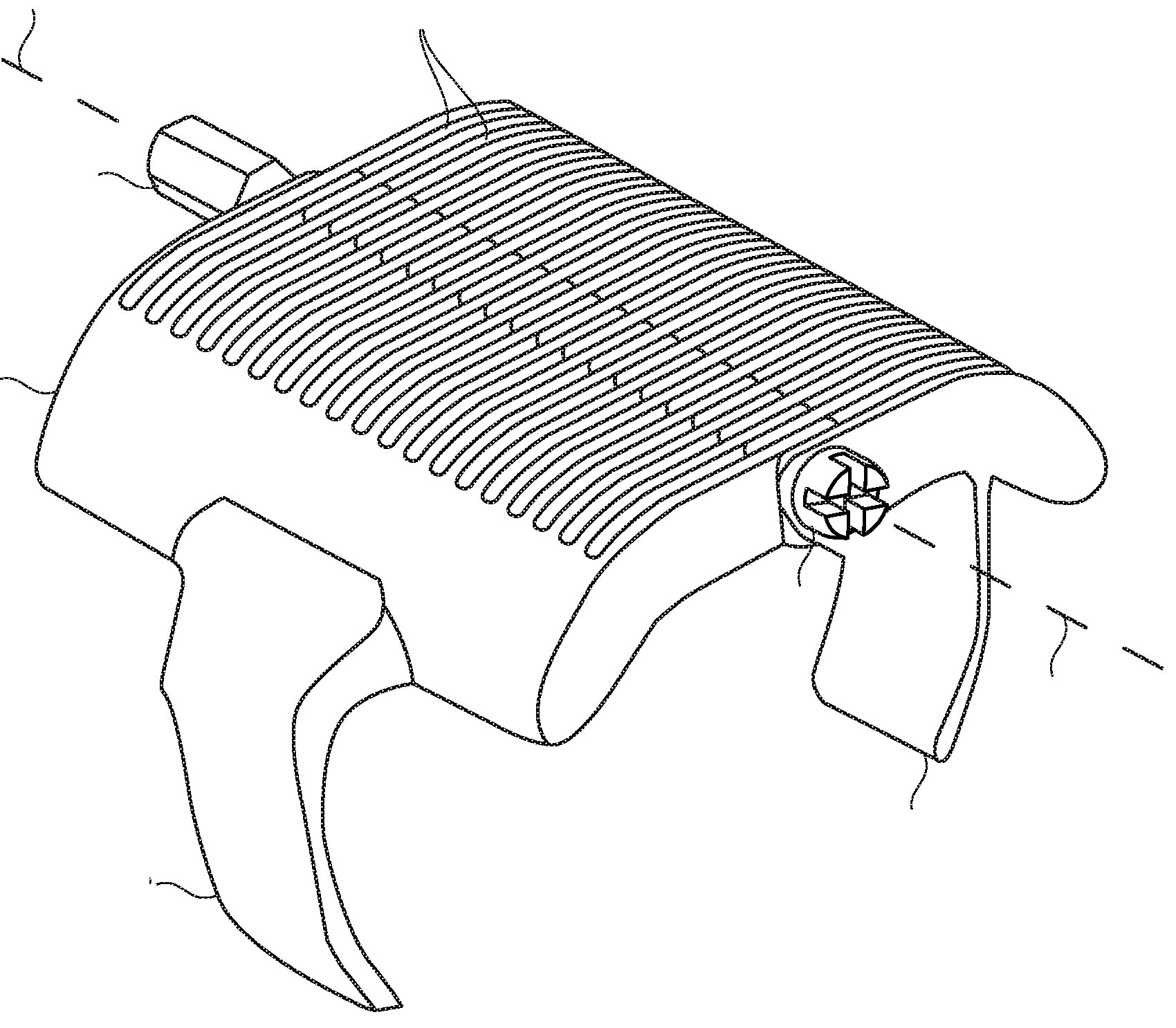 Hinges featuring "elongated fingers"
From Apple's description of the solution:
Fibers in the composite material may be embedded in binder such as polymer binder. The fibers may wrap around the holes and fold back on themselves in the fingers. The ends of the fingers may be wrapped in additional fibers.
The fiber composite friction hinge could feature first and second sets of interdigitated elongated fingers, the filling mentions. A hinge using "elongated fingers" may also fit different sized devices, especially with respect to devices that are "mounted on the user's finger".
Such a hinge can allow portions to rotate towards or away from each other about hinge axis.
"If care is not taken, hinge structures may be bulky, weak, and prone to slippage," the company writes. However, fiber composite structures could help reduce hinge bulk "while improving hinge performance," according to the company's detailed patent application.

Apple says this can also apply when a device has more than one hinge, which led AppleInsider to speculate that this "could be a reference to certain proposed designs of folding iPhones."
Apple's many patents for foldables
This is but one in a series of many patents related to a foldable iPhone that Apple has recently filed with the USPTO. A month ago, a patent titled "Electronic Devices Having Folding Expandable Displays" outlined articulated hinge structures for a foldable device.
And if Apple's patent application for "Folding Electronic Devices With Geared Hinges" is any indication, a foldable iPhone could fold two different ways. Indeed, recent reports have alleged that both foldable solutions have now passed quality control checks.
Although the prototypes were tested in Foxconn's Shenzhen factory where iPhones are being assembled, that doesn't neccessarily mean the company will release a foldable iPhone anytime soon. Oftentimes the company patents various technological concepts as a defensive strategy.
Image credit: Apple/USPTO

Source link: https://www.idownloadblog.com/2021/01/18/apple-patent-friction-hinges/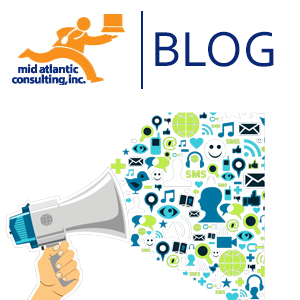 Apple customers can now access relevant information about volunteering in their communities right alongside existing curated content that's available on Apple Maps.
Available in select US cities
This was first spotted by CNET last week.
Normally, when the map shows a city such as San Francisco, Chicago, Atlanta or New York City, users can swipe up from the search bar to find items curated by local newspapers and activity-guide companies, ranging from bike trails to lists of lesser-known restaurants and sights. Now it has guides listed by VolunteerMatch too.
These guides in Maps are already available for Atlanta, Boston, Chicago, Houston, Los Angeles, Miami, New Orleans, New York City, San Francisco, Seattle, and Washington DC.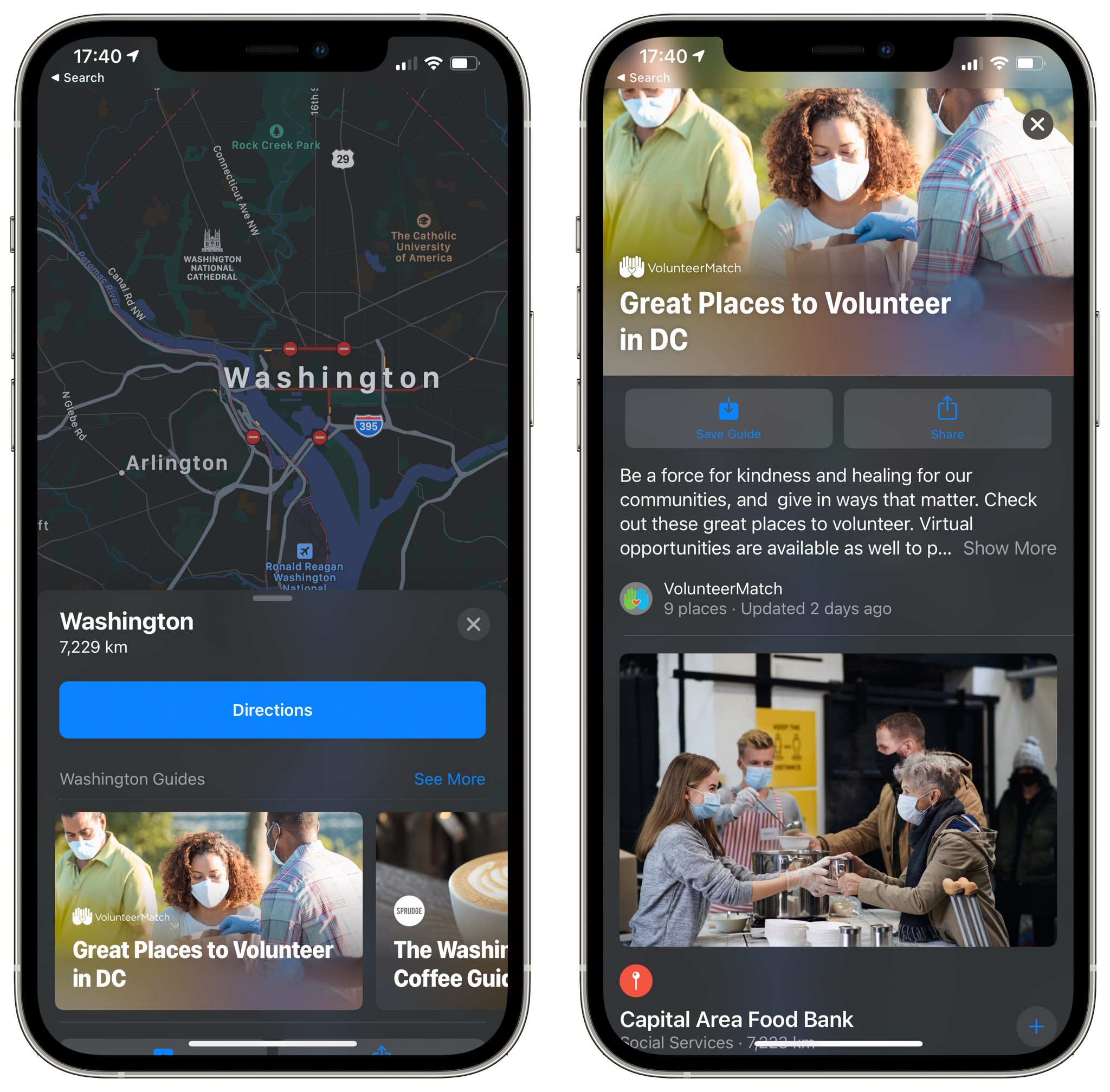 The feature enables Maps users to find nonprofits and locations to volunteer in their communities with the Maps app on their iPhone, iPad, Mac, and Apple Watch.
Celebrating Martin Luther King Jr. Day
It's especially relevant as today marks the celebration of Martin Luther King Jr. Day, which is a federal holiday in the US to celebrate civil rights leader Martin Luther King Jr.'s birthday.
Apple's homepage today is honoring Martin Luther King Jr. Day: "True peace is not merely the absence of tension; it is the presence of justice." pic.twitter.com/BqFKgAiJQn

— iDownloadBlog (@iDownloadBlog) January 18, 2021
The listings indicate that people can also choose to be remote volunteers due to the work-from-home restrictions. "Virtual opportunities are available as well to provide support from home," reads one such listing. To get further details, check the link for each listing.
→ How to use curated guides in Apple Maps
Last week, Apple's chief executive Tim Cook announced Apple investments in historical black colleges and universities, as well as app development centers. The company is also investing in racial justice organizations and donating to The King Center in Atlanta.
The Apple CEO is known for keeping photos of King in his office.

Source link: https://www.idownloadblog.com/2021/01/18/apple-maps-volunteermatch-integration/