Get HotMacNews- iOS App and Homepage
To access HotMacNews on your computer Click Here (It makes a great Home Page)
To download iPhone or iPad app (HotMacNews2) click here HotMacNews2
**Once in HotMacNews Home Page click on Preferences to customize to your needs.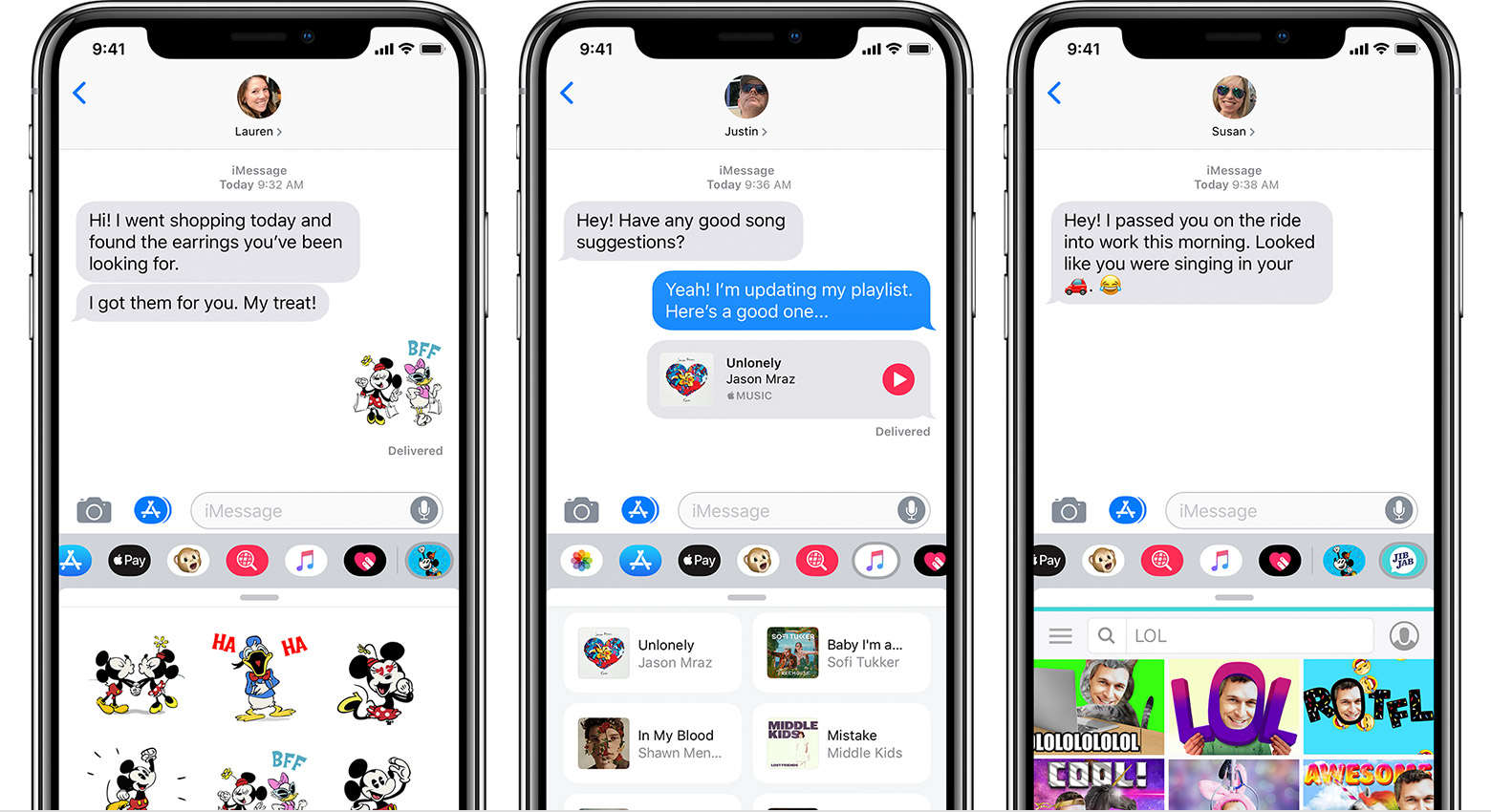 Apple once proposed that major wireless carriers adopt a standardized version of iMessage, its proprietary instant messaging service, but they balked at the idea and didn't bite.
Green bubbles!
The little nugget was revealed by ex-iOS boss Scott Forstall in an editorial published yesterday in The Wall Street Journal. Speaking with reporter Joanna Stern, Forstall explained that carriers refused to adopt a standardized version of iMessage that worked across platforms and carriers due to the existing incompatibilities and the state of SMS technology.
TUTORIAL: How to deregister your phone number from iMessage
Here's the money quote:
We approached the carriers to pursue adding features to the existing texting systems and removing the additional customer costs. For various reasons, from the difficulty of extending the existing standards to challenges with interoperability between texting systems and carriers to the desire of carriers to protect a significant revenue stream, these explorations didn't pan out.
Apple created iMessage because it wanted "messaging to feel more like a conversation," the former iOS chief addd. as a quick refresher, he was fired in 2012 over his refusal to sign an apology over the Maps debacle.
And so this is where we stand now.
Instead of working to reach a mutually beneficial solution that would have benefitted the entire industry and customers, we are now living in a green bubble world where Apple is often thought of leveraging iMessage to make switching to Android hard.
This isn't entirely Apple's fault—SMS system is outdated while iMessage is evolving continually.

The green bubble is how Apple users know they're chatting with someone on Android
Part of the reason why SMS and iMessage can hardly ever be interoperable is because SMS lacks support for things like the typing indicator, read receipts and more.
As Joanna herself succinctly explained:
That means no acknowledgments when a message is delivered, read or that someone is typing a response. It also means limited video sharing and visual tools and less, if any, compatibility with the more advanced iMessage apps, like Apple Pay.
Worse, SMS is easily hacked and doesn't support end-to-end encryption like iMessage.
Introducing RCS
Telecommunication companies have been using the same SMS and MMS services for years.
In the past year or so, however, Android phone makers, Google and cellular carriers have started using the Rich Communication Services standard, or RCS. What RCS does it bridge the gap between the traditional texting systems like SMS and modern messaging apps and services like WhatsApp or iMessage.
TUTORIAL: How to remove a phone number from iMessage
Like many chat services, RCS requires Internet connectivity because it brings a host of features unsupported by the aging SMS/MMS protocol. Some of the RCS perks include presence and visibility information, read receipts, typing indicators group chatting and so forth.
It's unclear if Apple is actually planning on integrating support for the RCS protocol in its operating systems, but one thing is clear—it views iMessage as a major competitive advantage.
When retired technology columnist Walt Mossberg in 2016 asked a senior Apple executive why iMessage wasn't being expanded to other platforms, he was given two answers.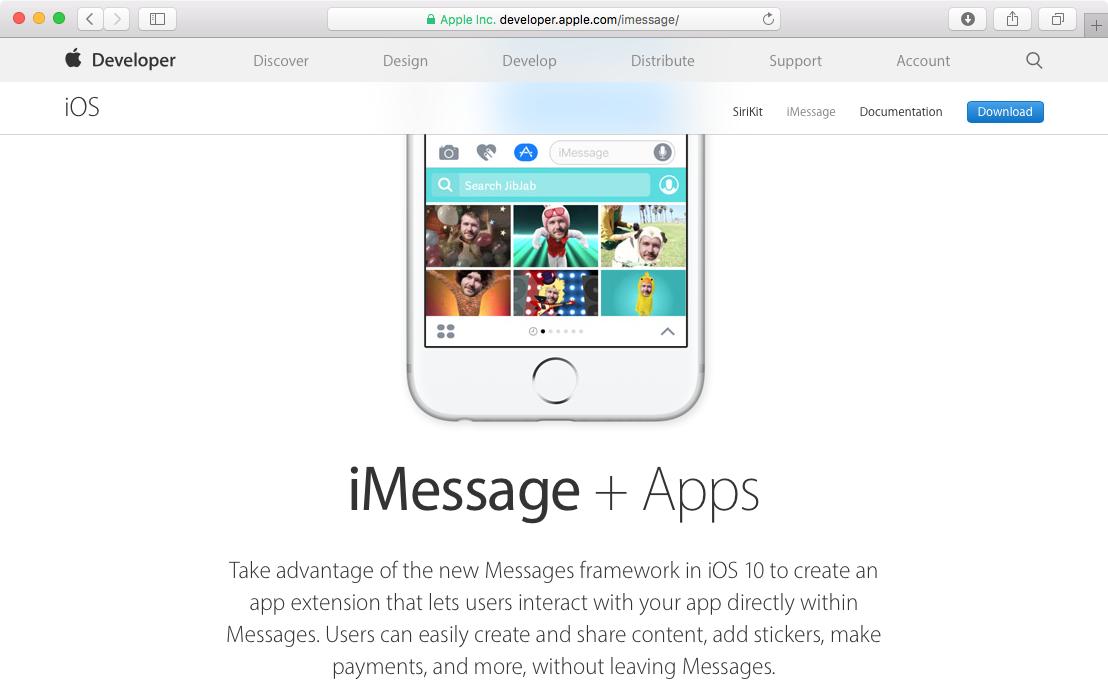 iMessage apps make porting the system to non-Apple platforms virtually impossible
First, Apple considers its own user base of 1+ billion active devices to provide a large enough data set for any possible AI learning it is working on. And second, having a superior messaging platform that only worked on Apple devices would help sales of those devices.
As we underscored, RCS brings the best of modern messaging apps to cross-platform texting. Not only is RCS way faster than SMS, but supports read receipts and typing indicators. RCS messaging is currently unencrypted, but as industry players continue adopting the standard it should gain additional features like end-to-end encryption.
Apple adopting the RCS standard in the future would solve the green bubble issues in one fell swoop, as Joanna notes in her amusing video that I've embedded below.
But will it?
Quo vadis, iMessage?
Or Apple could just port iMessage to other platforms and call it a day, right?
The main problem with that is iMessage's scope and breadth. The feature has come a long way from its inception in 2011 as part of the iOS 5 update when you could only chat and send some attachments to nowadays. Now a platform, iMessage now supports group chatting, stickers, apps, reactions and other interactive features.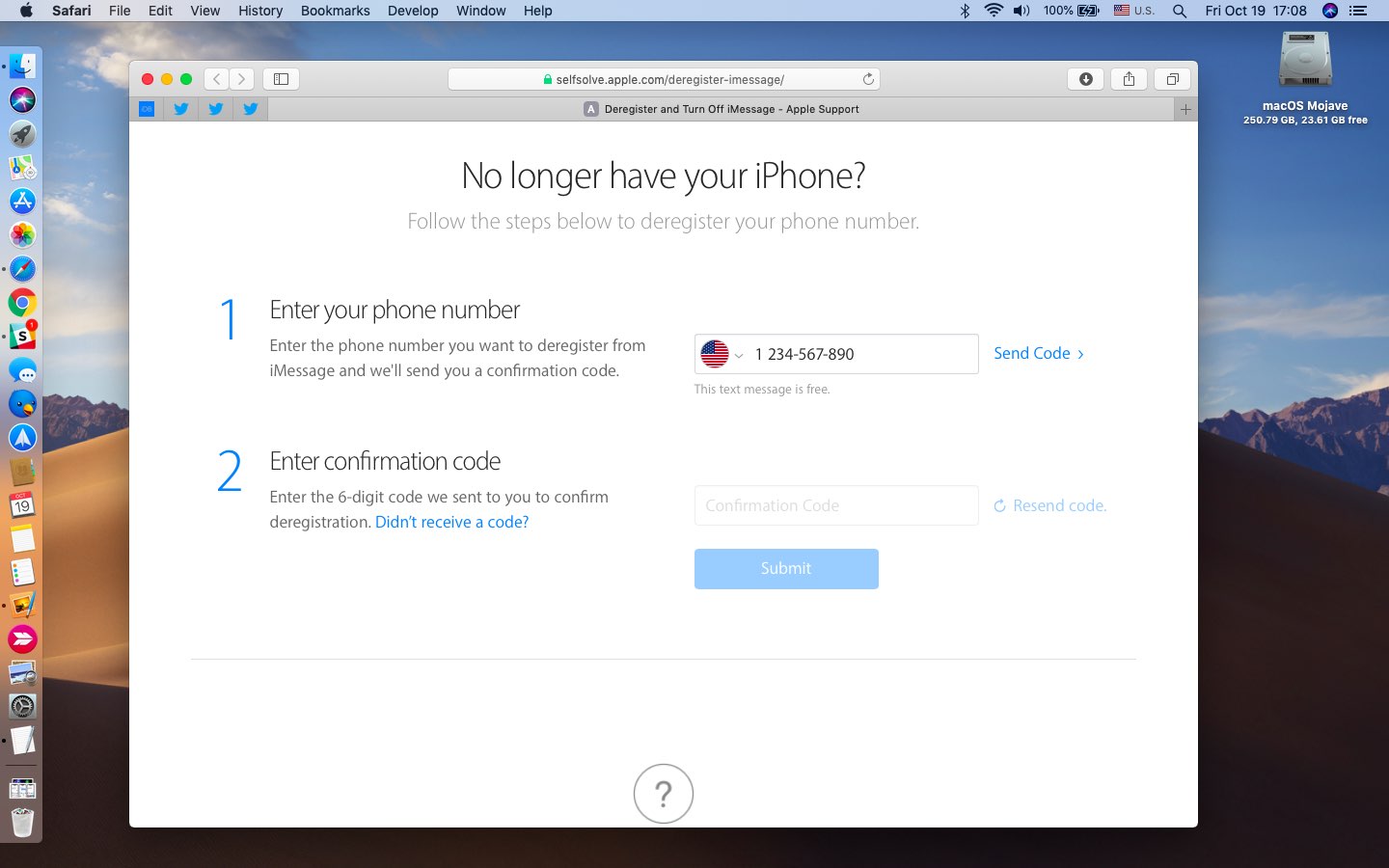 Don't have access to your iPhone? Deregister iMessage online!
Were Apple to bring the full iMessage to a foreign OS, it'd also have to port most of the underlying operating system to make all iMessage app work or risk fragmenting the platform.
Daring Fireball's John Gruber heard from source back in 2016 that mockups of iMessage for Android had circulated within Apple with varying interface styles ranging from looking like the iOS Messages app to pure Material Design.
To this date, iMessage for Android remains nowhere to be seen.
Your two cents
Would Apple be shooting themselves in the foot by porting iMessage over to the Android platform, do you think? If iMessage existed on Android, would you use it?
Let us know by leaving a comment below.
Source link: https://www.idownloadblog.com/2018/10/19/scott-forstall-imessage-carriers/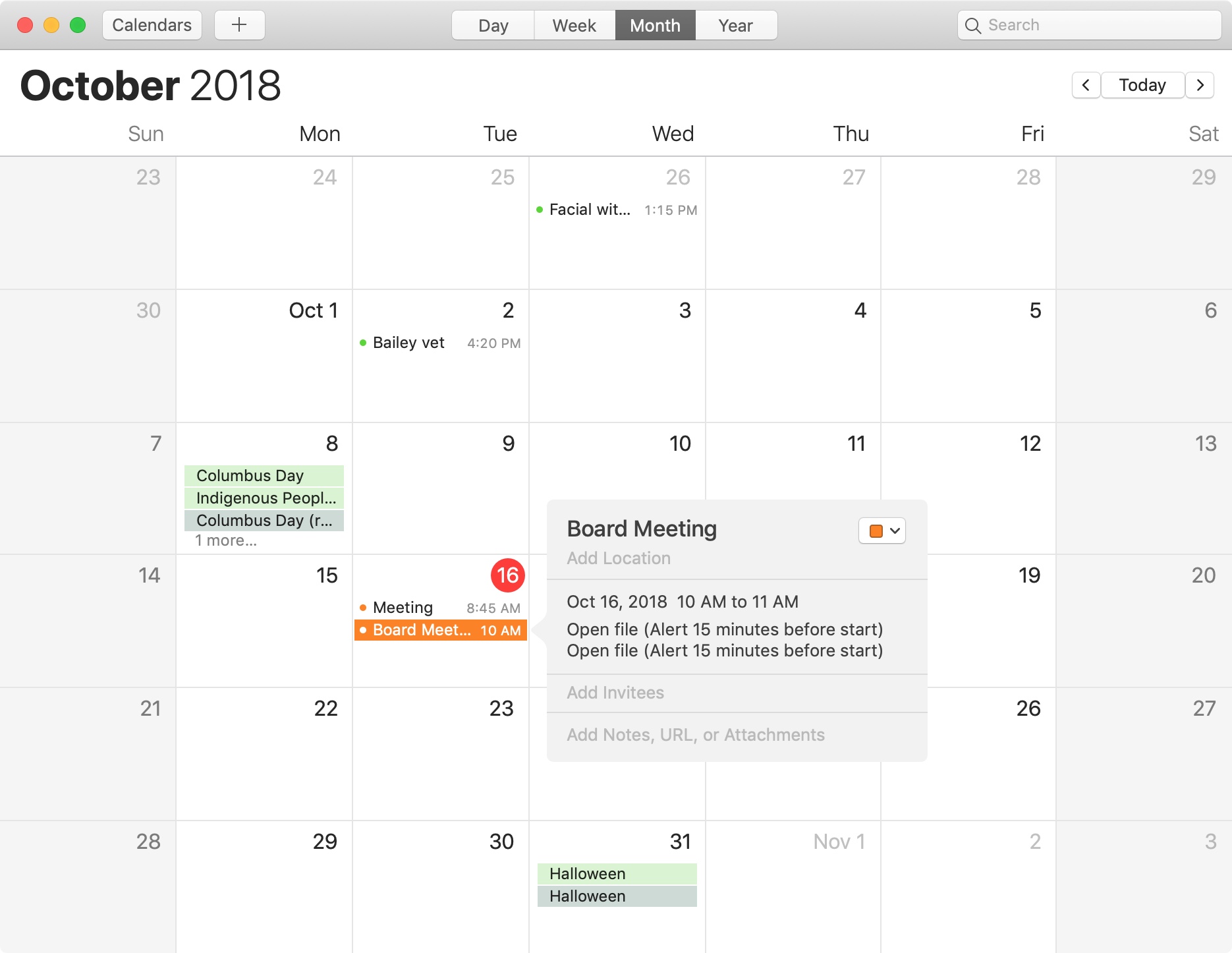 When you're getting ready to join a meeting, whether it's a web conference, conference call, or in-person meeting, you often have at least one file you need for it.
One way to ensure you don't forget that important document is by including it with the event on your Calendar. But, if you're not reminded to open the file, you can still easily forget it.
Here's how to set your Mac Calendar app open that file right before your meeting.
Attach the file and set the alert
Access your Mac Calendar app and then follow these steps.
1) Open or create the meeting event.
2) For an existing event, click the area of the event that displays the date and time. For a new event, you should see "Add Alert, Repeat, or Travel Time" in the box under the date and time.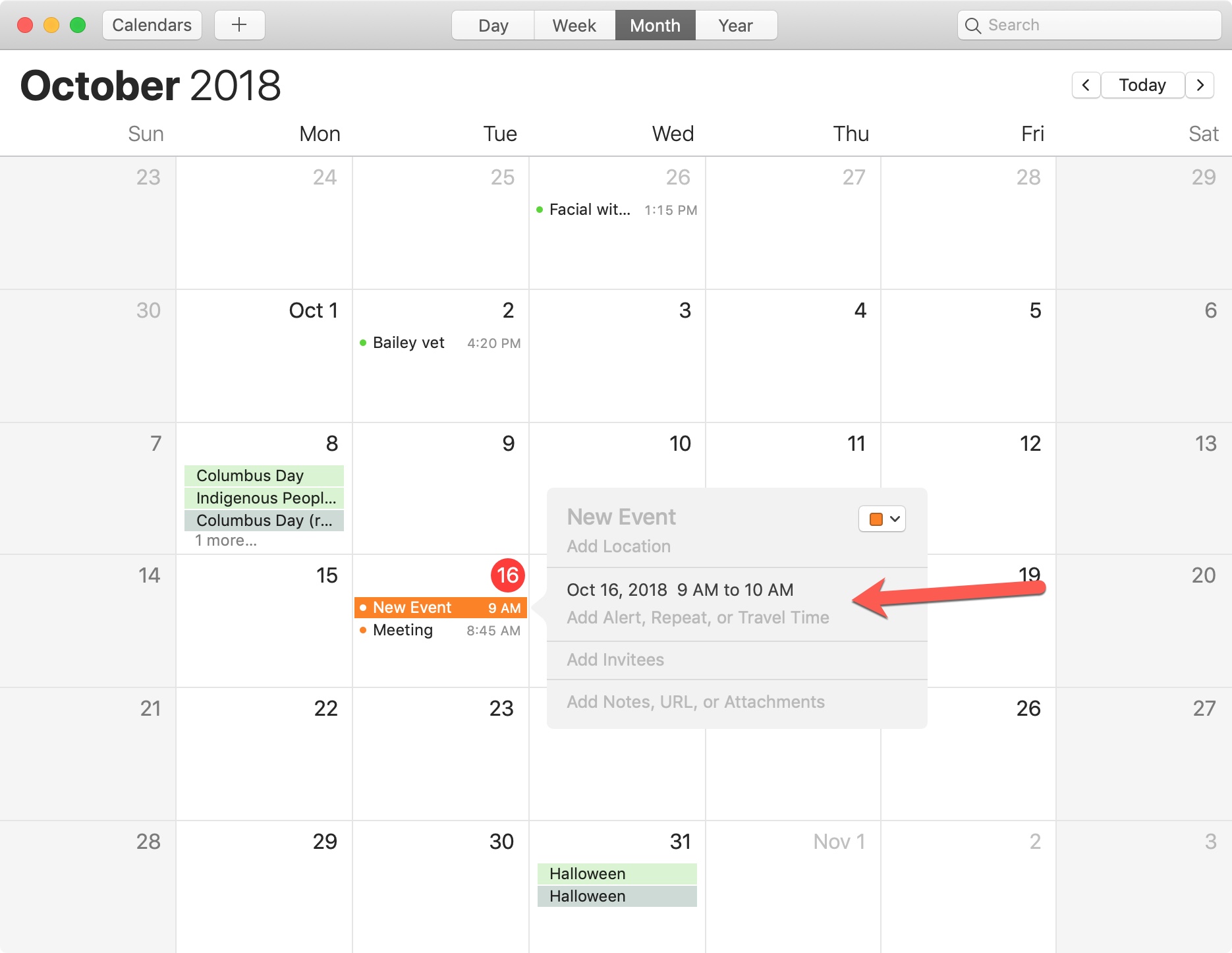 3) Click Alert and select Custom.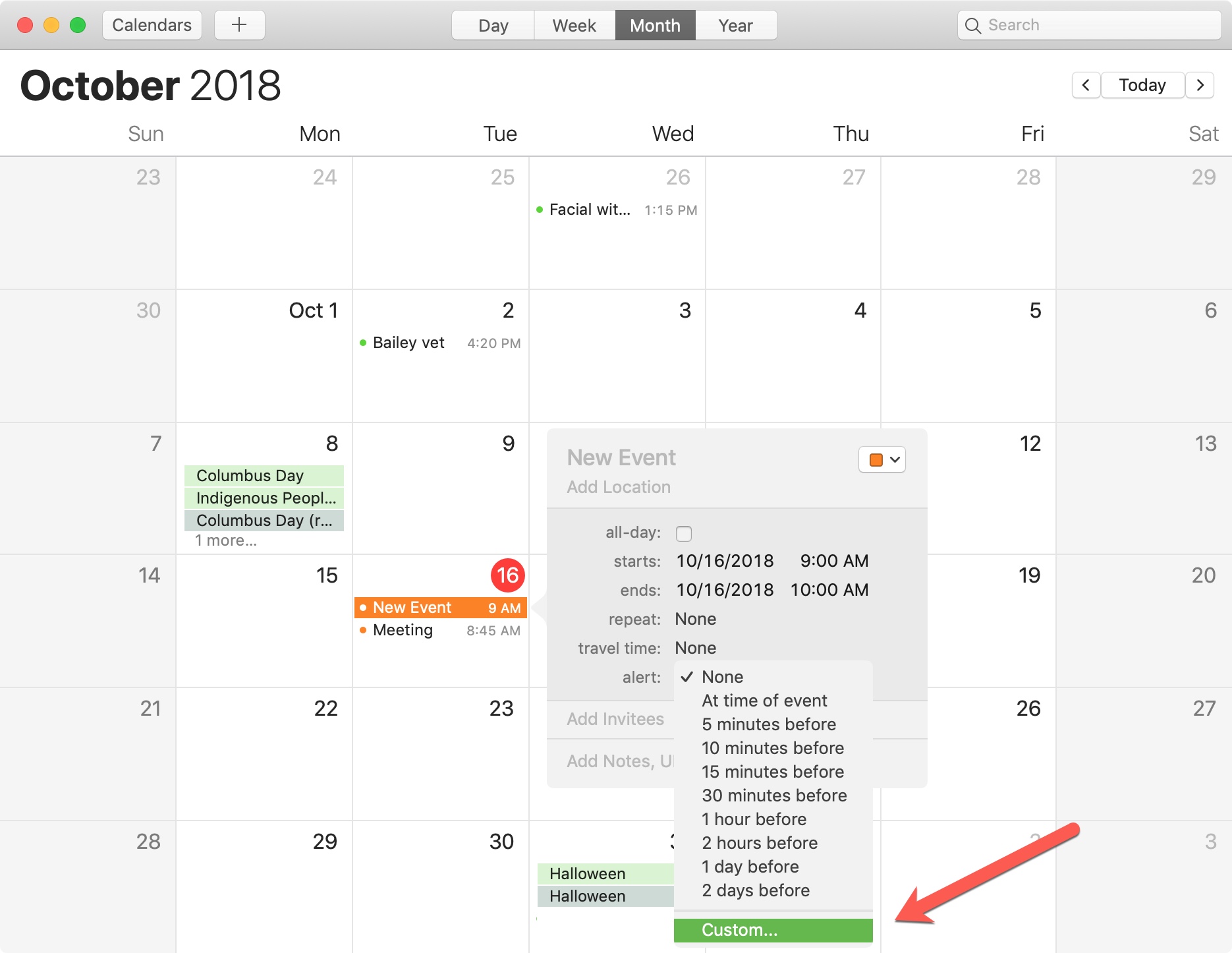 4) In the first drop-down box, pick Open File.
5) Click in the next drop-down box that displays Calendar, choose Other and then browse for and select your file.
6) Set the timing for the alert to open the file.
7) Click OK.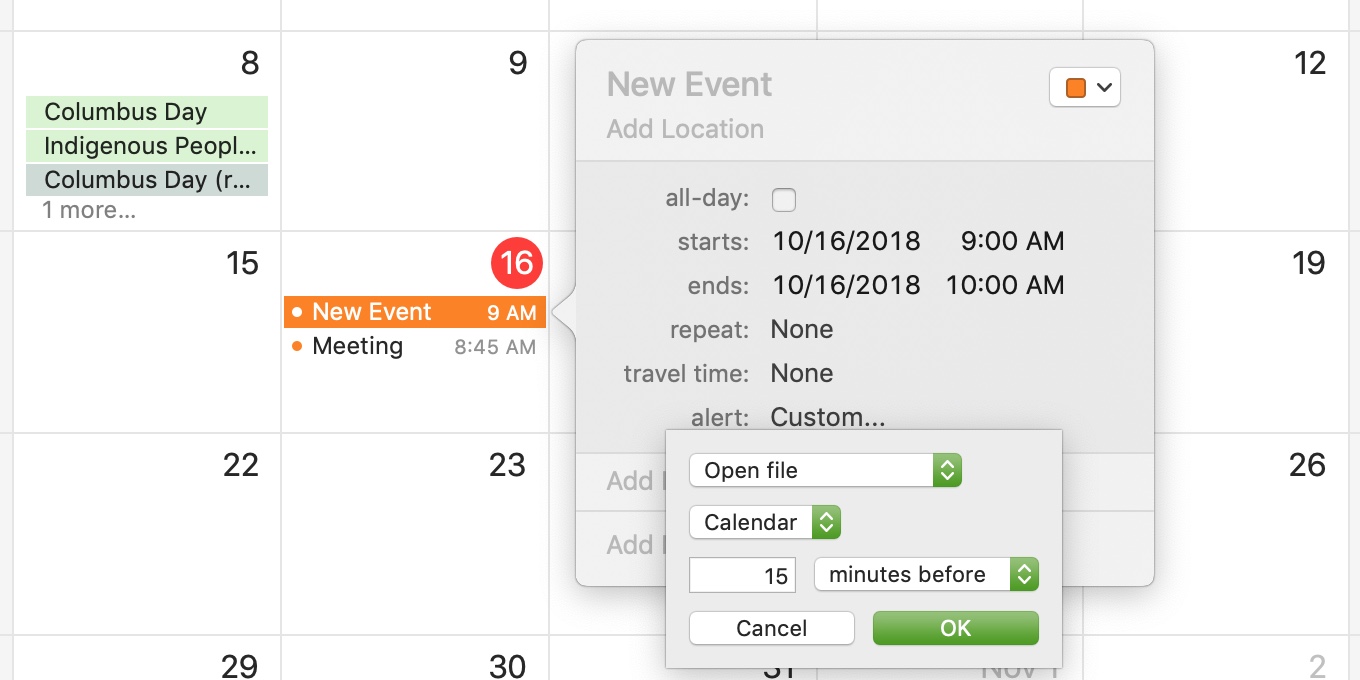 When the time that you set for your alert comes, the file you choose will pop open on your screen automatically.
If you need multiple files for your meeting, open the event and click the plus sign next to your first alert to add another. Then, just repeat the steps above to add more custom alerts containing the files.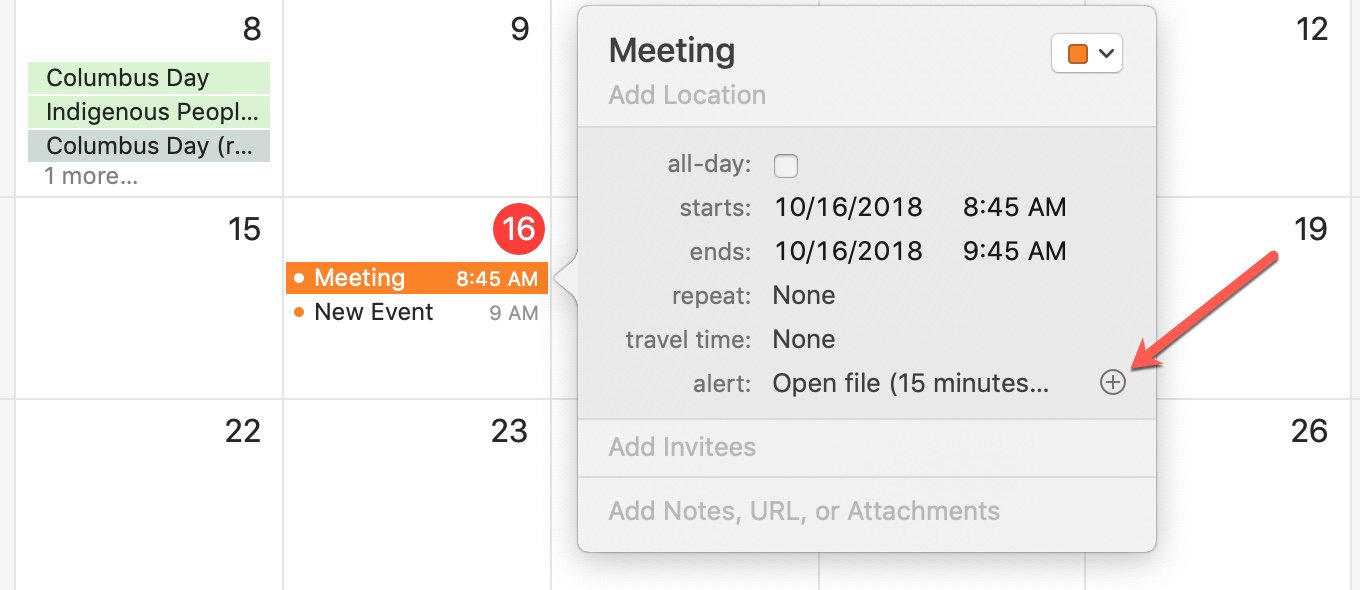 Troubleshooting
If for some reason the file does not open at the time you set the alert, check these settings.
Calendar > Preferences > Alerts: Make sure that the Show shared calendar messages in Notification Center and Show invitation messages in Notification Center boxes are checked.
Apple button > System Preferences > Notifications > Calendar: Make sure that your calendar alerts are enabled as either Banners or Alerts.
Apple button > System Preferences > Notifications > Do Not Disturb: Make sure the alert does not fall within the time of your Do Not Disturb setting.
Wrapping it up
This Calendar trick can come in handy not only for opening files you need for the meeting, but also as a reminder to review a document an hour ahead of time, or even print it minutes before you head to the conference room.
Is this a feature that you plan to try out before your next meeting? You can also check out our Calendar app section for additional tips for the app like creating default alert times for it on your iPhone or help with using the Travel Time feature.
Source link: https://www.idownloadblog.com/2018/10/19/mac-calendar-open-file-alerts/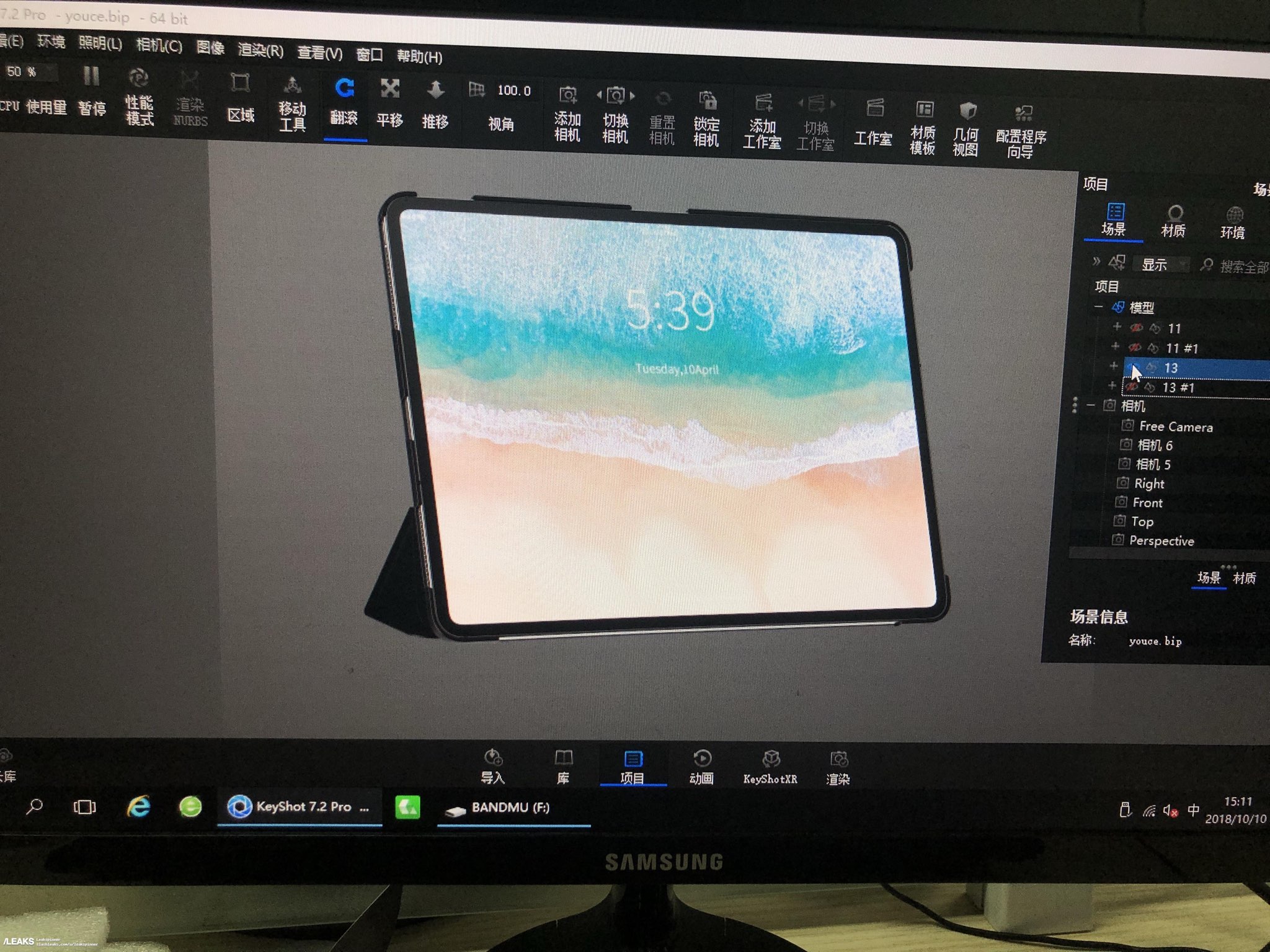 The fairly reliable Japanese publication Mac Otakara claims to have heard from sources in Apple's supply chain that the upcoming iPad Pro models for 2018 would sport a USB-C port.
The publication has verified the iPad Pro USB-C rumor with accessory makers who are attending the Global Source Mobile Electronics Trade Fair that kicked off today.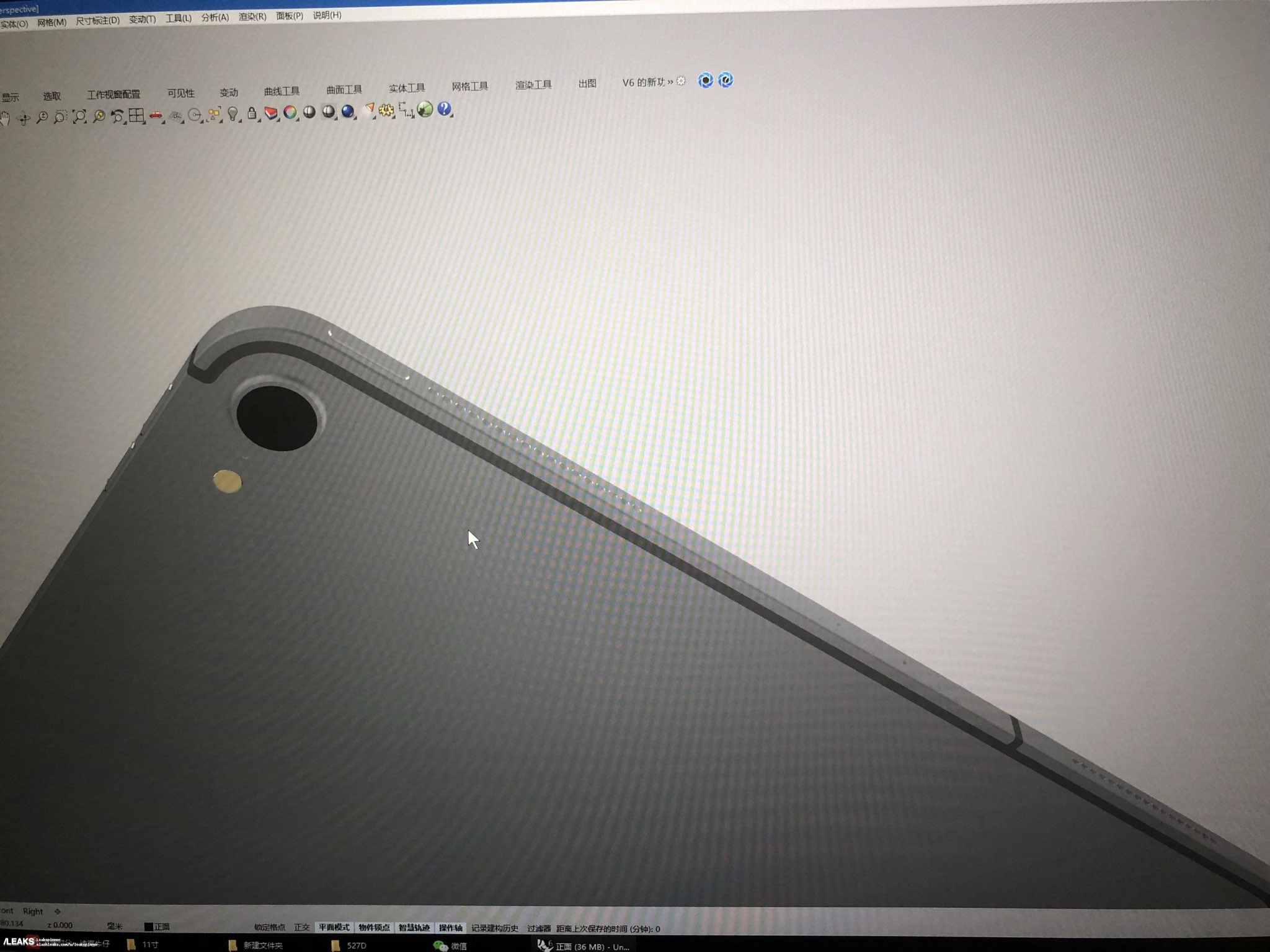 Leaked 2018 iPad Pro CAD model
Said manufacturers added that the measurements provided by case makers are real, indicating new iPads would feature skinnier bezels measuring in at just 6mm around all sides. The larger tablet should be 215mm wide (8.5 inches) and 280.66mm tall (11 inches) while the smaller one could be 178.52mm wide (7 inches) and 247.64mm tall (9.7 inches).
Both models are expected to feature a nearly bezel-less design with Face ID, not Touch ID.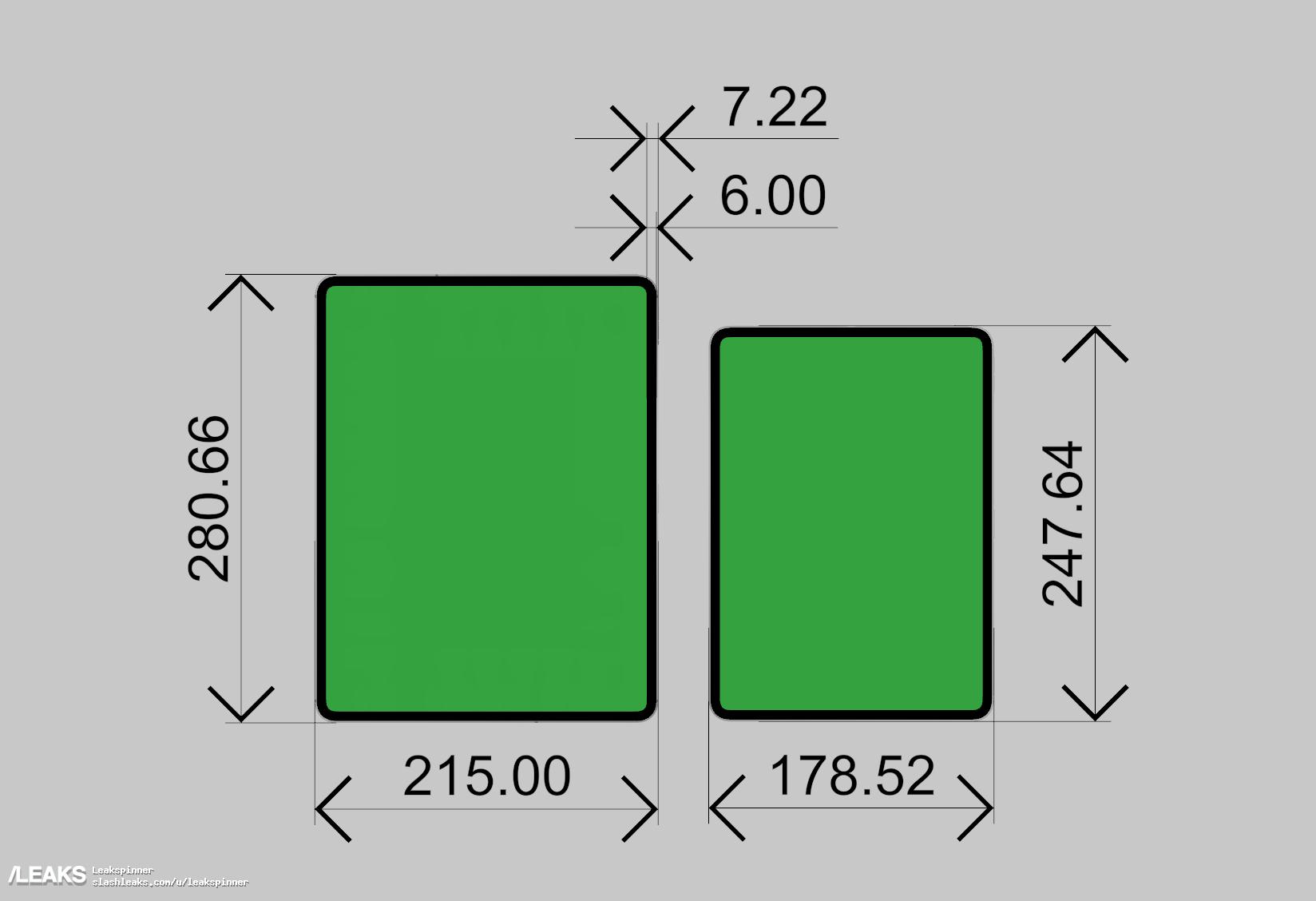 Supposed 2018 iPad Pro dimensions were posted on SlashLeaks last week
According to Twitter user "CoinCoin" who previously provided accurate details on iPhone XS and iPhone XR ahead of launch, 2018 iPad Pro models might be 5.9mm thick (the current 10.5-inch iPad Pro is 6.1mm thick) and ship without a headphone jack.
Of course no headphone jack on the upcoming new iPad. 5.9mm thickness is pretty good though.

— CoinCoin (@coiiiiiiiin) October 12, 2018
Presumably, the reduced thinness on these upcoming devices has left no room for a headphone jack component (indeed, it takes up quite a bit of space), but make no mistake about it—Apple wants its customers to embrace a wireless future as soon as possible.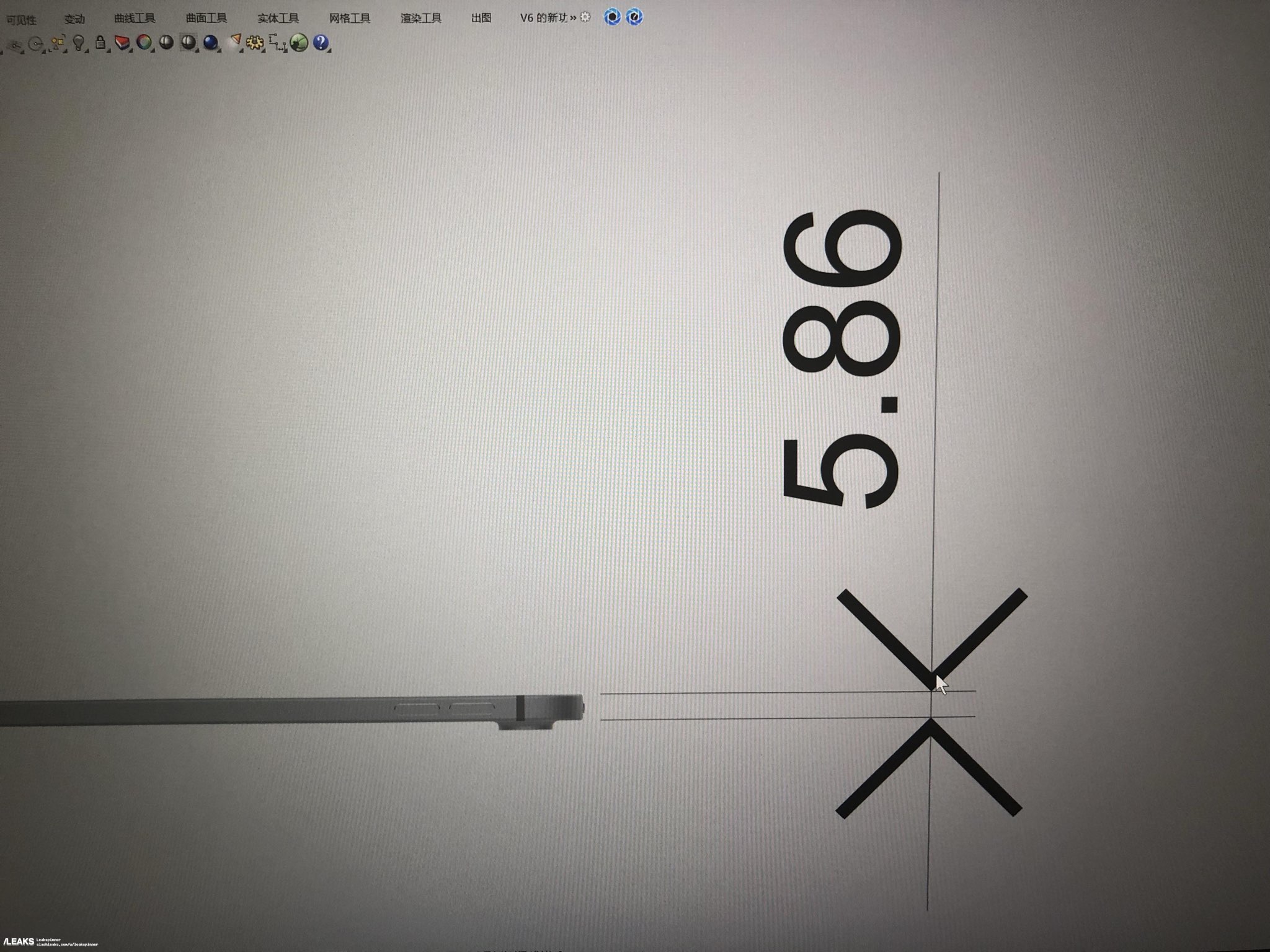 Earlier, reliable analysts and supply chain sources said iPad Pros would swap Lightning for USB-C, not only for charging but to output 4K HDR video to external USB-C monitors.
Does phasing out Lighting I/O on the iPad Pro line sound like a smart move to you?
Let us know by leaving a comment down below.
Source link: https://www.idownloadblog.com/2018/10/19/2018-ipad-pro-usb-c-macotakara/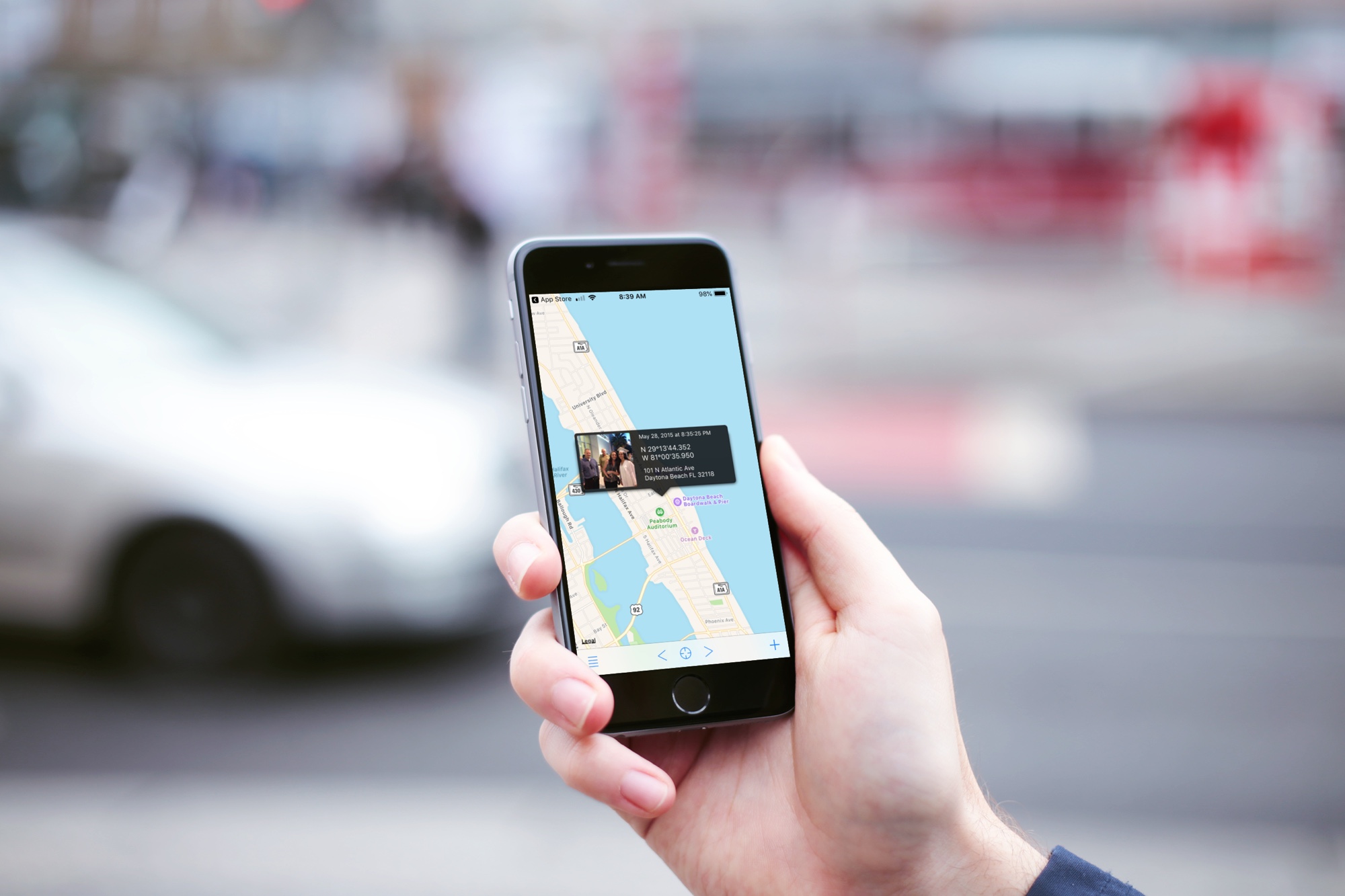 Do you want to get the GPS coordinates of photos on your iPhone? As long as you enabled the location setting for your camera app, then viewing those longitude and latitude points is simple with a free app.
After trying some of these free metadata viewing apps, this tutorial will show you how to view the GPS coordinates of iPhone photos with a few of them.
Free apps for obtaining metadata
If you search the App Store for tools to give you GPS coordinates for photos, you'll like see more than enough options. Here are just a few of those apps that we tried out.
Each of these apps work just fine and provides metadata for photos you open within the app. And, obtaining the GPS coordinates for a photo couldn't be easier.
EXIF Viewer Lite
When you open EXIF Viewing Lite, you can see all of your photos immediately and select one or tap Albums to narrow down your search.
You'll get basic metadata data in the photo preview, but if you tap the image, you'll see all of the data with the GPS coordinates at the very bottom above the map.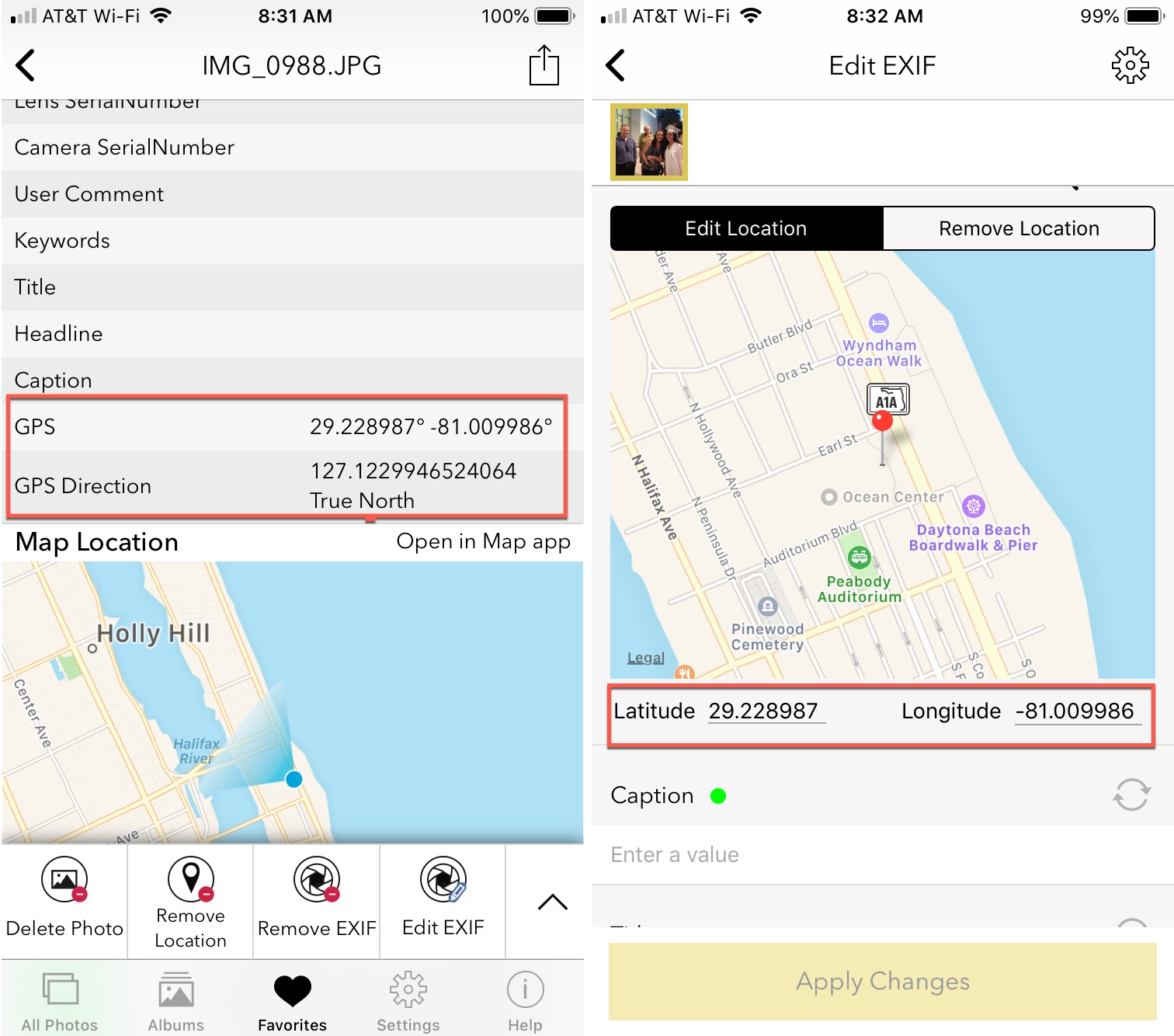 Exif Viewer
Exif Viewer makes it even easier to see the GPS coordinates. Tap Open at the bottom to locate your photo.
When you select the photo you want, you'll immediately see the metadata including GPS coordinates, latitude and longitude references, altitude, direction, and more as you scroll through the data.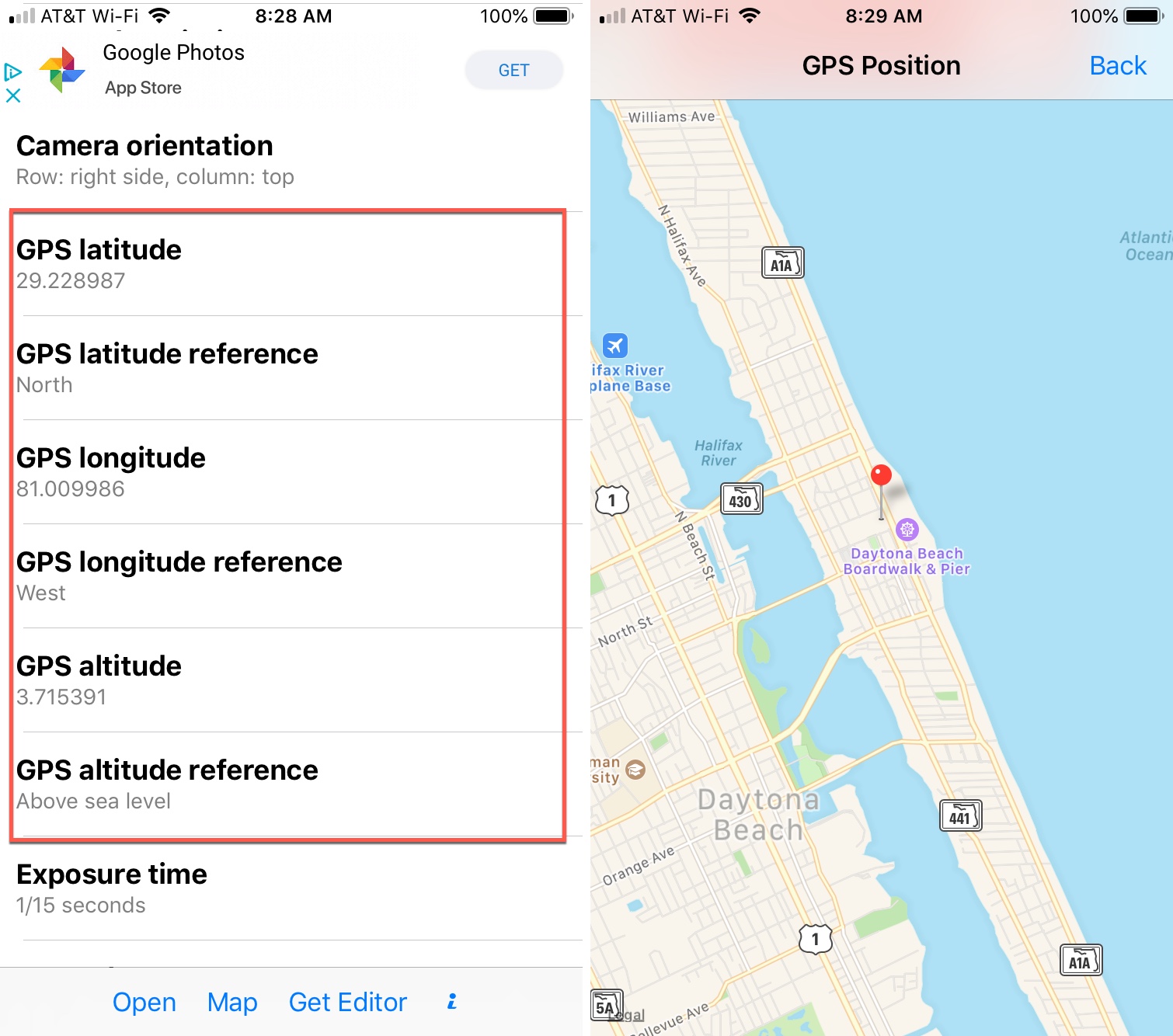 Koredoko
Koredoko is one more app you can use to easily see the GPS coordinates. Tap the three-line button on the bottom left to access your albums and select your photo.
You can see as you scroll through your images that photos with those coordinates display them in the preview. And, if you tap a photo, you'll see these same coordinates with the photo on a map.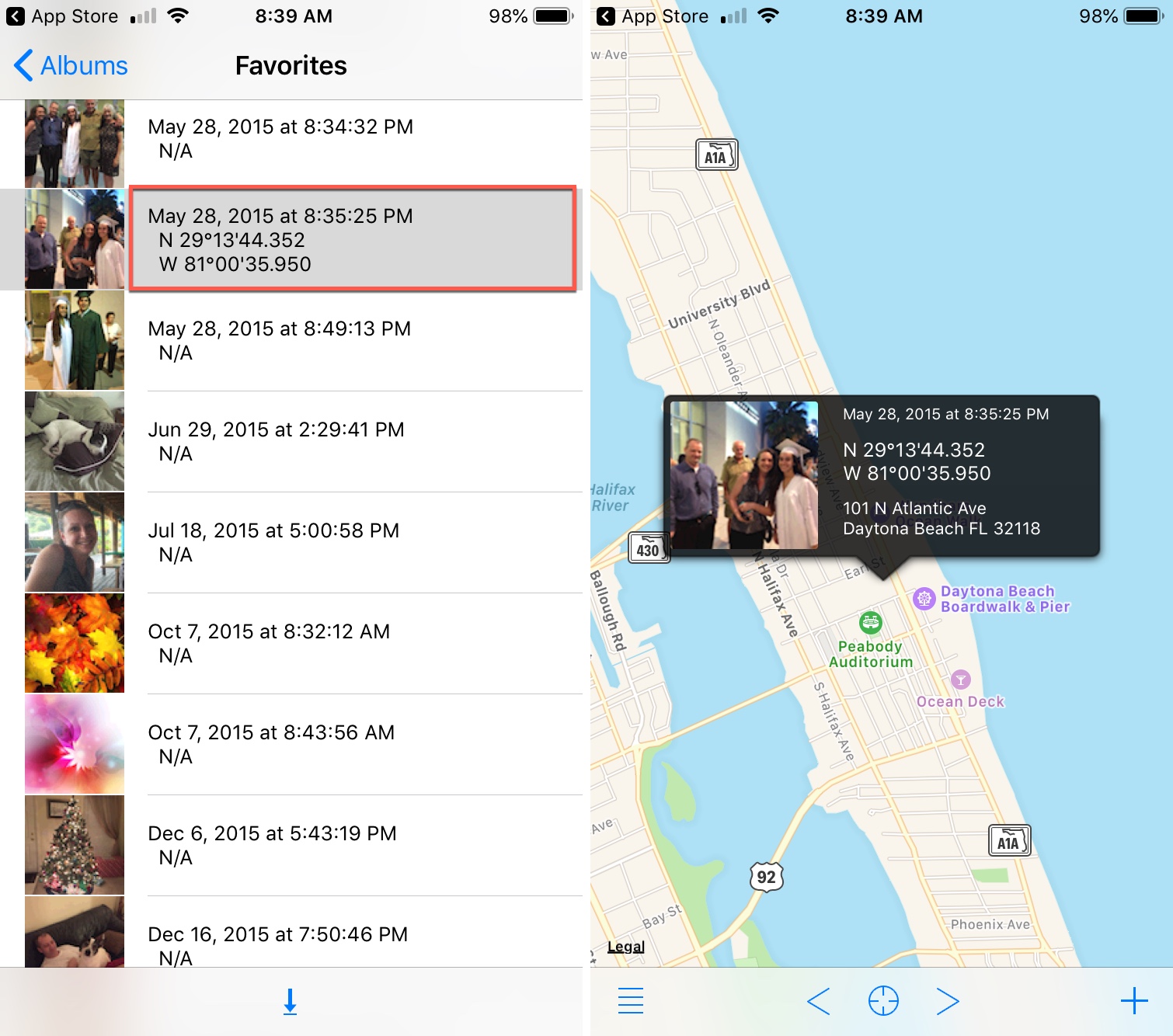 Wrapping it up
Getting the GPS coordinates for photos on iPhone is easy, quick, and free if you use one of these great apps. There are plenty of other metadata viewings apps you can try out from the App Store, but if obtaining those coordinates is your main objective, then you can accomplish it with these at no charge.
Do you have a favorite tool for snagging the GPS coordinates for photos on your iPhone? Share your recommendation with us in the comments below!
Source link: https://www.idownloadblog.com/2018/10/19/gps-coordinates-for-photos-iphone/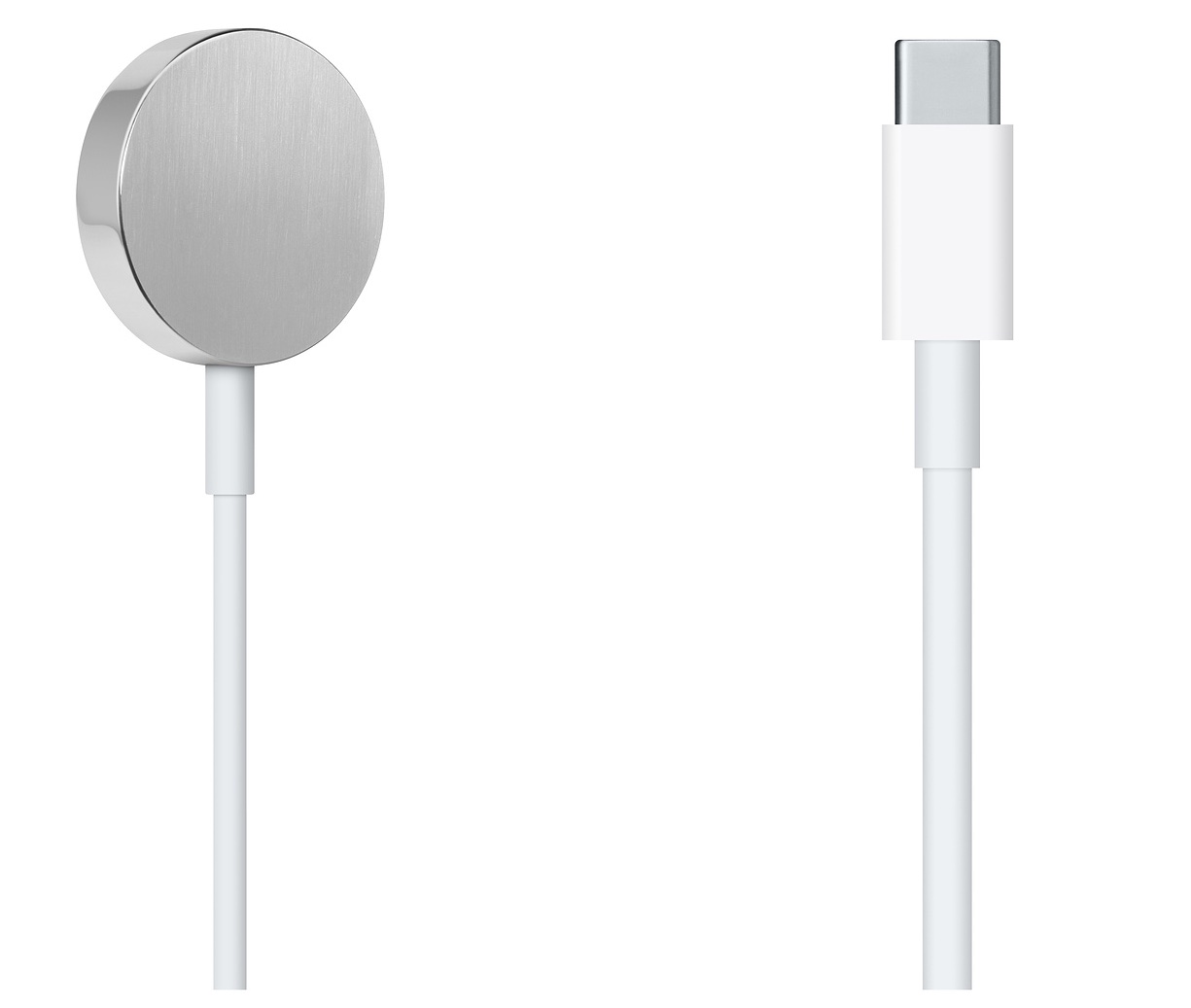 There's a new Apple Watch Magnetic Charging Cable available that features USB-C. Compatible with the Apple Watch Series 1 through Apple Watch Series 4, the cable measures 0.3 meters or 1 ft.
Posted on the Apple website in recent days, the Apple Watch Magnetic Charging Cable with USB-C is priced at $29, which is the same price as the traditional charging cable with USB-A of the same length. Apple also sells traditional cables measuring one and two meters.
USB-C is found on all current MacBook models except for the MacBook Air. Rumors suggest the new iPad Pro models (likely to be announced on Oct. 30) will ditch Lightning for USB-C.
The Apple Watch Series 4 was announced and released last month. Featuring an all-new design, the wearable device offers new faces, workout improvements, and more.
Source link: https://www.idownloadblog.com/2018/10/19/apple-watch-charging-cable-usb-c/