Get HotMacNews- iOS App and Homepage
To access HotMacNews on your computer Click Here (It makes a great Home Page)
To download iPhone or iPad app (HotMacNews2) click here HotMacNews2
**Once in HotMacNews Home Page click on Preferences to customize to your needs.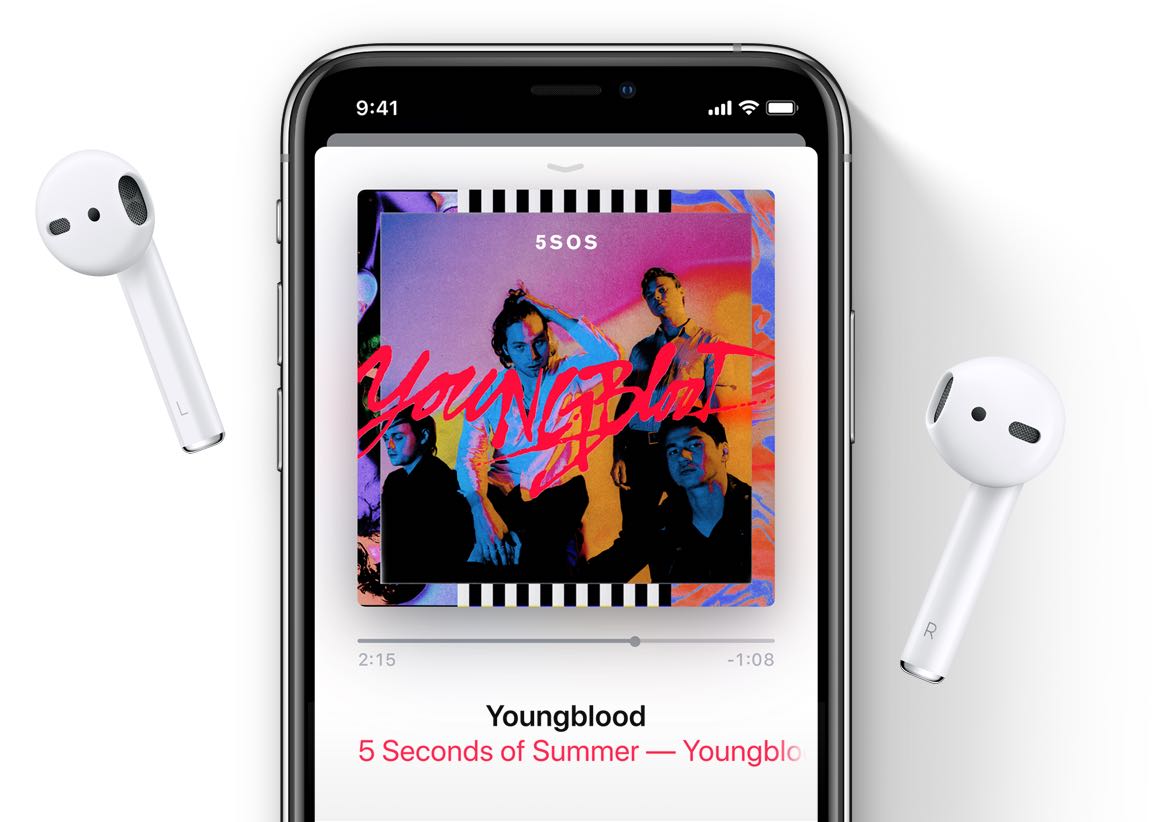 Sharing an AirPod with a friend is great for those times when you'd like to watch or listen to something together, but doing so risks missing dialogue or sound effects that could play in the other AirPod due to stereo separation. To ensure both you and your friend hear the same thing, you need to put your AirPods into mono mode, and iDB shows you how.
Stereo recordings have distinct left and right-channel audio tracks.
This is called stereo separation but there are times when you might prefer to switch to mono audio mode for your earbud. Thankfully, your iPhone, iPad, iPod touch, Mac, Apple TV or Apple Watch can help with that by optionally playing both audio channels in one ear.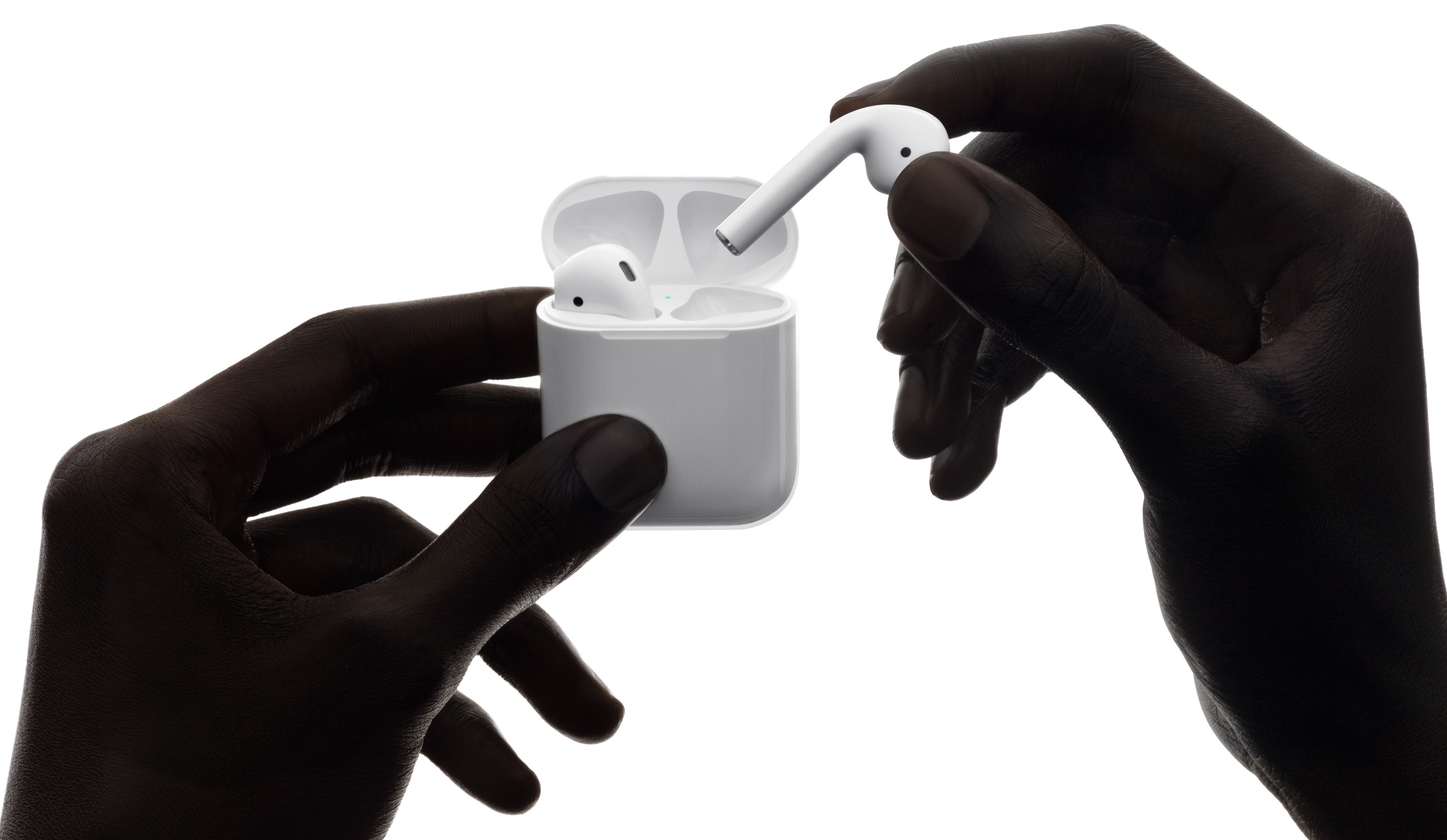 AirPods automatically switch to mono audio when one of the earbuds is in the case.
This tip has been around for some time now—it was published on Reddit about a year ago. Nevertheless, we thought you might probably appreciate spotlighting it for the iDB community.
Many thanks to Dave Mark of The Loop who resurfaced it on Twitter.
Mono audio mode: use cases
Even though you probably won't notice any significant differences in the stereo channels that would require you to always use stereo audio mode with your AirPods when watching movies or playing music (dialogue is always in both left and right channels, after all), certain movies and songs do make heavy use of stereo separation.
TUTORIAL: Everything you need to know to use your AirPods like a pro
This is true for songs with lots of hi-hats and, especially, for action movies where sound effects often move between the left and right channel. In terms of music, it's not just instrumentals or new age music that don't sound right through a single channel.

Many albums—from rock bands like Queen to instrumentalists such as Michael Oldfield or Jean-Michell Jarre to Pink Floyd's "Dark Side of the Moon"—use immersive stereo soundscape.
TUTORIAL: Tips for making the most out of your EarPod headphones
You also might miss some audio if you're deaf or hard of hearing and are using your AirPods, or other Bluetooth headphones, in one ear. In order to fully enjoy your listening session with someone, or if you'd simply like to share your earbuds with a person sitting next to you on a flight, use the little-known mono mode in iOS.
How to enable mono audio for AirPods
Any Bluetooth headphones paired with your iPhone, iPad, iPod touch, Mac, Apple TV or Apple Watch can be put in mono audio mode, not just AirPods. To learn how to enable mono audio for your AirPods or other headphones, including Apple's wired EarPods that arrived in the box with your iPhone, be sure to check out the steps for your platform of choice further below.
iPhone and iPad
1) Open the Settings app on your iOS device.
2) Tap the General section.
3) Hit Accessibility.
4) Scroll down to the section headlined Hearing and enable Mono Audio.

Now the stereo sound from your iOS device is being pushed together to each individual AirPod. Simply give one of your earbuds to a friend and you'll both hear the same thing without missing anything. Don't forget to turn off mono mode when done sharing your AirPods.
Mac
This is how you output stereo audio in mono on macOS:
1) Choose System Preferences from the Apple menu.
2) Click the icon labeled Accessibility.
3) In the sidebar, choose Audio underneath the Hearing heading.
4) Select the checkbox labeled "Play stereo audio as mono".

Apple TV
To set your Apple TV to output only mono audio, do the following:
1) Open Settings on your Apple TV.
2) Click on the section labeled General in the list.
3) Choose Accessibility.
4) Turn on Mono Mode underneath the Hearing heading.
Apple Watch
To switch between mono and stereo sound when using wireless headphones with Apple Watch, use the companion Watch app on your iPhone:
1) Open the Watch app on your paired iPhone.
2) Tap the My Watch tab.
3) Choose General from the list.
4) Tap Accessibility.
5) Enable Mono Audio underneath the Hearing heading.

Testing stereo separation
To test stereo separation and mono mode yourself, use the video embedded below. Put one AirPod in you ear and leave the other one in the charging case, then play the video. You will hear both channels going through the one AirPod in your ear. Now put the other AirPod in your other ear and the audio will switch back to stereo.
Lastly, take one AirPod out of your ear but don't put it back in the charging case.
The sound should still play in stereo, and through both AirPods, until you store one of the earbuds in your AirPods charging case.
Ideas for mono mode improvements
AirPods sense when they're in your ears and pause when taken out. However, if one of your AirPods is in the charging case while the other is in your ear, iOS will automatically downmix audio so that both left and right channels are coming through the other earbud.

What I'd love to see is the ability to automatically enabling mono audio mode when I'm not wearing both AirPods at the same time. Another idea worth exploring: routing phone calls to one AirPod and all the other sounds to the other earbud or, better yet, CarPlay.
Or as Jonas Lindgren suggested on Twitter, it would be really, really could if AirPods could sense how far away they are from each other (which would be possible via Bluetooth proximity information) so that a distance greater then a regular head would turn on mono automatically.
Wrapping it all up
If you knew about this, more power to you. If not, now you know why you heard so many half Beatles songs at work. I use my AirPods a lot—be it while driving, at work, out in the public or in the gym. In those situations, I prefer wearing one earbud so that I'm aware of my surroundings.
Thanks to this tip, I can now listen to my Queen tracks through a single AirPod while driving a car without wondering why the music suddenly sounds like a bunch of stuff is missing.
Need help? Ask iDB!
If you like this how-to, pass it along to your support folks and leave a comment below.
Got stuck? Not sure how to do certain things on your Apple? Let us know via help@idownloadblog.com and a future tutorial might provide a solution.
Submit your own how-to suggestions via tips@idownloadblog.com.
Source link: https://www.idownloadblog.com/2019/02/20/why-and-how-to-enable-mono-audio-for-your-airpods-or-other-headphones/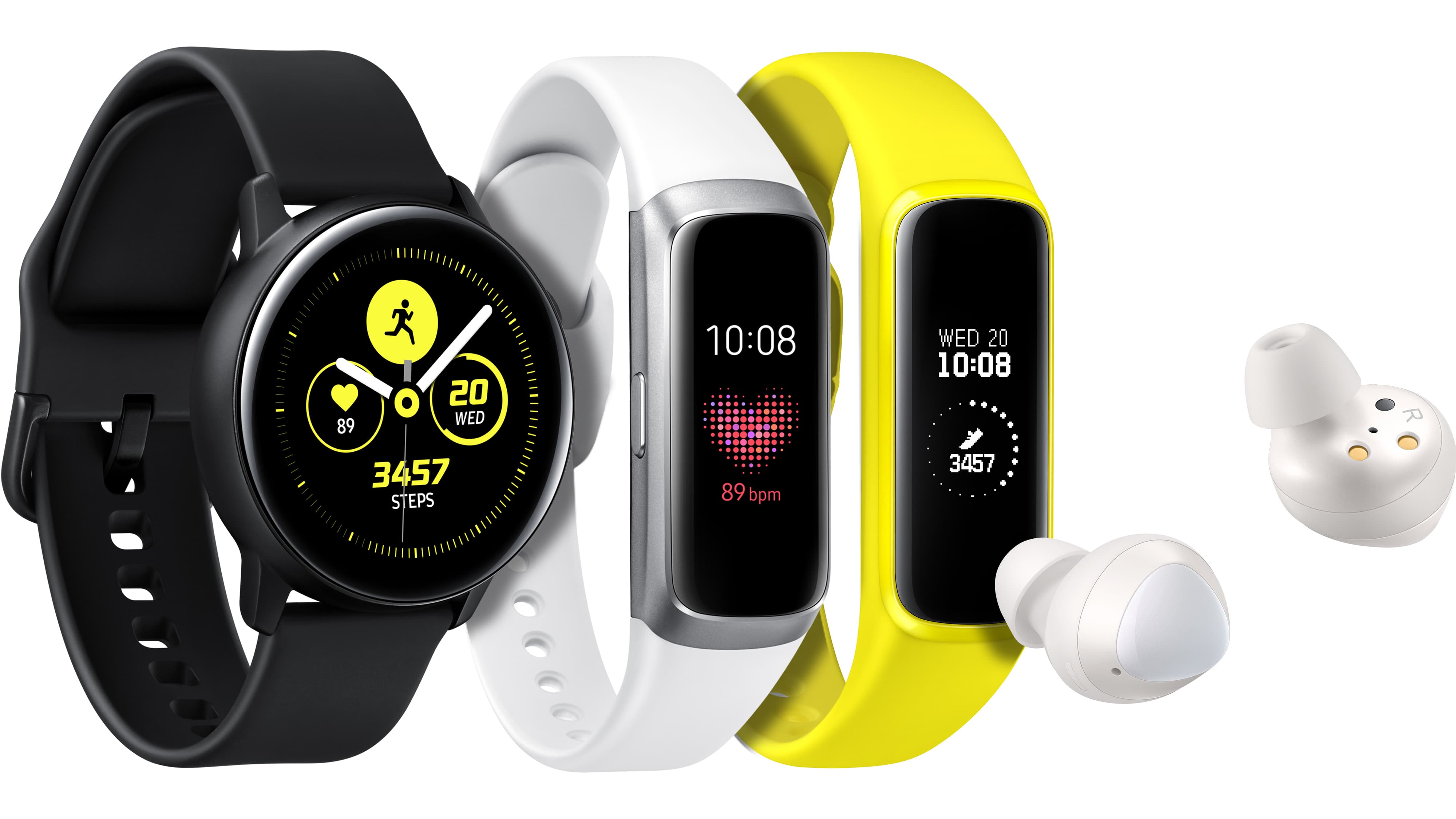 Rounding out our recap of Samsung's big Unpacked event today are the announcements of a new AirPods competitor, Galaxy Buds, and two near wearables: the Galaxy Watch Active smartwatch and Galaxy Fit fitness band. We've put together a full overview of these devices for you below.
Galaxy Buds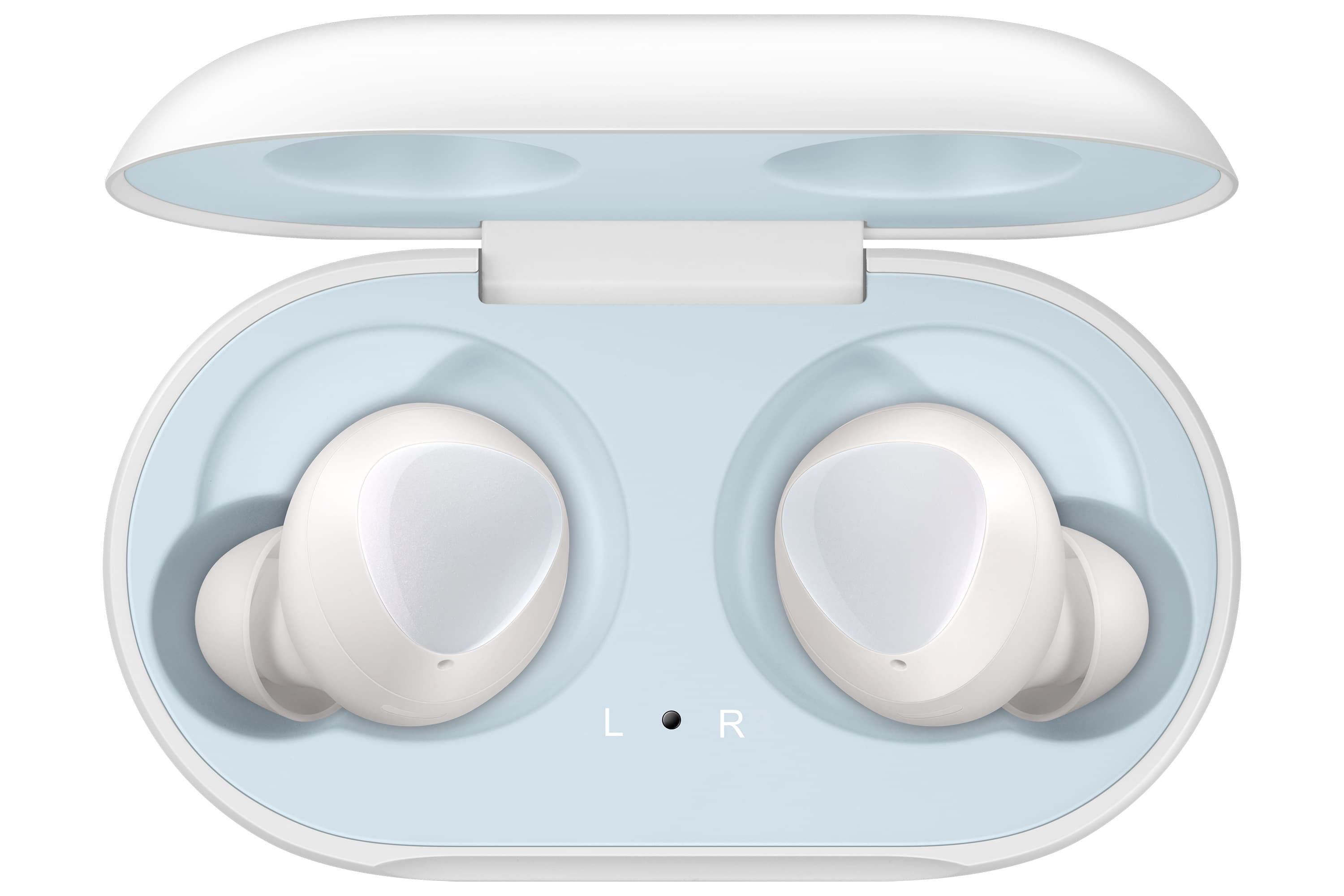 Samsung pitches the Galaxy Buds as "the in-ear lifestyle companion." They don't look much different than a lot of the other wireless earbuds on the market, but they are packed full of features. Those features include sound by AKG, Enhanced Ambient Sound tech that allows you to hear your surroundings clearly with the earbuds in, and Adaptive Dual microphones, for clear voice input even in loud environments.
Those same microphones can also be used to activate Bixby, Samsung's version of Siri, allowing you to make calls and send texts without ever picking up your phone. Battery life is good for up to 6 hours of music streaming, and the charging/carrying case offers an additional 7 hours. Plus, with the S10's new wireless power sharing feature, you can get almost 2 hours worth of charge in just 15 minutes right from your phone.
Galaxy Watch Active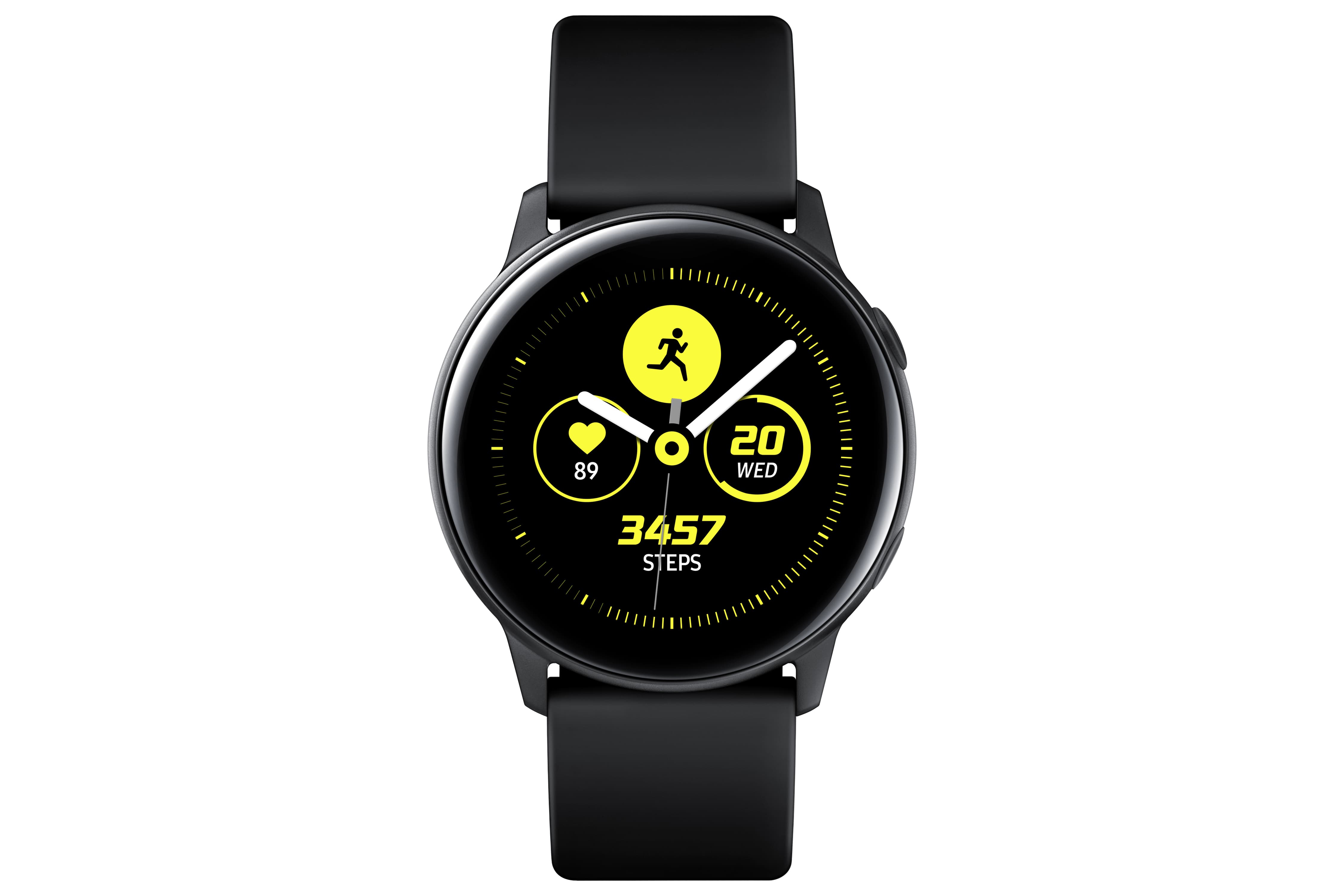 The Galaxy Watch Active packs similar features to the Galaxy Watch in a sporty new design that is thin, light and versatile. It has a 1.1-inch 360×360 display tucked behind Corning's Gorilla Glass 3, and it's run by an Exynos dual-core processor. The Watch is rated IP68 dust and waterproof, and it runs on Samsung's own Tizen-based Wearable OS 4.0.
Notable features include nearly 40 pre-programmed activities for tracking, Bixby voice support, breathing assistance for lower stress levels and blood pressure monitoring. Obviously that's a huge deal (something rumored for future Apple Watch models), and Samsung says it developed the feature in conjunction with the University of California, San Francisco.
Galaxy Fit
Made for everyone from casual runners to pro athletes, Galaxy Fit helps support healthy, active lifestyles. It's thin, lightweight and comfortable enough to wear all week long. And although it's not technically a smartwatch, it can still receive alerts and messages, and you can interact with it via the user-friendly UX.
In terms of fitness tracking, the Fit features automatic tracking for activities like walking, running and bike-riding. You can also manually select from more than 90 different activities using the Samsung Health app on your smartphone. And since the device has a water resistance of 5ATM, it can easily go with you from the shower to the pool.
Pricing and Availability
The Galaxy Buds and Galaxy Watch Active will be available in the US starting March 8, priced at $129.99 and $199.99 respectively. The Galaxy Watch Active is available for pre-order starting tomorrow, February 21, and Samsung says the Galaxy Fit will be available in 'Q2 of 2019.'
Source link: https://www.idownloadblog.com/2019/02/20/samsung-new-buds-wearables/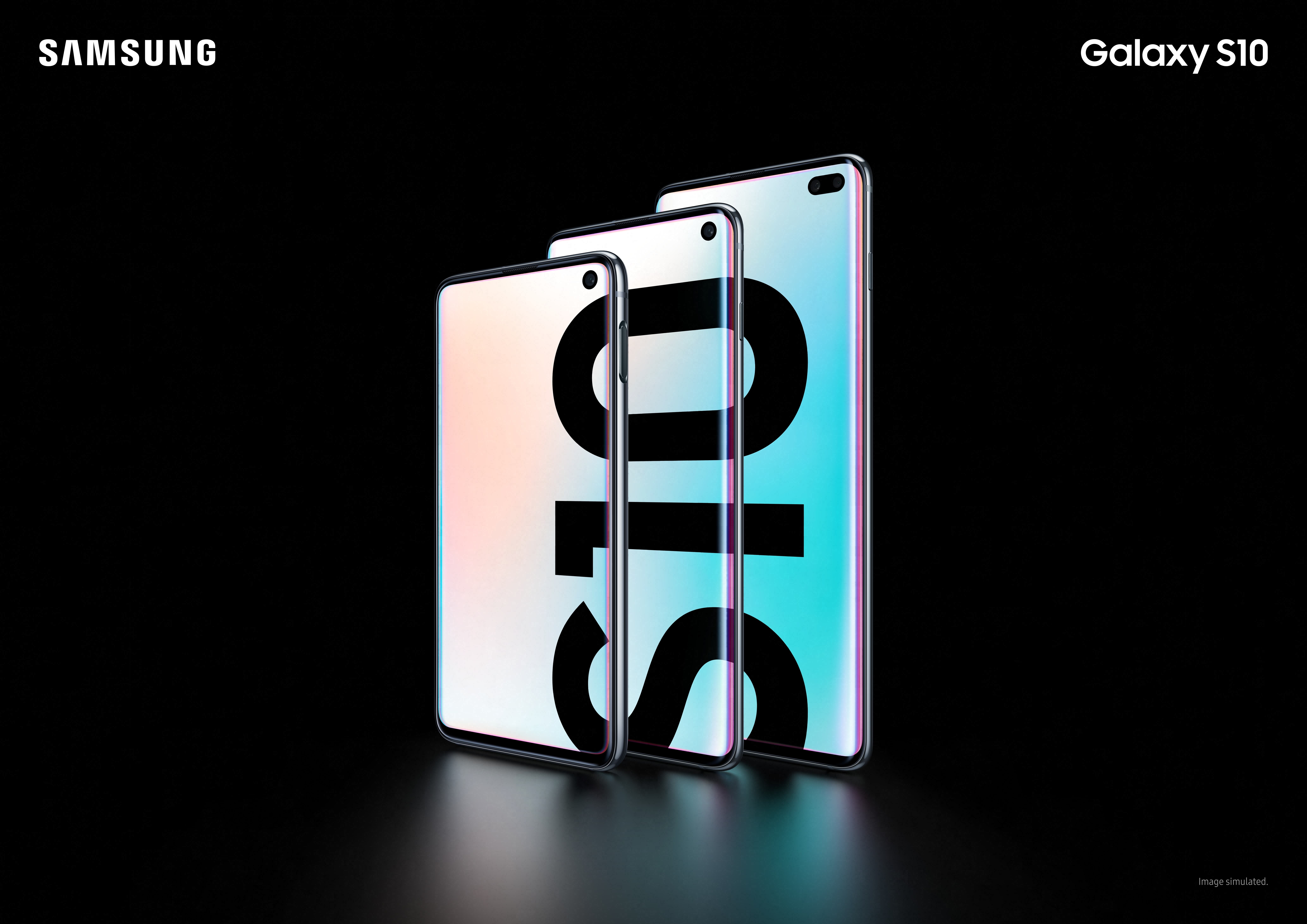 In addition to the Galaxy Fold, Samsung announced a slew of new handsets at its big Unpacked event in San Francisco on Wednesday. In fact, the new Galaxy S10 lineup looks a lot like the iPhone lineup with a 6.1-inch S10, a larger 6.4-inch S10+, and a smaller, less-expensive S10e. Check out our full overview below.
Galaxy S10 and S10 Plus
The S10 and S10+ have identical 1440-pixel wide 19:9 OLED HDR10+ displays, with the former measuring in at 6.1 inches and the latter at 6.4. Specs include a Snapdragon 855 processor, between 8GB and 12GB of RAM and up to 1TB of storage. The battery for the S10 is a 3,400mAh cell, and 4,100mAh for the S10 Plus. Both models support fast charging and have the ability to wirelessly charge a secondary device through their back panels. Both handsets also feature IP68 water and dust resistance and 3.5mm headphone jacks.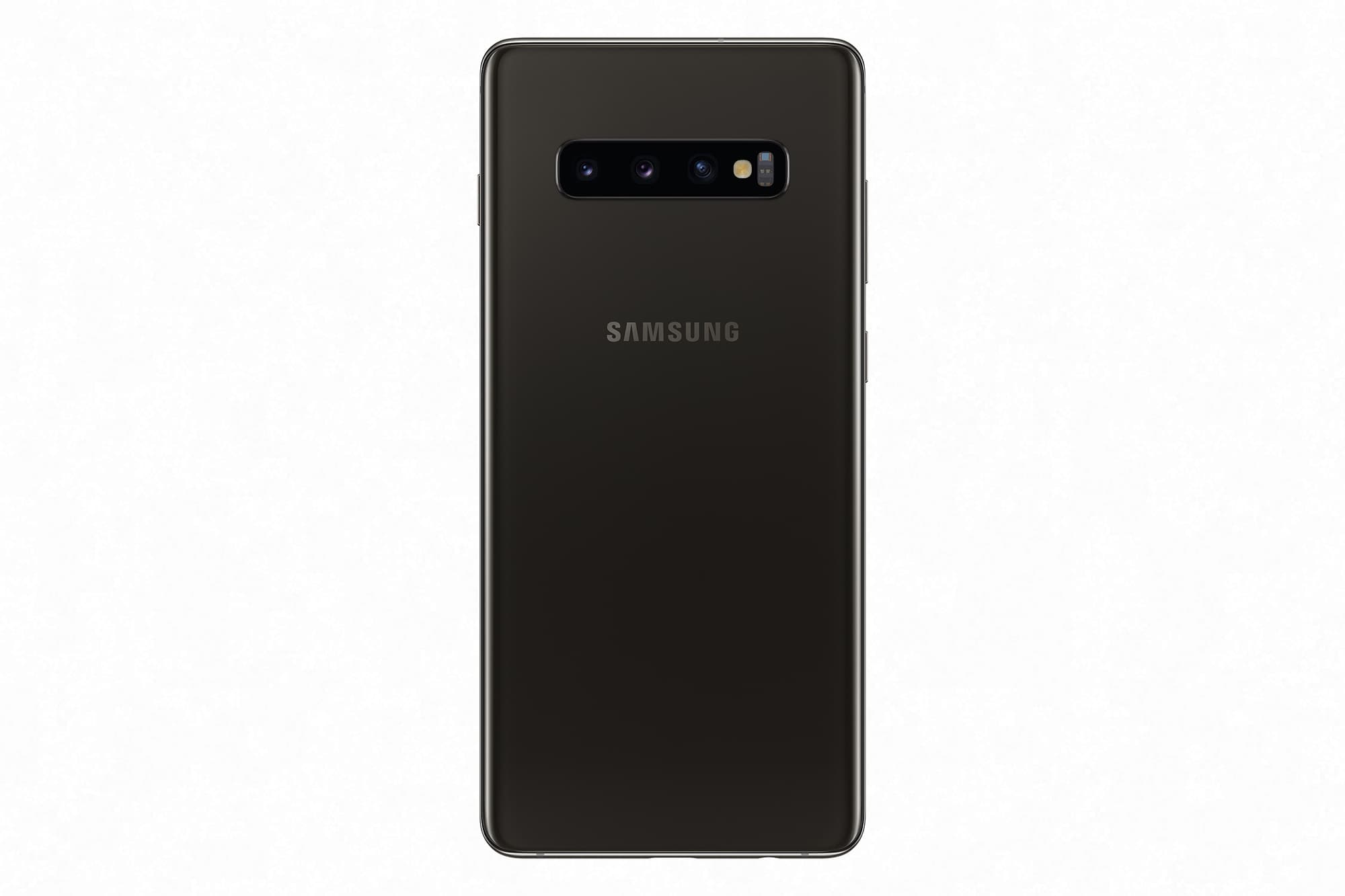 If you're wondering about cameras, the S10 has them in spades. The selfie camera is of the 10MP variety, set in a hole-punch-sized cutout, and the rear features a triple-lens design: a 12MP wide angle lens, 12MP telephoto lens and a 16MP ultra-wide lens. Both front and back cameras support 4K recording and HDR10+. And if that's not enough to impress you, the S10 also features an in-display Ultrasonic fingerprint scanner. It reads the 3D contours of your thumbprint, and Samsung says it's one of the most secure on the market.
Finally, as for the software, both handsets are launching with Android 9 Pie and Samsung's new One UI interface. The S10 also has a button dedicated to Bixby—Samsung's Siri-like digital assistant—and Samsung says it has improved the feature with new routines.
Galaxy S10E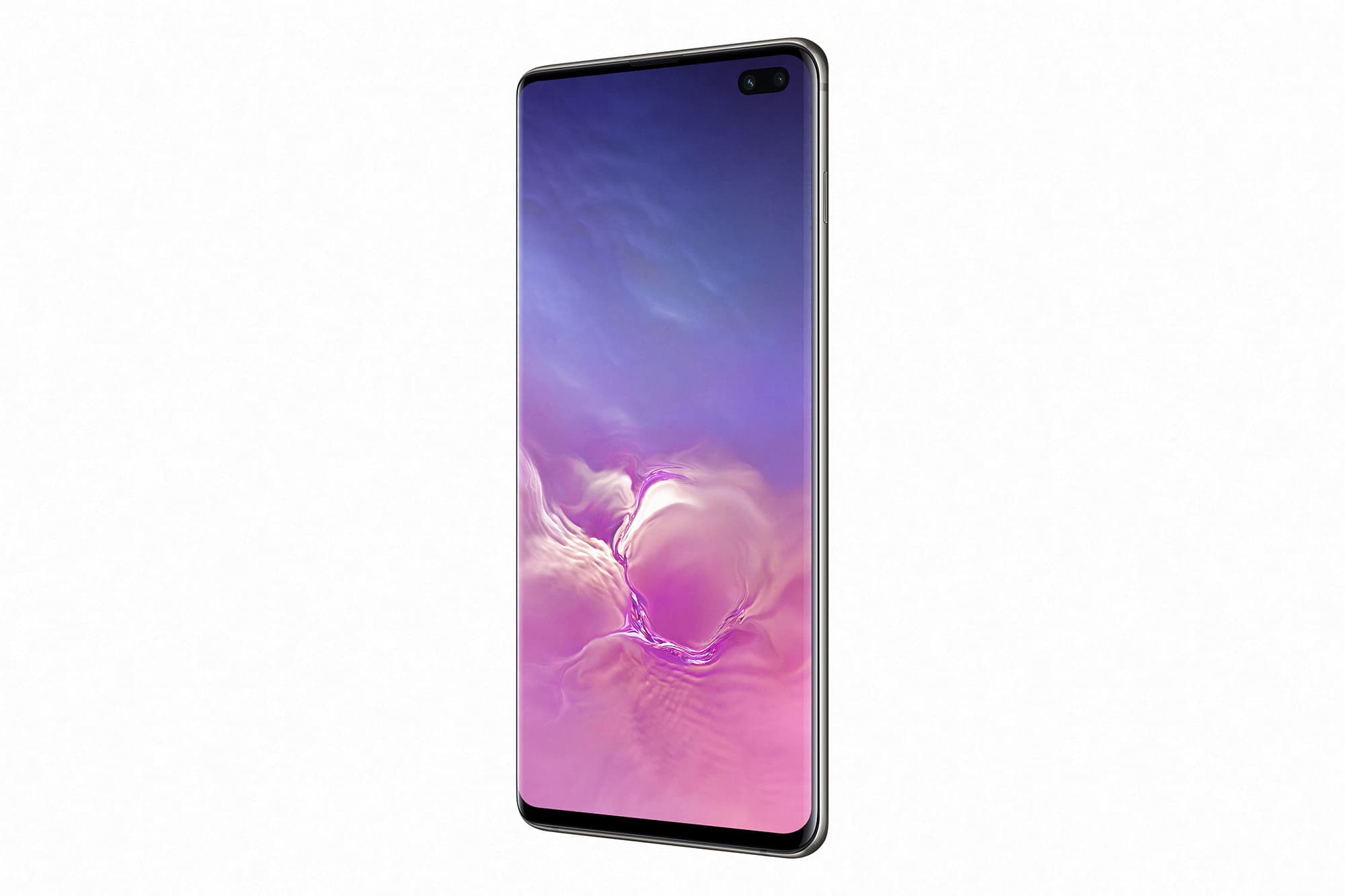 It certainly seems like Samsung has taken a play out of Apple's iPhone XR playbook with the S10E. It's smaller than the other two models, with fewer flagship features, but it's also significantly less expensive.
Starting with the display, the S10E features a 5.8-inch Dynamic AMOLED display that's 1080 pixels wide with a 19:9 aspect ratio. The selfie camera on the front is 10MP and the rear features a two-lens camera setup, with a 12MP wide angle lens and a 16MP ultra-wide. Everything is driven by a Snapdragon 855 processor, with either 6GB or 8GB of RAM, and storage options include 128GB and 256GB—expandable via microSD.
So how does the cheaper S10E measure up to its larger siblings? Well it has fewer pixels in the display, only two cameras on the back instead of 3, and the fingerprint scanner has been embedded into the side-mounted power button, rather than under the display. But as you can see in the above specs, just about everything else is the same. It still has IP68 waterproofing and can wirelessly charge other devices through its back panel.
Availability
The Galaxy S10, S10+ and S10E will be available for pre-orders starting tomorrow, February 21, and will become available on March 8. They'll come in a number of colorways and configurations (with a 5G version to launch at a later date), and start at $899.99, $999.99 and $749.99 respectively.
So what do you think of the new S10 lineup?
Source link: https://www.idownloadblog.com/2019/02/20/galaxy-s10-roundup/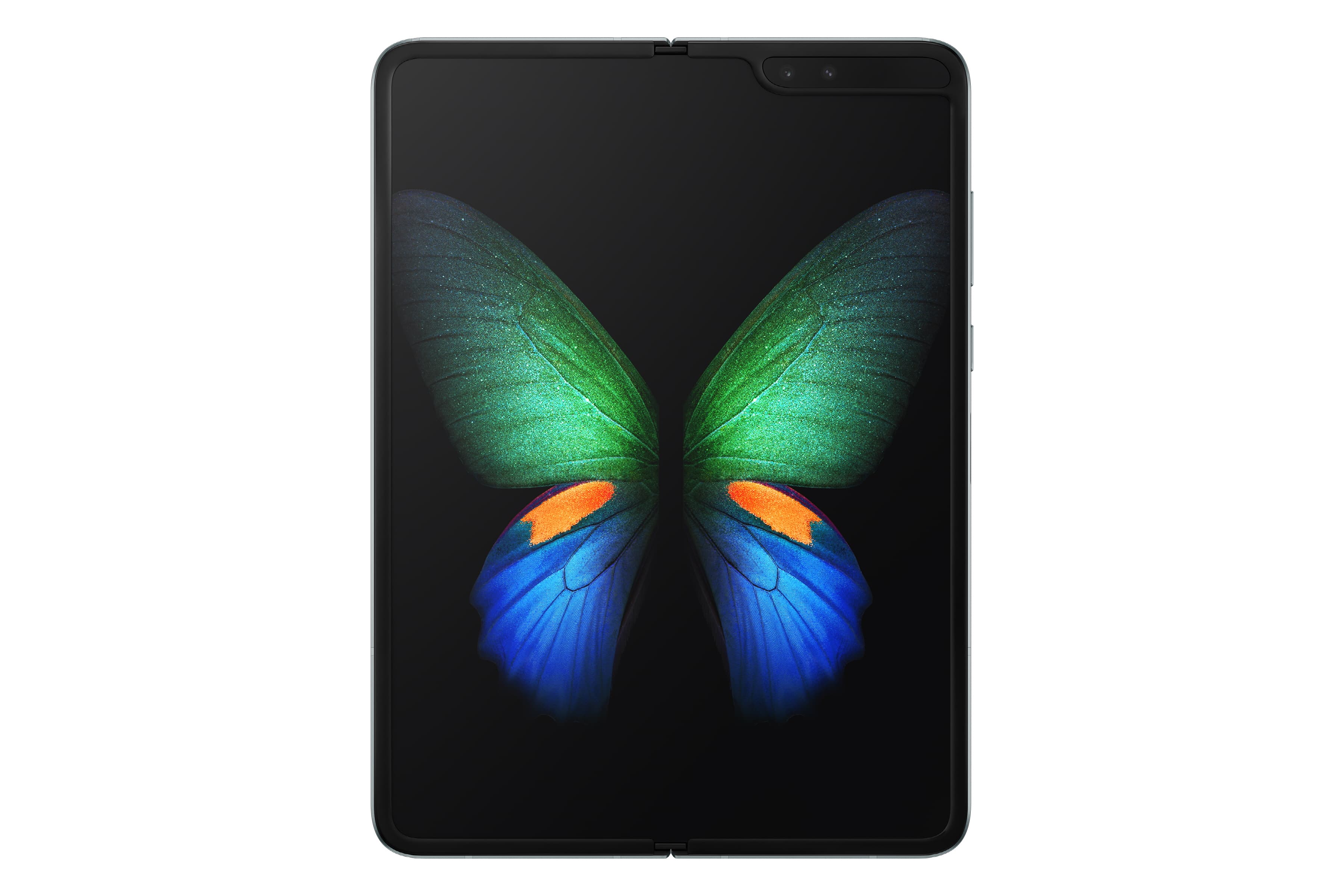 After months of teasing, Samsung today unveiled its first foldable smartphone. Aptly-named the Galaxy Fold, the handset will apparently be ready to launch by April 26, with a staggering starting price of $1,980.
Display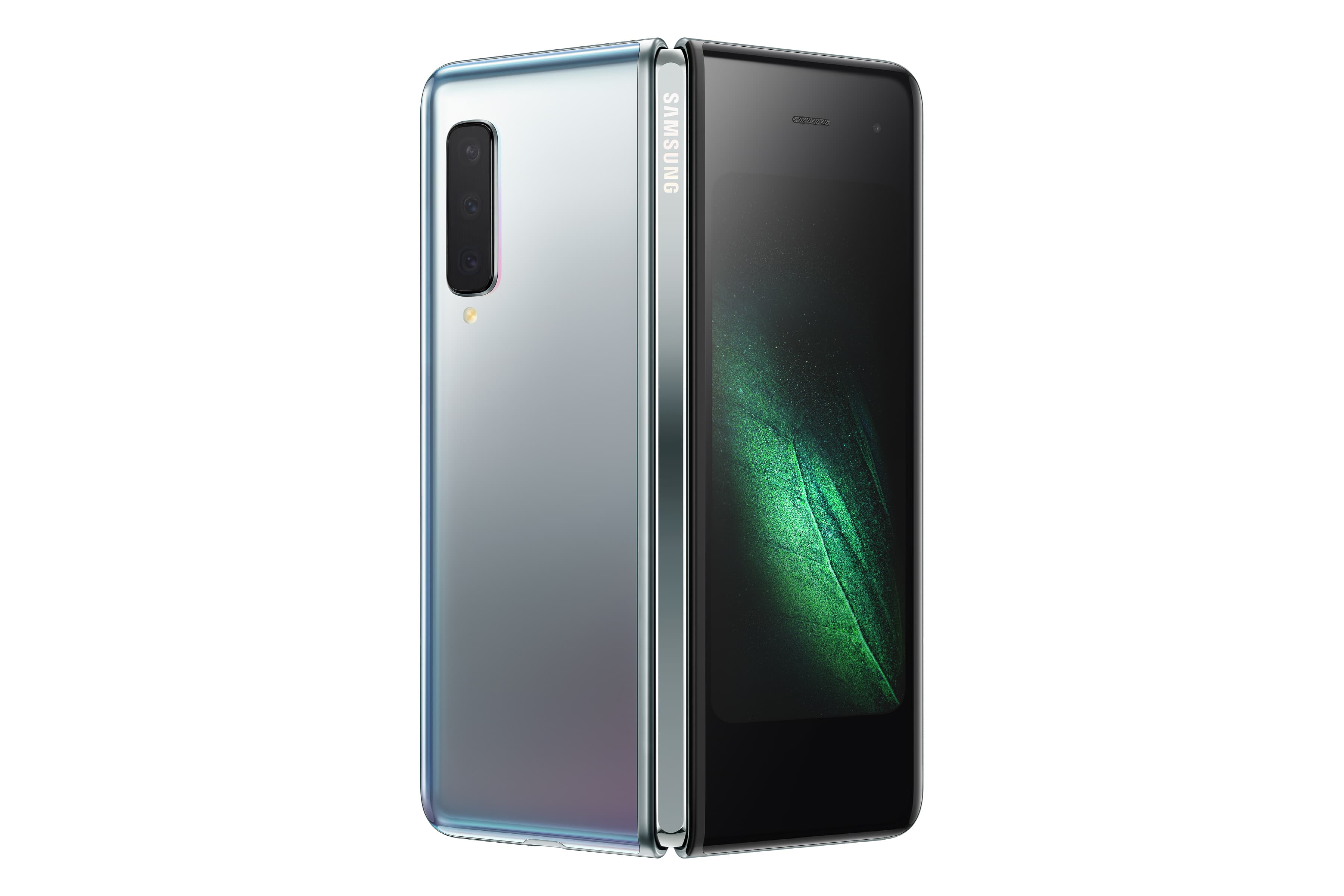 The magic is obviously in the display. Samsung is using a 7.3-inch Infinity Flex display mated with a hinge system that has multiple interlocking gears—all of this is hidden in the back of course to allow a seamless, flat design in the front. When fully open, the display's resolution runs at 1536 x 2152. Folded, you get a smaller 4.6-inch display with a resolution of 840 x 1960.
Performance

Powering the massive display is a 7nm processor with 12GB of RAM. For storage, you get a speedy 512GB of Universal Flash Storage 3.0. The phone even has two batteries, which are separated by the fold, but Android recognizes them as a combined unit. Speaking of Android, the Fold is capable of running up to 3 apps at once.
Samsung's Galaxy Fold will come in multiple colorways, in both LTE and 5G variations, and is slated to go on sale on April 26. As aforementioned, the starting price will be $1,980. Stay tuned for more details.
So, what do you think so far about the Galaxy Fold?
Source link: https://www.idownloadblog.com/2019/02/20/galaxy-fold-phone/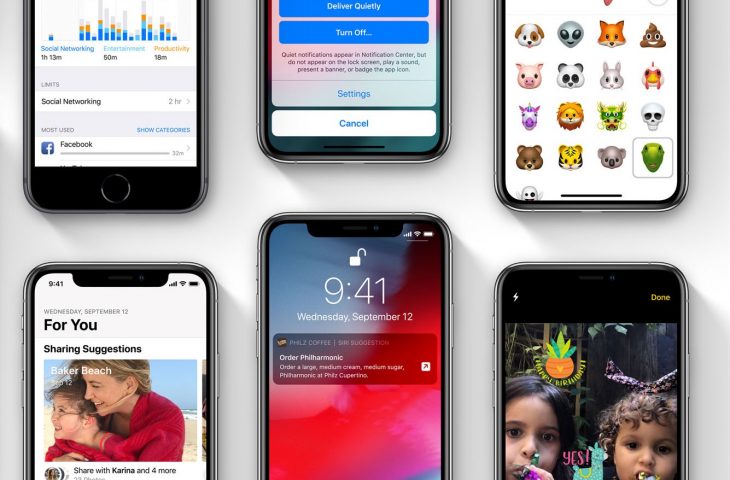 Apple on Wednesday seeded the third betas of iOS 12.2 and tvOS 12.2 to public testers. Members of Apple's public beta program can install the updates via each platform's respective OTA mechanism.
Updating…
Source link: https://www.idownloadblog.com/2019/02/20/third-public-beta-ios-12-2/