OpenCore Legacy Patcher lets you install macOS Sonoma on unsupported Macs dating as far back as 2008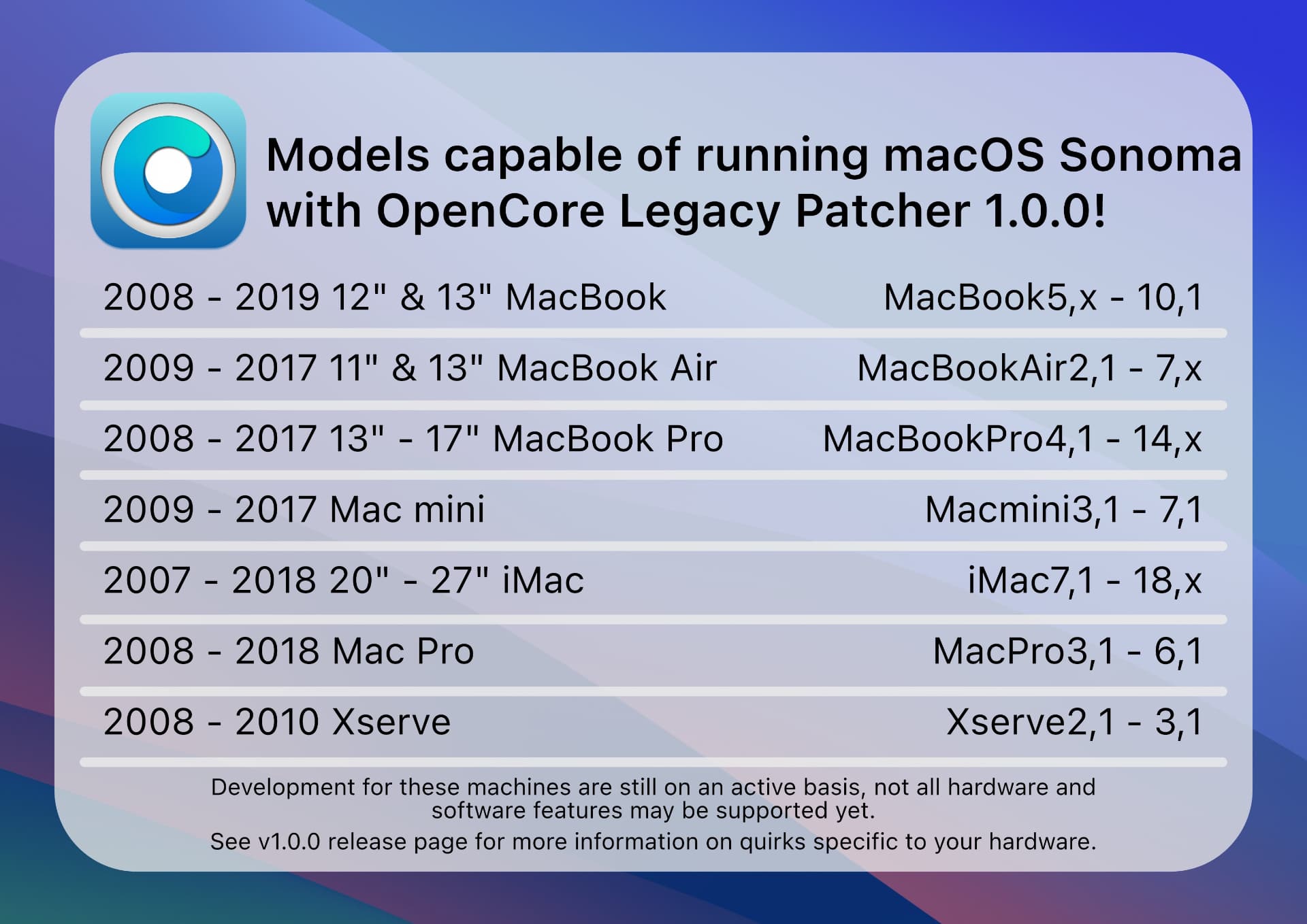 This tool enables many older Mac computers to run macOS Sonoma even if they're not on Apple's official device compatibility list for the operating system.
Instead of buying a new Mac capable of running Sonoma, you can use this tool to install it on unsupported computers and get Apple's latest features.
Whereas Sonoma requires a 2018 Mac or newer, the OpenCore Legacy Patcher tool lets you install the operating system on a 2008 MacBook, for instance.
OpenCore Legacy Patcher gains macOS Sonoma support
It usually takes a while for the OpenCore Legacy Patcher project to update its tool for Apple's latest and greatest operating system. Their updated tool can now be used to install Sonoma on as many as 83 unsupported Mac models.
OpenCore Legacy Patcher 1.0.0 works with these Macs:
2008-2019 12-inch and 13-inch MacBooks
2009-2017 11-inch and 13-inch MacBook Air
2008-2017 13-inch to 17-inch MacBook Pro
2009-2017 Mac mini
2007-2018 20-inch to 27-inch iMac
2008-2018 Mac Pro
2008-2010 Xserve.
Visit the Github project page to see if your Mac is supported.
Some macOS features are not fully supported by OpenCore Legacy Patcher as they're still in development, like hardware support for Apple's T1 Security Chip found on the MacBook Pro models with the Touch Bar, released in 2016 and 2017.
Importantly, using OpenCore Legacy Patcher on older Macs doesn't stop you from getting Apple's latest software updates and security fixes.
Apple's compatibility list for macOS Sonoma
Apple has tightened the device compatibility list for Sonoma compared to the previous version, macOS Ventura. Whereas Ventura supported Mac computers released as far back as 2015, Sonoma requires a 2018 Mac or newer.
macOS Sonoma system requirements:
iMac Pro (2017 and later0)
iMac (2019 and later)
Mac Pro (2019 and later)
Mac Studio (2022 and later)
MacBook Air (2018 and later)
Mac mini (2018 and later)
MacBook Pro (2018 and later)
Increasingly, the Intel-based Mac models are being proclaimed outdated as Apple focuses on getting the most out of newer Macs running its homegrown processors.
Get more life out of our older Macs
OpenCore Legacy Patcher is basically a bootloader that injects and patches data in memory instead of on disk. "This means that we're able to achieve a near-native experience on many unsupported Macs," the project claims.
So whether your Mac has an ancient video card, outdated Wi-Fi and Bluetooth chipsets or unsupported CPUs, this tool will help breathe new life into your old Mac.
However, don't expect miracles as your mileage may vary. While many modern macOS features are supported on older Macs with OpenCore Legacy Patcher, some may not work well—especially those that depend on new hardware.
Source link: https://www.idownloadblog.com/2023/10/02/opencore-legacy-patcher-macos-sonoma-update/