Universal Control loses its beta label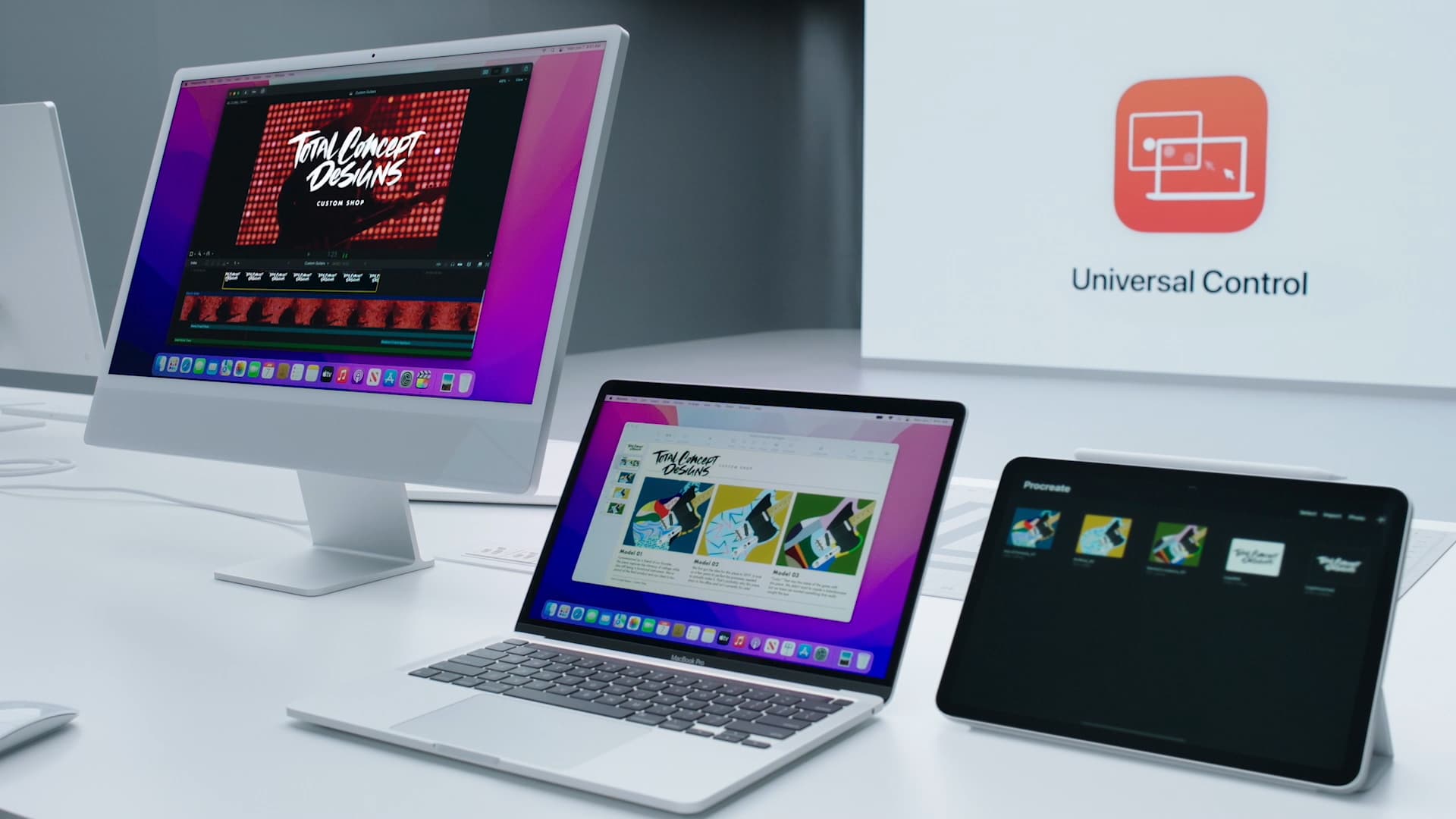 Apple's Universal Control feature for working across multiple Macs and iPads using a single trackpad has lost its beta label in macOS Monterey 12.4 and iPadOS 15.5.
Universal Control debuted in iPadOS 15.4 and macOS Monterey 12.3 as a beta feature that was a bit rough around the edges, but Apple released it anyway in beta capacity to gather feedback and iron out any teething issues.
The feature has matured to the point where Apple has now removed the beta label from Universal Control in iPadOS 15.5 and macOS Monterey 12.4.
iPadOS 15.5 and macOS Monterey 12.4 should launch publicly in the next few days. When they do, an upgraded Universal Control will be available to all users.
---
Apple's Universal Control exits beta
Announced at the WWDC21 in June of 2021 as one of the tentpole features of iPadOS 15 and macOS Monterey, Universal Control launched publicly that fall. But when the updates launched, Universal Control arrived with a beta label. Apple needed some extra time to work out the kinks and now with upcoming releases of iPadOS 15.5 and macOS Monterey 12.4, this feature should work better than ever. Otherwise, Apple clearly wouldn't think now's the right time for Universal Control to drop its beta label. Read: Free clipboard managers for the iPhone
Apple also changed how Universal Control is accessed on macOS Monterey 12.3 and later, making it easier to access and configure the various Universal Control settings on your Mac. To turn on and configure the feature on your Mac, go to System Preferences → Displays → ‌Universal Control‌. On iPadOS, Universal Control is found under Settings → General → AirPlay → Handoff → Cursor and Keyboard.
No more beta tag on Universal Control in the Monterey 12.4 RC! Nice! pic.twitter.com/wbY8onRHNI

— Rene Ritchie (@reneritchie) May 12, 2022
What is Universal Control and how does it work?
Universal Control was conceived to allow people to work on multiple Mac computers and iPad tablets using a single mouse or trackpad. The feature includes some pretty interesting perks such as zero configuration, the cursor seamlessly traveling seamlessly across screens, drag-and-drop between screens and more. It's based on many existing Apple technologies, including various Continuity capabilities such as Handoff. The feature uses Bluetooth to discover nearby devices, then establishes a direct Wi-Fi connection between them. Universal Control also works over a wired USB connection. Read: How to copy and paste across the iPhone, iPad and Mac
What devices are supported?
Universal Control is supported on the MacBook Pro (2016 and later), MacBook (2016 and later), MacBook Air (2018 and later), iMac (2017 and later), iMac (5K Retina 27-inch, Late 2015), iMac Pro, Mac mini (2018 and later), Mac Pro (2019), iPad Pro, iPad Air 3, iPad 6 and iPad mini 5 or later). Both your Mac and iPad must be signed in to iCloud with the same Apple ID using two-factor authentication.
Source link: https://www.idownloadblog.com/2022/05/13/apple-universal-control-no-longer-beta/