Hacker Justin Sherman says write-up on kernel exploit for iOS 14.6-14.7 coming soon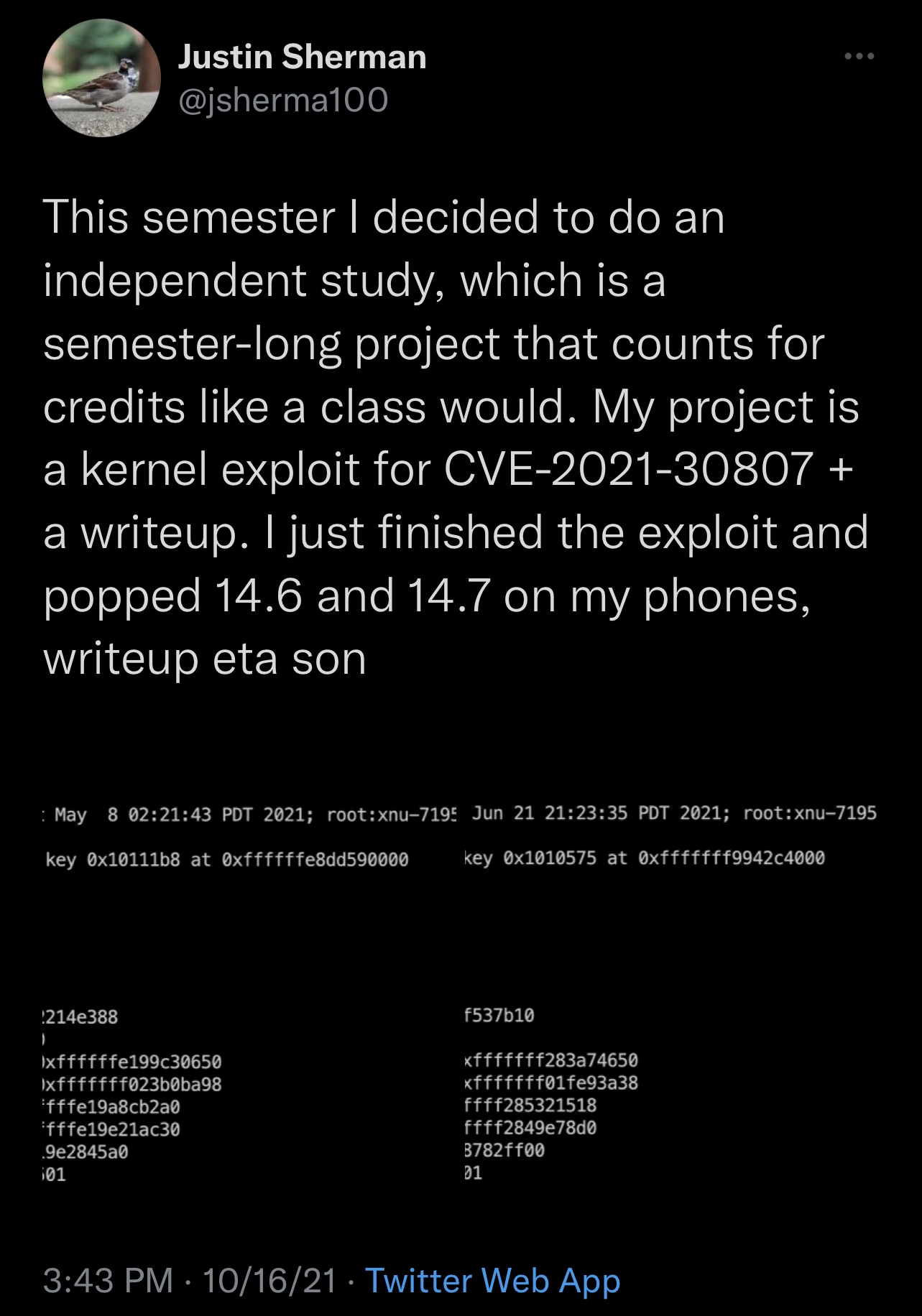 Even more potential good news for the jailbreak community appears to be surfacing this weekend after security researcher Justin Sherman announced that a proof of concept and a full write-up for a kernel-level exploit supporting iOS & iPadOS 14.6-14.7 could be imminent.
In a Tweet, Sherman explains that the kernel exploit is based on CVE-2021-30807 and that it has been a semester-long project of his for school. Now, it seems like the kernel exploit could potentially go on to do more than just boost Sherman's grades.
Sherman's Tweet has been embedded below for your viewing pleasure:
Taurine and unc0ver can only jailbreak up to and including iOS & iPadOS 14.3. But just recently, there appears to be a lot going on, and it certainly seems like more versions of iOS & iPadOS 14 will become jailbreakable very soon.
To give credit where credit is due, checkra1n can already jailbreak all version(s) of iOS & iPadOS 14, however only on devices as new as the iPhone X. Newer handsets don't have a jailbreak yet for anything newer than iOS & iPadOS 14.3 until something changes.
With security researcher Linus Henze scheduled to release an untether for iOS 14.5.1 and below later this week and security researcher Saar Amar sharing a kernel-level bug that may be exploitable for jailbreaking remaining versions of iOS & iPadOS 14 (and possibly iOS & iPadOS 15.0-15.0.1), Sherman's exploit is slated to become icing on the cake.
While we don't have an exact ETA for when Sherman plans to release said write-up, we can only advise that our readers sit tight and remain patient because jailbreak developers will require time to digest all the latest kernel vulnerabilities and consider whether it will be possible to implement them into new or existing jailbreak tools.
Does it excite you that there could be just one more exploitable kernel-level vulnerability in the wild for newer versions of iOS & iPadOS 14? We'd love to hear your thoughts about the situation in the comments section down below.
Source link: https://www.idownloadblog.com/2021/10/17/hacker-justin-sherman-says-write-up-on-kernel-exploit-for-ios-14-6-14-7-coming-soon/