How to Post 3D Photos to Facebook on iPhone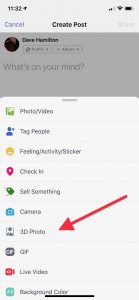 Facebook recently started rolling out 3D Photos for iPhone users. Problem is, not everyone has it yet and you want it. Thankfully, Apple-industry legend, Sam Levin, found a path and posted the instructions for us all.
To add 3D Photos to Facebook on your iPhone
Launch the Facebook App
"Like" the Facebook 360 Group on Facebook (this is the trick!).
Force Quit the Facebook app on your iPhone.
Relaunch Facebook and create a new post. You'll see the "3D Photo" option in the list of things you can add to your post.
Facebook will only use Portrait Mode photos for its 3D Photos option. Portrait Mode is currently supported by the Camera app on iPhone 7 Plus, iPhone 8 Plus, iPhone X, iPhone XS, iPhone XS Max, and iPhone XR.
Thanks, Sam!
Source link: https://www.macobserver.com/tips/how-to/3d-photos-facebook-iphone/