Momoka: An Interplanetary Adventure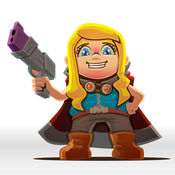 Momoka: An Interplanetary Adventure ($6.99) by Felwig Games LLP is a gorgeous and charming platformer adventure game that will keep you busy for a while. If you enjoy lengthy platformer adventures like Swordigo, then you're in for a treat with Momoka.
When I grew up, I spent a lot of my time playing platformer games on my SNES and Sega Genesis consoles, as well as my trusty old Game Boy handhelds. I'll admit, I wasn't very good at video games back then, but I still enjoyed them because they were just downright fun and great time wasters as a kid. But now that I'm older and know what I'm doing in games, I have an appreciation for platforming adventures so naturally, I was intrigued with Momoka: An Interplanetary Adventure. The end result of Momoka is that it feels like a homage to App Store classics, Soosiz and Swordigo.
The visuals in Momoka are beautiful, and anyone who appreciates retro-styled games will love what they see here. Momoka features 2.5D, low-poly graphics with dynamic lighting that will remind players of something like Super Mario Galaxy. Despite the rugged aesthetic, everything in the game is detailed, bright and vivid, and the animations are buttery smooth, especially as you move and everything just scrolls sideways with you. The world is circular, meaning players traverse through what seem like mazes that go deep into the earth, and it's also possible to jump up on the rocks above, have the game flip upside-down, and continue making your way to whatever lies beyond the rocks. Be warned though — because of the side-scrolling and flipping upside-down constantly, be wary if you are prone to getting motion sickness from games. To top things off though, the game has a whimsical soundtrack that is a delight to the ears as you play, and the sound effects are a nice touch.
As with most adventure games, there are no set levels or stages since the game is about exploration and progress. Players must take control of Momoka, who sets out on a journey across Haruto to figure out why the sun is dying, and how to fix it. In the beginning, you will not be doing much besides jumping and collecting keys to advance through the story, but once you get your gun cell, things start to get much more interesting. While you jump and explore Haruto and nearby villages, there will be plenty of checkpoint flags scattered around that allow you to quickly pick up where you left off should you die due to unforeseen circumstances. Momoka starts out with two hearts, which are shown in the top left, and picking up smaller heart pieces will refill her health. Finding large hearts will add another heart to the bar, similar to how the system works in the Legend of Zelda games. If you ever get lost, it would be helpful to pause at signs, since they can point you in the right direction. Accessing the game's pause menu will also bring up a map, as well as show you what items you've collected so far.
The controls in Momoka are pretty damn good, considering that I'm just using the touch screen controls due to lack of a MFi controller (also supported). In the bottom left are two buttons that let you move Momoka left or right along the round, side-scrolling world, and there is a button around the bottom right for jumping. Once you acquire the gun cell item in the game, then you will be able to use your gun by tapping the attack button, which will be adjacent to the jump button. Other action buttons will be available to you as you make your way through the game, and they will always be found in the bottom right section of the screen. To talk to NPCs or interact with objects, tap on the large, circular blue button.
While I usually think most platformer games have hit-or-miss controls, I believe that Momoka has a near-flawless control scheme here. The touch screen buttons are insanely responsive, and I have no issues with the positioning at all. In fact, I haven't seen such great controls on a platformer since the Mikey Shorts games, so that is saying something. I give the Felwig Games many kudos for making fantastic controls for a platformer — this feat is not an easy one.
As you continue exploring Haruto on your quest to figure out why the sun is dying, you'll encounter many different NPCs who will usually point you in the right direction as well. You can also collect "Frozen Stars" that can be traded for valuable items in the shops, and there are many upgrades available to make Momoka one tough intergalactic heroine. Plus, once you get the keys to your mother's space ship, you can fly around in it, free to explore whatever interesting planets are out there. And with such a big galaxy out there, you're bound to come across interesting baddies to get rid of.
I'm still early on in Momoka: An Interplanetary Adventure, but I'm loving the game so far. It's one of the most beautiful platformer adventure games so far this year, and the music is just a treat for the ears. Plus, the controls are incredibly responsive, the game has plenty of content (with no in-app purchases), and things can get downright challenging as you have to time your jumps and attacks to survive, while also solving some puzzles along the way. The game also has Game Center support and there is iCloud for saving and syncing your game data across multiple devices.
I highly recommend checking out Momoka: An Interplanetary Adventure if you liked titles like Soosiz and Swordigo, or just love a good platformer adventure to spend several hours on. Momoka: An Interplanetary Adventure is available on the App Store as a universal app for the iPhone and iPad for just $6.99.
Source link: http://appadvice.com/reviews