Samsung to unveil Galaxy S10 with punch-hole display foldable smartphone on February 20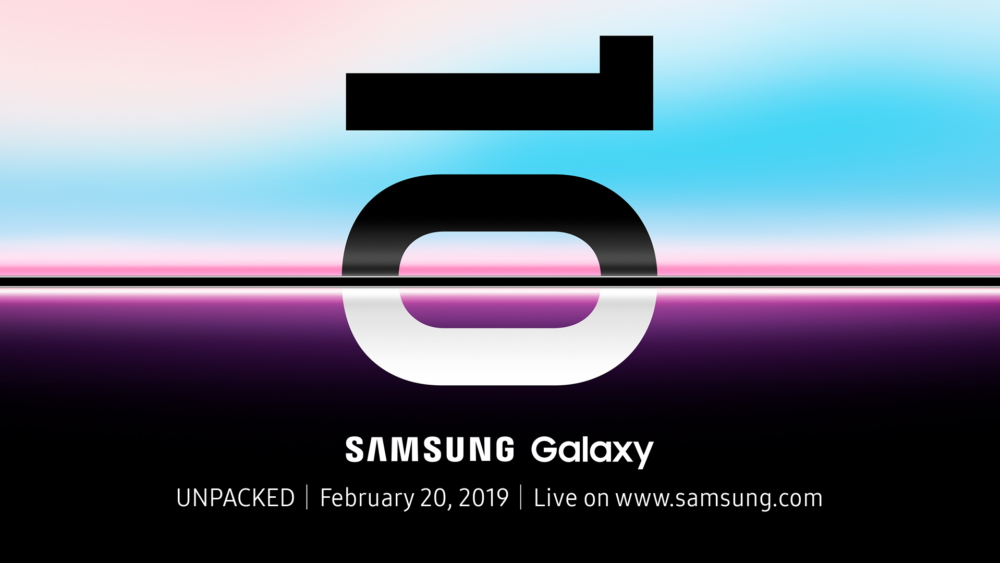 Samsung today announced that its Unpacked 2019 media event will be held on Wednesday, February 20, at 11am Pacific Time at San Francisco's Bill Graham Civic Auditorium.
Samsung Unpacked 2019
While the press release make no mention of any specific hardware, it hints that new devices promise to "usher in new Galaxy experiences based on ten years of innovations". Invite graphics leaves little room for interpretation as it teases the upcoming Galaxies.
The February 20 event will be live-streamed on YouTube, Samsung said.
3 new Galaxies
According to the Wall Street Journal, Samsung will launch three new Galaxy S10 models and show a fully functional foldable smartphone, dubbed Galaxy Fold, which has been in development for years now.
Samsung is preparing a major technical upgrade for the 10th anniversary Galaxy S10 phone lineup, adding bigger screens and more cameras, The Wall Street Journal reported in November. Initially the company will offer the Galaxy S10 in three variants, with the phones hitting shelves in March. A fourth version will feature next-generation 5G network speeds and will be released later in the spring.
One of the S10s could have as many as four cameras out the back and a dual-lens camera setup out the front. These should let both cameras do things like portraiture photography, depth mapping, augmented reality and more. The rear camera setup could include multiple telephoto lenses.
A foldable phone
The publication alleges that a foldable Galaxy is nearing launch as well.
Samsung has signaled to partners that the foldable-screen phone could be released in April, though no final decision has been made, according to people familiar with the matter. The device's name is still being determined, with 'Fold' or 'Galaxy Fold,' as well as 'Galaxy F' as three possibilities, the people said.
Samsung previously said that Galaxy Fold will be an impeccable product that will astonish rivals but it's hardly the only company working on a foldable-screen device.
Smartphone competition intensifies
The story alleges that China's Huawei's is planning to introduce a competing foldable phone at the Mobile World Congress event in Barcelona, Spain, which is being held February 25-28. In years past, the South Korean conglomerate announced new Galaxy smartphones at Mobile World Congress in February or at an event of its own a few weeks later.
A foldable Galaxy prototype was show to Samsung developers at a November 2018 event in San Francisco. The company reportedly privately showed the device to business partners at this week's CES, indicating the project is now finalized.
Hole-punch display
Samsung is one of the rare Android makers that took a different route than shamelessly copying Apple's notch. But make no mistake, the company would definitely love to get rid of those chins at the top and bottom. According to smartphone leakster Evan Blass who last week shared a supposed image of one of the new Galaxies, the upcoming S10 series will feature so-called hole-punch display.
And here it is.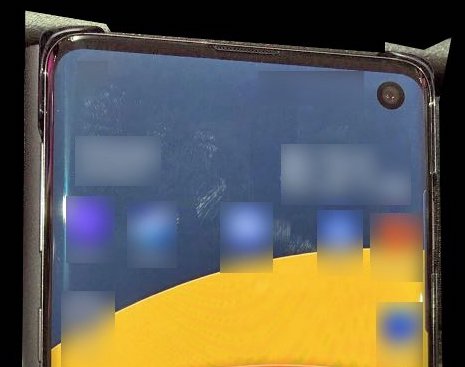 So, rather than house the front-facing camera and the sensor array inside a notch in the display, Samsung engineers punched a small cutout for the selfie camera in the phone's Super AMOLED-based Infinity-O display. Due to the small size of the cutout, this particular model is unlikely to adopt Face ID-like 3D facial scanning based on infrared light because those components take up a lot of space.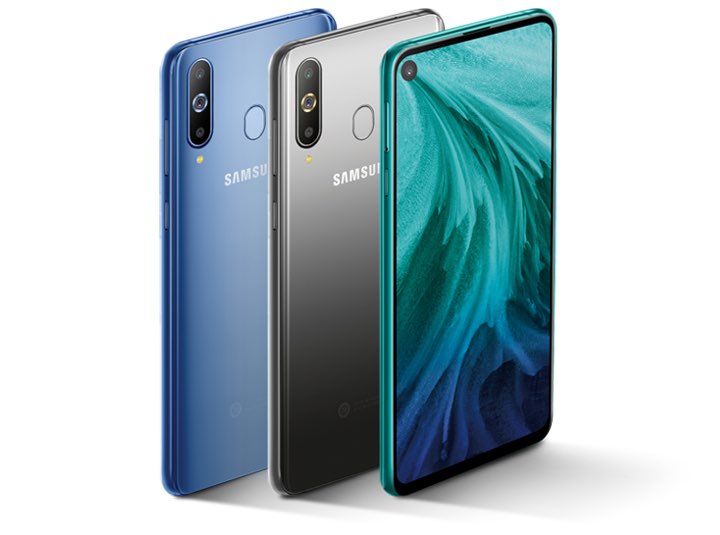 Samsung's Galaxy A8s smartphone debuted a hole-punch display design
As you can see for yourself, while this allows for a nearly fullscreen design, we're not quite there yet. Despite the front side taken up by display area that curves around both sides, there are still chins at the top and the bottom. Smart Samsung engineers appear to have made the S10 bezels uniform (similar to iPhone XR), which should create a pretty great illusion.
— ong132451 (@ong132451) January 3, 2019
"One cool feature I haven't heard mentioned previously is this model's ability to wirelessly charge other compatible devices like handsets and watches," Evan wrote in a tweet. CNET reported that this particular phone should feature a 6.1-inch screen and a single front-facing camera—again, like iPhone XR.
Samsung, just like Apple, has suffered a major slide in smartphone sales in 2018, especially in the holiday quarter when it reported its first quarterly operating profit decline, a 29 percent slide, in two years.
The company blamed the decline on a plethora of specific issues in China.
Who wants a foldable iPhone?
Would you buy a foldable-screen phone?
In your personal opinion, what would be the main use cases for such a device? And speaking of which, would a foldable iPhone that Apple may have researched make any sense to you?
Let us know by chiming in with your thoughts in the commenting section down below.
Source link: https://www.idownloadblog.com/2019/01/10/samsung-february-20-event-galaxy-s10/