Geekbench: A11 Bionic smokes past Android rivals, beats iPad Pro, on par with 13? MBP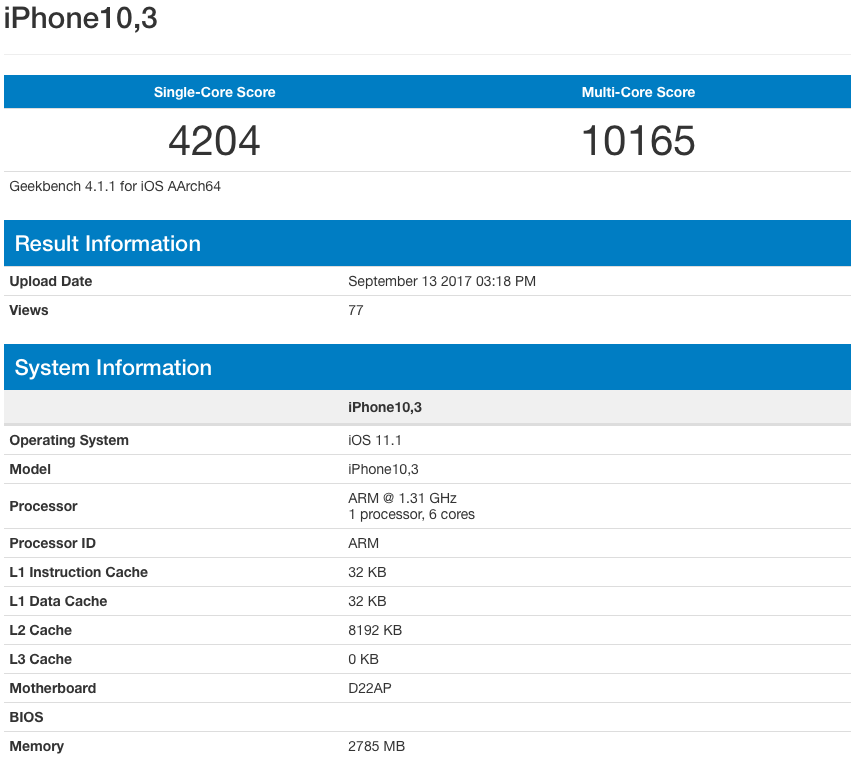 Almost a year has passed following iPhone 7's debut and its A10 Fusion chip has only recently been marginally outperformed by competing devices, but Apple's game-changing A11 Bionic chip that powers the new iPhone X, iPhone 8 and iPhone 8 Plus is by far the fastest mobile processor out there.
According to early Geekbench scores for iPhone X and iPhone 8, not only does the new A11 silicon beats the latest iPad Pro's A10X Fusion chip (an improved version of the iPhone 7's A10 Fusion one) but produces some unbelievable numbers in multi-core tests that put it on par with Intel-powered 13-inch MacBook Pro notebooks.
Geekbench's John Poole says the benchmarks are real.
Identified as an ARM-based processor with six CPU cores clocked at 1.31GHz, the A11 chip has an average single-core score between 4,100 and 4,274 and a multi-core performance exceeding an unbelievable 10,438.
By comparison the latest 10.5-inch iPad Pro with Apple's A10 Fusion chip sees single and multi-core scores of about 3,887 and 9,210, respectively. As for the flagship 13-inch MacBook Pro model with Intel's 3.5GHz dual-core chip, the notebook typically sees a single-core score of 4,592 and a multi-core score of 9,602.
This is unbelievable. These scores are not only nightmare for Android, they're pretty bad news for Intel as well and any other semiconductor maker out there, including the likes of Qualcomm and Samsung who manufacture chips that power most Android devices.
As we previously explained, Apple's new chip introduces two additional low-power cores for a total of four battery-saving cores for tasks that don't need full speed, like reading email, playing music, fetching data in the background and so forth. It also has two high-performance cores for things like editing video, playing games and more.
The trick is, unlike the A10 Fusion chip which can only run one CPU cluster at any given time, the six cores in the A11 Bionic chip are independently addressable and can run concurrently for increased performance.
Whereas the A10 Fusion silicons uses the simplest form of ARM's big.LITTLE architecture where the CPU is arranged into identically-sized clusters of cores (two "Big" and two "Little") and the iOS task scheduler can only see and use one CPU cluster at any given time.
In other words, when CPU load changes between low and high your iPhone 7 simply transitions to the other CPU cluster. By contrast, the new iPhones can run all six cores at once, if need be, thanks to its heterogeneous multi-processing based on the most powerful use model of the big.LITTLE implementation.
Apple says A11 Bionic delivers 25 percent faster compute performance with the two high-performance cores active while its four efficiency cores are 70 percent faster than the A10 Fusion. "A new, second-generation performance controller can harness all six cores simultaneously, delivering up to 70 percent greater performance for multi-threaded workloads," according to the company.
The chip also integrates an Apple-designed Secure Enclave cryptographic coprocessor and—for the first time since breaking ties with Imagination Technologies, Apple's own three-core GPU design that delivers up to 30 percent faster graphics performance than the previous generation.
Source link: http://www.idownloadblog.com/2017/09/13/geekbench-apple-a11-bionic/