How to see how much storage space is available on your Apple Watch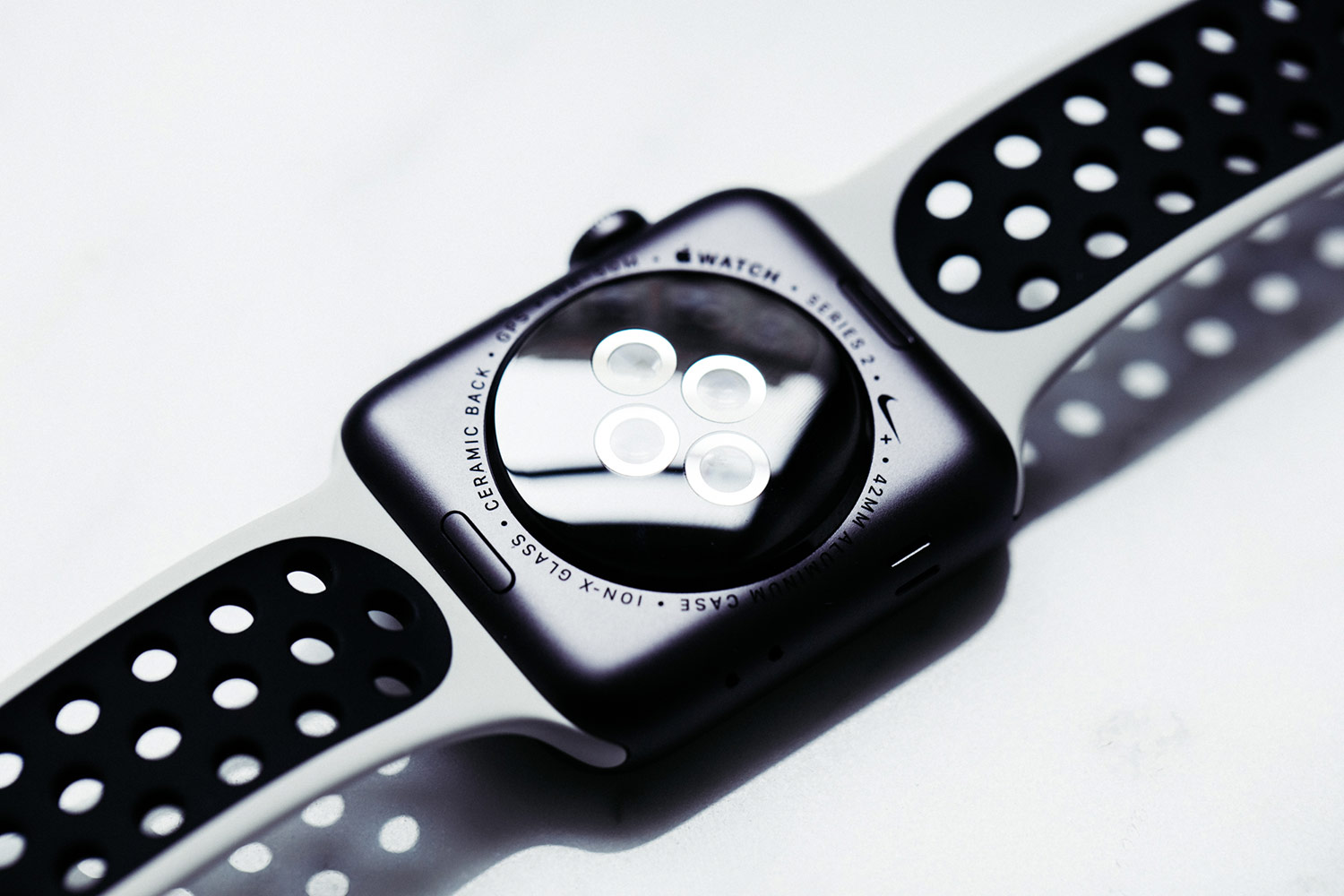 Your Apple Watch comes with eight gigabytes of on-board flash memory, but you don't get to keep the whole eight gigabytes to yourself because the operating system, the apps and other supporting files are taking up your precious storage. Like with other Apple devices, your Apple Watch lets you see much storage space it has, how much space is actually available to you and how much space each of the installed apps is taking up on the device.
In this tutorial, we will teach you how to check the amount of storage space your Apple Watch has, see the amount of free space that's available to you and check the storage space usage on a per-app basis.
How to see how much storage is available on Apple Watch
You can see the free vs. used breakdown of your Apple Watch storage in the companion app on your paired iPhone or directly on the watch itself.
Via paired iPhone
1) Open the Watch app on your paired iPhone.
2) Tap the My Watch tab at the bottom.
3) Navigate to General → About.
The amount of available storage space is displayed next to "Available".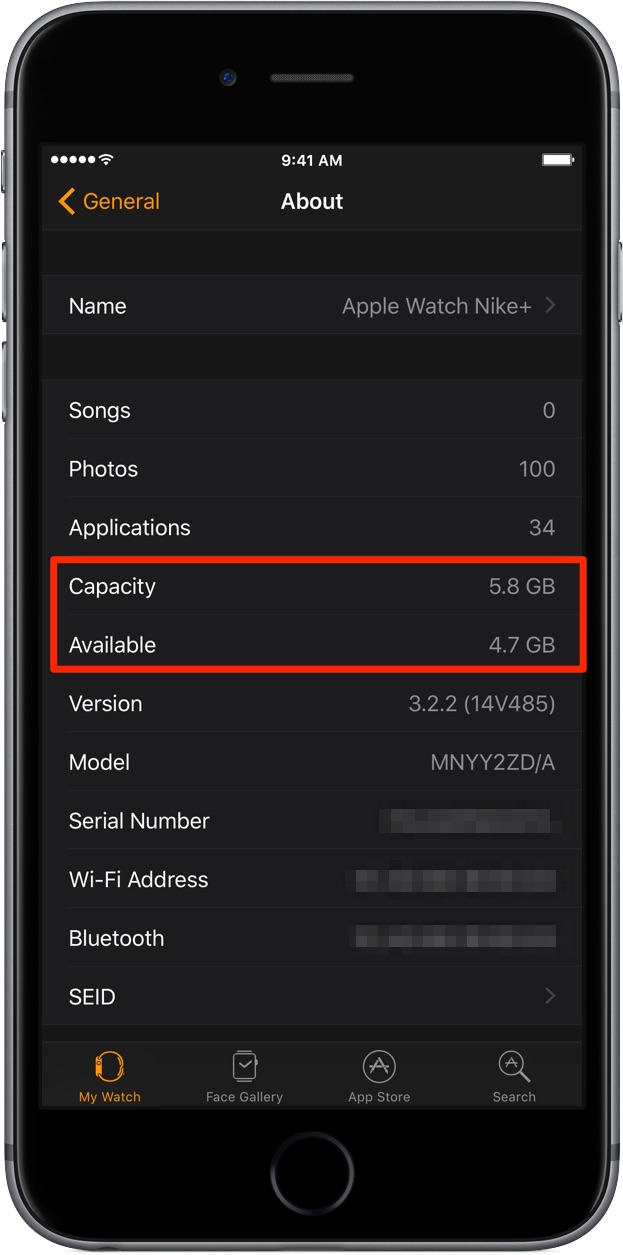 Total storage capacity (minus the system partition) is shown next to "Capacity".
Because your Apple Watch requires a dedicated partition for the watchOS operating system, and due to the differences between binary and decimal measurements, the capacity shown there will be less than the amount of flash storage your watch actually is outfitted with.
On Apple Watch itself
1) Press the Digital Crown button to get to your Home screen, then tap Settings. You can also press and hold the Digital Crown to invoke Siri, then say out aloud "Open Settings".
2) Tap General in the Settings app.
3) Tap About.
There, you can see the device's capacity and available storage space, along with the number of songs, photos and apps on this watch, the device's name (you can rename your Apple Watch quite easily), watchOS version, model/serial number, legal notices and more.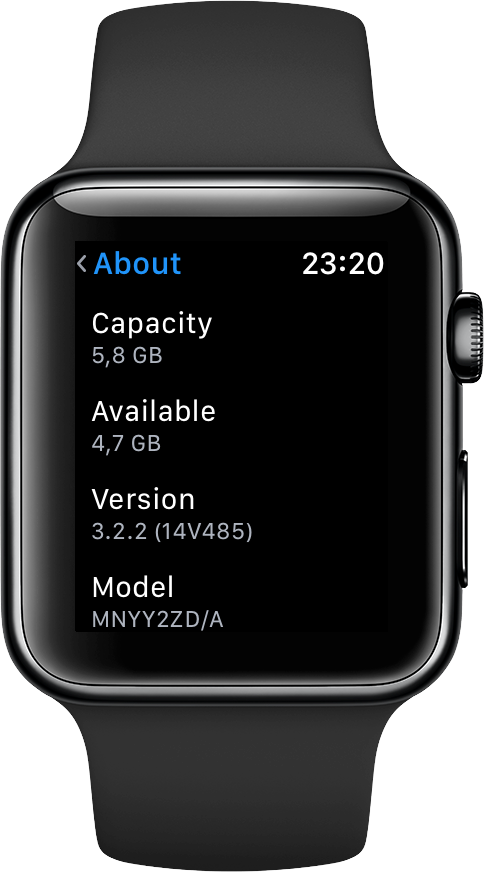 My Apple Watch Series 2 has eight gigabytes of storage, of which about 5.8 gigabytes is available to me and the rest reserved for watchOS, apps, temporary files and other system items.
As I already have some apps and music on my watch, the amount of free space I'm left with is about 4.7 gigabytes. You'll definitely come to appreciate how much smaller Apple Watch apps are when compared to their iPhone counterparts.
How to check storage used by apps on your Apple Watch
For a more detailed breakdown of the used vs. available storage space, including the amount of storage space used by each of your apps and their respective data, do this:
1) Open the Watch app on your paired iPhone.
2) Tap the My Watch tab at the bottom.
3) Tap General.
4) Tap Usage at the bottom of the screen.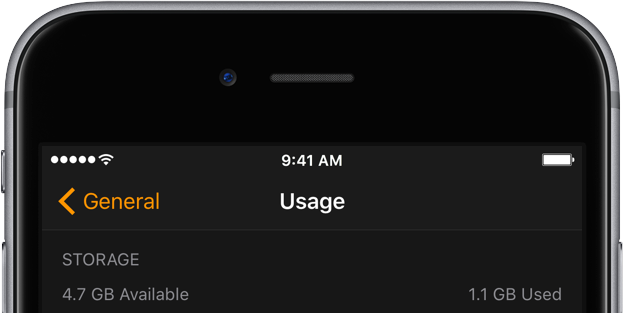 The amount of available and used space is displayed at the top of the screen.
The amount of space used by each installed app on the device is shown further below the Storage header. You may need to wait a few minutes until watchOS gathers information about the apps installed on your paired Apple Watch.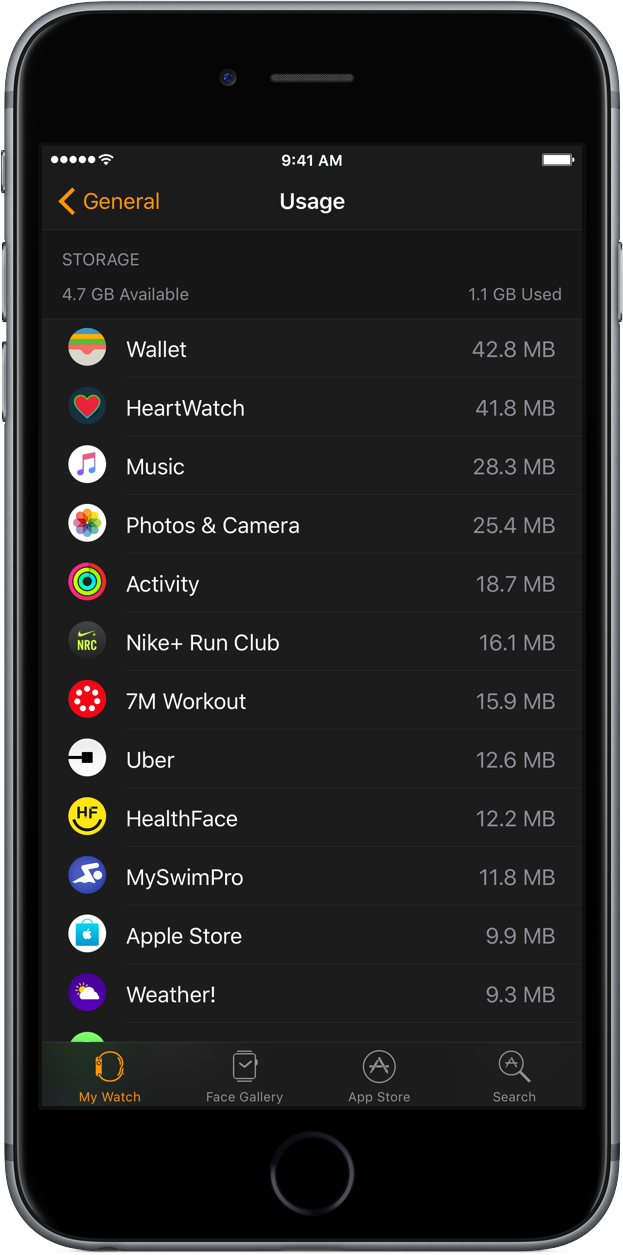 Unlike with iOS, you cannot delete apps from this section.
To uninstall apps, tap the My Watch tab, tap an app in the list (you may need to scroll down), then slide the button Show App on Apple Watch to the OFF position.
Related tutorials
In the same vein, you can also check the available storage space on your Mac, Apple TV and iPhone/iPad, see storage usage information on a per-app basis and more.
The following tutorials provide additional details:
It's a wrap-up!
If you have a question, post a comment below and we'll do our best to answer it. Please share this tutorial on social media and pass it along to the folks you support.
Submit your ideas regarding future coverage via tips@iDownloadBlog.com.
Source link: http://www.idownloadblog.com/2017/05/19/how-to-check-apple-watch-storage/