iPhone 5 Battery Case and Lightning Cable Issues With iOS 7 (Updated)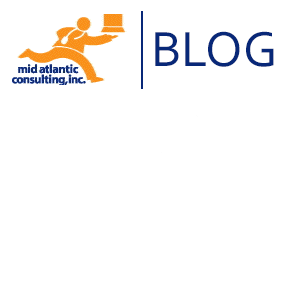 We have been working with Apple on an issue which we could not talk about until iOS 7 was released.  There are many battery cases for the iPhone 5.  Many of them would sync fine in iOS 6.  But now with iOS 7 they wont.
If you read previous articles on many of the Mac news sites, you should be familiar with many hacked cables and security issues with hacked flash drives and other devices.  In iOS 7, Apple put a stop to this.
If you are using a non-authorized, lightning cable, you may get a message that your cable is not authorized and should not be used.  Although it is annoying, the cables seemed to still work, but with battery cases, its a different story.  With Lightning cables you will get the message in the picture below, but with most battery cases they wont show up at all. (as far as we know its ONLY cases for iPhone 5)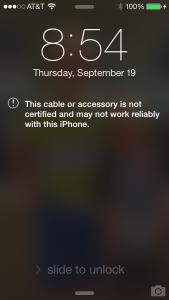 Apple explained it to me, and said "Please note, we did not enforce this in iOS until iOS 7." , that many manufacturer either used a non-authorized cable (A clone of the chip in the lightning cable) or in some cases an authorized cable that was not meant for syncing (The charge only connector is a lot cheaper to license then the one that syncs.)
For those techy, here is an excerpt from my bug reports with Apple.
"the E75 ID response includes the CO (Charge Only) bit.  In other words, this plug is using a C11D plug, which is incorrect for an accessory that can sync.  The MFi Accessory Interface spec (R6) clearly says 'if there is potential for data communication to occur, such as…charge/sync and might be plugged into both an Apple device and a PC or Mac, Lightning (C10D) or Lightning (C11D) must not be used.'  The manufacturer needs to be using the C11B plug instead if they want the case to sync."
The bad news is that the only way to fix it is to redesign the case, so for now I guess you have to sync via wifi and charge via the case.
**We tested a few battery cases and under iOS 6 they showed up and synced fine.  Under iOS 7, it never showed up in iTunes.  We have yet to find one that will work.  The only one that has a workaround is Mophie, and this is only because the bottom of the case pulls off to expose the phones true connector.  Mophie's manual says to charge case and phone you use the case connector while phone is in it, but to sync you remove the bottom of case and use the phone's lightning connector.  This gets around the issue in a way, but also with the mophie case you have to remove the bottom connector to hook into a car stereo as nothing comes through the built in connector even on iOS 6.